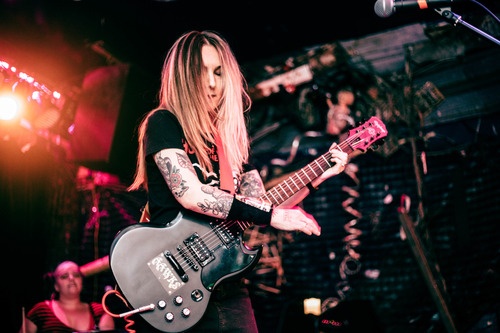 @skopemag news – tuesday – august 1, 2023 @ 8 pm est
https://www.facebook.com/SkopeMag/
https://twitter.com/skopemag
https://www.youtube.com/@skopetv2
https://www.instagram.com/skopemag/
APP – Apple iTunes –
https://itunes.apple.com/app/id1465224822?mt=8
@skopemag APP – Google / Android –
https://play.google.com/store/apps/details?id=hr.apps.n207414718
Support @skopemag –
https://www.paypal.com/donate/?hosted_button_id=3APKAKT8K6ETW
Chew Magna unveil video for their ode to compulsive lying, bull-shitting and hyperbole, 'Secrets'
'Secrets' is a concise pop tune buried under unyielding guitar squall. When the choruses hit, we get thundering chords and Laurie Hulme's soaring vocal, reminiscent of the finest Lou Barlow earworm.
"Secrets originally started life as an acoustic song I wrote for my folk group" reveals singer Laurie "but we jammed it a few times, channelling bands like Sebadoh and Superchunk and it transformed pretty quickly". Clocking in at just over two minutes, what 'Secrets' lacks in duration it makes up for in volume!
FISHER shares cinematic martial arts-themed music video for summer anthem 'Take It Off' with AATIG
'Take It Off', the underground anthem which has reached #1 on the Beatport charts, added to BBC Radio 1 'B List' playlist and over 15 million Spotify streams, has been crafted into a fittingly creative music video. Featuring FISHER and AATIG entering a mind-bending animated world via a martial arts arcade game, the AI-animated generated visuals combines its imaginative concept with a wicked sense of humour, as FISHER obeys AATIG's orders to take his clothes off. Bridging the gap between art and technology, the two worlds have merged together for a thrilling five minutes.
Laura Groves (of Blue Roses) Shares New Single "I'm Not Crying"
Today, Laura Groves (fka Blue Roses) shares new single and music video "I'm Not Crying", taken from her upcoming album Radio Red due out August 11 via Bella Union. The album will be her first for the label and follows the success of her A Private Road EP released in late 2020.
Jacob Aranda's single "Strangers in a Field," out now, premieres at Americana UK
Jacob Aranda is a Bay Area singer-songwriter, multi-instrumentalist, and luthier. His new album War Planes, is out September 1, 2023 on Speakeasy Studios SF.
Mutual Benefit Shares New Song "Wasteland Companions" / New Album Out Oct 6 via Transgressive
New York-based singer, songwriter and multi-instrumentalist, Jordan Lee, aka Mutual Benefit has today revealed a brand-new track "Wasteland Companions", accompanied by a visualizer. The track is taken from Mutual Benefit's upcoming, fourth album, Growing at the Edges, set for release on October 6 via Transgressive and is the follow up to recent single Little Ways which Paste Magazine described as "unhurried and sweet, the track rolls forward on the wheels of its own optimism."
Hiss Golden Messenger Releases New Track "20 Years And A Nickel" Ahead Of JUMP FOR JOY – Out August 25th
Jump for Joy is a semi-autobiographical work about the life and musical journey of bandleader, songwriter and vocalist M.C. Taylor. Taylor created the character Michael Crow to represent himself through his various experiences while following the path of a life in music. From being obsessed with music at the very beginning, to being called by the road, to almost giving up, to having a family, right up to the present day, Taylor touches on many of the moments that shaped him. While the album was written from the perspective of personal experience, many of the themes are universally relatable.
Σtella (Stella) Shares New Single "Girl Supreme" (+ Riso Animation Video)
Today, August 1st, Greek artist Σtella (pronounced Stella) has shared a new standalone single entitled "Girl Supreme." This song was recorded at Havabanana Studio in Athens, Greece, and produced by Σtella with mixing and additional production work by Edmund Irwin-Singer from the band Glass Animals.
HOWLING GIANT release title track and details of forthcoming new album
Nashville, Tennessee cosmic stoner metal trio HOWLING GIANT reveal the title track from sophomore full-length "Glass Future", which is scheduled for release October 27. The second single 'Glass Future' comes in the shape of a high energy performance video.
DARSOMBRA: The Sleeping Shaman Premieres "Gibbet Lore" Video
Dumesday Book delivers seventy-five minutes of sonic revelry, to delight and confound both seasoned DARSOMBRA listeners and unwitting new ears alike. The album was recorded and mixed by Brian Daniloski at the band's home studio, Whale Manor, and mastered by Jon Smulyan, while Ann Everton handled the cover art, photography, and videography. The record includes a twelve-page booklet illustrating each track, and all physical formats also include a sticker exclusive to the work and a Bandcamp download code with access to additional bonus material.
VILI V featuring the single and video 'Tupelo Rhythm' from the upcoming album IN DADDY'S ARMS AGAIN
Pop-Rock Band Iglu & Hartly Make Triumphant Return With Latest Single 'Swayze'
New England's Kaspa & Minus Realign With A New Resilient Anthem "Warrior"
New England's Kaspa & Minus realign with a new resilient anthem Warrior. The single was originally suppose to appear on their collaborate album Detours but ended up not getting finished in time. "Between us both working on our solo projects it honestly just slipped through the cracks. We really liked it and eventually dedicated our efforts to completing it, along with some new production that brought a bit more life to it. If you've got music, release it! It's not doing any good sitting around on a hard drive" says Kaspa. Check it out now on your preferred digital streaming provider.
Fake Fever shares new single "Pressure Tank" ahead of forthcoming LP
Today Fake Fever, the NYC-based dream pop project of Andrew Barnes, shares "Pressure Tank," the second single from its second LP, Inside The Well (due Sept. 1).
CRUCIBLE OF HATE Release New Single "Brutal Ascension"
Ohio death metal band CRUCIBLE OF HATE have released their new single "Brutal Ascension" on all streaming platforms. The song is from their upcoming album The Unknown Path, which is set to be released September 1, 2023.
Witness Chamber release new single "By The Finger Of God" ft Jess Nyx
Boise, ID hardcore band Witness Chamber have dropped their intense new single "By The Finger Of God." Following "Of The World", the track is the second from the band's upcoming EP True Delusion set for release August 18th on DAZE. On the 55 second track, throaty vocals meet swirling guitars before heading into an all on fury from guest vocalist Jess Nyx of Morality Rate and World of Pleasure. The song attacks the way the opioid crisis is treated in the U.S., often failing those who need help the most.
EMPIRED: Southern California Punk/Post-Hardcore Outfit Formed By Alumni From Outspoken, Mean Season, And More Emerges; New Video For "Arco" Premiered At Punknews
How do we exist in modern conditions and still uphold friendship, honesty and personal growth while learning from one another? EMPIRED, a new Southern California-based explosive four piece formed by alumni of Outspoken, Hail ACAB, Lastlight, Dime Runner, and more, is all about gathering energy and momentum and keeping it going.
Emo pop punk outfit Solene release new EP "Sold-Out Season"
The EP opens on a happy and energetic note, reflecting the band's characteristic Pop Punk identity. The first tracks are marked by contagious riffs and catchy choruses, which capture the vibrant essence of the band. However, as you progress through the tracks, the atmosphere gradually transforms, and the band dives into a more introspective musical journey.
As "Sold-Out Season" progresses, listeners are invited to explore a more vulnerable side of the band. Deep lyrics, which portray emotional experiences, are enriched by musical arrangements that create a melancholy and touching atmosphere. This subtle and artistic transition of the tracks shows Solene's unique ability to reinvent itself, revealing different facets of its musical identity.
"Sold-Out Season" and their previous EP, "Available To Fall", represent two complementary extremes of the band. While "Available To Fall" encouraged personal goals and positive self-esteem, "Sold-Out Season" delves into the complexities of human emotions, providing a musical journey filled with introspection.
NOVA DOLL Announce New Album And Release Video For "California Sunshine"
Teddy Geiger aka teddy<3 Announces New LP, Shares "Never Enough" Single via Billboard | 'Teresa' LP Due 11/1 via STEM
Today Canadian/British pop singer Connor Roff praises the healing powers of nature and love on "Sunlight"
"Sunlight" is a song inspired by a gay relationship and the healing power of the natural world – specifically that warm and euphoric feeling you get at the beginning of a new relationship, and also that sense of connection and presence experienced while surrounded by nature.
Roff also brings his experience as a core member of the London Contemporary Voices Choir, using a layering technique with over 50 vocal tracks of his voice and that of Ilā Kamalagharan's to create fullness on the song. It created this beautiful swirling texture of sound and the middle 8 section which sounds reminiscent of whale calls in the ocean.
PREDATORY VOID – Release "A Portrait", A Short Film By Diana Lungu
"Predatory Void feels like something totally new, it's like learning to walk again and of course there's ups and downs", says Lennart Lennart Bossu (guitar). "It's important for people to realize that we're really just a group of individuals who have the irresistible urge to play music, and that we'll inevitably fuck up now and then, but that's how it is."
STATIK SELEKTAH LINKS UP WITH NEMS FOR "THE NEW JOE" VIDEO
With hip-hop turning 50 this year, Statik's tenth studio album proves that the genre is alive and well. Round Trip, released June 9, 2023 via Mass Appeal, is a 20-song collab project with legendary acts, promising prospects, and up-and-coming artists who are pushing the culture forward on their own terms. Upon its release, the album racked up press praise from the likes of XXL, HipHopDX, The FADER, AllHipHop, Okayplayer, BET, and more.
Melodic Death-Thrash Outfit RAIDER Announce North American Tour
Ontario-based melodic death-thrash outfit RAIDER are going to tear open North America this month on their North American tour. With support from INVICTA and WARHEAD on select dates, the tour kicks off on August 4th in Montreal, QC and wraps on August 27th in Cleveland, Ohio. The band is touring in support of their most recent album, Trial By Chaos, which is out now.
Toronto Indie Rock Band The Alter Kakers Unleash the Torrid Tale of Love's Highs and Lows in "Stopped Being In Love"
Love is a double-edged sword. At its highs, nothing beats it. At its lows, you're fully defeated. Toronto indie rock band The Alter Kakers captured the torrid experience of a love affair gone wrong in its latest single, "Stopped Being In Love."