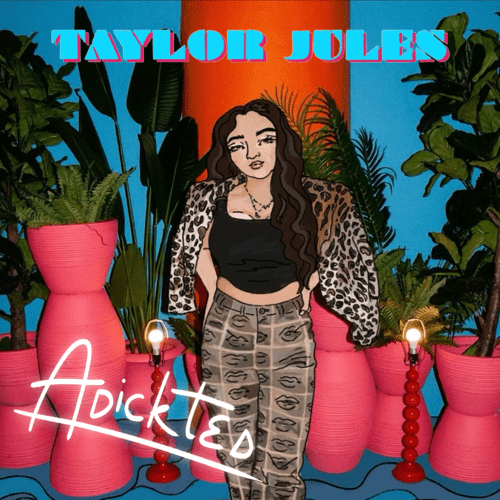 Self-confidence seems fleeting in the younger generation in a way that almost certainly leaves the majority of us feeling a little worried about what the future is going to look like, but if there's one pop singer/songwriter committed to instilling swagger in kids aged zero to one hundred in 2023, it's undeniably Taylor Jules. Her latest single, titled "Adickted," is a track that was made to put a bright spot in the skies of even the cloudiest days we endure, and while it's not the only well-written song in this player's endearing but still quite young body of work, I think it has the potential to become her most widely-recognized release through the infectious narrative it spreads like wildfire. Simply put, there's no room for depressed melodies in this single; Jules just has too much of a good thing to share.
https://www.instagram.com/iamtaylorjules/
The piano keys are the perfect element to balance out the vocal moxie this singer brings to the table pretty much every time she records something fresh, but all the more in this track. Their rock n' roll tenacity puts a warm spin on the already charged tempo created by the synchronic percussion and singing in this mix, and while I don't think they had to be quite as loud as they are to have the same impact on the track as a whole, I can appreciate the stadium-shaking aesthetic Jules was attempting to capture with this effect. It's admittedly a high-volume single, but that's what sets "Adickted" apart as such a fresh entry in this artist's discography. 
There's as much of a soulful edge in the aesthetics of this song as there is a rock n' roll influence, but it's a little subtler and harder to pick up on in casual listening sessions. Jules' delivery is airy and untethered to the flamboyance of the pianos in the chorus, leading us towards a free-spirited harmony that flirts quite profoundly with some of the contemporary crossover sounds I've heard coming out of the mainstream pop beat lately (where this track was recorded, ironically enough). I'm not saying she's going Olivia Rodrigo, but this is a singer/songwriter who most definitely still has a lot of unpolished, untold gems left in the treasure chest to be unveiled through one aspect of her music or another.
I was introduced to the music of Taylor Jules a little while ago, but I don't think I've been paying her output the level of attention it's worthy of now that I see how far she's come in "Adickted" this July. Hers is a story not unlike that of the many rising pop artists I review in any given year, but what makes her such an unforgettable player has less to do with cosmetics and résumé than it does the star power in her singing that lights up the spirit of every song she sticks her name on. Jules' ambitions are only getting grander by the year, and now less than a couple of seasons after the international arrival of her very first song, "Helicopter," she's finally looking to make the jump from the indie leagues to the majors through the release of impeccable material like this. 
Gwen Waggoner