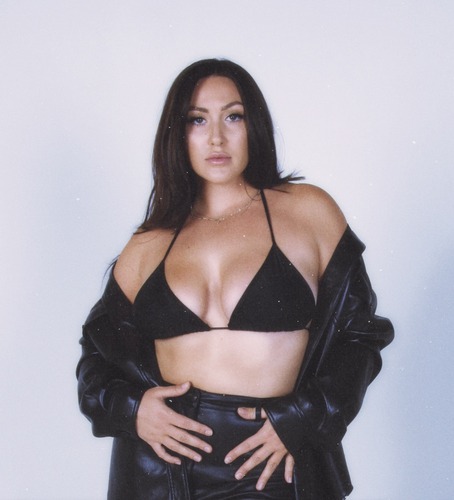 @skopemag news – friday – july 28, 2023 @ 11 pm est
https://www.facebook.com/SkopeMag/
https://twitter.com/skopemag
https://www.youtube.com/@skopetv2
https://www.instagram.com/skopemag/
APP – Apple iTunes –
https://itunes.apple.com/app/id1465224822?mt=8
@skopemag APP – Google / Android –
https://play.google.com/store/apps/details?id=hr.apps.n207414718
Support @skopemag –
https://www.paypal.com/donate/?hosted_button_id=3APKAKT8K6ETW
Out Today Dance-pop artist Alyssa Reid shares infectious club anthem, "Die For Love"
The sonically progressive song, "Die For Love," is an infectious electro-club-anthem unlike anything you've heard before from this double platinum selling artist-producer-songwriter. Beat-driven, this hypnotic track weaves in and out, giving a nostalgic twist on an EDM sound, with the stickiest of hooks.
Matt B Releases Breathtaking Visual for "FREEDOM"
ELVIE SHANE IS RELENTLESSLY "JONESIN'" IN NEW SONG OUT TODAY
Cat Janice Covers the Spectrum of Human Emotions in Debut Album
PABLLO VITTAR RELEASES AFTER REMIX ALBUM
Brazilian pop star, activist, and world-renowned drag queen Pabllo Vittar releases a huge festival-ready remix of her track "Penetra", featuring Pedro Sampaio & O Kannalha, alongside the After remix album.
Deko Entertainment Releases Lisa Gee's Debut EP Shut It Down Produced By Rock Legend Carmine Appice!
"This is a record about life and all one will experience when we live it to the fullest," says Gee. "It's not always great and hopefully it's not too hard to get through, but when it's good, it can be very good and very memorable. That's how I've gone through it, so far."
Black Country Rising Star Reyna Roberts Releases Single "One Way Street" With The General To Back
Breakout country artist and showstopping performer Reyna Roberts releases her newest single, "One Way Street" from her upcoming debut album, Bad Girl Bible: Vol.1 (via EMPIRE Nashville). Written by Roberts, Natalie Stovall, and Aaron Wagner, "One Way Street" is a powerful and haunting ballad that showcases Roberts' powerhouse vocals and unique sound, defying the confines of traditional genre rules.
MEGAN MORONEY'S "I'M NOT PRETTY (ACOUSTIC)" OUT NOW
Today, Sony Music Nashville/Columbia Records rising star Megan Moroney releases an acoustic version of her wildly popular track, "I'm Not Pretty." Co-written by Moroney, Ben Williams, Mackenzie Carpenter and Micah Carpenter, the original track marks Moroney's second single at Country radio. Set to impact at stations across the U.S. on August 7, "I'm Not Pretty" has already racked up over 2.6 MILLION U.S. streams/week and 47 MILLION U.S. streams to date.
WALKER HAYES ANNOUNCES NEW PARTNERSHIP WITH MONUMENT RECORDS AND RCA RECORDS – RELEASES 2-TRACK BUNDLE STRAIT TWO STEPPING
Today, GRAMMY-nominated singer/songwriter and country music maverick, Walker Hayes announces his new partnership with Monument Records and RCA Records. In celebration, Hayes releases his new 2-track bundle Strait Two Stepping featuring "Stetson" and "Show Me The Country." Driven by effortlessly flowing rhymes and witty lyricism, both offerings will have you up and dancing from the first bass drop.
Black Country Rising Star Reyna Roberts Releases Single "One Way Street" With The General To Back
Breakout country artist and showstopping performer Reyna Roberts releases her newest single, "One Way Street" from her upcoming debut album, Bad Girl Bible: Vol.1 (via EMPIRE Nashville). Written by Roberts, Natalie Stovall, and Aaron Wagner, "One Way Street" is a powerful and haunting ballad that showcases Roberts' powerhouse vocals and unique sound, defying the confines of traditional genre rules.
Multi-Award-Winning Country Singer Brett Kissel Releases First Track from the Forthcoming West Album – The Third Installment of "The Compass Project"
West Album will bring to life one of Kissel's truest musical and thematic loves – traditional country and western music. It dives into the tales and topics that have been the lifeblood of country music since the beginning – love, loss, the land, and lovers.
Tech N9ne Delivers "BLISS" LP + Chilling New Music Video Out Today!
Ascending to another stratosphere, chart-topping multiplatinum hip-hop legend and the most successful independent rapper of all-time Tech N9ne presents his anxiously awaited new full-length album, BLISS, out now via his Strange Music label.
ICYMI: ZAE FRANCE SETS THE MOOD FOR SUMMER WITH NEW SINGLE "GIVE IT UP"
Joey Green Strikes Musical Gold Again with a Mesmerizing Mash-Up Of Train's "Drops of Jupiter" x by Matchbox Twenty's "Bright Lights"
Joey Green, the exceptionally talented singer-songwriter hailing from Texas and making waves in Nashville, has once again left fans awe-inspired with his latest musical creation. Following the resounding success of his cover of Goo Goo Dolls' "Iris," which topped the charts and captivated audiences worldwide, Green now presents a captivating mash-up of two beloved classics, "Drops of Jupiter" by Train and "Bright Lights" by Matchbox Twenty.
PAINT, the solo project by Allah Las' Pedrum Siadatian, releases his new album, Loss For Words, today on Grape St. Inc.
PAINT is the musical project of Pedrum Siadatian. A founding member of Los Angeles band Allah Las, Pedrum charted his own course as PAINT beginning with 2018's self-titled album and followed up with 2020's Spiritual Vegas on NY label Mexican Summer. While both albums demonstrated the artist's songwriting prowess and fascination with language as expression, his newest (mostly instrumental) offering, aptly titled Loss For Words, feels at once like a tangential anomaly and a logical progression. Eschewing traditional song structures and lyrics in favor of more free form and expressive sonic exploration, the 11 genre-hopping vignettes comprising LFW is PAINT's most adventurous and ambitious work yet.
Vevo and Post Malone Release Exclusive Performance of "Green Thumb"
For Skope: The "Belly Dancer" producer BYOR remixes Alan Walker & Zak Abel's recent hit "Endless Summer" (out now)
BYOR had his breakthrough moment last year with "Belly Dancer" with Imanbek, which has already clocked up over 385M streams on Spotify alone since its release and become a recognizable dancefloor filler. He had releases on such labels as Tiesto's Musical Freedom, Spinnin' Records, Smash The House, and Insomniac.
Kaonashi pop on new single "Blood Red Camry Dance Party"
Today, Philadelphia, PA band Kaonashi have shared their captivating new single and video "Blood Red Camry Dance Party" out on Equal Vision Records. Never shy to experiment, the song is an all out pop banger highlighted by progressive guitar work and a triple vocal approach. On their full-length Dear Lemon House, You Ruined Me: Senior Year (2021) the band began combining more melodious elements into their metalcore-leaning sound, and on "Blood Red Camry Dance Party" that direction comes to full fruition, drawing influence from acts like Motion City Soundtrack and Rina Sawayama.
Finnish Goth Rockers LAMORI Releases Captivating Single and Lyric Video for "Never Alone"
Acclaimed rock dark metal band LAMORI is set to enthrall fans once again with the release of their latest single and accompanying lyric video, "Never Alone." The track, which offers a unique blend of haunting romanticism and dystopian science fiction, serves as a precursor to their highly anticipated album, "NEON BLOOD FIRE."
Afta Hill – "RANGE"
Originally conceived as a reference track for Drake's "CLB", the Grammy-nominated duo Nick Cassidy and PrettyBoyRon produced instrumental for "Range" eventually morphed into the lead single for Afta Hill's "NOTHING nothing" album. RANGE is a sticky and bass-heavy melodic pop-rap banger that sees Afta effortlessly flow in and out of multiple pockets and vocal registers.
maeve & quinn Share New Single + Video "Stuck Inside" via Guitar Girl Mag
Today, maeve & quinn share "Stuck Inside" – the third single with an accompanying video from maeve & quinn's upcoming LP Another Door. Written during the height of the COVID pandemic, the song navigates the challenge of reconciling our inner life — the stories we tell ourselves about what's possible in love, work, community — with the reality in which we find ourselves ("I was thinking I could burn out; / I'm so good at being bored"). The track is restless but resolute — reaching for transformative possibility — as the Alaskan twin sisters trade vocal verses and build a playful rhythmic interplay with guitar and violin. "Stuck Inside" pushes back against feelings of disconnection and disappointment. It invites the listener to take steps forward despite uncertainty and self-doubt, to make the future one wishes to live: "I build another door / and I walk right through".
maeve & quinn Share New Single + Video "Stuck Inside" Another Door LP Out September 8th
KILL SCRIPT Returns to Form on Moody Peak-Time Techno Single "RESTLESS" on NIGHTMODE – OUT NOW
KILL SCRIPT has graced the label with his inaugural release "STASIS," and then followed up immediately with his 'FIRST CONTAKT' EP, 'VIRTUAL ENVIRONMENT' EP, and his most recent single "All Night," drawing press coverage from Dancing Astronaut, EDM Identity, EDM Tunes, This Song Slaps, The Groove Cartel, Orange County EDM, EKM, The Music Essentials. He has an upcoming gig at Newspeak (Montreal), and has recently performed on the main-stages (kineticFIELD) at renowned festivals such as EDC Las Vegas, EDC Orlando, Electric Zoo, and Seismic Dance Event, as well as a sold-out headlining show at Sound Nightclub (LA).
WEAPONS OF ANEW Premieres "Angel Has Fallen" Video
WEAPONS OF ANEW release the first in a trilogy of songs that tie together to tell the story of one's inner struggles and how they can consume and take you over. The trio of songs will be tied together into a short film that, according to guitarist Freddy Ordine, will be like "a horror film on steroids."
The Mortal Prophets Share Dealey Plaza Blues LP + "God's Going Away" Single
Today, NYC experimental rock outfit The Mortal Prophets (helmed by John Beckmann) finally shares their sophomore LP, Dealey Plaza Blues, composed of part-original tracks and part-psychotronica reimaginings of classic rock and blues staples, produced with Alexander Krispin (a protégé of Daniel Langois). Preceded by singles "Dealey Plaza Blues" (with an accompanying video directed by Michele Civetta), "Born Under a Bad Sign," and "Down On Me," the record is additionally celebrated today with focus track "God's Going Away."
SOUTH AFRICAN SUPERSTAR TYLA SHARES MESMERIZING NEW SINGLE "WATER" TODAY
'Water' is a refreshing blend of Amapiano and Afrobeats with sensual R&B, essential for every summer playlist.
Media Alert – Sekond Skyn "Small"
Forked River, NJ – the hard-hitting rock/metal band, Sekond Skyn has released their next single/video "SMALL". Taking a topic and creating memorable music that strikes the listener is what Sekond Skyn brings with "SMALL". A haunting and beautiful measure that will stay with you long after you've heard it. The lyrics are powerful and the melody is unforgettable. This is a song that will help you through your darkest times.
BIA'S NEW REALLY HER EP AVAILABLE NOW!
Flaunting an elevated high fashion aesthetic, BIA commands attention as she confidently and charismatically raps to the camera against a clean white backdrop in the visual. Given the song's sample originated from Bravo's Real Housewives of Atlanta and has lit up the internet, one of the show's most iconic stars NeNe Leakes makes a cameo in the video.
BabyJake Shares "Aren't We Ever Gonna Be More Than Friends?" Video via EARMILK
Coming of Age Bittersweet Acoustic Pop TIKTOK influencer
Taylor Mecca's upcoming EP, sidelines, is a five song navigation of crisis, coping, and coming of age as a young woman in an age of noise, performance and pressure. Featured on Spotify editorials sad hour and Fresh Finds: Pop, Taylor's artist project is an exploration of growing up through nostalgic, ethereal pop singer-songwriter ballads and uniquely connected promo content for her 1.5M followers across socials. Her latest single "growing up sucks" is a contemplation on the difficulties of entering young adulthood. Taylor confides, "Growing up in my childhood home, seeing my friends move away, feeling frustrated and impatient with myself. Life feels as if it's moving too quickly for me to keep up, but standing still at the same time. I realized that I was facing the frustrating feeling of growing up as an adult in the same environment I was raised in. We all look forward to growing up, but when it comes around, it just feels more confusing and terrifying than we expect."
Big Daddy Kane to Headline "50th Anniversary of Hip-Hop" Celebration at San Jose Jazz Summer Fest 2023 on Friday, August 11!
Silicon Valley's premier annual music event, San Jose Jazz Summer Fest 2023 celebrates the 50th Anniversary of hip-hop with newly confirmed headliner Big Daddy Kane set to perform with a full band and backup singers on The Sobrato Organization Main Stage on Friday, August 11, 2023. One of hip-hop's most innovative and trendsetting MCs who's renowned for bringing the "playa" style to the game, Big Daddy Kane holds an array of career accolades that have catapulted him to legendary status in the genre. From several Gold records and a GRAMMY Award to being recognized as an icon at the VH1 Hip-Hop Honors, Big Daddy Kane's hit singles have brought his influential, lyrical baritone voice to the masses across multiple decades being in the hip-hop spotlight.
"Red Red Bird" Flies! Single from Noah Zacharin
Accomplished singer-songwriter and master guitarist Noah Zacharin releases a new single "Red Red Bird" from his ninth solo album Points of Light (to be officially released September 8th). The single will be out July 28 th (via Sonic Peach) on all major platforms. For more information please visit any of the artist links below and at his website.
Portland's Wastelander Shares "Get It tRight" from Debut Fall LP
What is Left of Me is the debut album from Wastelander, a solo project by Cooper Formant, a singer-songwriter and multi-instrumentalist based in Portland, Maine. This 12-song, dynamic collection of captivating melodies, striking arrangements, and introspective lyrics showcase Cooper's amber vocals and his skill as an arranger and guitarist. Through the exploration of themes such as lived-in romance, self-doubt, disillusionment, and awakening self-compassion, Cooper infuses his music with humility, self-deprecating dark humor, and wisdom gained from deep self-reflection.
SUGARHILL DDOT LINKS WITH LUH TYLER FOR "3AM IN THE YAMS" -SAMPLES NICKI MINAJ / DRAKE
The song, produced by Ndup and Ayyolucas, was recorded during a trip Ddot made to Miami when Drake requested that the young star model for his Nocta line. It was there that Ddot linked with Luh Tyler, recorded the track, and took inspiration for his pastel-colored video which captures the teens shopping for kicks, playing video games, and throwing a pool party. The song also samples the 2010 Nicki Minaj and Drake classic "Moment 4 Life."
NASTY – Bring You "Roses", New Album "Heartbreak Criminals" Is Up For Preorder
"'All roses turn to dust!' Love hurts… especially when it is not returned", says NASTY about their latest single and video taken from their upcoming album, "Heartbreak Criminals", that is due for a release on September 8th. Check "Roses" here:
DISCO LINES & DEMOTAPES' NEW COLLAB "RWEOK?" BRINGS A REFRESHING SOUND TO THE DANCE MUSIC SCENE
Surging dance music sensation Disco Lines, known best for his viral song "Baby Girl" with over 116 million streams and his recent run of momentous festival sets, has just released his newest single "RWEOK?" in collaboration with San Francisco's rising Lo-Fi producer demotapes. Releasing over a year after their last collaboration, "Can We Get Away Tonight," Disco Lines and demotapes bring their listeners a refreshing, new single, which is available to stream on all digital streaming platform