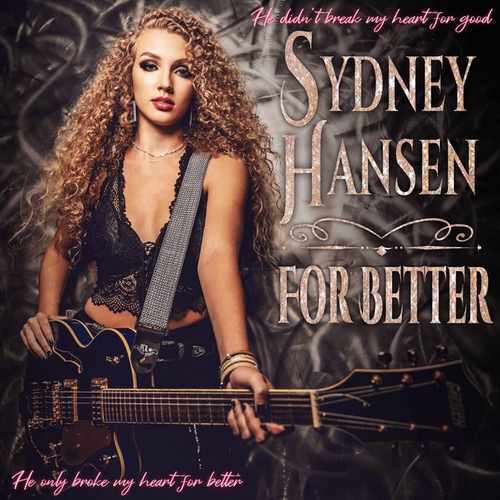 One big key to creating a successful single is to say something in a way it hasn't been heard before. With "For Better," Sydney Hansen sings about a broken heart. That's not unusual. Many songs cry about having a broken heart. However, Hansen sings about how a man didn't break her heart for good. No, he broke her heart "for better." It's a smart turn of a phrase. Usually, when something is changed 'for good,' this means it was/is a permanent change. However, rarely does the breaking of a heart lead to something good. Nevertheless, Hansen's heart condition is better, not bitter, which is the most common result of heartbreak. It's a smart, thought-provoking song.
It's also twangy, with plenty of tasty electric guitar as the song's intro. That same wonderful guitar work continues throughout the song. Although Hansen could have easily filled her singing with righteous anger. (Anyone that breaks a heart usually deserves some wrath). With that said, though, Hansen comes off calm and confident. As if to say, 'I'm not going to panic. No, I'm going to ride this out with some poise.' She doesn't even sound brokenhearted. Much like a superhero that can fend off attacks with just a flick of the wrist, Hansen doesn't seem any worse for wear after having her heart crushed.
Hansen is still a young lady, striving to make it in ultra-competitive Nashville. She's from Duluth, Minnesota, which proves she knows a little bit about country life. Although barely out of her teens, Hansen sings like someone who has a whole lot more life experience than what one might expect to find in somebody so young. Of course, it doesn't take a long life to know how bad a broken heart feels. Even the very young sometimes go through broken hearts — before they've even left home, sometimes. Thus, we shouldn't hold Hansen's youth against her. None of us have walked in her shoes.
The feel of this song is comparable to a Carrie Underwood song. But whereas Underwood loves to pack her singing and songs with plenty of vindictive revenge, Hansen also doesn't sound as though she's out to get even. They say that sometimes the best way to win an argument is to just stay quiet and calm. This appears to be Hansen's strategy. It's as though she knows well how she's in the right, and no matter how loud and obnoxious this heartbreaker becomes, she's going to stand her ground. That's a tough path because mates – especially ex-mates – have likely already learned how to push the right buttons. Those buttons that cause an emotional response. When our emotions get the best of us, we sometimes say and do things that don't represent us well. If we remain in control though, our triggers remain off limits.
If a heart is broken for the better, it likely means that a person has learned from their experience. That's wisdom, indeed. We can grow and advance, after suffering a big letdown. The choice is ours. Sydney Hansen is clearly making the right choices with the lyrics to this fine song.
ONLINE:
https://www.facebook.com/SydneyHansenOfficial/
https://www.instagram.com/sydneyhansenofficial/
-Dan MacIntosh