The best monitor stands to improve posture, allow you to add additional screens, and keep your desk neat.
If you want to succeed, it's essential to have the best possible working environment. Fortunately, the majority of people can improve their workspace quickly with the best monitor stand.
A monitor stand is a versatile and useful piece of equipment that you might not have considered as an upgrade for your worktop. Some monitor stands have a two-tier design and foldable legs. They offer flexibility and adaptability, allowing you to add a second screen and improve panel placement, as well as raise your existing monitors in order to increase storage space. At the same time, some monitor stands also have charging and rgb lighting effects to create a better atmosphere.
You can even get monitor stands to transform your old, tired worktop into an upright desk.
How do you choose the right monitor stand for your needs?
When buying a monitor base, there are many things to consider. It can be difficult to choose from the numerous options available on the market today. You will still be successful if you stick to the factors that are important to you.
You should first know the size of your monitor stand. Some models can accommodate up to 3 monitors, while still maintaining stability and keeping devices secure. You should choose stands that accommodate multiple monitors if you work with them more often. It is inconvenient if you keep one monitor on the stand and another on your desk.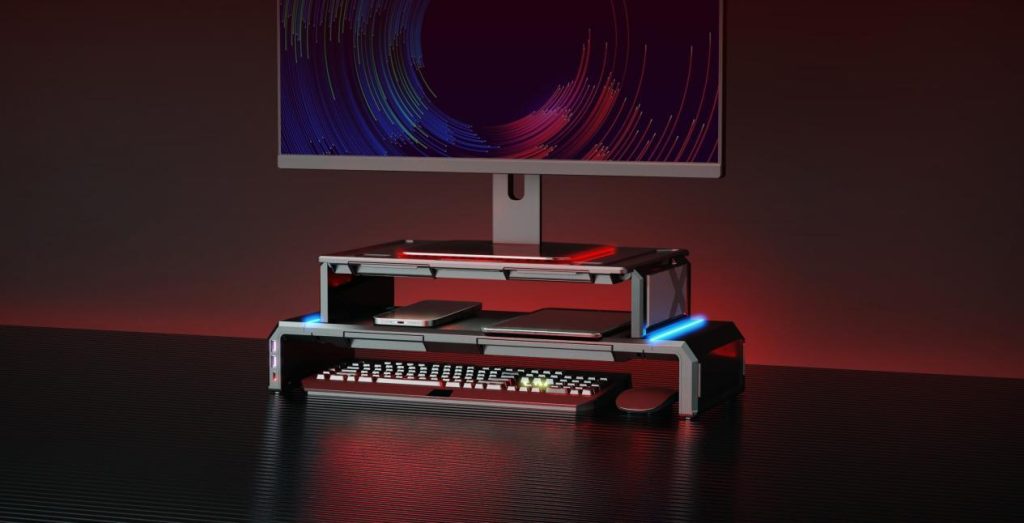 Elevation should also be considered. It should be ergonomically designed to promote good posture, overall health and wellbeing. Your chosen fixture must also be made of durable material so that you don't have to constantly replace it or risk damaging your device. You should also have a budget to stick to, even though the addition to your workspace may be essential. Although you can be a little flexible, having a budget range in mind makes shopping faster and easier.
It is much easier to find the best and most efficient monitor stand for your workplace when you keep all of these things in mind.
This monitor stand is a very exciting one. Instead of offering side-by-side monitor options, it allows you to stack your monitors vertically. It saves a lot of desk space while still displaying your monitor in an organized and productive manner. X-Central monitor stand includes 1 large stand and 1 smaller stand. Each stand comes with a storage drawer and a phone/tablet holder. The USB 3.0 hub located on the large stand can concentrate up to four devices at once. Both sides have RGB light strips that can be adjusted to 6 different lighting modes.
Xlayout creates the best possible monitor stand. It is easy to use, and it will upgrade your desk in an infinite way.