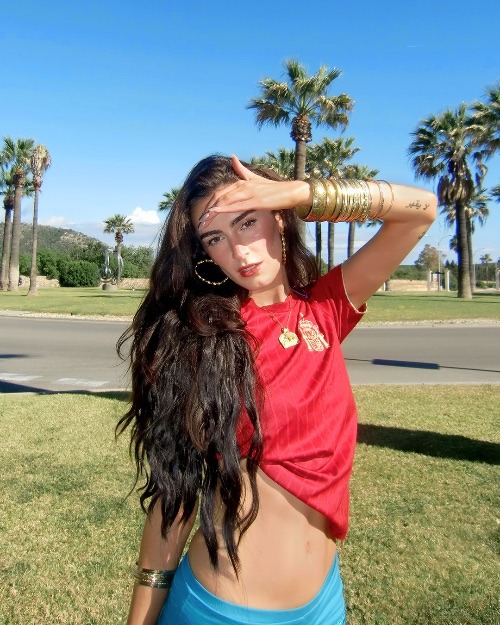 @skopemag news – thursday – july 27, 2023 @ 11 am est
https://www.facebook.com/SkopeMag/
https://twitter.com/skopemag
https://www.youtube.com/@skopetv2
https://www.instagram.com/skopemag/
APP – Apple iTunes –
https://itunes.apple.com/app/id1465224822?mt=8
@skopemag APP – Google / Android –
https://play.google.com/store/apps/details?id=hr.apps.n207414718
Support @skopemag –
https://www.paypal.com/donate/?hosted_button_id=3APKAKT8K6ETW
Small Miracles Feat Mirari brand new 'Extra Terrestrial' single is out now via Dirty Carrot Records
Following on from their very well recieved 'Mercury' single in May, Cardiff New Wave band 'Small Miracles' release brand new 'Extra Terrestrial' single on the 27th July Via Dirty Carrot Records.
RISING INTERNATIONAL POP ARTIST ARUM FLOWERS SHARES HER NEW SINGLE 'NO QUIERES'
'No Quieres' is a sublime calling card for Arum Flowers, her luscious vocal providing the special spark to bring the track's cocktail of sensual R&B, Latin-tinged beats and modern pop to life. Featuring vocals split between English and Spanish, 'No Quieres' (which loosely translates as 'You Don't Want') captures the heady rush of falling deep into a summer romance while being fully aware that it might not last.
tmdistant is back with his latest track "west end wedding" // listen here
Essex-based alternative artist tmdistant is back with his latest offering "west end wedding"— a track which effortlessly combines indie and pop to create an infectious sound that will keep listeners coming back for more, as well as connect with the lyrics.
Chew Magna unveil video for their ode to compulsive lying, bull-shitting and hyperbole, 'Secrets'!
'Secrets' is a concise pop tune buried under unyielding guitar squall. When the choruses hit, we get thundering chords and Laurie Hulme's soaring vocal, reminiscent of the finest Lou Barlow earworm.
OUT TODAY: Rising American singer KLAY CARTIER releases 'Good For Nothin' single (FFO: Childish Gambino, Cimo Fränkel, Frank Ocean)
Aluna Unveils Official Music Video For 'Running Bind' With TCHAMI & Kareen Lomax
Following the release of her critically acclaimed sophomore album MYCELiUM earlier this month via Because Music and Mad Decent, Aluna is back with the official music video for the album's focus track, 'Running Blind', a collaboration with French producer and DJ Tchami, with vocals from Aluna and Atlanta – born artist, songwriter, and producer Kareen Lomax. The music video was directed by Priya Minhas.
Pretenders share new song; new album out Sept 15
Produced by multiple Grammy Award-nominee David Wrench (Courtney Barnett, David Byrne) at the famed Battery Studios in Willesden, North West London, Relentless marks the second consecutive full-length songwriting collaboration by founder Chrissie Hynde and Pretenders guitarist James Walbourne following 2020's acclaimed Hate For Sale. The album – which marks the band's return to Warner Music Group after more than two decades having first been signed to Sire Records in America by the legendary Seymour Stein – includes such recently released singles as "Let The Sun Come In" and the beautiful closing track, "I Think About You Daily," the latter featuring composer Jonny Greenwood (Radiohead, The Smile), who provides the string arrangement and conducted the 12 Ensemble for the recording. Hailed by Stereogum as a "grand…regretful ballad," "I Think About You Daily" is joined by a deeply moving official video, streaming now on YouTube.
London Neo-Soul/ R&B-Pop Duo Temptress Share Striking New visual For 'Cuppa Tea'
Acclaimed London, based duo Temptress return with the infectious new single 'Cuppa Tea'. Writing and producing a unique fusion of R&B, neo-soul and alt-pop with indie and hip-hop, the duo create a shimmering, breezy and effortlessly beautiful sound which has seen them gain widespread acclaim.
Country Riser Jordan Moore Unveils Electrifying Performance Video for "Backwoods Paradise"
Rising country artist Jordan Moore has taken the music scene by storm with the release of his electrifying performance video for "Backwoods Paradise." The song, produced by the renowned Noah Henson (Brantley Gilbert), is an exhilarating country rock-infused that Celeb Secrets Country describes as "blends both country elements and modern rock to make the ultimate genre-bending tune" in the exclusive premiere of the video.
Rachel Bochner Shares New Single "Hard To Please" | New EP Out August 11
New York-based alt-pop act Rachel Bochner shares her new single, "Hard To Please," out today on Handwritten Records. "Hard To Please" will join recent singles "Here For The Drama," "If I'm Gunna Be Sad (I Might As Well Look Hot Doing It)," and "Sucker Punch," on Rachel's highly anticipated 6-track EP, 'It's Not Me, It's U,' set to release on August 11th.
YOKE LORE RELEASES DREAMY NEW SINGLE "HALLUCINATE"
The newest track off of the album, "Hallucinate" is a sanguine indie-pop staple chronicling the dizzying experience of falling in love with someone. Up-tempo drum beats and playful, twinkling synths shadow Galvin's confessions, "I think of you when every single color passes by on the highway, I crash and burn and I think I see your face." Like the previous two singles, "Hallucinate" once again showcases his ability to articulate the complicated, indescribable feelings we all experience.
Bruno Major meets The 1975 – New Single from Brooklyn Soul Artist
Peter Wise is a singer, songwriter, producer, and multi-instrumentalist, based in Brooklyn, New York. His sound marries introspective lyricism with bluesy guitar lines, laid back rhythms, anthemic hooks, and soulful vocals. It is both familiar and distinct, combining his love for the early seventies, southern California folk /rock storytelling, nineties Neo-soul and R&B grooves and modern pop / rock melodies to create a style uniquely his own.
MAN ALIVE ANNOUNCES DEBUT EP 'COLOURS' TO BE RELEASED ON 15TH SEPTEMBER FEATURING THE NEW SINGLE AND TITLE TRACK
Mark Prendergast's new project Man Alive is a leftfield step away from his international chart-conquering success with Kodaline, as evidenced by his debut track 'Be Someone' which earned attention from the likes of NME, Clash and Hot Press as well as a broad sweep of Irish airplay and nine global Spotify New Music Friday playlists.
FIIZ Releases Intoxicating New Single "Lungs"
Hailing from a historically vibrant Brooklyn scene, electropop outfit FIIZ has released their effervescent new single "Lungs." Together, Fiona and Isabelle – the duo behind FIIZ – weave a mesmerizing tapestry of sound to guide listeners through a sonic adventure and whirlwind romance. "Lungs" is available to stream on digital platforms.
NYC's Hotline TNT sign to Third Man Records | Share "Protocol"
Hotline TNT's 2021 debut on California taste-making label Smoking Room – Nineteen in Love – embodied his devotion to strong hooks and distortion, dripping like sour honey. The group toured relentlessly, enduring seemingly endless lineup shifts to become a linchpin of several interconnecting DIY scenes. Their audience steadily ballooned, with Nineteen in Love becoming a coveted LP. It remains an inspiring document of (and to) blown-out beauty.