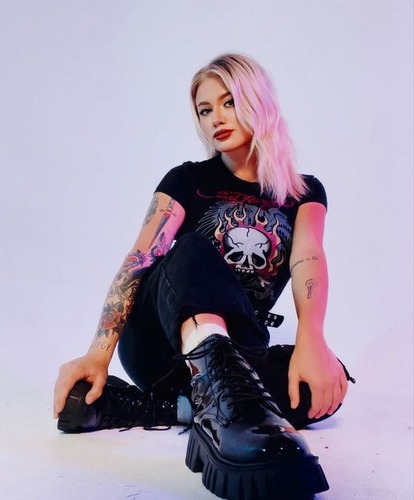 @skopemag news – monday – july 24, 2023 @ 4 pm est
https://www.facebook.com/SkopeMag/
https://twitter.com/skopemag
https://www.youtube.com/@skopetv2
https://www.instagram.com/skopemag/
APP – Apple iTunes –
https://itunes.apple.com/app/id1465224822?mt=8
@skopemag APP – Google / Android –
https://play.google.com/store/apps/details?id=hr.apps.n207414718
Support @skopemag –
https://www.paypal.com/donate/?hosted_button_id=3APKAKT8K6ETW
The Caracal Project – Under the northern lights (UKF)
Félix Burnod aka The Caracal Project has quickly established himself as one of electronic music's most unique and uncompromising artists. Originally from the south of France but now based in Paris, the young producer has a distinctly avant-garde career trajectory. His intricate and immediately recognisable sound quickly caught the attention of the bass music community with early support from the likes of Pendulum, Noisia, Habstrakt, Wilkinson, Andy C and Sub Focus, leading to standout releases with Critical Music, VISION, Hospital Records, Gud Vibrations and UKF.
Escapist Dream: Lush Indie Pop Collaboration
On "Desert Rental Home," these two creative forces dance together on the only song Deidre was able to write during the pandemic lockdown in 2020. "During months of quarantine, this was the one song that managed to come out of me. I was feeling very isolated at home with my 1 year-old son while David, my husband, kept our business afloat, working out of a makeshift bedroom studio, for most of the hours of most of the days. Delusion starts creeping in when you're unsure how long this will be reality." Intimate moments of acoustic guitar and voice quickly transform into a grandiose fantasy, soaring and sparkling, while a lurching synth bass hints at the uneasy nature of an escapist dream.
DIPLO DEBUTS NEW THOMAS WESLEY TRACK "HEARTBROKEN" FEATURING JESSIE MURPH & POLO G
NZ's After the Flesh share Changeling video-single
On the heels of their self-titled 4-song EP in May 2023, After the Flesh from Wellington, New Zealand, share 'Changeling': the EP's captivating new video-single, which just made its international debut on Friday via Europe's legendary Side-Line Magazine. The band's sound skilfully brings together elements of ethereal gothic dreampop, new wave, post-punk, and modern dark alternative rock. Formed on the approaches to 2020, After the Flesh showcases the talents of Slovenian-born vocalist and keyboardist Maruša Sagadin ("Marusha"); guitarist and vocalist Alec Morris; veteran local bassist Duncan Nairn; and later addition Sam Leamy on drums.
FRENCH INTERNATIONAL POP SENSATION JAIN RELEASES A REMIX VERSION OF HER GLOBAL HIT "MAKEBA" WITH RISING US PRODUCER IAN ASHER
Artists from all corners have shared their own version of the track. Notably, US producer Ian Asher's remix has garnered fan's excitement, gathering over 1.5M creations across socials. The time has come to provide this dance house banger with the organic traction it deserves, servicing the artists' massive following of 8M+ fans with a full-length release of the track.
CHARLOTTE SANDS SHARES THE OFFICIAL VIDEO FOR 'GOOD NOW'
Filmed in Los Angeles, the video provides a striking visual metaphor for the song's themes. In a waking nightmare, Charlotte's perception of herself is constantly and uncomfortably shifting. Her mindset drifts from isolation to paranoia and back again, her senses blurring as if her reality has become jet-lagged.
Polish Cairo-Based Guitarist/Songwriter ANDRZEJ CITOWICZ Releases New Video 'A Wound That's Always Bleeding'
ANDRZEJ CITOWICZ – the former recording artist for Down Boys Records, which belonged to Erik Turner and Jerry Dixon from the legendary American band Warrant – has released a new video for his song "A Wound That's Always Bleeding", taken from his guitar instrumental album "Never Ending Storms", released July 14th 2023. The track is a nod to the guitar tone of Richie Sambora, with plenty of modern blues and Fender Stratocaster sound. The nostalgic chorus and catchy guitar bass of Patryk Szymanski add to the overall vibe of the track.
Lol Tolhurst x Budgie x Jacknife Lee announce collaborative album 'Los Angeles' | Hear lead single 'Los Angeles' ft. James Murphy | Album out 3rd November via Play It Again Sam
The three-way Los Angeles collaborative long-player was born out of a curiosity which just wouldn't die. Made up of two of the most illustrious and inventive drummers of the post-punk era, The Cure's Lol Tolhurst, and Budgie from Siouxsie & The Banshees and The Creatures, along with stellar producer and multi-instrumentalist Garret 'Jacknife' Lee, this unlikely alt-supergroup have spent the last four years spiriting up one of the most extraordinary albums to appear in 2023. Perusing the tracklist, with its guest credits for, amongst others, James Murphy, Bobby Gillespie, The Edge, Civil Rights avant-gardist Lonnie Holley, Mary Lattimore, Starcrawler wildchild Arrow de Wilde and Mark Bowen from IDLES, you may rightly wonder just what the 13-track long-player holds in store.
IDINA MENZEL RELEASES HER FIERCE NEW SINGLE "BEAST" FROM HER UPCOMING DANCE PROJECT DRAMA QUEEN VIA BMG
Following a sensational performance at Pride in London earlier this month, multi-platinum selling singer/songwriter and Tony Award-winning performer, Idina Menzel steps closer towards the release of her upcoming dance project, Drama Queen (out 18th August) with the release of the fiercely empowering anthem "Beast", out now. "Beast" embodies strength, resilience, and encourages listeners to tap into their inner power and unleash the ferocity within them.
TEEZANDOS RELEASES VIDEO TO NEW SINGLE 'VETERAN'
Having been described as the Antichrist of Drill, East Londoner TeeZandos is ripping up the rule book of being a rapper and doing things her way, with a pen way beyond her years, she returns with 'Veteran'.
Known for continuously pushing the boundaries and leaving an indelible mark on the scene, TeeZandos has unmatched lyrical prowess and undeniable charisma, with over 240,000 monthly listeners on Spotify alone and millions of streams on releases such as Page 45, Phone Call and breakout single Need Focus, she is one of the most exciting rappers to emerge in recent years.
HENGE — Release New Single: "Self-Repair Protocol" || + UK Live Dates This Autumn
HENGE are back with a new single and official video for "Self-Repair Protocol", a featured highlight of their acclaimed 2023 album 'Alpha Test 4' (out now).
Through a vortex of glitchy 8-bit synthesisers and vocoded humanoid vocals, "Self-Repair Protocol" tells the tale of a malfunctioning robot that crash lands on an alien planet and embarks on a mission to repair itself.
Indie Outfit BLACK LIGHT WHITE LIGHT share 'A Mutual Love'
Emotive Indie Rock band Black Light White Light has released their latest full-length album, The Admirer, across digital platforms, on LP and CD via Forward Backwards Recordings. On the album, listeners will uncover the single 'A Mutual Love'.
JoyRukanza Shares Debut Album MatterMoreForSis & Single "Survive The Night"
Zimbabwean musician JoyRukanza, known for her exceptional storytelling abilities through music, has released her long-awaited debut album, MatterMoreForSis. Born Joy Roselyn Rukanzakanza, she has quickly gained international recognition for her remarkable talent and unwavering commitment to empowering women through her art, and that looks set to continue with the release of this album.
James Murphy Joins Lol Tolhurst x Budgie x Jacknife Lee For Debut Single / Announce Album Out Nov 3 via Play It Again Sam
Lol Tolhurst x Budgie x Jacknife Lee today announce news of their debut album Los Angeles due out November 3 via Play It Again Sam and available to pre-order here. The hard-hitting 13 tracks on the album dive into freedom and slavery, beauty and decay, hope and despair, and feature an astonishing list of guest vocalists and musicians including The Edge (U2), Isaac Brock (Modest Mouse), Bobby Gillespie (Primal Scream), Civil Rights avant-garde artist Lonnie Holley, Mary Lattimore, Starcrawler wild child Arrow de Wilde, Mark Bowen (IDLES) and more. The band has also shared the album's title track and first single which features James Murphy (LCD Soundsystem), along with a video – listen and watch HERE.
MAEBE Releases New Album 'Rebirth. Relive. Repeat.' Out Now
Bristol progressive post-rock artist Maebe (aka Michael Astley-Brown) is delighted to announce the release of his second album Rebirth. Relive. Repeat. which is out now on all good digital services providers.
Lydia Loveless Shares New Single "Runaway" Previewing 'Nothing's Gonna Stand In My Way Again' LP Out 9/22 (Bloodshot Records)
Lydia Loveless today shared "Runaway," a gently crushing standout single off their new album Nothing's Gonna Stand In My Way Again, due out September 22nd, 2023, via Bloodshot Records. The track opens with a floating piano chord, slowly building with detailed, multifaceted flourishes to a memorable chorus that showcases her powerhouse vocals: "I don't like to run, I just like to run away." While Loveless' lyricism often sparkles with her quick wit, this song is a stunning display of her raw vulnerability and propensity for honest, heart-wrenching writing.
Canadian Dark.Sexy.Loud. Female Fronted Metal Band The Fixer Signs With Wormholedeath
Canadian female-fronted metal band, The Fixer, has officially inked a deal with Wormholedeath for the release of their highly anticipated album, "Your Lie," scheduled to drop on all digital platforms on November 10, 2023. Alongside this exciting announcement, The Fixer is thrilled to present their debut single and accompanying music video, "Smoke Show."
GHOST KIDZ AT ROLLING LOUD MIAMI + "GOIN' OFF" FEAT. VINCE STAPLES VIDEO
Ghost Kidz were the first artists to be signed by Superplastic Records, and are distributed by Virgin Music. In creating Ghost Kidz, the new label has teamed up with a committee of respected artists and hip-hop legends who will continue to voice and help shape the future of the project. More to come soon.
DEAD FEATHERS: new single "Full Circle" out now!
Chicago's up-and-coming psychedelic blues rockers DEAD FEATHERS announce the release of their sophomore album "Full Circle" this September 22nd on Ripple Music, and release the title track on all streaming platforms today!
ICYMI: FRIDAYY UNVEILS CAPTIVATING NEW SINGLE & MUSIC VIDEO TO "WHEN IT COMES TO YOU"
The visual, directed by Dragan Andic (a.k.a. The. 97), finds Fridayy at a wedding altar as hypnotic guitar wraps around a sparse, cloudy beat as his instantly recognizable vocals take hold. He sets the scene as he proclaims, "It was love at first sight, girl, when you walked in." The momentum builds as he carries a chantable chorus, "I won't waste no time," uplifted even higher by gospel harmonies.
Rachael Sage Releases Transcendent New Album, The Other Side
Award-winning alt-folk-pop singer-songwriter, multi-instrumentalist and producer Rachael Sage has released of her new full-length studio album, The Other Side (MPress Records/ILS/Virgin). In anticipation, Sage released the empowering first single/video, "Whistle Blow", the optimistic title track/video "The Other Side", a third single/video, "Only You" (a sparkling reinterpretation of the '80s Yazoo classic), and Beatle-esque pop-rock single "Flowers For Free". The album premiered in The Bluegrass Situation.
ATRIUM Release New Single "Warrior in the Garden" + Official Music Video via Curtain Call Records
Rock band ATRIUM released their second single and official music video called "Warrior in the Garden" to all major platforms on July 21, 2023.
Mori Calliope Premieres Music Video "Future Island"
Mori Calliope of hololive English has shared the new music video "Future Island", a collaboration with Japanese manga series "ONE PIECE." Boasting over 510 million copies of the Manga published internationally, ONE PIECE volume 106 was released on July 4th. "Future Island" was composed by Hidefumi Kenmochi of Wednesday Campanella with lyrics co-written by both Kenmochi and Mori Calliope, with volume 106 acting as the theme of the song.
BUZZING TALLAHASSEE RAP PHENOMENON RALAN STYLES RELEASES NEW SINGLE & MUSIC VIDEO "BAHAMAS"
Buzzing out of Tallahassee, FL as an artist to watch in 2023, acclaimed 20-year-old rapper and singer Ralan Styles serves up a brand new single and music video entitled "Bahamas" via Big Money Records/Republic Records. It notably kicks off the first time Big Money Records collaborates with Republic Records.
Country Artist Matt VanFossen Releases Emotionally Charged Music Video for "Get Me Now"
Acclaimed country artist Matt VanFossen has once again proven his exceptional storytelling ability with the release of the official music video for his latest single, "Get Me Now." Co-written by the talented Mallary Hope and Phil Barton and produced by the esteemed Mike Ofca, the song delves deep into the emotional journey of overcoming heartbreak, resonating with listeners through its powerful and relatable lyrics: "You might still get to me somehow, but you don't get to get me now."
Sierra Annie's New Single "Red" Unleashes the Power of Pop-Punk on Taylor Swift Classic
Alternative pop-punk artist Sierra Annie is set to ignite the music scene with her latest single, "Red (Sierra's Version)," a thrilling cover of Taylor Swift's sensation "Red." Infusing her infectious pop-punk sound, Sierra Annie brings a fresh and exhilarating twist to the beloved hit, offering listeners a never-before-heard rendition of a cherished favorite.
Vasoline Tuner reinforced a fusion of experimental avant-garde with rock-and-roll on the album "Canceled Crystal Balls"
Vasoline Tuner is promoting the latest song/video called "Melted by Aliens" from the most recent album "Canceled Crystal Balls" and it is about getting abducted and melted by aliens to be used as their face cream or lube.
VOIVOD Release "Morgöth Tales" Video, New Album Out Today
Canadian sci-fi metal innovators VOIVOD are celebrating 40 eventful years of existence in 2023 with a special Anniversary studio album entitled Morgöth Tales, released worldwide today via Century Media Records.