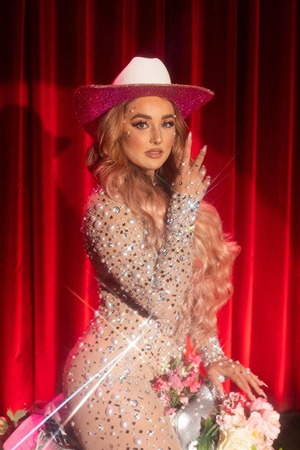 @skopemag news – friday – july 21, 2023 @ 12 pm est
https://www.facebook.com/SkopeMag/
https://twitter.com/skopemag
https://www.youtube.com/@skopetv2
https://www.instagram.com/skopemag/
APP – Apple iTunes –
https://itunes.apple.com/app/id1465224822?mt=8
@skopemag APP – Google / Android –
https://play.google.com/store/apps/details?id=hr.apps.n207414718
Support @skopemag –
https://www.paypal.com/donate/?hosted_button_id=3APKAKT8K6ETW
Joonti presenta su nuevo sencillo "Fuera de Control"
El joven artista puertorriqueño, Joonti, está demostrando una vez más por qué es considerado una de las promesas más emocionantes de la música contemporánea. Con el lanzamiento de su nuevo y cautivador sencillo, "Fuera de Control", Joonti se prepara para conquistar corazones y llevar su carrera artística a nuevas alturas.
ISRAEL NASH — Releases New Single: "Roman Candle" || + New Album Out 20 Oct
Celebrated Texas-via-Missouri singer-songwriter Israel Nash and Loose Music are excited to present "Roman Candle", the latest soaring single lifted from the 20 October release of Nash's brand new album titled 'Ozarker'.
An explosive, heartland rock 'n' roll firework show that chases confidence and inner strength, "Roman Candle" follows the release of the album's fiery title track, a song that is the subject of the launch of Nash's 'Beyond The Song' series, a rich, documentary-style collection dedicated to the stories and characters that inspire and shape the forthcoming album.
[Erratum link] DDENT: new video and EP out now!
French instrumental post-metal goldsmiths DDENT release their brand new EP "Ex Auditu (part 2)" on all streaming platforms via independent label Chien Noir today. Watch the stirring video for "La Nuit Transforme" featuring violinist Jun-Gui Kwon now.
Cindy Alexander Burns Bright on Fiery New LP 'Messy'
Award-winning singer-songwriter Cindy Alexander reveals untold depths of artistry today with Messy, her 11th record. The distinctively edgier album, due out July 21 via KZZ Music/Blue Élan Records, finds Cindy slipping and sliding between profound pontification and playful wordplay, pushing boundaries and genre-hopping between rock, alterna-pop, Americana, and ethereal folk. But there is a through line: Alexander's signature quotable lyrics and infectious melodic hooks. "I'm not in a box," she says. "I definitely jumped outside the box and ripped it up." With Paul Bushnell's lush production and an all-star band behind her, Alexander wrings new feeling from exceptional songwriting and soulful, uninhibited vocals.
The Gaslight Anthem release new song feat. Bruce Springsteen; first album in almost a decade due Oct. 27
The Gaslight Anthem have shared a new song "History Books," available now at all DSPs and streaming services on their own Rich Mahogany Recordings label via Thirty Tigers. The heavy-hearted track – which sees frontman Brian Fallon trading duet vocals with longtime band champion and fellow New Jerseyan Bruce Springsteen – is accompanied by an official music video (directed by Kelsey Ayres) streaming now on YouTube. The album was produced by GRAMMY® Award-winner Peter Katis (The National, Kurt Vile) at his Tarquin Studios in Bridgeport, CT.
Platinum-Certified Hard Rock Heavyweights BAD WOLVES Release New Single & Video "Bad Friend" via Better Noise Music
"'Bad Friend' exemplifies exactly where Bad Wolves always wanted to be as a band," relays vocalist Daniel "DL" Laskiewicz. "It lives dead center of being melodically catchy as well as crushingly heavy and is a great representation of our new upcoming album. This song reminds us that TRUE friendship is not about being perfect or always saying the right thing but being there for each other through the good times and the bad. It's also to be willing to acknowledge one's own mistakes and make things right. If you can't do that, you might be a bad f*cking friend."
Rising singer-songwriter Ryan Brown takes us for a ride with music video for "Carousel"
At the age of 17 years old, Ryan has proven to be an old soul as she writes authentically about the highs and lows of teenage life. Ryan pulls her inspiration from her genuine life experiences, and this song is no exception. Her graphic lyrics allow the audience to picture the scene while allowing the raw emotion to come through.
Jenna DeVries shines brighter than ever in fierce new project "Rhinestone Cowgirl"
Jenna shares, "Rhinestone Cowgirl is the ultimate sapphic love story – it tells the tale of the kind of love that feels dangerous. It was the perfect opportunity to create this small fantasy world that allowed me to play with the idea of gender expression. Love is love – no matter how people identify or look, I believe there is a unique and beautiful love story out there for all of us."
Micky James Releases 'Loner of the Year' EP
The project, which starts off with ode to NYC "New York Minute," celebrates the 'misfits' and everything that makes you unique. Also featured on the EP is "Girl Talk," which earned the title of "song you need to know" from Rolling Stone, as well as title track "Loner of the Year" and the nostalgia-laced "James Brown." To close the EP is Micky's latest single "Losing You," a shimmering summer breakup anthem.
AIDAN BISSETT UNVEILS NEW SINGLE, "SICK"
In the official video for "Sick," director Brooke James (Troye Sivan, Tinashe) – who also helmed the videos for "Bloom" and "Out Of My League"– sets Aidan and his friends loose in a scenic, secluded Malibu meadow. While it's great rocking out with the guys, Bissett grows increasingly aggravated by their escalating antics and drifts over to the one person who stands out in the crowd.
KIPP STONE ANNOUNCES NEW ALBUM, DROPS SONG + VIDEO
Cleveland rapper/producer Kipp Stone has announced a new album, 66689 Blvd Prequel, for August 18th via Chicago's Closed Sessions label. His first project since 2021's buzzy Faygo Baby EP, 66689 Blvd Prequel, finds Kipp at the height of powers. Part rap game Henry David Thoreau, part Albert Camus, Kipp brings deep introspection to his art, isolating himself in the making of 66689 Blvd Prequel to paint narratives around the people in his life with whom he compares himself the most. From scenes of the culture shock that comes from traveling to the West Coast for the first time after only ever knowing East Cleveland to raps about escaping his job, poverty, and selfishness, 66689 Blvd Prequel is the start of an ego death that will come in the album's sequel.
Skeete Shares New EP Vibes Don't Lie
Skeete, the fast-rising artist hailing from Nottingham, UK, has captivated listeners worldwide with his fascinating blend of R&B, soul, dancehall and Afrobeats. Recognised for his ability to effortlessly transition between slow, expressive tracks and uplifting anthems, Skeete's versatility has earned him a dedicated fanbase. With notable hits such as "Notice Me", "Independent Girl", "No More Love Songs" and "Weekdays (She Freaky, She Sneaky)", which have helped the independent artist accumulate over 20 million streams, he is now poised to reach even greater heights with the release of his much-anticipated new EP, Vibes Don't Lie.
[PRESS] American Television Release "Snakes"
Washington D.C. melodic-punk outfit American Television have just released a new single titled "Snakes." The song is the first preview of their new album Scars, which is set to be released on Friday, September 22nd. Scars picks up where the band left off on their previous album, Watch it Burn, which was released by Wiretap Records in 2020.
Single News | MONA | 'NOTHING IS DEAD' RELEASED TODAY!
MONA aka US vocalist, songwriter and producer Nick Brown is back with the first new music since 2020. The brand new single 'Nothing Is Dead' will be released on 21st July via ZionnoiZ Recordings/Ingrooves/Virgin Music Group.
Indie-pop artist Rosie Darling shares new single + music video "Boxes"      
KOLBY COOPER FIERCEST ANTHEM YET – "KILL ME" – AVAILABLE TODAY
Due to wild fan response at his packed-out shows, the heart-pounding new song follows his Grand Ole Opry debut and the release of his acclaimed label-debut album, Boy From Anderson County To The Moon, that Whiskey Riff and Raised Rowdy declared as one of the top albums of 2022. Ready to make a statement, "Kill Me" also marks the country outlier's first taste of new music this year, solidifying his sound shift into country rocker territory.
Olivia Reid Pleads for Peace on New Single "Nightmare Machine"
Following an undeniably relatable series of releases, indie dream-pop savant Olivia Reid is releasing her latest song, "Nightmare Machine." This track compounds the deeply introspective style Reid is known for as she turns her craftsmanship inward, penning a powerful exploration of experiences from an artist unable to find respite. This melancholic single will be part of her upcoming EP and is now available for streaming or download on all major platforms.
SEB RELEASES 'WE WERE SO BEAUTIFUL' EP & "HOME2U" VIDEO
BABYFACE RAY DROPS NEW ALBUM 'SUMMER'S MINE' FT. VEEZE, WESTSIDE GUNN, VORY AND MORE
ELECTRO-POP GEN-Z SONGSTRESS INJI SHARES DEBUT EP LFG
Tongue-in-cheek, playful and irresistibly catchy, LFG encapsulates INJI's subversive attitude towards electronic music, trademarked by her signature deadpan delivery and wildfire cynicism. INJI explains: "I started this project in my dorm room, with two of my best friends from college, while trying to finish a finance degree. I had about 40 followers on TikTok and zero expectation that anyone would ever hear what I was writing. That's why the songs are so hilariously real, and ridiculously me. I wrote like no one was listening, no one was. I think it's that originality and honesty of the songs that people related to. This EP is meant to make you feel happier, more energized, more confident and optimistic than you felt before you listened to it. It's meant to make you giggle, it's meant to put a smile on your face, it's meant for you to memorize and scream the lyrics and jump around in your bedroom.
BABY RASTA & GRINGO JUNTO A NIO Y CASPER con "PICHAERA"
Los artistas mundialmente conocidos Baby Rasta & Gringo, junto con Nio Garcia y Casper Mágico, se unen en una poderosa colaboración que promete ser un éxito en la escena del reggaetón. El tema titulado "Pichaera" llegará a sus seguidores el día 21 de julio de 2023. En este emocionante sencillo, los grandes exponentes del reggaetón, tanto de la nueva como de la vieja escuela, se unen para ofrecer una canción que promete encender las pistas de baile y conquistar los corazones de sus seguidores en todo el mundo. ¡Prepárate para disfrutar de esta colaboración explosiva entre algunos de los mejores artistas de la música urbana!
New Music: DENNIS ELLSWORTH shares new sultry grooving single "Pressure" from upcoming Modern Hope LP
Dennis says of the song, "Sometimes the outside pressures can hit you hard. The small stuff can trick you. If you can remember that you have love and you give love, then you can start to peel away the stuff that obscures you and leaves you pressurized. This song is about looking to love to relieve you of some of this pressure. It's about asking for help. It's about showing love and compassion to others and hoping you receive it from others."
Paytra Inspires Young Women with "Breaking Glass Ceilings"
Paytra has released her visceral new single, "Breaking Glass Ceilings," a powerful alternative-pop and rock track highlighting the motivation of having to overcome barriers in a male-dominated world. The single is available to stream and download now worldwide.
REMERS x BASSY "CONVERSACIONES"
hite Lion Records se complace en anunciar el próximo lanzamiento de la canción "Conversaciones" de los artistas Remers x Bassy, acompañada de un video musical dirigido por el prop o artista Remers. "Conversaciones" es una canción que explora las experiencias y cambios que Remers ha experimentado desde que ha ganado reconocimiento en el mundo de la música.
"I want people to hear my story… my side of it," says a passionate BLKPRL. "If there is any point in the day when people are feeling low, I want to inspire them to enjoy life. We're so burdened by evil, calamity, and chaos… just all kind of crazy shit. I want to be that break from the norm. I want to do what Frankie Beverly & Maze did. There could be a fight at a cookout and then you hear 'Before I Let Go' and everybody is now doing the electric slide. That's my energy."
Madds Buckley Shares Tragic Love Story in "DogBird"
"'DogBird' is the story of a failing relationship wrapped in the metaphor of a dog loving a bird, and constantly apologizing for following its instincts. A hunting breed still bound to its folk's leash, and a bird, gentle and free," Madds Buckley shares with us. "'DogBird' is a queer story at its core, about loving someone while fighting your upbringing, but is truly for anyone who's ever become their own worst fear: hurting the one you love most."
GLOBAL CHART-TOPPER JAZZY RETURNS WITH HIGHLY ANTICIPATED SUMMER BANGER "FEEL IT (CLUB EDIT)" VIA ASTRALWERKS
'Feel It (Club Edit)' arrives off the heels of her debut single and global hit, 'Giving Me' which charted at number one in Ireland. She is the first Irish woman to do so in 14 years which established her as a global ambassador for her homegrown music scene. The track continued to rise, reaching number three on the UK Official Singles Chart and earning over 60 million streams worldwide.
Rising Folk Artist Albert Kass Releases Highly-Anticipated Album Young Old Man
Sensational indie folk artist Albert Kass has unveiled his latest musical masterpiece, Young Old Man, an album that takes listeners on an emotional journey through the depths of life, while also inspiring them to embrace the present moment. With a unique blend of soft vocals, compelling melodies, and airy acoustic guitar riffs, Kass showcases his exceptional artistry and storytelling abilities. Young Old Man is available to stream and download worldwide.
ZACH HOOD RELEASES HIS BREATHTAKING NEW SINGLE "neon skies"
Hood comments, "Neon Skies is about seeing someone for the first time but it feels like you won't ever see them again. The main thing I compared this to was seeing the Northern Lights. It's such a beautiful sight but you most likely will only see it once in your lifetime, if you're lucky. We've all had that one day or night with someone out of nowhere, but you never speak to them anymore. You will always remember the time you spent with them though. It's like you saw the Northern Lights."
IRISH SINGER-SONGWRITER DARREN KIELY DROPS HIGHLY ANTICIPATED NEW TRACK, "MOM & DAD"
Kiely, who penned the song solo, shared, "'Mom & Dad' is an ode to my parents. I wrote it about a period of time when I was struggling through life and saw its effects on my parents. As things were getting better, I wrote this song as a reflection on that rough time and making it to the other side with their support."
NALA, The Dandy Warhols & Debbie Harry Unite For New Single "IWNSLY" Out Today July 21 Via Easier Said
Collaborating with 90s indie darlings The Dandy Warhols and punk icon, Blondie's Debbie Harry, NALA continues to forge her sound, bringing a unique rock production to the dancefloor with "IWNSLY." Written by The Dandy Warhols' Courtney Taylor-Taylor and NALA, here we find NALA shifting her sound into cosmic, electronic-punk territories, blending chugging drums with haunting vocals courtesy of Harry, ominous bass tones and ethereal synths. It is a truly unique and exceptional turn for NALA.
South Coast Indie Quartet Holler Share Glittering New Single 'Corner Store'
South Coast Indie 4 piece Holler return with the breezy and vibrant new single 'Corner Store'. Taken from the upcoming debut EP 'Ever Since I Met You', the track gives a tantalising taste of what to expect across the full release.
teepee – edges
Dream pop duo teepee is releasing another single from their upcoming album and announcing a live show in Berlin, where they will enchant audiences with their captivating soundscapes. Single "edges" serves as a lyrical dialogue, delving into the depths of human connection and the profound longing to bridge the gap between two souls. The evocative melodies and heartfelt verses tell a tale of misunderstood desires and the yearning for genuine connection. teepee's Tereza shares her vulnerable confession, guiding listeners on a soul-stirring journey through her melancholic introspection, only to find solace when Mira discovers a way to reach her.
VICTORIA CANAL SHARES NEW SINGLE "COMPANY"
"Company" is a warm, heartfelt ode to friendship, exploring the liminal space that exists between platonic and queer love, landing ultimately on the fact that wanting someone around matters more than any definitions: "Honestly, I love your company."
New Music This Week – Blur, Guided by Voices, Greta Van Fleet and More
New Releases for July 21, 2023 – Here are the AllMusic editors' picks for the most noteworthy releases this week. Looking for more? Visit our New Releases page.
ROZZI Announces Release Of Acoustic EP 'Live From Home' Out Today
Today, LA-based vocalist, songwriter, pianist and producer Rozzi releases her new acoustic EP Live From Home via BMG.
The EP's focus track is "Visions," which originally appeared on Rozzi's 2018 album, Bad Together. An acoustic version of one of her biggest tracks to date, a single called "Who Do You Love" (originally created in collaboration with producer / DJ ARTY) also graces the EP.