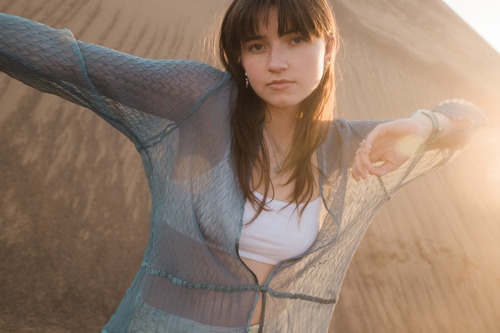 @skopemag news – friday – june 30, 2023 @ 12 pm est
https://www.facebook.com/SkopeMag/
https://twitter.com/skopemag
https://www.youtube.com/@skopetv2
https://www.instagram.com/skopemag/
APP – Apple iTunes –
https://itunes.apple.com/app/id1465224822?mt=8
@skopemag APP – Google / Android –
https://play.google.com/store/apps/details?id=hr.apps.n207414718
Support @skopemag –
https://www.paypal.com/donate/?hosted_button_id=3APKAKT8K6ETW
Emma Ogier Shares Debut Single "First Base"
Emerging singer and songwriter Emma Ogier is making her introduction with her debut single, "First Base," out now on Cardinal Records.
Hailing from Houston, Texas, 19-year-old Emma Ogier is an artist quickly making a name for herself. Drawing inspiration from established artists like Lori McKenna, Phoebe Bridgers, and Joni Mitchell, Emma's unique sound blends elements of country and indie pop, creating an evocative atmosphere that captures the hearts of her listeners. Her talent has not gone unnoticed by her musical heroes, as evidenced by Maggie Rogers recently joining her for multiple duets on TikTok.
Jack Vallier bounces back with cathartic EP – BBC R1 Future Pop support
Beloved Bournemouth singer/songwriter Jack Vallier delivers his much-anticipated new EP Chaos Into Calm Pt 1, out June 30th on Firefly Entertainment – with part two still to come later this year.
Media Alert – BEAR WITHIN US ANNOUNCE NEW SINGLE/VIDEO "DEVILS DAY"
BEAR WITHIN US ANNOUNCE NEW SINGLE/VIDEO "DEVILS DAY"
We are thrilled to announce the release from the Tampa, Florida band Bear Within Us – "Devils Day", a celebration of those who refuse to conform to the norms of society and chose to stand up for what they believe in. "Devils Day" is dedicated to all those who have faced adversity and have come out stronger than ever. It's a tribute to those who have fought tirelessly to make their voices heard and have never given up, even when the odds were against them.
SONY MUSIC ENTERTAINMENT'S CERTIFIED, MASS APPEAL & GOOGLE PIXEL LAUNCH 'PIXEL REPRESENTS' SERIES
"Fifty years of Hip Hop— it's an honor to be called on by Google and Mass Appeal to celebrate the culture this way," said Lola Brooke. From reinterpreting one of my favorite records Grindin' by Clipse to capturing all the magic on a Google Pixel phone, every part felt like a celebration. It's dope to see how it all came out, and I'm happy to have gotten the chance to create art that I can always look back on and cherish. "
Dirg Gerner conjures up childlike wonder on new single 'My Heart'
A mélange of falsetto vocals and reverb-soaked guitars over a shuffling groove, 'My Heart' is a richly captivating listen. Reflecting on themes of childhood innocence and wonder, Dirg Gerner conjures deep truths in this simple yet powerful arrangement.
Nu Aspect returns with infectious new single 'Sinner'
Fast-rising producer Nu Aspect is back with his latest masterpiece 'Sinner', the anthemic new melodic house cut out on Selected.
Alternative Psych-Rock Band Meltt Release Emotionally Charged Single "Your Melody"; Announce New Album, out 9/22
"Your Melody" is a soul-stirring tribute to Meltt bassist Ian Winkler's father, who valiantly battled ALS. "My dad was in the late stages of his fight with ALS, so it was a very intense time for me. My grandma had also recently died. We were going through her old photo albums, and there was one picture of my dad as a kid. I saw the picture and where he was in the present like, 'Holy shit, this was his destiny'. I was interested in determinism and physics from a philosophical perspective. Since all of  time just exists, we're playing through it like a song. That's where 'Your Melody' came from. I saw my dad's song from beginning to end in the picture. The song was born out of a lot of fear, grief, and anger."
Alternative Indie-Rock/Pop Band 'Lost Romantic' Drop Anthemic New Single 'Bad Intentions' Via Sony Germany
'Bad Intentions' blends alternative indie-rock elements with dark pop sensibilities to create a fast-paced single brimming with energy. The band has previously seen support from the likes of BBC Radio 1's Introducing Rock Show and BBC Introducing South. Known for their dynamic stage performances the duo have already played two sold-out London headline shows along with performances at Lollapalooza Berlin, The Great Escape and a showcase show at Sony Germany HQ.
The Americans Debut Lyric Video for "When You Get Back;" from the Upcoming EP "Strays" Out 7/21
The band's distinctive, powerful works have captured the attention of a number of stars. They've backed Nick Cave, Lucinda Williams, Ashley Monroe, and Devendra Banhart, and twice joined Ryan Bingham on national tours. They worked closely with Jack White and T Bone Burnett, joining Nas, Elton John, and Alabama Shakes in the PBS primetime series American Epic. Additionally, they appeared on The Late Show (CBS), and their music was featured in the films Texas Killing Fields, A Country Called Home, Little Glory, and the TV series, No Tomorrow.
Watch The Americans' Lyric Video for "When You Get Back"
MERCY MUSIC Gives It All They Got For Fourth Full-Length Album 'What You Stand To Lose'
"When people listen to our new album, I want them to feel happy, sad, inspired, and depressed. Then I want them to feel happy again. That last part is critically important," says bassist Jarred Cooper of Las Vegas-based pop-punk outfit MERCY MUSIC on the band's fourth full-length album What You Stand To Lose out today (release date: June 30, 2023 via Double Helix Records/SBÄM Records). Vocalist and guitarist Brendan Scholz adds, "What You Stand To Lose is about coming face to face with one of your worst fears, learning from the experience, and hoping you come out the other side a better person."
MEGZZ RELEASES EMPOWERING R&B ANTHEM 'BOYS WILL BE BOYS (BWBB)' RELEASING 30TH JUNE 2023
Rising R&B talent APW release latest passionate single "Learnt Behaviour" OUT TODAY
Blending smooth R&B production with jazzy guitar melodies, APW's distinctly soulful vocals take centre stage whilst his honest lyrics tell the relatable story of using passion to fill a void as he sings "Move in closer, time I put it on ya, 30 is all we need." Building throughout, the queer talent's impressive vocal range dances in and out of falsetto combining luscious riffs and backing vocals with stacked emotive harmonies creating a nostalgic feel.
Parquet — Mud EP
French Avant Rock band Parquet releases today new EP "Mud" via Carton Records. The band shares stunning music video for "Brute", the EP's opening track.
KAMERON MARLOWE AND ERIN KIRBY GIVE THE FANS WHAT THEY WANT! NEW VERSION OF "I CAN LIE (THE TRUTH IS)" OUT NOW
"A while back I teased this song on TikTok and the next day I got an insane amount of notifications about this girl named Erin Kirby. I listened to her video and immediately said we had to throw her on 'I Can Lie'," said Marlowe. "This song wouldn't be true without her, and she was definitely the missing link to making the story of this song come to life. I'm excited for my first duet to be something the fans made happen and I can't wait to see how Erin's career takes off from here. She's the real deal and I'm very proud of this song."
ALOK & AVA MAX PROVIDE COLLABORATION OF THE SUMMER CONTESTANT WITH "CAR KEYS"
The most-listened-to Brazilian artist in the world on Spotify and #1 DJ in Latin America is ending his Spring with this new single following an action packed few months highlighted most recently by a performance at EDC Las Vegas and virtually accepting a charity award from Cannes Film Festival in the same night, his massive Infinite Experience concert, and exclusive Tomorrowland radio show launch. The collaboration "Car Keys" features Tiesto's iconic "Ayla" sample and was produced by top producer Cirkut (The Weeknd, Maroon 5, Rihanna) and written by another superstar in UK singer-songwriter Raye, who just recently won the prestigious Ivor Novello songwriter award for Best Contemporary Song for having written "Escapism." All songwriters of "Car Keys" have over 40 billion streams combined on Spotify.
Daya returns with new single "Juliene"
Lo-fi rapper and singer Powfu has joined forces with fellow lo-fi heavy hitters, Ouse and Snøw, to release a special joint EP, Flooding The Gates, today. The EP includes 5 songs, with standout track "welcome to my world," that were all written and recorded by the 3 artists on the tour bus while on the road during Powfu's Flooding the Gates Tour in June 2022. See full track list below.
Singer-Songwriter MARK TEGIO Debuts Americana Laced Album, "Marie," Out Today!
Thematically, the songwriter's focus is razor sharp, with his intuitive lyricism intertwining with the overarching themes of the track. The prominent vocals that are laced throughout bring a sense of vibrancy and life into the song which sets the tone for the upcoming release.
North London vocalist ELJÉ opens up across her UKG cut "Bout To Lose It'
With sounds showered in eclectic summer vibrations, "Bout To Lose It" sharply embodies the ecstatic resurgence of UK garage and house, while utilising the Dominica heritage artist's neo-soul touches shining with melodic intimacy. She reconciles with the turbulent realities of mental health before the atmospheric backing bursts into high-calibre house textures, juxtaposing sleek production with the young talent's melancholic storytelling. A truly inspired lightning rod distilling a new generation of UK sound system culture, the Gloucester-based artist feels like a serious prospect in the making, and she's having fun with it.
New Music This Week from Lucinda Williams, Neko Case, Brigid Mae Power, Cornelius and More
New Releases for June 30, 2023 – Here are the AllMusic editors' picks for the most noteworthy releases this week. Looking for more? Visit our New Releases page.
OUT NOW: BILLY KEANE SHARES UPLIFTING NEW SINGLE "FRESH FLOWERS"
Produced in collaboration with James Wallace (also known as "Skyway Man") of Nashville fame, "Fresh Flowers" draws inspiration from the nostalgic, soulful flavor of the Laurel Canyon-era folk scene. Its uplifting melody and punchy delivery underscore Keane's signature zealous disposition, while sharp-witted one liners highlight the burgeoning songwriter's lyrical genius. The first new studio work to follow Keane's full-length debut, Too Much to Let it Go in 2022, the fresh single marks a compelling departure from former recordings as he continues to carve his place in the singer/songwriter canon. Complete with a driving heartland tempo and contemporary gospel chorus reminiscent of a modern-day Jackson Browne, the latest offering from Billy Keane promises an electrifying lineup of future releases.
MADISON BEER ENLISTS TIMBALAND FOR "HOME TO ANOTHER ONE" REMIX!
Platinum-selling singer, songwriter, and producer Madison Beer has teamed up with GRAMMY-winning producer Timbaland for a remix of her latest single – "Home To Another One". Timbaland gives a fresh spin to the summer anthem, adding in his signature production style- listen.
Power Of Fear release debut album A Breed Apart on DAZE
On their debut album A Breed Apart, out now on DAZE, Pennsylvania hardcore band Power of Fear pack a riff-fueled fury. Drawing from bands like Hatebreed and Cold As Life, as well as guitar structures in funk and jazz music, the band have created nine heavy and high energy tracks. Growling vocals with an enraged attitude pack a raw disdain in lyrics that anyone can relate to. It's tough, crushing, mosh-ready hardcore with a bit of bounce to satisfy your eardrums.
Housewife Presents Self-Directed "King of Wands" Music Video
Housewife's self-directed "King of Wands" video celebrates the inherent power of women's intuition, spirituality, and solidarity – the things that keep women safe and thriving in the face of patriarchy.
Emika Love Releases New Sultry Latin Groove "Mueve Tu Cuerpo"
Rising pop/singer-songwriter Emika Love has released her infectious new single, "Mueve Tu Cuerpo," meaning "move your body." Luring listeners in with a sultry melody and irresistible beat, Emika Love's "Mueve Tu Cuerpo" is "a fun Latin song that makes you want to sway your hips and dance!" "Mueve Tu Cuerpo" is currently available for streaming on all music platforms worldwide.
Fox Jackson drops summer, feel-good banger "Glimpses" 
London based singer/songwriter Fox Jackson has been enamored by music from as young as he can remember. Inspired by the likes of artists such as Earth Wind and Fire, Kool and the Gang and George Benson, his music blends funk-fuelled melodies, sexy vocals and dance-worthy beats, creating a vibrant and distinct sound which is undeniably his own.