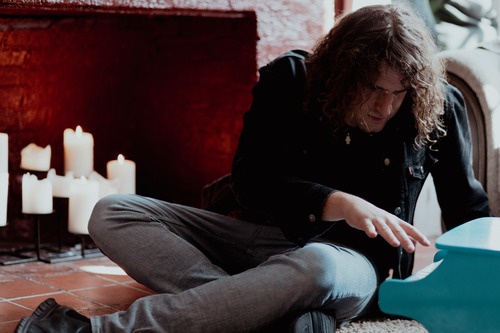 KTHRTK's debut album Dreams Are The Only Safe Place To Hide draws from metalcore, math metal, technical death metal, symphonic metal, groove metal, nu metal, etc. The hitch is that project mastermind Doug Berns finds an unprecedented level of tunefulness not only in all the different styles of screaming he employs, but in the cymbals, drum heads, bass rumble and 7-string guitar distortion. 
WATCH: VIDEO FOR THEIR SINGLE "FUNERAL": preview here
Alongside Berns' pummeling 7-string guitar riffs and arsenal of howls, the album features extreme metal/jazz-fluent drummer extraordinaire Alex Cohen (Contrarian, Pyrrhon, Imperial Triumphant) and guitar solos—more like mini-compositions—courtesy of Sean Salant. 
Berns spent years as a touring member of Afrobeat groups like Antibalas and EMEFE and is currently part of legendary NYC nightclub Cafe Wha's house band. He's nurtured a love for metal since discovering Iron Maiden's iconic "Aces High" at 13. While also steeping himself in funk, soul, jazz and Afrobeat, Berns latched onto classic proto-metal groups like Black Sabbath, Motorhead, Dio and UFO. Before long, his tastes grew to include harsher, more technical fare like Meshuggah, Death, Fit For An Autopsy, Tesseract and After the Burial. 
The unsettling video for "Funeral" brings to life the album's gut-punching themes of betrayal and anguish. As intense as the music gets, though, Dreams Are The Only Safe Place To Hide presents anger not as a one-note expression but as a lifelike, three-dimensional range of experience. Grief, bitterness, shock, paralysis, depression, the thirst for revenge and, ultimately, triumph all find a voice within Berns' vibrant, furiously determined vision of what metal can be.                                                                 
KTHRTK online: