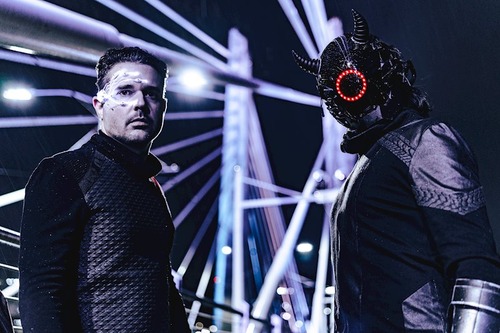 @skopemag news – monday – june 12, 2023 @ 1 pm est
https://www.facebook.com/SkopeMag/
https://twitter.com/skopemag
https://www.youtube.com/@skopetv2
https://www.instagram.com/skopemag/
APP – Apple iTunes –
https://itunes.apple.com/app/id1465224822?mt=8
@skopemag APP – Google / Android –
https://play.google.com/store/apps/details?id=hr.apps.n207414718
Support @skopemag –
https://www.paypal.com/donate/?hosted_button_id=3APKAKT8K6ETW
Music Submission: Naomi Psalm
This free spirited Florida girl began turning her poetry into songs in her early teens. Yet highly influenced by the 90's female indie scene, she has a sound of her own. Her powerful vocals reminiscent of Alanis Morissette will move you as you absorb each lyric as if it were written for you. Naomi's songs have bits of introspection, as well as fun and quirky twists. She has released 4 full length CDs, 2 EPs , 5 singles, and several music videos. Her latest full length record was released in September 2022. Her award winning music has taken her to 32 countries as well as countless tours in the Northwest. She currently resides in Boise, Idaho.
Music Submission: ACTHEKiDFROMSPACE
ACTHEKiDFROMSPACE is a self taught Montreal, Canada based artist & sound engineer. Taking influences from many genres and artists, AC has been able to develop his own sound that stretches the boundaries of genre based music. His goal is to make smooth midnight songs that can make people feel the memories and feelings that he lived while creating them.
Rachel Bochner Presents "If I'm Gunna Be Sad" Music Video
In the self-directed music video, Rachel and her co-writer/producer Tiger Darrow throw themselves an over-the-top party complete with a bounce house, cotton candy, feather boas, and an inflatable bull. Rachel elaborates on her vision for the music video: "The song feels badass but without taking itself too seriously, so I really wanted to play with bouncing (pun intended) between empowerment/bad bitchery and the silly/ridiculousness of two grown ass women falling over themselves in a pink bouncy house intended for children."
ERIN K releases cathartic new single 'Goodbye Song'
'Goodbye Song' eschews genre categorization as its subtle melancholic grooves build and weave their way under the skin. Dealing with accepting and understanding a break-up, the lyrics conjure up memories of places and times spent together with a partner, as the sounds & production wrap the listener in a twilight atmosphere.
But far from being a gloomy and downbeat affair, the song has an infectious shuffling rhythm that grows and grows on each listen!
ASGAARD releases single and video for "W sercu nieświata" Acoustic version
ASGAARD has unveiled their latest single and accompanying video, "W Sercu Nieświata" (Acoustic Version).
This heartfelt rendition serves as the concluding masterpiece from their highly anticipated EP, also titled "W Sercu Nieświata," further showcasing ASGAARD's captivating performance and undeniable artistic talent.
Sofie Winterson releases Benny Sings co-produced album Southern Skies
(12th June) Amsterdam-based musician Sofie Winterson shares her new album Southern Skies co-produced by Benny Sings via Excelsior Recordings featuring previous singles "Jump", "Lost You To A Boy" and new single, closing track "Perfect Goodybe".
Visualis: Sydney Metal Act Release New Single 'War and Pain'
Australia's Visualis proudly released the new single War and Pain. The single is an introduction to their upcoming new album that they are currently working on. It is their first release to feature their new vocalist TNT who joined them in November 2022.
NEW ALBUM: Multi Talented Artist KID BE KID Releases Album titled 'Truly A Life Goal But No Ice Cream' (SOUNDS LIKE: Björk, FKA twigs, and Grimes.)
Lydia Loveless Announces New LP 'Nothing's Gonna Stand in My Way Again' Out 9/22 (Bloodshot Records), Shares First Single/Video "Toothache"
Lydia Loveless today announced her highly anticipated new album Nothing's Gonna Stand in My Way Again will be released on September 22nd, 2023, via the resurgent Bloodshot Records. A follow-up to her critically acclaimed 2020 LP Daughter, Nothing's Gonna Stand in My Way Again continues the evolution of Loveless (she/her/they/them): a fiercely brave writer who bluntly assesses their life in song. Their trademark candidness and razor-sharp wit remain as they lay bare their raw pain—struggles with alcohol and depression, a breakup with their longtime boyfriend, and uncertainty about the future—but here Loveless' voice is wiser and more controlled.
Canadian duo Retrofile return with indie-pop inspired single 'Broke Generation'
Twin duo hailing from Edmonton, Canada, Retrofile are back with their brand-new single 'Broke Generation', dropping 9th June 2023. This is the second release from their forthcoming EP, due for release 14th September 2023.
Ready for broadcast… Babylon from British indie / rock group The Coltens
The Coltens have the tonal mashup of 90's abrasive rock with 2020's indie crowd pleasers, a real Manchester feel. With extreme guitar solos and catchy tunes, they are one of those bands you never knew you needed or appreciated until they were put in front of you to enjoy.
THE BLACK ANGELS share new video for 'History of the Future' | New album 'Wilderness of Mirrors' out now via Partisan
Austin psych-rock legends The Black Angels have shared a new music video for their track 'History of the Future,' taken from their latest album Wilderness of Mirrors (out now via Partisan Records). Directed by Clever Cardoso and filmed in Terlingua, TX, the video takes inspiration from Pink Floyd's famous 'Live at Pompeii' concert. Watch the video below.
Hard Rock/ Metal Band AMONARCHY Release Self-Titled New Album to all major platforms
"We're excited to announce the release of our debut album, a blend of metal and rock with lyrics that dive into the events and emotions that drive us to create music. We drew on influences from Metallica, Iron Maiden, Rage Against the Machine, Queen and other legends of metal and rock. So put on your horns and crank up the volume. We can't wait to share our music with you!" says Kyle Purwin.
A LIGHT WITHIN Unveil Video For "Count With Your Eyes"
Dynamic, post-metal ensemble A LIGHT WITHIN have unveiled their new video for "Count With Your Eyes". Continuing to push the boundaries of their music ever further, "Count With Your Eyes" is a thrilling offering with an emotive and uplifting message.
Industrial Outfit AVGMNT Release New Video "PVRE BLACK"
AVGMNT (pronounced augment) the dystopian cyberpunk themed brainchild of ΩZ (Zach Wager) and αn (Fernando Ruiz) have released their video for "PVRE BLACK". The industrial duo recently released their debut full-length, SEQVENCES, form which the track is taken. Copies are available HERE.