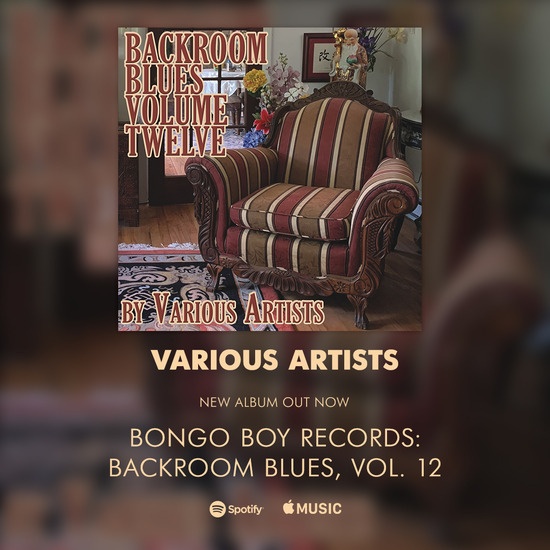 The NEW Bardots delves into a wild, cacophonous sense of the blues with "On Our Own." As they let it rip, volume is a given, incorporating guitar athletics alongside unhinged rhythms. A force of nature, they hold nothing back.
Harmonica proves to accompany the wild presence of Gypsy Carns' "Now I'm Alive." Faith-based, the message has an otherworldly presence. Drums kick it out, for the piece has an intrinsic beauty.
Delicate piano adorns "Busted (feat. David Vanden Enden)" for E.G., Holmes goes for a noir-like cadence. Like being lost in a dream, they allow the rest of the sound to feel life-affirming. The layered approach works its magic.
Sly grooves underpin "Corporation Businessman" as the NEW Bardots have a wildness right at the periphery of their sound. Guitars play off each other in this dazzling display. The song has a laid-back presence.
Things go right for the intimate on the stripped-down essence of "The House of the Rising Sun," with his voice rising to the sky. A cautionary tale for sure, the piece unfurls in a majestic stance. Everything about it has this hallowed cadence.
Official Webpage for album: https://bongoboyrecords.com/backroombluesvol12
E.G. Holmes presents a dignified parade on the darkened edges of "Mysterious (feat. Karl Knutson)." They have fantastic interplay, emphasizing the importance of community. Horns add to this sense of the immense.
Hushed late-night jazz emerges on the Boys'N'Barry's "Think What Might Have Been." Yearning to its core, the song has a stately elegance. Lyrics offer a sense of introspection.
Skeletal structures emerge with "If You Only Knew" as the Bible Belt Blues has a hot, humid confessional quality. Things here take their time, as the song threatens pure collapse. He hints at a potentially darker path.
The soothing calm of "Crickets" shows off the giddy nature of Tiki Cowboys. Much of the work goes for this buildup, as the song feels so joyous. Vocals rest right in the center, with the percussion further adding to the twee sensibility.
A pure vibe emerges on the epic finale of "Missing You" as Grit's Guitar possesses some impeccable chops. The song manages to tell an entire story without saying a single word. Quite entrancing, it brings things to a close.
Various Artists featured on this Blues album:
1. The NEW Bardots – On Our Own 2:33
2. Gypsy Carns – Now I'm Alive 3:26
3. E.G. Holmes – Busted feat. David Vanden Enden 4:18
4. The NEW Bardots – Corporation Businessman 4:01
5. Bible Belt Blues – The House of the Rising Sun 5:21
6. E.G. Holmes – Mysterious feat. Karl Knutson 3:18
7. Boys'N' Barry – Think What Might Have Been 3:16
8. Bible Belt Blues – If You Only Knew 4:31
9. Tiki Cowboys – Crickets 4:21
10. Grit's Guitar – Missing You 9:49