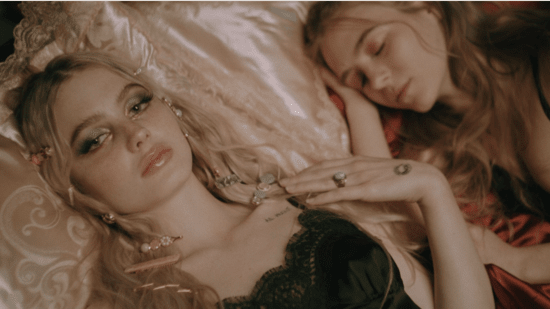 @skopemag news – thursday – june 1, 2023 @ 4 pm est
https://www.facebook.com/SkopeMag/
https://twitter.com/skopemag
https://www.youtube.com/@skopetv2
https://www.instagram.com/skopemag/
APP – Apple iTunes –
https://itunes.apple.com/app/id1465224822?mt=8
@skopemag APP – Google / Android –
https://play.google.com/store/apps/details?id=hr.apps.n207414718
Support @skopemag –
https://www.paypal.com/donate/?hosted_button_id=3APKAKT8K6ETW
NOFUN!'S GARRETT GLOOM AND LOUIE LAMBO NEW SINGLE + VIDEO "PLAIN JANE"
Multi-talented artists Garrett Gloom and Louie Lambo from the Los Angeles-based collective NOFUN! join forces for their latest single, "Plain Jane." The collaborative offering delivers an explosive surf pop punk track produced by 5HERIFF, just in time for summer. The release comes alongside a quirky video directed by Mason Lukiewicz that showcases the fun and rambunctious energy of the two as they attempt to dodge crazed and handsy fans.
Haiku Hands share alt-dance banger "Ma Ruler"
Chanting, "All day I think about the night," it's clear that this is pure party anthem that takes not taking yourself too seriously… very seriously. The relentless percussion is produced in a way that makes you feel like you're deep in the belly of an underground warehouse banger even if you're dancing alone in your home, or in the park on a sunny Saturday, or in the cereal isle on a routine grocery run. It's an instant mood-booster no matter where you are.
CHICAGO HEAVYWEIGHTS NO ID & SABA RELEASE NEW SINGLE "HUE_MAN NATURE"
A classy guitar loop encircles a thumping bassline and head-nodding groove on "hue_man nature." Atop the lively soundscape, Saba darts through the negative space, twisting lines that, on paper, could have been delivered at any point throughout rap's history ("The mics I've touched, they might leave dust") into new, knottier shapes. By the track's end, this insistence on boiling a sentiment down to its essential element helps Saba land some of his most slyly incisive, personal barbs to date: "Damn/I was going through it, didn't say shit/Damn/You was busy asking me for favors." The stunning music video sees Saba rapping the track in an expansive desert scene, backdropped by cotton-candy sunset skies and sweeping sand dunes in an environment that feels other-worldly.
The Jungle Giants team up with RENEE for dreamy bilingual collab "Rakata"
IDINA MENZEL RELEASES MUSIC VIDEO FOR FIRST SINGLE "MOVE" FROM THE UPCOMING ALBUM DRAMA QUEEN OUT AUGUST 18TH VIA BMG
"Move" provides an infectious beat for listeners to embrace the way in which the music moves them. The powerful and vibrant new single is about being your authentic self, stepping out of the shadows, and not letting someone else get in your way or steal the spotlight from you.
Listen to Anna St. Louis' "Morning" off her upcoming album, In The Air – Out June 9th on Woodsist / Mare
Born of a thousand nights lost in a surrender to stillness and contemplation, In The Air is Anna St. Louis' second full length album and her most considered work yet.
St. Louis' debut If Only There Was a River seemed to emerge fully formed out of the recesses of her mind; a gritty, mesmerizing affair, filled with jagged edges and ghostly apparitions. The type of record that announces a new voice; one haunted by what has come before.
Decades Share New Single "Want Me Back" / Out via Slow Supermarket
London-based electronic duo, Decades (Anna Straker and Coldabank) – who recently opened for Jungle in the UK – today share their new single "Want Me Back" out via Slow Supermarket. The release follows debut single, "Be There".
Out Now: Sweet Gloom's "American Honey" Single/Video via Asian Man Records
RAEGAN celebrates Pride with lesbian 'Romeo & Juliet' music video for "WALTZ"
RAEGAN is back with a new emotionally charged and introspective track, "WALTZ". Inspired by her personal journey of self-discovery and the challenges faced while coming out as gay, the 20-year-old alt-pop artist poured her raw emotions into a song that beautifully captures her experiences and inner turmoil.
ROB GRANT RELEASES NEW SINGLE 'LOST AT SEA' FEAT. LANA DEL REY
Today – Thursday 1st June – opulent soundscape creator Rob Grant releases his new single, 'Lost At Sea' feat. Lana Del Rey, out via Decca Records. It is the fifth single to be taken from his upcoming debut album, Lost At Sea, following the release of 'Setting Sail On A Distant Horizon', 'Poetry Of Wind And Waves', 'The Mermaid's Lullaby', and 'Deep Ocean Swells'. Rob Grant's debut album, Lost At Sea, is out on Friday 9th June.
TRANSFORMERS: RISE OF THE BEASTS | New Music Video for "On My Soul" & "New Sound" Featurette
Returning to the action and spectacle that have captured moviegoers around the world, Transformers: Rise of the Beasts will take audiences on a '90s globetrotting adventure with the Autobots and introduce a whole new faction of Transformer – the Maximals – to join them as allies in the existing battle for earth. Directed by Steven Caple Jr. and starring Anthony Ramos and Dominique Fishback, the film arrives in theaters June 9, 2023.
Valley soundtrack summer heartache with latest single "Have A Good Summer (Without Me)"
"Have A Good Summer (Without Me)" captures a very specific type of heartache, one which is contradicted by sunshine and the expectations of the season. A theme that's been explored by the likes of Lana Del Rey, Regina Spektor and Taylor Swift, Valley interprets that feeling of longing on their own terms, singing, "If you fall for somebody new, do everything we used to do, I hope it gets you thinking about me," which if you've ever experienced a summer break-up, hits deep. On the track, Karah James describes, "the summer in our minds is a romanticized version of life. Love and its adventures are heightened with the heat and the water and the sunshine. The blow of losing someone before those precious few months of the year is devastating to say the least. 'Have A Good Summer (Without Me)' is loving them so much, you will let them go."
Misha Fair Unveils Empowering Single "Beg"
Rising country artist Misha Fair has released "Beg," an emotionally charged, swampy blues track that combines raw vocals with delightful and seductive melodies. The single is accompanied by irresistibly atmospheric electric guitars and marks the follow-up to Fair's intense and soul-stirring single "Memphis," which highlighted her captivating storytelling and vocal performance. "Beg" is available to stream and download on all digital platforms.
RISING R&B SINGER-SONGWRITER TA THOMAS DEBUTS MUSIC VIDEO FOR "JUNE 15TH"
Acclaimed Band Hiss Golden Messenger To Release New Album JUMP FOR JOY On August 25th Via Merge Records
Grammy-nominated band Hiss Golden Messenger has announced the release of their highly anticipated new album Jump for Joy (Merge Records) on August 25th. The group has also announced an extensive fall tour of the U.S. in support of Jump For Joy (see list of dates below). The first single "Nu-Grape" bursts with buoyant verses and a gospel-tinged chorus featuring Aoife O'Donovan and Amy Helm on backing vocals.
DORIAN ELECTRA RELEASES SODOM & GOMORRAH
Purr Release New Album 'Who Is Afraid Of Blue?' Tomorrow
Purr, the New York City duo comprised of Eliza Barry Callahan and Jack Staffen, are releasing their sophomore record 'Who Is Afraid Of Blue?' tomorrow. In anticipation of tomorrow's release day Under the Radar are sharing an early listen to the album's title track – hear it and read more about the record via Under the Radar HERE.
Violent J, Ouija Macc and Esham Release New Album '3 Headed Monster Obliteration' via Pyschopathic Records; On Tour NOW!
Violent J (Insane Clown Posse), Ouija Macc and Esham released a new record today titled 3 Headed Monster Obliteration via Pyschopathic Records.
RMC Mike "Pick Me Now" Video Out Now, Off Recent Project 'Senior Season'
A part of the Flint rap movement since its inception, RMC Mike's musical journey is being written as we speak. An advocate for authenticity, Mike's skilled lyricism and real-life storytelling coupled with his raspy and heavy delivery set him apart from his peers. With renowned collaborations under his belt, the Flint, Michigan native continues to expand his audience and put on for his city.
Rusty x Panda Bear
Rose Gray Shares New Single "Happiness" Via Play It Again Sam
One of the UK's most exciting rising stars and dance-pop icon in waiting Rose Gray has shared her brand new single "Happiness", co-produced by Eats Everything and Eli Brown, which premiered on long-time supporter Clara Amfo's show on BBC Radio 1. The follow up to Rose's EP Higher than the Sun, released earlier which year, which featured Clara's Hottest Record in the World "Ecstasy" as well as previous singles "Sun Comes Up", "Promise Me" and FIFA 2023 soundtrack song "Prettier Than You", the new single continues Rose's upward streak creating some of the UK's best dance-pop in recent memory. "There's no denying I'm a late 90's baby with my heart very much in the underground club scene," says Rose of "Happiness". "I take massive inspiration from the euphoric and pure nature of iconic 90's records. "Happiness" is just that reimagined in 2023 style".
ACCLAIMED TRIO GABRIELS SHARE NEW SINGLE "GLORY"
The much-anticipated 13-track record will be released on Friday, July 7 via Atlas Artists/Elektra. The effort was produced by fellow Compton native and GRAMMY-Award winning producer Sounwave (Kendrick Lamar, Beyoncé, Chloe x Halle).
Rob Crow + Kramer Share "Kerosene" Video via StereoEmbers
PRE's SNUPE BANDZ & PaperRoute Woo Drop "Super Trap Bros" Video
Complete with Super Smash Bros level special effects, Memphis' super trap bros flex with their crew in front of the Young Dolph mural in their hometown, paying homage to the man who helped them earn their superpowers.