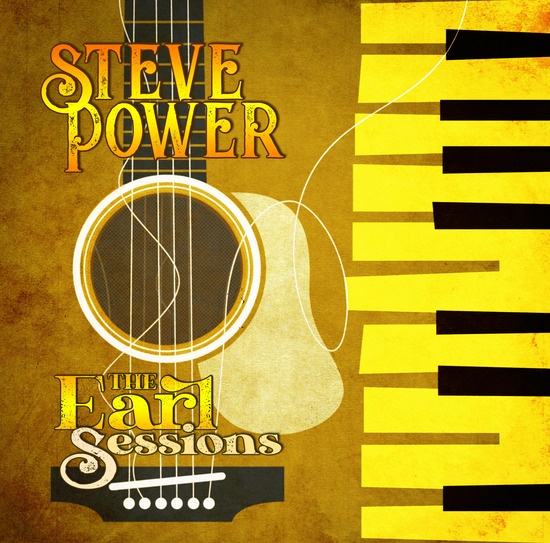 Steve Power is an Austin-based, award winning, singer-songwriter that has been performing for over five decades now. Power has played all over the US and afar, has released two EP's and now his fifth album release is titled 'The Earl Sessions'. With an array of elements from rock and roll, classic country and blues to gospel and Memphis soul & folk, Steve Power runs the musical gamut of styles.
A world-class group of musicians is backing Steve Power on 'The Earl Sessions' and they are: Casper Rawls on guitar, Chris Crepps on upright bass (Dale Watson), fiddle maestro Warren Hood (Bruce Robison), drummer Pete "The Beat" Langhans (Mother Truckers), guitarist Phil Hurley (The Moonlighters), Hammond B3 player Ron D'Argenio, and legendary keyboard great Earl Poole Ball (Johnny Cash, The Byrds, Graham Parsons), after whom the album is named. Also on the album is the Austin-based St. James Baptist Church Choir directed by Ms. Claudia Williams on the gospel-flavored track "Bathing in White Light." It's also worth mentioning that this new record was produced by Ron D'Argenio who has worked with the likes of Miranda Lambert among others.
'The Earl Sessions' offers listeners nine, distinct songs that each have their own identity. The album kicks off with "You Were Meant For Me" that offers that vintage, country sound and is just a toe-tapping, good time! Next, we are galloping along at just the right pace where the perfect "Choices" are being made by Steve Power! Prepare to step into "Paradise" where this song flows wonderfully. Step into the bright side of "Paradise" where Power supplies a strong delivery overall. Track four, "'Til I Gain Control Again", provides a fantastic arrangement as a calming breeze rushes past your ears. Steve Power gives a stellar performance on 'Til I Gain Control Again". Moving on, the audience gets hit with a catchy melody and appealing tone on "Somebody You Don't Know". Track six, "Golden Ring" is glowing with excitement as Steve Power delivers one, fun-filled jam. "Golden Ring" puts you in a good mood as it's time to clap to the beat and dance like crazy! You will be jumpin' & jivin' to "Crazy In Love" that proves to be a lively joint. Steve invites everyone to get the party started on "Crazy In Love"! It's time to "Follow the Wind" now where an easy-breezy, laid back feel surrounds you to go along with potent lyrics. Steve Power ends with a powerful finish on "Bathing In White Light" where you will want to soak up every bar & note. This glorious composition has Steve proclaiming "I found my redemption" as the audience will be fulfilled with promise & hope.
I was thoroughly impressed with 'The Earl Sessions' as Steve Power & company provided world-class music. This album was enjoyable from start to finish because Steve has a way of connecting with the audience and pulling you in. I feel 'The Earl Sessions' should be getting major airplay now and Steve Power will discover new fans along the way. The musical journey continues for Steve Power! Also, be sure to check out the official music video for the single, "You Were Meant For Me" right here: https://www.youtube.com/watch?v=0IDIRmqUqGA.
By Jimmy Rae