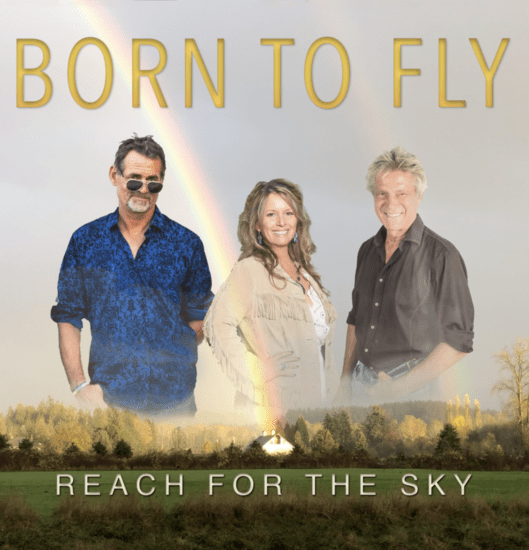 Talk about a perfect name for a band and album because Born To Fly is certainly looking to 'Reach For The Sky' with their new album. 'Reach For The Sky' is a debut release and this group is, in fact, Born To Fly. It's amazing that this is the first official record for this band because I'm hearing a highly professional production. This would be due to having seasoned musicians on the making of this record including core members Carol Ann Wood on vocals & guitar and Brian Thompson on vocals & guitar. These two singer/songwriters have a long musical history with Wood performing extensively all over the county and Thompson playing, recording, and entertaining for 35 years. Carol Ann Wood and Brian Thompson also perform as a five-piece band when the situation presents itself. The rest of the band is made up of:  Marty Hoyle on vocals and piano, Jimmy Cliff on vocals and bass, and Rick Boyce on percussion. 'Reach For The Sky' also features Roger Fisher on guitar, mandolin and vocals and it's worth mentioning that Fisher is a founding member of the rock band Heart. Roger Fisher also produced 'Reach For Sky' along with his brother Michael "Magic Man" Fisher. Magic certainly was in the air and the stars aligned because Born To Fly hit a home run with their new record, 'Reach For The Sky'.
There are 10, well-crafted and well-balanced songs on this album with each one having its own distinct quality. Right from the start, Born To Fly will lift your spirits and make you smile with the title track, "Reach for the Sky". With its uplifting sound and strong vocals that shine through, "Reach for the Sky" will make you want to sing along and clap to the catchy beat. Next, one will find musical gold at the end of the "Rainbow" where glowing rays of music surround your eardrums. Track three, "She's So Hot", offers a fun, rockin' groove where you can just let loose and enjoy the times! A pleasant country vibe can be heard next on "My Daddy's Gibson (Live)" where a sweet, sentimental value is depicted by Carol Ann Wood on vocals. On the following number, "The Air That I Breathe", an alluring tone captures your attention and imagination. "The Air That I Breathe" is pleasing to the ears with its fantastic melody that will instantly draw you in. Track six, "I Believe", is an excellent song that truly POPS! Born To Fly will make a believer out of you by delivering the goods in flawless fashion on "I Believe". The next song is called "Milwaukee's Best" and would say it has a strong 'n' refined finish and refreshing taste overall. Born To Fly is soaring vocally & musically on "Milwaukee's Best" with a dynamite performance overall. Track eight, "Everything Else", provides a very sincere approach that makes you stop and listen as Born To Fly supplies a stellar set! Spicing things up a bit with the next song, "Who Needs a Woman" where a fun, carefree attitude hits you. This number will connect with listeners everywhere where you will hear the lighthearted line, "Who Needs a Woman when you have a guitar." Born To Fly ends on a high note with "Don't Say Goodbye" where glorious notes collide to make up the perfect ending. High-quality music can stand the test of time, so "Don't Say Goodbye" because Born To Fly is just getting warmed up!
With striking harmonies and masterful recordings, Born To Fly is off to the races with 'Reach For The Sky'. Born To Fly is currently promoting the new album by way of touring the Pacific Northwest and performing soul-stirring sets before a live audience. I can't wait to hear where Born To Fly heads next because I feel the journey has just begun.
In the meantime, just 'Reach For The Sky' and never look back! Also, be sure to check out this live, music video for "Reach For The Sky", https://www.youtube.com/watch?v=Niyd7XQT3uY&t=20s.