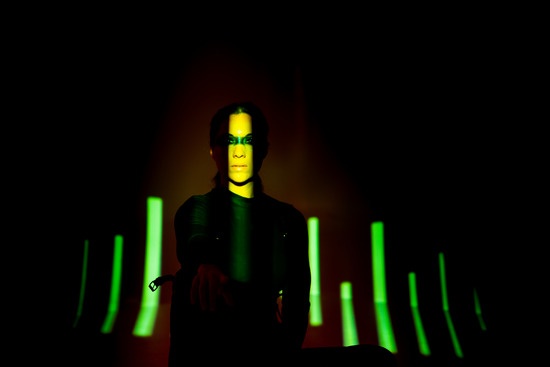 Frontwoman Jordan White of Phoenix's razor-sharp modern rock band Jane N' The Jungle always knew she wanted to be a rockstar—even before she knew what a rockstar was. Growing up with a speech impediment, White felt more comfortable singing than speaking. Taking her passions in stride, her parents enrolled her in classical voice lessons, and she eventually acquired a degree in Musical Theater from the prestigious American Musical and Dramatic Academy. That's all to say that by the time she reconnected with childhood friend and guitarist Brian Dellis, her piercing vocals layered perfectly with his vicious instrumentals and had a flair for drama to elevate their stage presence. JNTJ—as their adoring, head-banging fans call them—now boast thousands of daily listeners on Spotify that flock to their sold-out shows, which include features alongside the likes of Saving Abel, Sammy Hagar, and Escape the Fate. Take a safari through their discography and see if you can resist the allure of Jane N' the Jungle.
Nested in the arid landscape of Phoenix, AZ, Jane N' The Jungle are no stranger to unfriendly confines—but their new single "Wasteland" explores a different kind of desert. Over the bare dirge of Dellis's mournful, distorted guitar, Jordan White bemoans the hopelessness of being stuck in a toxic relationship. The entry of drums initiates a futile march through the motions of this emotional desert that escalates into a full-fledged rage, expressed in White's signature wailing and Dellis's unleashed soloing. Step into JNTJ's scene and make it out enlivened.
To steep in the steely sorrow of JNTJ's "Wasteland," check out Jim Louvau and Tony Aguilera's music video for the thrashing ballad. Surrounded by a sand storm set ablaze with fiery light, the crew hammers out their tune with a sordid simplicity. With black paint across her eyes, White resembles both a mourner and a warrior as she belts and wrenches her body in languish. As the song intensifies, rapid contrasts of hot and cold light resemble the hostile volatility of a toxic situation. Her emotion spent, White turns her back to the camera and walks on through the storm—hopefully to less turbulent tomorrows.
Follow Jane N The Jungle:
http://www.janenthejungle.com
http://www.facebook.com/janenthejungle
http://www.twitter.com/janenthejungle
http://www.instagram.com/janenthejungle
http://www.tiktok.com/janenthejungle