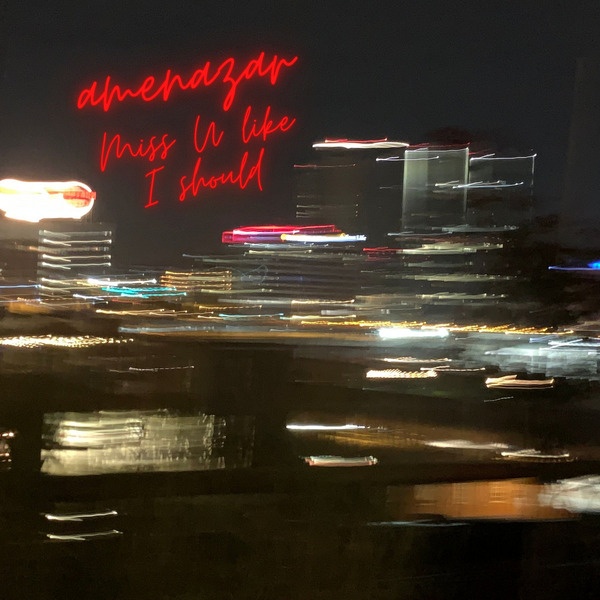 So let's get it straight from the start, Kansas City rock quintet spell their name amenazar, got that! Over the years they have turned up at gigs to have their name mis-spelt or mispronounced, so let's just underline it, these guys are AMENAZAR. It is important to get the name right as with their new single, 'Miss U Like I Should',
AMENAZAR are set to take a long journey that started out in Midwest back alley bars and motorcycle rally's to a new level.
Yet, Scott Foulk (vocals), Bruce Condon (lead/rhythm guitar), Brandon Daniels (bass), Dennis Mendoza (guitar), and Everett Jonas (drums) have not lost their sense of perspective and creativity on this road as they solicited ideas and assistance from Michael Runnells, of PC Builders Mischief to help shoot the music video on his iPhone over two days in Kansas City, KS. Why mention that? Well, it's because these guys are not just great musicians but truly grounded. They grew up together appreciating the likes of Led Zeppelin, Black Sabbath, AC/DC, and Guns N' Roses, while honing the musicianship that comes through on the new single.
As the guys explain – "The new single is a gritty rumination on absence, obsession, and unsatisfiable expectations. Toggling between inner dialog and outward facing frustration, a glimpse into the growing darkness of the song's protagonist is a scene set with soulful authenticity that wastes no time pulling you in."
https://amenazar.bandcamp.com/track/miss-u-like-i-should
Amenazar have been thumping crowds with their unique brand of music for decades now. They are working class guys born and raised in Missouri, and close friends devoted to the architecture of their sound. Music is their bond and their first unifying element but it is not the only thing that brings them together as all of the band members enjoy participating in physical activities when not playing music. Hitting the gym, running, mountain biking, and rock climbing. Now that gives you an insight into why when you see them live they have the ability to power through their songs while moving the audience from start to finish.
To produce the new project, they wished to stay close to their home base but why travel far when you have guitarists Duane Trower of the band 'Season to Risk' and owner of Weights and Measures Soundlab on your doorstep? Duane recognized that the guys have drawn upon an incredible variety of life experiences and a real clarity of the creative process while helping the band create their ultimate sound to date. So check out the links below to their music, but most of all support the band as they have paid their dues on so many levels and now is their time to really rock our world.
Bandcamp: https://amenazar.bandcamp.com
Spotify: https://open.spotify.com/artist/1bcytqihGnmFj2xY5VzCHq
Facebook: https://www.facebook.com/AMENAZARBAND/
Instagram: https://www.instagram.com/amenazarband/
Website: https://www.amenazarband.com/about