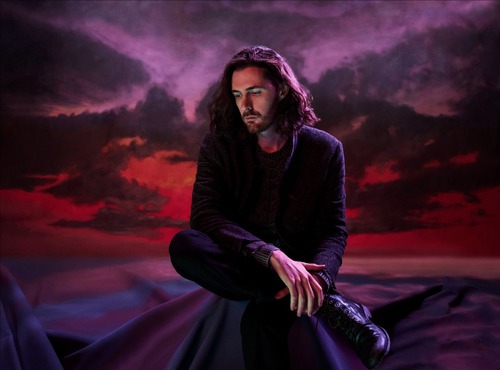 @skopemag news – friday – may 19, 2023 @ 6 am est
https://www.facebook.com/SkopeMag/
https://twitter.com/skopemag
https://www.youtube.com/@skopetv2
https://www.instagram.com/skopemag/
APP – Apple iTunes –
https://itunes.apple.com/app/id1465224822?mt=8
@skopemag APP – Google / Android –
https://play.google.com/store/apps/details?id=hr.apps.n207414718
Support @skopemag –
https://www.paypal.com/donate/?hosted_button_id=3APKAKT8K6ETW
Moon Walker returns with groovy + gritty track "American Dream Come True" | Summer 2023 tour
"American Dream Come True," out today, tackles toxic American work culture and its damage on mental health. Though the track is filled with Moon Walker's signature skepticism of the nation's culture and norms, the latest single marks a notable shift in the rocker's approach to making music. Moon Walker says, "It was my first time using samples of any kind and the vocal performance was quite a bit less melodic than my other music. Lyrically, it serves as a commentary on "hustle culture," while also discussing the depression that comes as a result of it."
SKINDRED Release Summer Reggae Anthem "L.O.V.E (Smile Please) With A Multi-Colored, Puppet-Filled Video
Tapping firmly into their ragga-reggae-sunshine roots, Skindred bounce into the summer with their brand new single 'L.O.V.E (Smile Please)', a slice of uplifting positivity designed to get your feet moving and your face beaming with the biggest smile of the year! Watch the video here:
Execution Day Release Massive New Single "Epitaph"
"Epitaph is a sort of final word to your loved ones before you pass on, something you'd want them to know even if you weren't here to say it to them. Highlighted in the lines, "You're worth your weight in gold" and "Find room in your heart to grow" is a reminder that, you have a place, you have a purpose on this earth and in this life. We as human beings are imperfect, we make mistakes and there is always room in ourselves to be better and treat others with the love we expect to be treated with in return. Everyone is loved and worthy even in the times they may be at their lowest and darkest times, when all hope seems lost." – Dylan Dively
Fusion Supergroup THE FUSION SYNDICATE Returns With New Members And A Brand New Single Featuring BOOTSY COLLINS and BRIAN JACKSON!
That new single, "The Bottle," is unique in several ways. For starters, it is the Fusion Syndicate's first ever cover song, a trippy, groovy version of jazz poet Gil Scott-Heron's 1973 dramatic story of alcohol abuse in the inner city. Second, the track is the first to incorporate R&B and soul music flavors into the band's repertoire driven by a stellar vocal from intergalactic superstar Bootsy Collins. In addition, joining Collins is multi-instrumentalist Brian Jackson, who was a member of Gil Scott-Heron's band and performed on the original recording of "The Bottle." Here, Jackson recreates the vibe 1970s soul jazz while bringing a modern flair that perfectly suits The Fusion Syndicate's style.
Heavy Rock Outfit Bloody Monroe Added to Toronto's NXNE Lineup Festival
Bloody Monroe…New lineup, New city, New festival !!! Bloody Monroe has been busy since the release of their debut album Some Like It Heavy with a U.S. Atlantic tour in 2022 and relocating back home to Toronto Canada. Long time friend David Foster has partnered with Michael Green in joining Bloody Monroe to help continue their grueling Heavy Metal journey to the promised land.
Bloody Monroe has been chosen to participate in this year's NXNE (North By North East) festival in Toronto Canada from June 13-18. Bloody Monroe will be playing The Bovine Sex Club (even more fun than it sounds) at 542 Queen St West Toronto June 15th. Come on out to this year's NXNE and listen to the future!
Bleach Lab Shares New Single "All Night"
"I was (and still am) really into true crime at the time I wrote these lyrics," reflects Jenna. "I am attracted to mystery and suspense. I almost wanted to write a fictional story from the perspective of a person who has an unhealthy obsession with someone. I really wanted to write lyrics that at first few listens could be seen simply as romantic, someone deeply in love…but on the second or third listen the listener picks up on the darker themes."
Jamey Johnson & Dave McMurray share new video; Grateful Dead tribute album out tomorrow
Saxophonist Dave McMurray and vocalist Jamey Johnson have released the official music video for their epic new rendition of Jerry Garcia and Robert Hunter's "To Lay Me Down." The beautifully unique visual telling of Hunter's lyrics was animated and directed by Brooklyn, NY visual artist Andrew Benincasa.
Your Paradise Fiji Announces Lineup for 2023 Edition
Today Your Paradise, one of the world's most iconic music travel experiences, has announced a star studded lineup for its 2023 edition. Returning to the Mamanuca Islands for its eighth edition December 10-16, Your Paradise offers attendees a once in a lifetime journey into the natural beauty and cultural wonder of the South Pacific year after year.
SHOW YOUR FACE – Νew Video "Forever Bleed" from the new upcoming album "The Definer"
ELEINE Unleashes "War Das Alles" Video/Single; New Album, We Shall Remain, To Be Released On July 14th Via Atomic Fire Records
MILEY CYRUS PHOTOGRAPHED BY STEVEN MEISEL FOR BRITISH VOGUE JUNE 2023 / "LIFE IN LOOKS" VIDEO
Please find Miley Cyrus, photographed by Steven Meisel, for the June 2023 issue of British Vogue.
BLUR: BRAND NEW ALBUM, THE BALLAD OF DARREN, OUT JULY 21st
Produced by James Ford and recorded at Studio 13, London and Devon, The Ballad of Darren is the band's ninth studio album, their first since the chart-topping The Magic Whip in 2015, with artwork featuring an image by British photographer Martin Parr.
Thee Oh Sees Share New Live LP via Hero Magazine
Back in 2012, Thee Oh Sees made their first appearance at Austin Psych Fest, performing an electrified set at Emo's East. The first of the band's many LEVITATION appearances down in Austin, this show has been revisited for a new series of vinyl releases, Live at LEVITATION, immortalizing it on glorious 12″ colored wax, mixed by John Dwyer and mastered for vinyl by JJ Golden.
GRAMMY-NOMINATED CUBAN LEGEND ROBERTO FONSECA RELEASES SEISMIC NEW SINGLE "MANI MAMBO"
Grammy-nominated Cuban legend Roberto Fonseca dropped his slamming new single "Mani Mambo" on April 27 via Wagram Music. A virtuoso pianist and former member of the redoubtable, Cuban-roots ensemble Buena Vista Social Club, Fonseca busts a fresh sonic blend on "Mani Mambo" that reflects his passion for fusing traditional Afro-Caribbean piano runs and mambo-esque horn blasts with a rock-steady, funk-laced backbeat. Fonseca's forceful vocal stylings provide additional intensity to the percolating musical proceedings. "Together we will laugh, cry and enjoy the mystery and magic of rhythms and melodies that rise from my roots," declares Fonseca.
YSL ARTIST FASE YODA RELEASES "BLUES" MUSIC VIDEO
The genre-bending project Fallen Angel is a contemplative body of work that illuminates Fased'spirited persona, uniting influences such as Hip-Hop, Emo and R&B with bright melodies and emotionally-charged themes. The album is preceded by a string of pre-releases including "Love Hurts," "Woah," "Because Of You," "Messed Up" and his breakout track "Butterflies." Stream Fallen Angel here.
Icewear Vezzo preps for new project with first solo release of 2023, "Back On Road" OUT NOW
Icewear Vezzo is gearing up to release his 16th project, Live From the 6, as a tribute to the place that made him. Today he drops his first solo video of 2023, "Back On Road," from the upcoming project. In the video, Vezzo posts up in his native 6 Mile with some of his Iced Up Records associates, as he rocks Gallery Dept. and flaunts his fleet of foreign cars. Ominous synths and low-note piano assist Detroit's favorite son packs a lifetime's worth of wisdom into a single verse, comparing himself to his heroes like Gucci Mane and Lil Wayne. He also nods to his unparalleled work ethic "F*ck around, be trappin' 'til I'm 50, b*tch I love the life/I hate p*ssy n****s, don't like rappers, I like mud and ice."
PYLAR: Decibel Magazine Streams "Límite" From Experimental Occult Drone/Doom Collective Featuring Members Of Orthodox And Teitanblood; Límyte Full-Length To See Release June 23rd Via Cavsas/Cyclic Law
Decibel Magazine is currently streaming "Límite" from Spanish occult drone/doom collective PYLAR. The epic psalm comes off the band's haunting new full-length, Límyte, set for release on June 23rd via Cavsas/Cyclic Law. Límyte serves as PYLAR's seventh studio offering and the third and final chapter of the trilogy that began with Horror Cósmyco (219) and Abysmos (221).
Out Today The Free Label (Your Mom's Favourite Party Band) Share Confident Single "Shine"
"Shine" is the first single to be shared from their forthcoming debut album (set for release next year). Featuring Braxton Cook (who has produced for Taylor Swift and played saxophone on Mac Miller & Christian Scott's projects), "Shine" is a laidback anthem that celebrates individuality, encouraging listeners to embrace their unique qualities and shine like a superstar.
OUT TODAY: Cloud Companion Shares Heartfelt Synth Pop Ballad "Can U Hear Me"
Austin-based musician/songwriter Cloud Companion is proud to announce their new single Can U Hear Me is out now. The song is a heartfelt synth pop ballad about navigating anxious feelings and making up after conflict with someone you care about. Can U Hear Me is the first release from Cloud Companion's debut solo album "Ordinary Time" dropping later this Fall on Flyer Club Records.
Hardcore Band TEETH Let Out their Most Violent Truths on New 'A Biblical Worship of Violence' EP
They knew they needed to create something so visceral and honest to articulate what they'd been going through while also giving themselves the opportunity to speak on the state of this world. Division, compulsion, etc. – an unjust intrinsic gravitational pull toward cruelty and brutality. A Biblical Worship of Violence is a commentary on the most volatile conventions of human beings.
GAVIAL: New Noise Magazine Streams VOR LP By German Blues/Psychedelic Rock Band; Album Sees Release Tomorrow Through Exile On Mainstream
German blues/psychedelic rock quartet GAVIAL will release their new LP, VOR, through Exile On Mainstream tomorrow. On the eve of its unveiling, New Noise Magazine is hosting a stream of the entire album.
Boy & Bear Share "Strange World" Single + Video | Self-titled Album Out 5/26
Australian chart-topping and ARIA-award winning act Boy & Bear will be releasing their new self-titled album on May 26th and today they bring you their latest single "Strange World" accompanied by a powerful music video directed by Finegan Sampson. "Strange World" delves into the universal emotion of struggling to operate in a world where nothing seems fair, however we move forward and enjoy what we can with propulsion and determination.
LOSER complete their drip-fed alt-rock EP with final single 'Starting Over'
The alt-rockers who need no introduction, LOSER, release their final single 'Starting Over' of their 'Stadium dreams on a Bedroom Budget' EP. Having slowly released the 6 track EP since October 2022, they today bid farewell to their cathartic creative endeavour.
Outlaws and Moonshine – New Single "Pills and Alcohol
Outlaws and Moonshine are back with another song with a message and is the follow-up to their very well received single and video, "Hillbilly Rockstars". The southern rock and country band out of Indianapolis, IN. has been together since 2014, pushing the limits with their music that is inspired by a lot of different genres including rock, new country, classic country, southern rock and metal.
SHORDIE SHORDIE SHARES NEW VIDEO "RESERVATION"
Hozier releases new single 'Francesca' taken from forthcoming album 'Unreal Unearth'…
Today, Hozier has shared 'Francesca,' the latest single from the Irish troubadour's forthcoming album Unreal Unearth. Touching on the project's exploration of Dante's Inferno, "Francesca" reflects on the sin of the second circle of hell: lust.