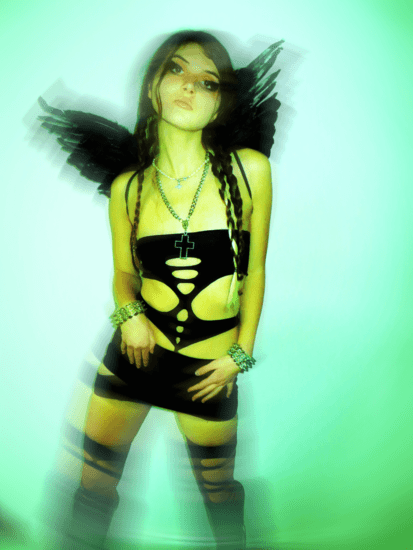 @skopemag news – friday – may 12, 2023 @ 7 am est
https://www.facebook.com/SkopeMag/
https://twitter.com/skopemag
https://www.youtube.com/@skopetv2
https://www.instagram.com/skopemag/
APP – Apple iTunes –
https://itunes.apple.com/app/id1465224822?mt=8
@skopemag APP – Google / Android –
https://play.google.com/store/apps/details?id=hr.apps.n207414718
Support @skopemag –
https://www.paypal.com/donate/?hosted_button_id=3APKAKT8K6ETW
Maya Donovan Drops Candid New Single "We Should Get Dinner"
Brooklyn-based singer-songwriter Maya Donovan has shared her new single, "We Should Get Dinner." The track perfectly captures the heart-wrenching experience of holding onto an unreciprocated relationship.
GRANDE ROYALE Release Video For "Status Doom"
Sweden's GRANDE ROYALE have unveiled a music video for "Status Doom", taken from their new album Welcome to Grime Town released via The Sign Records. The video lands ahead of the band's Welcome To Grimetour 2023 touring across Spain this May.
JORJA SMITH UNVEILS NEW SINGLE "LITTLE THINGS"
Produced by P2J and New Machine, "Little Things" is flirty and energetic, and with a video to match, it's all about the spontaneity of being out, spotting someone you like, and seeing what happens. "The song is pretty self explanatory, I had a lil concoction – rum, ting and a magnum. When we started creating this song I was just imagining hearing this walking into a party and seeing someone I'd had my eye on. It's fun!" – Jorja says of the single.
AlienBlaze & OmenXIII collab on new single "Lovesick"
AlienBlaze has just unveiled her new single "Lovesick" featuring fellow Sumerian Records artist OmenXIII, seeing AlienBlaze enter a new hybrid world of rock meets rap. "Lovesick" is produced by Kid Brunswick and mixed by Dan Lancaster (Muse, Bring Me The Horizon).
Unleash Your Rage With CIRCA ARCANA's New Video "Switchblades and Fistfights" Off Forthcoming EP "F.U.C.K.Y.O.U."
American four-piece metalcore act, Circa Arcana, from El Paso, Texas brings forth a mixture of melodic aggressive vocals, bouncy breakdowns, and hard-hitting riffs. They released their first single "Esoteric" in 2021 and an EP "Bridget Vīgintī" in 2022. This year they are following it up with "F.U.C.K.Y.O.U.", which they declare is the most unforgiving, aggressive, and meanest recording of the year. They have a new video out for the single "Switchblades and Fistfights" a high-octane song that will get your blood pumping. Vocalist Kevin Cangas comments on the rowdy track:
Hunxho Releases New Music Video for "Top Floor" Out Now!
Bailey Bigger Releases Video for Single "Arkansas is Nice"
Tentacles Industries – France's SUNBEAM OVERDRIVE Streaming Explosive New Album "Diama"
France's progressive metal act Sunbeam Overdrive was just about to hit the stages for the first time when the Covid-19 pandemic started, thus they had no choice but to pump all their efforts into their debut album "Diama". The psychedelic record is about elevation, travel, adventure, and energy. It's meant to lift you up yet make you endure the storm both inside and outside of yourself. Bridging the gaps between prog, alternative, and djent, Sunbeam Overdrive offers something groovy, unique, and original. They explain the journey one can expect to take throughout the album:
DUN RINGILL Announce Tour With PENTAGRAM – Share Final Single And Lyric Video From New Album
LYDIA LUCE, Nashville Artist & Multi-Instrumentalist, Shares New Single "Never Enough"
She says, "I'm always thinking about tomorrow and of what I want or need that will surely make me happy, and I end up getting in the way of my own happiness. The second verse refers to the feeling of a mushroom trip. When I'm tripping, I'm always reminded that I don't need anything and nothing really matters. Everything is happening exactly as it's supposed to."
THE BLEEDING Announce New Album Monokrator
London born Death Thrash champions THE BLEEDING are returning in full force to bring you their third full-length album Monokrator!
Madeline Kenney Announces New LP / Shares "Superficial Conversation"
In the quiet surrounding the pandemic, Madeline Kenney made sonic sketches in the basement studio she shared with her then-partner. She arranged phrases that called her—the sharp knife of a synth cutting a path along a blooming arpeggio, drums stuttering firm and tight. Working this way, she amassed a collection of songs she had no particular aims for. Some formed her 2021 EP Summer Quarter, others languished.
My Morning Jacket announce Fall 2023 headline tour
The upcoming North American tour continues a non-stop live schedule for My Morning Jacket that includes headline shows in the UK and Europe, festival appearances at Guadalajara, Mexico's Corona Capital Guadalajara (May 20), Barcelona, Spain's Primavera Sound (June 3), Porto, Portugal's Primavera Sound (June 9), Madrid, Spain's Primavera Sound (June 10), Manchester, TN's Bonnaroo Music & Arts Festival (June 17), Scranton, PA's Peach Music Festival (July 1), Memphis, TN's Mempho Music Festival (September 30), and a three-night run alongside Fleet Foxes set to visit Berkeley, CA's Greek Theatre (August 18-19) and Los Angeles, CA's historic Hollywood Bowl (August 20).
New Release from Killer Mike "MOTHERLESS" on Loma Vista / Concord
Killer Mike has shared a two-part short film tribute to his late mother comprising a pair of songs from his forthcoming album MICHAEL (out June 16 via Loma Vista Recordings / Concord), including his most recent single "DON'T LET THE DEVIL feat. EL-P & thankugoodsir" and the previously unreleased song "MOTHERLESS feat. Eryn Allen Kane." In keeping with the album's nakedly autobiographical nature, the two-parter kicks off with Mike digging through keepsakes in his mother's Atlanta home when he discovers and smokes a joint amongst her belongings that unlocks a wave of memories. "DON'T LET THE DEVIL," directed by Davi Peña based on a treatment by EL-P, is a joyful and nostalgic homage to the parties Mama Niecy used to throw in the family's home. Mike notes: "El's heard me talk about these bohemian-artsy-disco infused parties my mom used to throw when I was kid. I'd hear everything there–that's where I first heard Grandmaster Flash, Kurtis Blow & Whodini. So when we were trying to figure out what the video for "DON'T LET THE DEVIL" should be – Jaime came back with this treatment written out and I cried at the end. What's even crazier is he didn't know what we were doing for "MOTHERLESS" either but that's the magic I guess."
Franjapan release reverberating rock single 'Stonewall' & announce EP 'Learning Futures'
Off the back of the guitar-driven previous single 'Lucy', Melbourne's rock n' roll upstarts Franjapan have returned now to share their latest single 'Stonewall', combining moving rhythms with reverberating guitars and a frantic, pulsating urgency. Reminiscent of a moment in time, such as mid-2000s-era The Wombats, Arctic Monkeys & Catfish & The Bottlemen, 'Stonewall' is a resounding opportunity for Franjapan to showcase their musical diversity, with a fevered blend of dance-influenced tempos & raucous, jangly guitar riffs. Alongside 'Stonewall', the band are also announcing their EP 'Learning Futures, set for release on Thursday, June 8th, which they will celebrate at Melbourne's iconic The Espy on Friday, June 16th.
NIGERIAN AFROBEATS SINGER-SONGWRITER KIZZ DANIEL RELEASES NEW SINGLE "SHU-PERU"
Kizz joined forces with TG Omori again for the "Shu-Peru" video premiering on Friday, May 12. The two have a proven track record of success as Omori shot the videos for "Buga" and "RTID". "Buga" reached #1 on the Global Shazam Chart and has over 150M views on YouTube.
Amelia Moore Drops New Single, "name everywhere"
She'll wrap up her tour with Zouaï this weekend with a show at the Constellation Room in Santa Ana tonight and a performance at the El Rey Theatre in Los Angeles tomorrow, May 13. Moore – who has amassed over 150 million combined global streams since making her recording debut in late 2021 – has been lauded as an Apple Music UP NEXT artist, a Vevo DSCVR artist and a SiriusXM Hits 1 to Watch artist.
Annabel Gutherz Shares New Single "Saturn's Ring"
"Saturn's Rings" continues the intergalactic theme that Annabel first introduced with singles "Retrograde" and "Interstellar." On "Saturn's Rings," her harmonic vocals float atop a rich soundscape of theatrical instrumentation. Produced by Los Angeles-based producer Bleu McAuley (Demi Lovato, Selena Gomez, Michelle Branch), the new single is a sweeping, celestial ballad that highlights the timeless mystique of Annabel's music.
Brooke Sause Reveals New Single "How Long"
Today, singer-songwriter Brooke Sause reveals her new single, "How Long," a stunning ballad about searching for clarity in the aftermath of a heartbreak. Co-written with her sister and collaborator Breana, Brooke's new single fuses her flair for pop-flavored melodies with gentle, acoustic driven instrumentation.
Lil Durk Inspires With New Single & Music Video "All My Life" Featuring J. Cole Out Now !!!
OUT TODAY: Alt-pop outfit Ålesund release new single 'Rode Off Into The Sun'
Bristol-based alt-pop outfit Ålesund are pleased to reveal their new single Rode Off Into The Sun, released today, 12th May 2023.
The second single to come from their upcoming EP, Rode Off Into The Sun is a triumphant, up tempo, galloping tune that is made for the summer months.