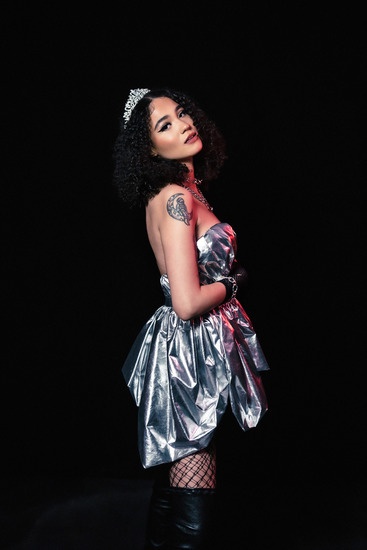 @skopemag news – friday – may 12, 2023 @ 4 pm est
https://www.facebook.com/SkopeMag/
https://twitter.com/skopemag
https://www.youtube.com/@skopetv2
https://www.instagram.com/skopemag/
APP – Apple iTunes –
https://itunes.apple.com/app/id1465224822?mt=8
@skopemag APP – Google / Android –
https://play.google.com/store/apps/details?id=hr.apps.n207414718
Support @skopemag –
https://www.paypal.com/donate/?hosted_button_id=3APKAKT8K6ETW
Alt pop songstress Sam Casey throws shade at social media norms on "7 Second Superstar"
Her passive aggressive song, "7 Second Superstar," was inspired by TikTok fame. It comes off as judgmental because it is. Sam and her co-writers, Julianna Eye and Chloe Kay, felt critical of social media – TikTok in particular – and how it promotes a culture of one hit wonders.
Kah-Lo Releases Fierce New Single 'Fund$' Out Now On Epic Records
HOLLY releases single 'EUPHORYA' and unveils highly anticipated Sadness EP
Today, acclaimed Portuguese producer HOLLY releases single 'EUPHORYA', and announces the June 2 release of his seven-track Sadness EP, the second chapter of the Minha Vida trilogy, via his own iLex label. Alongside singles 'Swear I Been Ready' and 'Cuento De Vida' 'Euphorya' offers a glimpse of what's to come from the rest of the EP, with HOLLY's captivating emotional expression.
REMI WOLF RELEASES FIRST NEW SINGLE OF 2023 "PRESCRIPTION"
Genre-defying popstar Remi Wolf has released her first new single of 2023 with today's launch of "Prescription" co-produced by Remi Wolf, Solomonophonic, & Knox Fortune. Two versions of the new song, the result of a phone conversation between Remi and her friend Boots Riley, are out now, including a 7-minute extended edit. Known to many as the frontman for legendary hip-hop act The Coup, Boots also wrote and directed the critically acclaimed film Sorry To Bother You, which premiered at the 2018 Sundance Film Festival.
Punk-Roots Trailblazers Crazy Arm Release New Single "Floating Bones"
Crazy Arm's new single, "Floating Bones," was recorded during the sessions for their 2021 Dark Hands, Thunderbolts LP but underwent a lot of changes, both musically and lyrically. A maelstrom of punk, rock and hardcore sensibilities with harmony-drenched textures, "Floating Bones" is Crazy Arm at their very best: relentless, infectious and indignant.
Paul Cauthen Shares New Song "Hometeam"
Today, Paul Cauthen– the singer, songwriter and proud son of Tyler, Texas, shares his new song, "Hometeam" which sets the tone for the next era of his career and the evolution of his unique signature sound. "This isn't mainstream, it's my stream and all are welcome to swim in it", says Cauthen when discussing the song. There's a reason Pitchfork says, "Cauthen remains a traditionalist in some respects – his sensibility and funky sounds are almost defiantly retro… he's no longer beholden to the past. He's ready to have fun with it." Listen to "Hometeam" here.
Video in Support of Honky Tonk Dance Floor Single, "Drinking Games," By David Adam Byrnes Featured on CMT Online
LISTEN: Carlita & Andhim Release Full EP 'Life' on Life And Death
Today Turkish-Italian multi-instrumentalist and rising music icon Carlita joins forces with German DJ and production duo Andhim to release their debut collaborative two track EP 'Life,' via DJ Tennis's Life And Death imprint.
BLACKLIST UNION Release New Single "Letters from the Psych Ward" + Official Music Video
MODERN MIMES Unveil New Single "Heavy Heart"
MODERN MIMES, the alternative heavy rock outfit from South Florida, have unleashed their new single "Heavy Heart". Following their latest single "Down and Dead", "Heavy Heart" ventures into darker realms. Heavy distortion, dynamic electronics and stunning vocals combine to create a thrilling and powerful offering.
BLIND CHANNEL Releases New Single And Video for "HAPPY DOOMSDAY"
After releasing their single "FLATLINE" last February, which was accompanied by extensive touring-activities (EU Headline Tour / I Prevail EU-UK Tour / Electric Callboy Stadium Tour), BLIND CHANNEL are back with another banger entitled "HAPPY DOOMSDAY".
ZHAKLINA WINS WITH NEW SINGLE "GAME OVER"
With powerful lyrics like loved you more than you deserved, loved me less than I am worth, Zhaklina uses her beautiful vocals to deliver a compelling message within "Game Over."
Global Superstar Meghan Trainor Gives The Perfect Mother's Day Soundtrack With "Mother (Remixes)"
She recharged her empowering anthem with three new remixes courtesy of Ellis, secs on the beach, and j.bird – Meghan's younger brother Justin Trainor. With an infusion of hyper dancefloor-ready energy and unlimited sass, these remixes each add another dimension to the iconic singer's most recent smash.
Check Out MY LIFE WITH THE THRILL KILL KULT Official Music Video for " Wrath Of Satan"
MY LIFE WITH THE THRILL KILL KULT has released the official music video for "Wrath of Satan"! Originally premiered on music tastemaking site mxdwn, the NSFW, age restricted music video for " Wrath of Satan is off of the band's newly released Sinister Whisperz IV: The Bedroom Tapes 1987-1988!
mxdwn PREMIERE: My Life With The Thrill Kill Kult Share Video of Rare Recording for "Wrath Of Satan"
New album from Pearl Jam founder Stone Gossard's Loosegroove Records artist Jonny Polonsky
In an interview with The Big Takeover Jonny said, "We just went through all these demos, basically me and him [Stone Gossard] and another guy at the label [Regan Hagar] and my manager. It was actually really the most collaborative record I've ever worked on, this one, which is kind of ironic because I play everything on it except for two songs."
OUT NOW: Chancha Via Circuito X Lido Pimienta Video For "Amor En Silencio"
Argentinian artist Chancha Via Circuito (aka Pedro Canale) makes his return to Wonderwheel Recordings with his fifth full length: "La Estrella." Cutting his teeth early at Buenos Aires's legendary ZZK digital cumbia parties, the Chancha moniker became known worldwide as the originator of the cumbia-inspired electronic music that takes cues from environmental sounds and South American folkloric traditions. Pedro's musical progeny include names such as Nicola Cruz, El Búho, Dengue Dengue Dengue, King Coya and many more.
CLOUDY JUNE NEW EP '21ST CENTURY PRINCESS' IS OUT NOW
Cloudy June is taking the musical landscape by storm – something she owes not only to her very unique sound but also to her tremendously captivating attitude. Next level realness might be a good way to sum it up: unfiltered, straightforward, self-confident, and yet approachable at the same time. At just 24-years-old, she is already emerging as a queer icon and with 70 million streams to date, over a million monthly listeners at Spotify and major German airplay, and there's much more to come. Today the singer and songwriter shares her second EP '21st Century Princess' while the song of the same name is released as her new focus track.
JAODAE Announce New Album Nest of Veins, Release First Single "Tree of Ténéré"
Progressive. Heavy. Instrumental. Words that conjure an image, a sound, a band. But on first listen to JAODAE's new album Nest of Veins, words disintegrate to make way for something wholly original and totally unexpected.
LAYTON GREENE SUBMERGES IN HER OWN VULNERABILITY WITH NEW SINGLE AND VIDEO "SPIN AGAIN"
The G Styles On The Track and La'Chaz Holloway produced track is complemented by a laid back lounging around the house visual – swaying from the bedroom, to the shower, to a steamy make-out session in the pouring rain exuding the obsession she and her lover have for one another. With lyrics such as "Show out I'm your number one fan / I always need it one more time / Now and then don't want it to never end / Boy spin the block and spin again" accented by gentle piano keys and a heavy guitar break, Layton makes it clear on what it's like to find your perfect physical match.
New Music: Citizen Cope Shares Soulful "Close To You" | Announces LP Out This Summer
Alongside this announcement, Cope has shared his latest single, the languid "Close To You." Featuring his soulful delivery over soaring horns and ambient acoustic guitars, the track pairs classic Cope traits with a newfound ambition to create a track of stirring intimacy.
Toronto Musician Sandra Bouza Releases New Single + Video THE CITY
The first single from Sandra's new album A Sound In The Dark (out in September), 'The City' shows us a nostalgic look at youthful ignorance.
"This is a song about the naïve exuberance of youth," says Sandra. "Trying to bypass your innocence because you think you've got it all figured out. I really felt a connection to Neil Young's 'Birds' when I wrote this song."
LARAAJI & KRAMER Share "Submersion" Video via CHORUS.FM
Shimmy-Disc recently announced a New Release Paradigm…beginning with: LARAAJI & KRAMER's BAPTISMAL, the sparkling new Ambient Symphony #1 (in 3 Movements), the primordial collaboration between two aural mavericks.
OUT NOW: External Signal remorselessly reclaim their gender identity on new power-pop track "Nonbiney"
The unique title "Nonbiney" took inspiration from a meme about gender neutral identities that lead singer Maxwell Moore resonated with. A goal in writing the track was to create a piece that mirrored External Signal's self-reflection and expression through their clothes, hair, and personality. The track's end result as described by Moore, is "loud, messy, fun, and emotional", which offer a unique and relatable listening experience to many. Though most of the production was done by Moore themself, Andy Oswald of Paradise Recording was able to add finishing touches that further livened up the track.
CURSE OF CAIN Releases Music Video For "Blame;" Self-Titled Debut Album Out Now On Atomic Fire Records!
In what can safely be described as one of the most theatrical and dramatic approaches found in modern metal music, enigmatic Swedish collective CURSE OF CAIN brings innuendo and embellishment to the scene with their self-titled debut album, out TODAY on Atomic Fire Records.
NEW EP TODAY: Alt-rock songwriter Ron Hawkins focuses his lens on late stage capitalism on "Church of the Chemical D.J."
"Church of the Chemical D.J." is a song about how we sedate ourselves against the hardships and austerities of capitalism in the 21st Century – less an Orwellian hellscape of authoritarian control and more a Huxleyian wasteland of self sedated automatons. Ron was trying to make a cool tune first and foremost, but by the time he was finished, he realised he couldn't stop himself from getting into the deep shit.
It's the focus track from the six song EP, Trash Talkin' at the Speed of Sound, which was produced by Devon Lougheed (Sky Wallace Band / Altered By Mom).
Juno Rucker Shares New Single "Pretty People"
Emerging Las Vegas-based artist Juno Rucker is set to release his compelling new single "Pretty People" on May 10th. The soulful guitar-laden track is the first release taken from his highly-anticipated debut album, Some Things Are Better Left Unsaid, due out on June 16th via EveryDejaVu Records.
For Skope: AFROJACK (master) and EMAD (student) release "Off The Wall" – result of MDLBEAST & WALL Rec.'s writing camp (out now)
OUT NOW: Arrows in Action release brand new single, "Checking In"
Rising alt-pop/pop-punk band, Arrows in Action have shared their brand new single, "Checking In," out now. The light and airy track dwells on that familiar feeling that we all know of losing touch with the people that you care about most in your life. Life puts all of us on our own different paths and things get crazy but it's never too late to try to rekindle those lost connections.
Gary Dranow and the Manic Emotions Debut 1st Album 'Destiny Road'
Gary Dranow is an artist, musician, and sportsman whose life story is a testament to the power of passion, perseverance, and the human spirit. With his music deeply reflecting his life, Gary's unwavering dedication to his craft is a source of inspiration to fans and aspiring artists alike.
Devorah Drops Electrifying Single "Inside My Hea
Up-and-coming artist Devorah has released "Inside My Head," an electrifying dance beat whose powerful emotionality reflects on her most grueling, turbulent memories and the strength it took to overcome them. "Inside My Head" is available now to stream and download on all digital platforms.