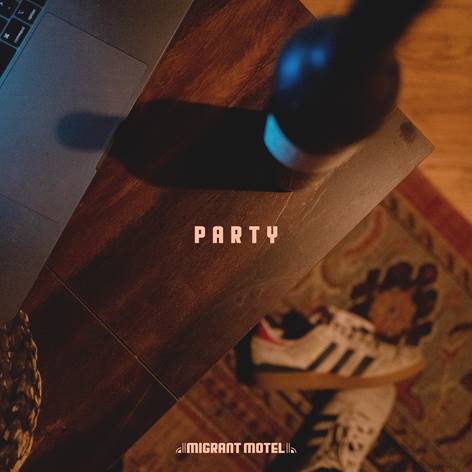 Vocalist and bass player David Stewart Jr. and his musical partner drummer Chava Ilizaliturri, collectively known as Migrant Motel, score big with their new single "Party". The pair attract appreciative crowds wherever they play since first forming several years ago during their Boston college days and moved to Los Angeles in 2020 to further pursue their musical ambitions. They have released some strong singles previously, but "Party" takes them to another level. Even a single listen to this new cut reveals a hard-working and creative band yearning to communicate to entertain. It's this powerful emotion that's earned them top billing everywhere from the Los Angeles club circuit to appearing as a headliner on the BMI stage at Chicago's Lollapalooza Festival.
https://www.facebook.com/migrantmotel/
It isn't hard to tell that they are a great live act. Stewart, in particular, has the sort of raw vocal ability that could reach to the back of any venue even if the power went out. He never overdoes it, however, and gets under the skin of this song. Whether he's actually experienced the heartbreak the song depicts or not – his sincerity makes is all the more impressive. He taps into the moment both vocally and lyrically without overplaying his hand.
He hits his peak, however, with the song's chorus. Migrant Motel imbues "Party" with the right amount of dramatic flair and the chorus is a climactic moment when Stewart makes his desires known. Chava's backbeat and the melody line is aa perfect accompaniment for this. Migrant Motel structures "Party" is such a way that there are numerous payoff moments scattered throughout the performance. The minimalist arrangement is ideal as well. "Party" isn't the sort of song requiring a bevy of instruments to make an impact on listeners; less is, indeed, more.
Stewart and Ilizaliturri keep things short and on point while still providing listeners with a full-bodied musical experience. It is well served by production that emphasizes balance, more than anything else, and frames each component with warm clarity. It helps make the song's video even more impactful. They've shot the clip in a creative way, the camera revolving around a home where it's the 2 of them in various chill activities over the course of an evening, and thus gives viewers a complete "bird's eye" glimpse of the songs "heartbreak and chill" party referenced in the song lyrics.
Much of the video's focus falls, on Stewart – He commands the camera with relaxed confidence. The surroundings chosen for the video are visually appealing, as well, and the footage renders that environment in warm, eye-pleasing color. Migrant Motel keeps their visual ambitions right for the material.
https://fanlink.to/MigrantMotelParty
There's no question that "Party" stands on its own as an excellent song but coupling it with a first-class promotional clip adds a lot to the track's potential. "Party" is the next step in Migrant Motel's ongoing bid for national and global recognition and is arguably their finest musical moment yet.
Gwen Waggoner