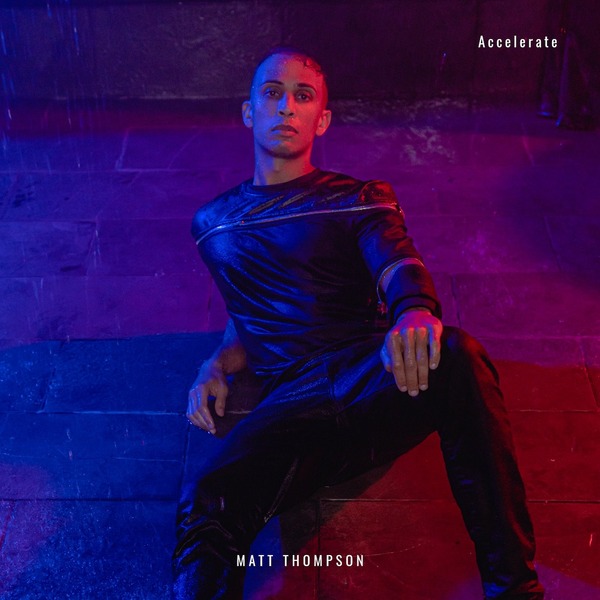 Accelerate, the Matt Thompson album, suggests momentum and picking up speed. The project's song of the same name has one of the album's poppiest arrangements. It bubbles and buzzes all the way through. Thompson has one of these vocal tones, though, that always seems to suggest that all's not well – even when singing over such a forward motion-mirroring arrangement. In fact, an accurate comparison might be the music of Depeche Mode. Yes, Depeche Mode was/is an electronic music innovators. However, shortly after bursting on the scene, that English act's music started to take a dark turn and has remained in that dark place ever since. Similarly, Thompson's release opens with "Devil's Dance" (An appropriate title, right?), and then moves and grooves with a kind of black celebration the rest of the way through.
Thompson sings with a slightly high range, and while not an extremely robust vocalist, he nevertheless sings constantly with an emotive voice on these ten tracks. Many of the songs address relationship issues of some sort or another. One called "U Don't Get 2," for example, describes someone whose actions don't match their words. "You say you love me," Thompson observes at one point. However, just saying the right things doesn't give you special rights. This person, Thompson declares, is not going to get what they want. Dance beats drive most of the songs here, although "Mean to Me" slows the pace down significantly. Once again, it finds Thompson at odds with a special person in his life. "I'd hate to go on with you as my ghost," Thompson announces at one point. Obviously, he's not all that optimistic about this relationship's future. This person means more to Thompson, than Thompson means to this person, which is causing the conflict.
Groove-wise, "Problem For Me" has one of the album's best sonic arrangements. Thompson sings it over a razor-sharp musical backing, which makes it sound as though Thompson is singing through a gauntlet of buzzsaws. "You're still such a problem for me," Thompson sings, describing a hurtful connection with another person.
https://www.instagram.com/mattthompsonmusic/
Desperation sets in again during "Glimmer." On it, Thompson sings about how another person keeps a "glimmer of hope alive." Wow, that's harsh! Nobody wants to hang on to just a glimmer of hope. No, we all want a bright shining light illuminating our future, instead. In this scenario, Thompson likens his relationship to a rollercoaster ride. Yes, rollercoaster rides are all well and good whenever we're visiting an amusement park. However, nobody wants to describe anything outside the gates of Six Flags as a rollercoaster. This descriptor suggests a fast, scary journey with no end sight and no escape, which is no good. Speaking of destructive descriptions, one titled "Ridiculous" finds Thompson left holding a hand grenade that the other person in the relationship knew would detonate. Toxic relationships are one thing, but explosive ones take damage to a whole new level.
Perhaps, the title Accelerate is meant to describe relationships that are speeding towards destruction. It's a circumstance where Matt Thompson is crying out for everything to just slow down enough for him to figure it all out. He's not hopeful that will ever happen, though.
-Dan MacIntosh