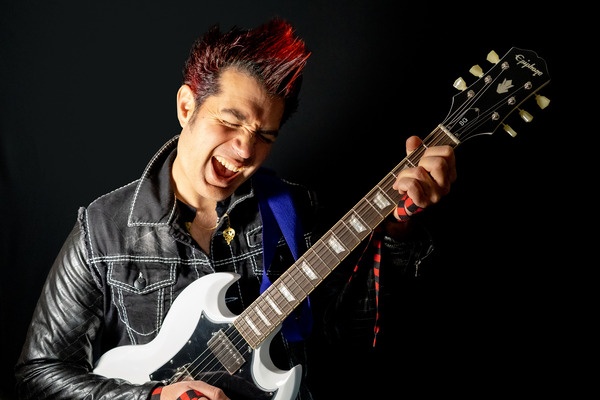 – Hey Chandra, can you start by introducing yourself to our readers?
Hey everyone; my name's Chandra. I'm a singer-songwriter based in Bristol, UK and I sing songs about being nice to one another. That probably raises some eyebrows, right? Doesn't make a great tabloid headline, does it? But it's important to me that I'm singing about something positive, encouraging and uplifting.
– What's the story behind your new track "Lighters To The Sky" and what genre does the song fall under?
I wanted to write a positive, uplifting antidote to the blues and Lighters To The Sky is one of those songs that just absolutely clicked for me; the meaning, the message, the energy, the vibe. It's all about the struggles of trying to achieve your dreams and goals. We're all hammered down at every step of the way… even as early on as the dreaming phase we're told not to dream big… and then every step of the way it's a battle and you have to summon so much energy and inner strength just to stay on course. It's human nature to ere on the side of caution, of course, and we're almost hard-wired to act this way. So this is basically a love song to all the people who have a dream but are struggling… who know deep down inside what they want to do but can't find the support they need to follow it through. And that's a really important part of this message; the support element. It's as much about people recognising that they can help someone in spades just by being a little bit supportive. We all understand what it feels like to come together at a gig and hold our lighters or phones up to the sky… imagine if you could give someone that kind of support… how much of a lasting boost that might give someone. A little lift goes a long way.
In terms of genre, you know, I really struggle with that. I don't think I really fit perfectly in any genre. Some people say Indie-Rock, some Pop-Rock, some Alternative Rock… I've been called Punk-Pop, 00s Rock, 2010s Rock, Rock Singer Songwriter… the list goes on. I'm always interested to hear what other people think I am because at the end of the day that's what matters! Listen to the track and let me know!
– Why did you choose to make the single available for free download?
The more I played this song to people the more I realised that it was actually hitting quite an emotional chord with people. I was playing it to strangers, or people I barely knew, and they were telling me how emotional and uplifting they found the message. My goal then changed because as a songwriter that kind've response is very rare and over the space of a few weeks I realised that it was important to just get it heard by as many people as possible. Put simply, putting a price on it is just a barrier.
– What is the storyline of the accompanying music video for "Lighters To The Sky"?
The lyrics to the song are quite generalised and don't specifically relate to any single person's particular situation but with the music video I wanted to show that the song isn't just about achieving grandiose life goals… I don't know… like flying to Mars or achieving world peace. It's actually more about the everyday goals that we all strive to achieve, however big or small.
The Lighters To The Sky music video tells two emotional stories of people striving to achieve their dreams. It follows the stories of two protagonists; a young dancer who is desperately trying to pursue her dream to be a professional dancer, and a mum of 2 who is trying to get her well-being back on track by taking on a tough fitness challenge of running to a local monument. To some people running 5km might seem insignificant… almost petty. But to others it's EVERYTHING because it's symbolic of something FAR more important.
– What do you want listeners to take from your music?
I hope my music makes you want to sing at the top of your voice and dance around like a lunatic… I want you to have fun with it but also feel uplifted and empowered by it… but I also hope it makes you think about how you are in your everyday life; both towards yourself and others. Little insignificant things that you do could have a huge impact on someone else's day.
– What's coming next for you?
https://www.listentochandra.com
I've got a lot of festival appearances line up over the Summer, which tie in with the release of the next single 'Pretty'. I'm really excited about everybody hearing that song and the video is going to be pretty out there.
Right this second I'm working on putting a full band together to take these songs on the road over the next few months so if you think you've got what it takes get in touch!