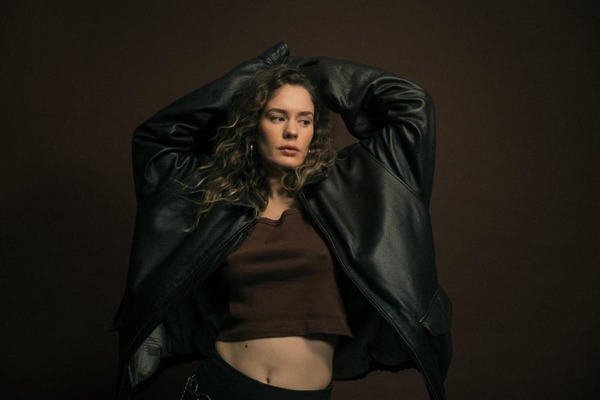 @skopemag news – friday – march 31, 2023 @ 7 pm est
https://www.facebook.com/SkopeMag/
https://twitter.com/skopemag
https://www.youtube.com/@skopetv2
https://www.instagram.com/skopemag/
APP – Apple iTunes –
https://itunes.apple.com/app/id1465224822?mt=8
@skopemag APP – Google / Android –
https://play.google.com/store/apps/details?id=hr.apps.n207414718
Support @skopemag –
https://www.paypal.com/donate/?hosted_button_id=3APKAKT8K6ETW
Catalyna presenta su nueva propuesta musical "Fili"
La cantante Catalyna, bajo el sello discográfico de Y Entertainment, presenta su nuevo sencillo "Fili". El tema, disponible en todas las plataformas digitales junto con su video musical, es una muestra del talento y la versatilidad de la artista boricua.
Introducing: Marshall Vincent & stunning new single 'Ring Ring'
Reflective and intimate, Ring Ring comes as a hypnotizing offering born from a toxic relationship.
Powerfully authentic, Marshall Vincent's relatable songwriting packages a challenging situation into a rich, exquisite listening experience. Sharing more, he explained: Within the relationship there was a struggle of power that was met with insecurities. We were both coming at it from our own angles and things weren't clicking. We couldn't relate to each other. The track is a conversation with myself, asking them to meet me where I'm at.
Morgan James Releases "Nobody's Fool" Today; Tour Underway
Folk Riser Albert Kass Releases Blissful Track "Formidable (For Me Dabla)"
Albert Kass has released his new single "Formidable (For Me Dabla)." Light, airy, and carefree, "Formidable (For Me Dabla)" encourages the listener to embrace the current moment, and let go of heaviness. Characterized by a quintessential folky melody, Albert Kass' gentle rasp accompanies the tune to its relaxed, laid-back nature.
ANNA OF THE NORTH SHARES ETHEREAL NEW SINGLE "TRY MY BEST"
Today, Anna of the North has shared her ethereal new single "Try My Best," available now on all streaming platforms. Co-written by Anna, Marcus White and Madelene Eliasson, "Try My Best" is the second of three brand new songs to come from Anna's recently announced Crazy Life Deluxe.
SID SRIRAM – RENOWNED BOLLYWOOD PLAYBACK STAR – SHARES NEW SINGLE "DO THE DANCE" VIA DEF JAM RECORDINGS
Sid Sriram will also be heading out on a string of tour dates this August supporting Bon Iver, including stops in Wisconsin, Montana, Oregon, Idaho, and Utah.
New Video – Shabaam Sahdeeq and John Jiggs – Tyrant !!!
For Skope: CONTROVERSIA releases progressive house rendition of Aretha Franklin's "A Deeper Love" by Ralk, Different Stage & sone. (out now)
Chavo is a Smooth Operator in "Call On Me" Video
VIDEO: An Old Favorite Gets a Facelift with J.Stalin's Sequel to "Don't Front"
Out Now: UPSTATE Returns with Third Studio Album, YOU ONLY GET A FEW (Royal Potato Family)
You Only Get a Few, the third offering from Hudson Valley based folk quartet Upstate, is out today via Royal Potato Family. The group's first full length studio release in three years, the newly-launched album sees members Mary Webster, Melanie Glenn, Harry D'Agostino and Dylan McKinstry navigate the peaks and valleys of transition as they embark on a new and exciting season. A wholly honest, deeply engaging collection, You Only Get a Few swells with illustrative verse, winsome arrangements, and poignant motifs that resonate far beyond the ten track listen.
Coarse Meets Melodic On JULIET RUIN's New Single "Give Me The Crown"
This single is only the first of many planned for release this year in the lead up to Juliet Ruin's new record also to be unleashed later in 2023.
Listen to "Give Me The Crown" via its lyric video premiere on TheCirclePit –
LANA DEL REY GAINS UK #1 ALBUM FOR DID YOU KNOW THAT THERE'S A TUNNEL UNDER OCEAN BLVD
Labelled "the greatest American songwriter of the 21st century" by Rolling Stone UK, today – Friday 31st March 2023 – Lana Del Rey secures a UK #1 album for her magnificent new album, Did you know that there's a tunnel under Ocean Blvd, out via Polydor Records.
NARDO WICK RETURNS WITH NEW SINGLE AND VIDEO "HOT BOY" FEATURING LIL BABY!
Nardo Wick is your favorite rapper's rapper – getting nods and co-signs from major artists within the rap space – while honing in on his unique dark, energetic sound that is unforgettable. Nardo is here stay and there's more music on the way.
NEW VIDEO: REGGIE BECTON IS DANCING HIS WAY THROUGH "LIFE"
Directed by Chris Felix, "LIFE" follows the rhythm of love. As Becton experiences a rush of euphoria from dancing with his lover, he sees firsthand that you can form an intimate connection with someone on the dance floor. The two-minute sequence is a visual narrative that gives Becton room to lose control and let his moves do all the work with an incredible routine, choreographed by Cherry.
Alchimyst and Supernature Join Forces on Progressive Trance Collab "Take Me There" on Dreamstate Records – OUT NOW
Alchimyst previously touched down on the label on joint curation duties alongside Whiteno1se for the 'Part of the Dream' compilation, including the duo's own track "Siberia." They have been regularly supported by Armin van Buuren's 'A State of Trance' radio show, in addition to claiming multiple #1 hits with "Runes," "Rudra," and "Move."
Brother Hawk Release New Album & Video "For Love Made Us"
Atlanta rock four-piece Brother Hawk have officially released their new album The Dreamer today via Liars Club, the new label formed by Amigo the Devil and indie powerhouse Regime Music Group. The album was recorded with producer Tom Tapley (Blackberry Smoke, Mastodon) and channels all of the band's unique influences into one complex tapestry of raging Southern blues-rock riffs, epic-sounding organ, and soulful vocals that give you goose-bumps.
BOLEYN RECORDS RELEASES THIRD SINGLE 'THE HIGH DIVE (GET THE HELL OUT OF HOLLYWOOD)' FROM ARTIST JJ BRAVES
JJ Braves says about the song: "The High Dive (The Hell Out Of Hollywood)" is about the frustration of feeling stuck in the music industry. Sometimes I get tired of LA because pavements and streets outnumber the trees, and it makes me want to just drive up the coast and forget all about the whole scene. This one goes out to everybody who's sticking with it and trying their best.
Societys Demon – Therapy
"Timeless" by D. Hewitt is a very honest song. The passion that D. Hewitt shows on the record is unmatched & very heartfelt. This song is guaranteed to touch the soul. Check out the visual on YouTube now.
BUZZING ROCHESTER RAPPER SLUMP6S UNLEASHES NEW SINGLE & MUSIC VIDEO "FASHION"
On the track, an eerie loop cuts through thick 808s and a mind-numbing bass line. This sonic onslaught only amplifies his punchy delivery. It builds towards a chantable chorus as he confesses, "I think I fell in love with the fashion." In the accompany visual directed by Keaton Jones, he roams around a luxurious East Coast home, rapping with headphones on and a middle finger up. Once again, it highlights his overpowering presence on-screen and on the mic.
DYNAMIC SOUTH AFRICAN SINGER LLOYISO RELEASES DEBUT "SEASONS" EP TODAY
"This is my first body of work and a chance for fans to see a vulnerable side of me. I wrote it in South Africa and in Los Angeles when I was reflecting on every aspect of my life. It's called 'Seasons' for that reason," says Lloyiso on the EP.
Ill Communication "Doomsday Brigade" LP out now on Safe Inside Records!
"World War Ill is inspired by dirtbag people in positions of power or authority that use their status to take advantage of others" says singer Andy Franchere adding "These shady types might be in a band, a co-worker, a promoter, a scene celebrity or a key board warrior. These behaviors range from intimidation, to grooming, to worse. Any human who is guilty of these actions needs to be called out. This song is a call to arms to those who participate in the hardcore punk scene. A call to unite and take a stand against these behaviors as well as coming to the aid of the victims who are feeling helpless. It's WORLD WAR ILL and war is still hell. Join the Doomsday Brigade today. We had our long time friend Andrew Verity of Vendetta and Retaliate sing a line in legendary Nardcore Fashion. Eva Hall of Power Alone and No Plan who has been a friend since the Diehard Youth days stole the spotlight with a killer guest spot. Danny Phillips of the Warriors wrote and played the wicked lead in the intro."
HULVEY RELEASES NEW SINGLE "ALTAR" WITH FORREST FRANK
March 31st 2023, shortly after the release of "No Longer Bound," Hulvey and Forrest Frank are back with a new single, "Altar." This generous follow-up to "No Longer Bound" offers inspiration to a young generation to experience the love of God. Listeners will find a familiar worship tone this time over a more melodic, trap sound. "Altar is a song that is getting back to the heart of what this life is about. Knowing our Father. It is a reflection of His grace we don't deserve," says Hulvey.
Sunnsetter (mem Zoon) Shares "The Whole World that Turns Around Itself" Single | 'The best that I can be.' LP Out Now via Paper Bag Records
"These songs are something I have been working towards for the better part of 3 years," said McLeod of the LP. "During this time, I have grieved the loss of a close friend/bandmate and continuously dealt with my journey of sobriety and struggles with mental well being, concepts around gender identity and queerness; while simultaneously, of course, being thrown into even more chaos via the pandemic. I hope that these songs can make sense to the people who have never heard my music and the people who have supported me along the way. This is simply the best that I can be, through song, and the need to share that feeling with the world is what has kept me going this entire time."