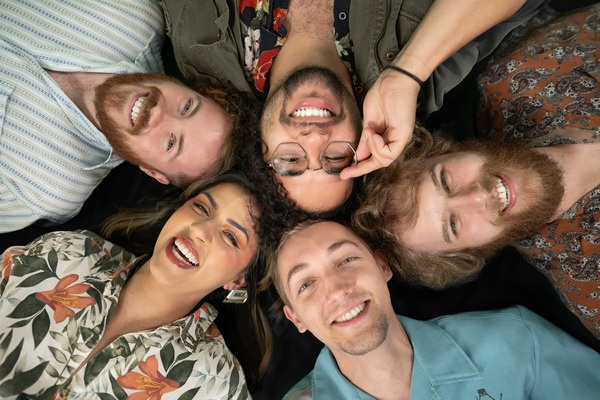 Johnson City, TN-based pop-funk fusion band Florencia & the Feeling has just released a glorious new album, "Birthday," and lead singer/rhythm guitarist Florencia Rusiñol sat down with @skopemag to talk about the music, full of four-part harmonies, hints of jazz, and Latin roots.
@skopemag: Hello! Tell us about your new album, "Birthday."
Florencia: It's our debut album as Florencia & the Feeling, a representation of our collective influences as a band, and it encapsulates our live sound and the energy we bring to our live performances. Most people find themselves grooving at our shows, so we wanted that to be the case when they listen to the album.
@skopemag: How did you gather these songs together?
Florencia: In our catalog of finished and unfinished songs, these were the ones that we felt were the best representation of us. Thematically, many of them were written after a break-up of mine, but we also included songs about life after love. I learned a lot about myself after the end of that relationship, which is in the lyrics of songs like "Meant to Be" and "Three Steps," and I vowed to spend time cultivating my life afterwards, making it how I wanted it to look – filled with love of friends, family, and music. The kind of "rebirth" I experienced, coupled with it being our debut album, is what gave the album the title "Birthday."
@skopemag: The song "Meant to Be" is awesome. What inspired it?
Florencia: "Meant to Be" was one of the first songs I wrote after that relationship ended, so it has a lot of raw anger and regret, but there is also acceptance in saying that no matter how hard I believed and tried, it wasn't meant to be. It dives into learning to live without that person but reaching the understanding that it's for the best.
@skopemag: Who are your musical influences?
Florencia: My favorite thing about this band is that we have a wide range of influences, including Stevie Wonder, Lake Street Dive, Sammy Rae & the Friends, Vulfpeck, Jamiroquai, Grateful Dead, The Doobie Brothers, and many more.