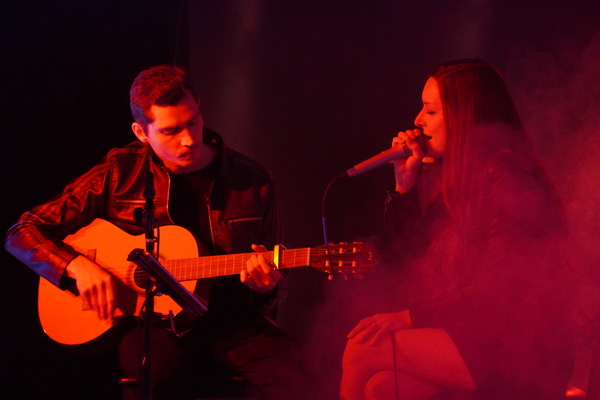 Dina Layzis & Artem Tenkeli pour their very hearts into "Silhouettes." A profoundly romantic work, this piece unspools at its own pace. Her voice has an affectionate tenor to it. Lyrics explore the concept of togetherness in quite an inspirational way. Allowing these many different pieces to blend nicely, the result is quite extraordinary. Kept quiet, the song works itself into a force of nature. Her elegance feels dignified, with the flourishes wafting into the seemingly infinite.
The song begins softly. Her voice gradually enters the frame making sure everything revolves around her. Piano chords have this delicate, fragile beauty to them. Balancing layer upon layer, the airy disposition that is initially struck stays true for the entirety of the journey. She offers pastoral bliss due to the primarily organic instrumentation. Kaleidoscopic in its rainbow-set hues, the many different colors have a spring-like quality of rebirth. The theme's reiterations make the song cyclical, drawing from George Winston's deceptively simple output. Over the course of the experience, peace rests right in the core of the expressive rhythm. Easily keeping this strong sense of purpose, everything about it feels righteous, for the lyrics cut right to the heart of the matter. For the final stretch, the rest of the song perfectly aligns with her spirited performance as the piece increases in intensity and urgency.
"Silhouettes" proves the stately power of Dina Layzis & Artem Tenkeli to sculpt an atmosphere that feels genuinely grand.
Dina Layzis and Artem Tenkeli bring a symphonic sense of pop to the expansive "Call It Love." Her voice conveys a deep vulnerability. Instrumentation has a calm presence, doing a fantastic job charting the ebb and flow of volume. The cyclical style she embarks upon gives it a classical sensibility. Piano, the sudden swell of strings, these feel alive. Rhythms have an understated presence, ensuring that it all perfectly plays off each other, resulting in a virtual funhouse of mirrors. Reflections of the theme get amplified within the track's duration, adding to its poignancy.
Mere wisps of sound introduce the piece. Kept ever so soft, there is a grace to how she does things. Her voice rises above the rest of the arrangement, allowing every nook and cranny of the piece to become magnified. Even at her quietest, she has power to her expressiveness. The piano glides delicately. When the song begins to crest, every element vibrates with pure anticipation. She lets the music take form in a most impactful way on this sprawling, ambitious nature. She imbues the song with such meaning, even outside the word choice. Fiery with her presence, the music begins to burn everything in its path. Towards the final stretch, the many different genres blend in a singular, fully-realized wall of sound.
"Call It Love" reveals Dina Layzis & Artem Tenkeli as skilled storytellers with a lovelorn expressiveness that lingers with the listener.
https://www.instagram.com/dina_and_artem/
https://www.instagram.com/dina_layzis/
https://www.instagram.com/artem_tenkeli/