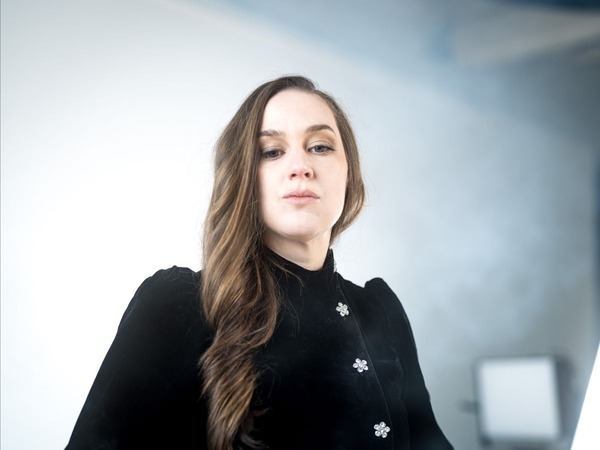 @skopemag news – wednesday – march 22, 2023 @ 9 am est
https://www.facebook.com/SkopeMag/
https://twitter.com/skopemag
https://www.youtube.com/@skopetv2
https://www.instagram.com/skopemag/
APP – Apple iTunes –
https://itunes.apple.com/app/id1465224822?mt=8
@skopemag APP – Google / Android –
https://play.google.com/store/apps/details?id=hr.apps.n207414718
SHYGIRL SHARES NEW RENDITION OF "WOE" FEATURING BJÖRK
Today, Shygirl shares a new rendition of her track "Woe," featuring visionary artist Björk. The track is included on the deluxe edition of Shygirl's highly praised debut album Nymph, titled Nymph_o, due April 14th via Because Music. The video accompanying the song is shot in a Tokyo love hotel and other locations throughout Tokyo and is directed by Sam Ibram with creative direction by Shygirl. The music video sees Shygirl move through a series of montages gradually becoming more intense and hallucinatory, both visually and sonically as it progresses. The new rendition of "Woe" follows Shygirl's recent remix of her song "Heaven," featuring Tinashe. The deluxe album also includes contributions from Arca, Erika de Casier, Eartheater, and more.
Straight From Mexico, The Iconic Reggae Band ANTIDOPING Releases New Single "No Te Desanimes"
Antidoping releases the first single from their sixth studio album, an album that commemorates the 30-year career of the most emblematic reggae band in Mexico and one of the most notable bands in Latin America.
"No Te Desanimes" is a message of light and hope, a balm for the soul, a grain of sand for moving forward in the face of adversity. To the rhythm of traditional ska, Antidoping presents this song as the first sample of what we will be able to hear on this new album, making clear the caliber of compositions and arrangements that they achieved with the production.
Fat Westbrook & Cedric St Louis Share Video for "Mike Tyson" via Fresh HipHop R&B | 'Castor + Pollux' EP Due Out Spring 2023
STOLOS Release Video For "Riding The Beast"
Black metal quartet STOLOS has unveiled a new lyric video for their dark offering "Riding The Beast". This release provides a glimpse into the band's forthcoming album Black Winter due to release in late 2023 / early 2024. Manifesting an intense sound accompanied with blood-curdling and hellish imagery, "Riding The Beast" brings the heavy drenched in flames.
"STOLOS is pleased to release this lyric video for the song 'Riding the Beast'. Keep on eye out for the future release of our album Black Winter. Hail."
California's Fox Apts. Share "Stars of the 10-32" in Advance of April LP
JON OF MARS Offers A New Perspective About The Mess Of Politics In "Misinformed Nation" Off "Songs from Nowhere" (Holcomb Records) Out April 2023
The exhilaration and rationality of online politics isnät the only thing that this alien experiences over the course of the album, he also encounters vanity, jealousy, cannabis, and tragedy which he dictates alongside groovy prog metal.
Strange and upbeat Jon of Mars is confident that fans far and wide will love the kickass grooves and find themselves immersed in strange sound spaces. There is something for everyone, especially those who enjoy Korn, Down, and Mudvayne.
TELECOM Shares "Ramon" Single + Video via CHORUS.FM
TELECOM is the new project and band from Brooklyn-based songwriter and multi-instrumentalist Sean McVerry (who has previous credits working/touring with artists such as Karen O, Danger Mouse, AURORA, and pieces of the roster on J Cole's Dreamville label). The project — which melds 60s brit-pop influence with touches of late 2000's NY indie grit and hints of cheeky theatrics — is making its debut with a first single entitled "Ramon," the first of two tracks that were co-produced and mixed by former DFA engineer Abe Seiferth at Transmitter Park studios in Brooklyn.
Great ~ Falls releases debut EP 'Negatives into Positives'
Propelled by a shared love for the transformative effects of music, Melbourne indie quintet Great ~ Falls reveal their gorgeous debut EP offering, Negatives Into Positives. A record that demonstrates the strengths of the band's thriving dynamic, Negatives Into Positives positions Great`~Falls as ones to watch as we move further into 2023.
Set Mo tease forthcoming album Flux with new track 'Let Yourself Go'
With this year set to be easily one of their most ambitious to date, Sydney's Set Mo continue to journey toward the release of their much anticipated sophomore record Flux, with the release of new single, 'Let Yourself Go'.
A track that captures the inspired new energy of the album, 'Let Yourself Go' is the perfect primer for Set Mo fans to immerse themselves in, as the duo prepares to embark on their brightest sonic chapter together, to date.
TOOSII UNVEILS OFFICIAL VIDEO FOR "FAVORITE SONG," HIS FIRST BILLBOARD HOT 100
With "Favorite Song," Toosii has achieved a new career milestone. Billboard observed, "Toosii has maintained a steady presence on Billboard's charts over the past three years, but now he's officially a Billboard Hot 100 hitmaker…" In its second week on the Hot 100, "Favorite Song" climbed into the top 50. Following its release by South Coast Music Group/Capitol Records, the track placed number 1 on Apple Music's Hip-Hop chart, within the top 10 of Apple Music's overall Top 100, and the top 10 of Spotify's Viral 50 – USA.
Submit Music – Anchen Ji – Positive Pop – "Wait It Out"
Tarah Who? – New Single & Video "Fresh Meat Rockstars"
Tarah Who? always has a song with a message, like her new single and video for, "Fresh Meat Rockstars" dropping March 31, 2023. The single features Tarah G. Carpenter (vocals, guitar, backing vocals, bass, drums) and Jason Orme (guitar).
French groove/thrash metal unit SWARM streamed brand new EP 'Mad In France' // Out now on CD & Digital through all legal platforms.
After two full-length efforts 'Division & Disharmony' (2017) and 'Anathema' (2019), French groove/thrash-metal unit SWARM will be back next year with a third album.
But in the meantime, the band release a new EP called 'Mad In France' available right now on CD & Digital and full-streaming through all legal platforms.
MAUVEY Spreads the LOVE
Expansive Dark Synth Pop Album The New Division
Since beginning his musical project in his dorm room in 2009, The New Division has attracted a fervent fan base around the globe and has garnered millions of plays and has been profiled by the likes of Pitchfork among others. Thanks for your consideration,
SCOTT MATTHEWS releases breath-taking new single + announces UK tour!
The track is the first to be taken from his forthcoming album, 'Restless Lullabies', in which the Ivor Novello award-winning songwriter has boldly reincarnated the songs of its electronic predecessor, 'New Skin', with an equally audacious offering of the purist acoustic soundscape that has long been coveted by fans.
Josienne Clarke has shared new single 'Words Were Never The Answer'
Josienne Clarke today debuted her tender new single "Words Were Never The Answer," the latest preview of her forthcoming album Onliness (songs of solitude and singularity) due out on April 14th via Corduroy Punk Records.
Brownswood signing IzangoMa (avant garde from SA) new single
IzangoMa, a 15 piece experimental collective hailing from Pretoria, South African, today release a new single 'Out Of The World', the latest to be lifted from their forthcoming debut album 'Ngo Ma', out on May 26, 2023 on digital, CD and 12″ double vinyl via Gilles Peterson's Brownswood Recordings label (also home to Kokoroko, Doom Cannon and Sons of Kemet's Tom Skinner). 'Out Of The World' is now available to stream on all platforms from here.
Rising Rapper JIANBO shares new track 'Home Is Where The Food Is' featuring BABii. Watch the Karaoke-inspired Visuals Now.
'Home Is Where the Food Is' sees Jianbo in a reflective mood, contemplating the notion of home in all its forms, using food as a metaphor for sustenance and dysfunction. 'Home Is Where The Food Is' is a track about the sanctity and privacy of a home, and its meaning to me as a product of a dysfunctional family life" Jianbo says, "The title has a double meaning – one being the literal sense of edible food being at home, and the other about less-savoury endeavours being conducted from my residence as a child."
UMA releases 'Muay Thai', from her upcoming mixtape on Slow Dance
Today, Barcelona's genreless and intercontinental Uma releases the resplendent new 'Muay Thai', a romantic and life-affirming single which, in her words, is "the second half of [2022's] 'Granada'. A love letter to my parents.
The Murlocs (King Gizzard) Announce New LP out 5/19 on ATO Records | Country Infused Psych-Rock Single "Initiative"
Melbourne's The Murlocs have announced their brand new studio album, Calm Ya Farm, due out May 19 on ATO Records. Following their 2022 garage-psych opus Rapscallion, the band initially set out with a vision of creating a quintessential country-rock record: inspired by iconic albums like The Byrds' Sweetheart of the Rodeo as well as the hazier edges of the mid-'70s British pub-rock scene. Spiked with The Murlocs' signature breed of sharply crafted garage-punk—and with lead vocalist, guitarist & harmonica triple threat Ambrose Kenny-Smith's surrealist musings on the ever-turbulent world around him—the new collection ultimately twists country-rock convention into a free-flowing album fully in touch with the frenetic energy of modern life.
ICYMI Family Band Kopper and Kash Light Our Way in The Darkness with New Single "Bars and Churches"
Their release "Bars and Churches" compares two of the most unlikely things by pointing out how inviting both of them can be. The song sounds somber but holds a more profound, positive message about sticking things out. The lyrics discuss a comparison between a bar and a church and the sense of community found in both. As described by the song, a church is always open to people looking for guidance, and a bar is no different. While many assume these places are complete opposites, this song explains that the community within them makes them so similar.
DEUX FURIEUSES — Mark Lockdown Milestone With New Single: "Let Them Pass" || + UK Live Dates
Marking three years to the day since the COVID lockdown was implemented in the UK, "Let Them Pass" sees deux furieuses tread into more personal territory without compromising on their usual insurgent political form.
Baytrees return with good vibes dream pop anthem 'Sunshine'!
Skindred: 'Set Fazers' – brand new single & video out now
Having blasted dancefloors to smithereens just before Christmas with their ferocious anthem 'Gimme That Boom', Skindred return with another instant classic in the form of 'Set Fazers'. The second single to be taken from their forthcoming album Smile it's an addictive sci-fi slam-dunk designed to quake arenas and festivals around the planet this summer.
LUCINDA CHUA ENLISTS YEULE FOR NEW SONG "SOMETHING OTHER THAN YEARS"
Ahead of their debut album release this Friday, London-based artist Lucinda Chua returns to share YIAN's final song "Something Other Than Years." The track finds Chua enlisting friend and fellow genre-defying, post-classical artist Yeule for the album's closing track, a gentle song about searching for guidance. "Show me how to live this life / Something other than years," Chua calls out. "There's more in this life / Angel being of light," Yeule sings back, the artists; unique voices intertwining over a feeling of infinite space.
CHALK announce debut EP 'Conditions" & share new single 'Asking' | out today (March 22nd)
With their UK debut fast approaching, as a part of The First Fifty acts selected for this year's iconic The Great Escape festival, Belfast post-punk/electronic trio Chalk announce debut EP 'Conditions', set for release May 5th, and share brand new single 'Asking' (video here), out today (March 22nd).
NEW // South London's Abi Jenaé Shares Visuals For Afrobeat's Sizzler 'Empire'
Housing production from Spellz (WizKid, Davido, Burna Boy, Tiwa Savage & more) 'Empire' is welcomed with a percussive beat; an instant head-bopper. Glazing her silky tone atop, Abi Jenaé unveils an irresistible and infectious hook that emphasizes the unity and strength within a relationship, "This love is higher / Finer than designer / No be liar / Our loving no retire / Ṣe we building / Empire" she sings. Posing as the introductory single to her forthcoming EP 'Love & Hustle', 'Empire' gives us a taste of what's yet to arrive from the one-to-watch artist.