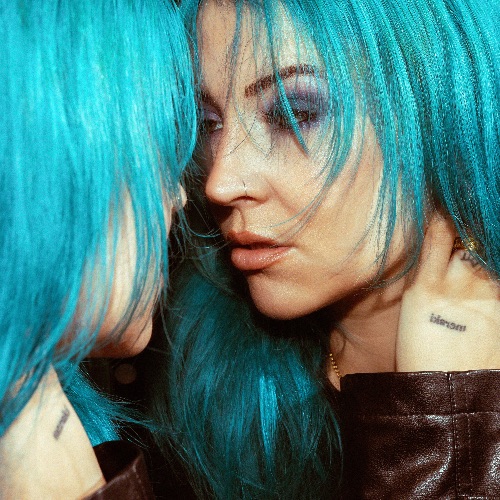 @skopemag news – wednesday – march 15, 2023 @ 7 am est
@skopemag HQ – http://smarturl.it/skope
Buy & Sell @skopemag Marketplace
https://skopemag.com/category/services
"The End of Time" by Hot Mustard (feat. Alanna Royale)
"The End of Time" is a sonic declaration radiant with the psych-soul, funky trip-hop aesthetic that has shaped the Hot Mustard sound. Carried by heavy organ chops and trashy rolling drums, the track cascades through several powerful passages before the brilliant Alanna Royale enters the scene with a short but stirring vocal performance. The track will finish out the forthcoming sophomore album, Seconds, in exceptional style, cementing another inspiring work of art into the Hot Mustard catalog.
Avant Garde Black Metal Band HENGET Reveals Music Video for New Song, "Henkivallat"
Drawing inspiration from the world of occult and the ways of ancient Shamanism, 'Beyond North Star' depicts a violent hallucinatory journey to the depths of the mind and beyond with a psychedelic outlook.
Cleveland doomgazers HIRAM-MAXIM share "Bathed in Blood," from forthcoming Colder album
Cvlt Nation premiered the track with Sean Reveron saying, "Unholy fucking hell yes — imagine if Danzig, Prong, The Gun Club, and Killing Joke decided to have a sonic love child, the outcome might sound like the new Hiram-Maxim song 'Bathed In Blood.' I'm totally addicted to their dirge-infected anthem and I have it on repeat!"
Experience the Blackened DoomGaze of HIRAM-MAXIM "Bathed In Blood"
Baytrees return with good vibes dream pop anthem 'Sunshine'!
New single 'Sunshine' (out today 10th March) is a soulful, life-affirming story inspired by the sun and is a song about summer, as everything is just better when the sun is out.
CADAVERIA: Italian horror metal veterans unveil "La Casa dell'Anima" lyric video
Italian horror metal veterans CADAVERIA unveil their latest video for "La Casa dell'Anima". The dark and atmospheric new hymn is taken from the band's sixth full-length record "Emptiness", out now via Time To Kill Records.
Outatime! Drops New Music Video For "Ghosted"
Orlando, Florida based pop-punk band Outatime! is excited to release their brand new music video for their song, "Ghosted." The track is featured on the band's latest LP, No Boundaries, which was released in May 2022 via Revival Recordings. The music video is available on the Revival Recordings YouTube channel now.
Aurora Dream Releases New Single "Comfy" (feat. Ichika Nito) to all major platforms
Miami-based instrumental math rock project Aurora Dream has just released a new single and music video titled "Comfy" featuring the immensely talented and well-known guitarist from Japan, Ichika Nito. The track is a fusion of various genres including progressive rock, math rock, pop, disco and modern production. The song is a follow-up to their most recent single "A New Infinite," that featured Australian guitarist Plini and his bassist Simon Grove.
Sage Graye Release New EP 'Street Lamps' via Mythic Panda Records
Sage Graye released their new EP Street Lamps to all major platforms via Mythic Panda Records today!
"Street Lamps is a glimpse into the inner turmoil of severing the relationships in life that impact you the most, the loss of innocence, and the premature coming of age. With backgrounds in blues, metal and theatre, Sage Graye offers a unique take on indie pop rock by juxtaposing soft, expressive vocals with intense, driven guitars and drums," says the band.
Tara MacLean Shares Haunting Yet Soaring New Rendition of "Let Her Feel The Rain"
"I noticed that I felt numb, and I went and laid outside on the grass at night in the rain, and just let it fall on me. I just needed to feel it, to feel the pain, and then let the rain wash it away. And it did. I wrote this song when I came inside, still wet and muddy. This was the song that made me realize that music was going to save my life," explains MacLean.
Decades later, MacLean has reimagined the song with layered background vocals and strings evocative of the lush environment which she calls home in the Pacific Northwest.
"In so many ways the song is about rebirth," says MacLean. When it came time to shoot the video for "Let Her Feel The Rain," MacLean returned to her 'nest' on Salt Spring Island to perform the song, complete with hair and makeup done by her children.
whiterosemoxie channels Jordan Peele in new video, "flavors"
Jordan Peele's films are praised for their quirky off-beat horror paired expertly with societal themes. But have you noticed the subtle drip the characters have? Well, whiterosemoxie has, and pulled direct inspiration from NOPE to bring together the aesthetic for his new video, "flavors." "We got flavors on, we got flavors in…this song is still one of my favorites," says whiterosemoxie.
whiterosemoxie Lives Like a Desert Nomad in "flavors" Video
LANA DEL REY RELEASES NEW SINGLE 'THE GRANTS'
Lana Del Rey releases her new single, 'The Grants', the third single taken from her upcoming ninth studio album, Did You Know That There's A Tunnel Under Ocean Blvd. The track is out now via Polydor Records.
Moms Jeans // Moms Genes from Miesha and the Spanks
CILVARIUM Releases New Official Video For 'Reborn To Be Yourself'
Experimental ambient project Cilvarium have released a new official video for the song Reborn To Be Yourself, a track taken from their forthcoming album New Beginning, set for release via Sliptrick Records on April 18th.
ALL ELSE FAILS Announces Mexico Tour + No Mames MetalFest and New Video "Flesh/Excess/Wealth" + New EP Out Now! "The Incident at Black Lake"
Canada's All Else Fails will be leaving the frozen lands of Canadian winter for the heat and the beaches of Mexico for a one-week-long tour this coming March, which includes a performance at the No Mames MetalFest in Cozumel, MX (dates listed below). The tour is in support of their latest EP "The Incident at Black Lake" released this past September.
ADEKUNLE GOLD SHARES FIRST OFFICIAL SINGLE VIA DEF JAM RECORDINGS "PARTY NO DEY STOP" FEAT. ZINOLEESKY AVAILABLE NOW
Dream-pop artist Laurnece-Anne shares new single 'Polymorphe' via Bonsound & announces UK tour
Laurence-Anne is an architect of the intangible; she sculpts musical landscapes composed of haunting melodies, lush synthesizers, synthetic rhythms and hazy textures, all coated with her voice, singing in both English, French and Spanish, capable of instilling both comfort and anxiety. All of these elements come together to create a blend of dream pop, coldwave and synthpop inspired by her imagination, intimately connected to her experiences, and deeply infused with her unique perspective.
CHARLOTTE SANDS SHARES THE NEW SINGLE 'SIX FEET UNDER'
Charlotte Sands' recent single 'Alright' started 2023 with a bang for the next wave emo/pop crossover talent. The track landed on the Radio 1 airwaves with a first play from Nels Hylton on his Future Alternative show, and it proved to be a highlight of her incendiary sets as she toured Europe as guest to PVRIS – including a major London show at the Eventim Apollo.
Sohodolls re-write classic 00's single "Bang Bang Bang Bang" in stand against gun violence!
With the new version of "Bang Bang Bang Bang", explosive distorted guitars replace the original version's synth heavy backdrop. A more raw and gritty incarnation it feels both nostalgic for the early 90s grunge era and fresh and relevant again for 2023, Maya Von Doll's voice as sumptuous and infectious as ever.