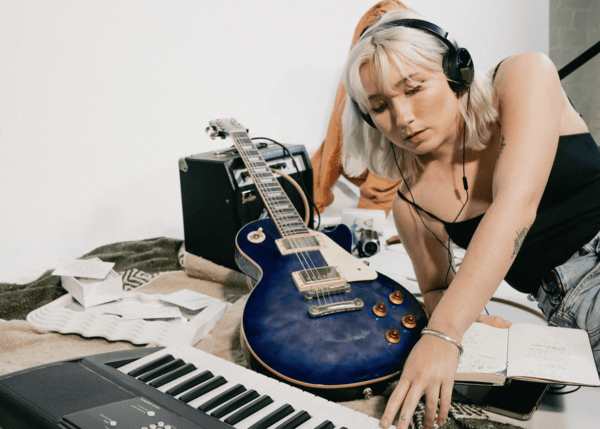 @skopemag news – tuesday – march 14, 2023 @ 8 am est
@skopemag HQ – http://smarturl.it/skope
Buy & Sell @skopemag Marketplace
https://skopemag.com/category/services
BRING THE HOAX Announce Debut Album Single Coil Candy
Swedish alternative rock outfit BRING THE HOAX are gearing up to release the new album Single Coil Candy on the 12th of May via Lövely Records.
"We're so excited to finally share Single Coil Candy with the world. This album is a real representation of who we are as a band. It's got a lot of energy and raw emotion, and we hope it connects with our listeners in a meaningful way." – Karl Nordahl
Gracie Jet Reveals Her New Indie Pop Ballad of a Bonnie and Clyde Story
"Be Like Us" is the catchy, mysterious, and face paced indie pop ballad set in a 1930's movie. Lyrically, it's about young lovers in crime locked in each other arms on the run: hearts beating, feet clicking as they move flawlessly together to the rhythm of the music. We want them to be like the movies, and that's the point. Gracie once again takes a different perspective this time illuminating how powerfully the media colors our reality.
New York Latin R&B Phenom, Papikaiser, Releases Video for Inspirational New Single, "Envidioso"
If you haven't heard the name Papikaiser, you will soon. The young Latin R&B singer is gaining momentum and a loyal fanbase in his adopted home of New York. Anchored by his high energy shows, model good looks and catchy songs, the budding star is building a career through hard work and determination.
Watch "Envidioso" now:
Ramón Chicharrón Captures The Sound of Summer in Irresistible New Single "TÚ, TÚ, TÚ"
Colombian multi-instrumentalist Ramón Chicharrón has been shattering borders with his music for nearly a decade, enticing listeners with his sincere approach to composition and charming wit. Today, ahead of his highly anticipated appearance at SXSW 2023, he achieves this impressive feat once again with his new single "Tú, Tú, Tú," available on March 16 in all digital platforms.
YUNG POODA RELEASES "ALREADY KNOW" FEATURING A BOOGIE WIT DA HOODIE AND ANGELICA VILA OFFICIAL MUSIC VIDEO
Today, Houston-bred rapper Yung Pooda unveils his latest music video release, "Already Know," featuring A Boogie wit da Hoodie and Angelica Vila via It's a 10 Records. The official music video from the buzzing rapper premiered earlier today via Bet Jams/ YouTube.
Alice Phoebe Lou returns with new single "Shelter"
Independent singer-songwriter Alice Phoebe Lou has returned with the first single from her soon-to-be-announced new album. "Shelter" arrives two years after Alice's 2021 Child's Play and Glow, her back-to-back acclaimed LP releases in the span of 9 months. With over 160 million streams and over 1.2 million monthly listeners, anticipation is high for this next offering. "Shelter" is available now at all DSPs.
DUN RINGILL Returns With Second Single From Double Concept Album
DUN RINGILL returns with the second single leading up to their double concept album Where the Old Gods Play Act 1 & 2. "Blood of the Lord" is an epic track by the Swedish 6-piece group on which Nordic folk influences are combined with doom and progressive metal to create huge, monumental soundscapes. The single tells the story about the concept album's main character Lucia's religious conversion from Catholicism to Protestantism.
Ashlynn Malia Shares "from the moon – voice memo" Single + Video, Read the Big Takeover, V13, Fame + Shutter 16 Features
Today, Ashlynn Malia, the Los Angeles-based singer and songwriter who first got noticed on TikTok, released her third single "from the moon – voice memo" from her upcoming EP navigating galaxies, out March 21st. The single is raw and only includes Ashlynn's haunting vocals accompanied by a single instrument, all to illustrate the initial and unabridged steps of her songwriting process. "comfortable – voice memo" was the first single released, via Chorus.FM, XSNOIZE, and Psychedelic Baby last month, followed by "wheel of fortune – voice memo" earlier this month via Under The Radar. Connection with her listeners is what Ashlynn is striving for in her upcoming EP, which will be made up of a collection of voice memos, and together the three singles prove that navigating galaxies will culminate into something beautiful.
Ashlynn Malia Premieres Her Intense Single "from the moon – voice memo"
Music Submission: Scott Thompson
"Poison" is a dynamic and catchy track that showcases Scott's raw talent and versatility as a musician. The song blends elements of pop, RnB, and electronic music to create a sound that's both contemporary and timeless. The upbeat melody is complimented by Scott's powerful vocals and thought-provoking lyrics.
Raven Artson is the Glitch Pop Fever Dream we've been longing for
marigolden Relishes In Solitude And Empty Streets In'Mars' Music Video