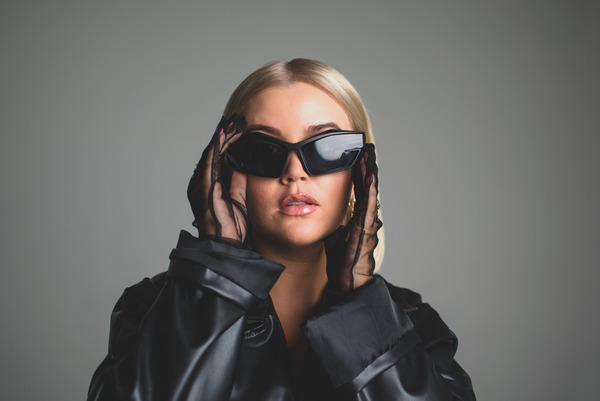 @skopemag news – wednesday – march 1, 2023 @ 11 am est
@skopemag HQ – http://smarturl.it/skope
Buy & Sell @skopemag Marketplace
https://skopemag.com/category/services
Neil Gaiman + FourPlay String Quartet Share New Track 'In Transit'
Neil Gaiman and Australia's FourPlay String Quartet are pleased to share a new track, 'In Transit' from Signs of Life, their first album together, and Gaiman's first official album release. Signs of Life will be released on April 28th, 2023 via Instrumental Recordings with cover art by Shaun Tan. 'In Transit' follows earlier singles 'Bloody Sunrise' and 'The Wreckers'.
CROWJANE Dances In The Wilderness For New Ergot Journey Music Video
Dancing like nobody's watching, experimental post-punk artist CROWJANE has released her brand new music video for "Ergot Journey" today. Taken from her debut solo album Mater Dolorosa, the new visual is the latest in a series of videos that CrowJane (real name Heather Galipo) has produced in support of the record, following videos for "Terminal Secrets," "Circular Valley," "It's A Man's World," "Delusion," "A Salty Breeze" and "The Pharmacy."
OUT NOW: Award-Winning Producer Luminist Shares 'Morning Whispers' (FFO: Brian Eno and Jon Hopkins.)
GRANDSON RETURNS WITH NEW SINGLE "EULOGY"
Speaking about the new song, grandson elaborated, "'Eulogy' was written in the aftermath of a bad mushrooms trip this summer, which led me to scrapping my album and admitting to myself and others that I was struggling with fantasies of self harm. It's easy to feel nihilistic or cynical about the future, and there's a strange comfort in indulging in the depressing absurdity of day to day life with the only people in the world that understand you."
Don't Get Lemon glimpses into the unseen dark on new single, "Blow-Up"
Don't Get Lemon is a cool, ironic, stylish, detached, danceable pop trio based in Austin and Houston, Texas. Commanding a sound that ranges from '70s Berlin to '80s Manchester, DGL seek to entice the senses with their glam infused synth-pop. There is an alternative to DGL, but could we live with it?
Singer/Songwriter Jason Delismon Releases Official Lyric Video for New Single "Hard To Breath"
Singer/Songwriter Jason Delismon released his new single "Hard To Breathe" to all major platforms on January 12, 2023. Last week, he released the official music video for the song. The single was produced, mixed and mastered at Groovetone Studios.
BAYONNE DROPS NEW SINGLE AND HEARTFELT VIDEO COMPILATION "WORDS;" ANNOUNCES HEADLINE TOUR 
Tiiva shares dreamy version of Teenage Dirtbag
Originally released by Wheatus in the year 2000, the euphoric track is a much loved timeless tune. Reinventing it with their signature weightless production and dreamy synths Tiiva has added an intoxicating new dynamic that oozes queer liberation.
Eilen Jewell Shares Her Journey To Purpose And Meaning On Expansive New Album "Get Behind The Wheel"
"They say things have to get worse before they can get better," Idaho-born songwriter Eilen Jewell reflects on the last few years of her life. "And for a while there, everything got worse." Indeed, in the span of just a few months, Jewell watched as her marriage, her band, and what felt like her entire career fell apart in a series of spectacular, heartbreaking implosions. By the time the dust had finally settled, the critically acclaimed recording artist was grieving and shocked, living in a remote cabin in the mountains and unsure if she'd ever get to make music again. Fortunately for all involved, especially fans of Jewell's music, she took her time to regroup, recenter, and set off to live a renewed life—including making a new album—by dictating her own path forward.
Luscious Balladry: Scrumptious 60's inspired melodies
"House of Broken Mirrors" is a luscious ballad featuring Theresa Gorella's magnetic soul-drenched vocals singing scrumptious melodies over 60's inspired sprinkling keys and emotive guitars. Theresa Gorella is also one half of funk indie pop duo Poster Child. Thanks for your consideration,
MOVEMENT FESTIVAL ANNOUNCES FULL 2023 LINEUP
Movement Music Festival has announced the full lineup of its 2023 edition, featuring over 115 acts, including a headlining set from the legendary UK dance duo Basement Jaxx (DJ Set), joining previously announced headliners Underworld and Charlotte de Witte.
SAMPA THE GREAT ANNOUNCES 'AS ABOVE, SO BELOW' NORTH AMERICAN TOUR
Award-winning Zambian-born Botswana-raised poet and rapper, Sampa The Great kicks off her As Above, So Below North American tour this spring with a slew of upcoming shows spread across 15 cities throughout the US and Canada –
Yves Tumor shares new song/video "Heaven Surrounds Us Like a Hood"
"Heaven Surrounds Us Like a Hood" is produced by Noah Goldstein (Frank Ocean, Rosalía, Rihanna, Bon Iver), and mixed by Alan Moulder (Smashing Pumpkins, Nine Inch Nails), who lends a punchy clarity to the album's intoxicating melange of addictive melodies and adventurously executed arrangements. The single was also co-produced by Yves Rothman (Girlpool, Amaarae), along with a gorgeous sweeping live choir arrangement, and instrumentation contributions from band member Chris Greatti alongside Dylan Wiggins (Rosalía, Vince Staples) and Lemar Carter (Solange, Demi Lovato).
Wulfskol Release Lyric Video For "Twist The Knife"
The death-punk hybrid WULFSKOL have released a lyric video for "Twist the Knife". The song is from their upcoming split with HEXELLA which will be released on March 31 via Goat Throne Records.
The band comments: "Twist the Knife" captures the molten fury of the Devil's rock n roll. It's Wülfskol to its rotten core!"
Skope: Hayden ft. Feist, Steve Buscemi, The National
VANISHMENT: No Clean Singing Premieres No More Torture Debut From Seattle Metal Quintet Formed By Lair Of The Minotaur, Himsa, Trial, Heiress Members; Album Sees Release Friday On Dead Sage
No Clean Singing is currently hosting the exclusive first public broadcast of No More Torture, the debut album from Seattle thrash/traditional metal outfit, VANISHMENT, ahead of its release this Friday on Dead Sage.
AN NCS ALBUM PREMIERE (AND A REVIEW): VANISHMENT — "NO MORE TORTURE"
Music Submission: Jake O'Neill
Inspired by artists such as Luke Combs, Morgan Wallen, John Mayer and Chris Stapleton, Jake has his own unique and authentic pop/country sound that was described by Sir Tom Jones as 'One of a kind.'
Ballaké Sissoko Quartet (Vincent Segal, Emile Parisien, Vincent Peirani) | New single out now on No Format
Sissoko Segal Parisien Peirani today release a new single, 'Esperanza', the latest to be lifted from their upcoming debut album 'Les Égarés', due for release on March 31, 2023 via Nø Førmat! records (Oumou Sangaré, Blick Bassy). The quartet brings together Malian kora master Ballaké Sissoko, French cellist & Victoire De La Musique winner Vincent Segal, French accordionist Vincent Peirani and saxophonist Émile Parisien (also both fellow winners at the Victories). You can stream the nimble 'Esperanza', a re-working of the Marc Perrone tune which intersects with the Colombian genre of Cumbia, from here.
SKOPE MAGAZINE x PARADISE FELL – VICES.
Forcing the conversation forward and encouraging listeners to embrace their chaos. Paradise Fell breeds a new sound, rather than craving what's safe and familiar. While tipping his hat to the classic, textured rock influence, paradise fell is searching for a voice in between the lines, looking to forge a new groove for the needle to follow.
Aimée 'Hurt Like Hell' – Official Video
"When deciding what to do for this music video, I took quite a different approach. Most of the time I can imagine the entire music video as soon as I've written the song. I would usually have so many ideas on how to tell the story of the song itself, but with 'Hurt Like Hell', instead of sharing the narrative of the song, I wanted to to express the feelings instead. I think the video represents the complexity of all of the emotions that comes with a break up."
Far Caspian Shares New Single "Arbitrary Task"
"'Arbitrary Task' is meant to represent the journey into work and the repetition of it happening everyday," he explains. "I moved into a studio in Leeds to record new music and the daily commute there brought me back to that repetitive feeling of working, and the emptiness we can feel in a job we hate or push ourselves too deep into. I wanted to write something quick and direct to coincide with that frustration." Far Caspian has already sold-out his first-ever three U.S. headlining shows that surround his trip to Austin: one at Brooklyn's Baby's All Right on March 10th, and two at Los Angeles's Moroccan Lounge on March 18th and 19th.
Instrumental Desert Rockers RANCHO BIZZARRO announce "Four Dead Men" album and stream first single
Italy-based Rockers RANCHO BIZZARRO announce their new album "Four Dead Men", a new exciting Stoner'n Roll piece with loads of mid 60's psychedelia.
"Two guitars, a bass and a drum, high volumes and the game is done!" says the band.
CHAMELEON LIME WHOOPIEPIE shares "Mushroom Beats" single / video
CHAMELEON LIME WHOOPIEPIE is Japan's genre-bending trio fronted by Chi- and her bandmates, known as Whoopies No. 1 and Whoopies No. 2, who not only create all of their music themselves, but also all music videos, photos etc.
Mylar Releases New Single "Ghost Of The Party" From Sophomore EP 'Human Statues' (Blue Flowers)
"The arc of the song is basically realizing these worries are yours alone and don't reflect what other people think. You just need to let go in spite of yourself and listen to some triumphant 4×4 beats. Musically we were inspired by all those summery guitar parts and twinkly keys you heard in UK garage and Neptunes tracks growing up, that people still love. Maybe that's because of nostalgia for a simpler time. It's joyful, but there's an underlying melancholy to it which seems to always be the case with big party songs."