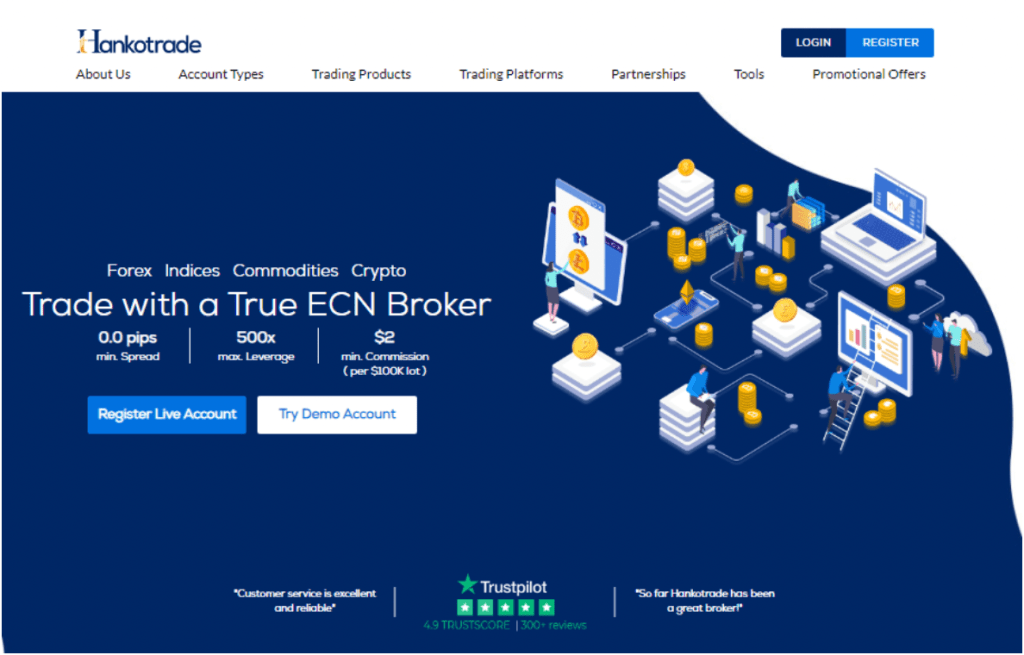 Over the past few years, the foreign exchange market has experienced tremendous growth. The quest to make better decisions in trading has become an obsession.
This makes all of us wonder how some traders achieve their milestones while others struggle. The key to improving your trading performance is choosing the correct broker.
Trading brokers are essential because they provide the knowledge, resources, and tools to make smart decisions when trading on the financial markets. Brokers give traders access to trading instruments, real-time market data, educational materials, and software that can help them manage trades better. 
By relying on their services, investors have a higher chance of successfully navigating the complex world of investing.
Today's review will cover all the features, services, and perks offered by Hankotrade Broker to help you find a reliable broker for your assets.
What Makes Hankotrade Stand Out Amongst Others?
Lowest Commission Forex Broker
Hankotrade charges a nominal amount as its commission. It charges $0 on its STP trading account. $2 for the ECN account and $1 for its ECN Plus account. 
Using a zero-spread Forex broker, the trader can better understand entry and exit points since the bid and ask prices are the same. Hankotrade offers tight spreads for as low as 0.0 pips on ECN and ECN Plus accounts.
Leverage refers to the amount of money a trader can use to maximize their returns on investment. Moreover, it allows investors to increase their potential profits by utilizing borrowed capital for trading purposes. 
High leverage is an attractive feature for seasoned Forex players. They can maximize their resources and open bigger and better positions. Hankotrade provides leverage of 1:500 on all its trading accounts. 
However, it is important to understand that maximum leverage also comes with greater risk, as any losses are magnified when larger amounts of capital are used. Beginners should not use maximum leverage at the beginning of their trading career.
How Many Account Options Does Hankotrade Trade Offer?
Through Hankrotrade broker, you can open a variety of accounts. We will first start introducing Hankotrade broker's commission-free account.
STP Account is commission free!
However, zero commission does not mean you will get limited access to the market or reduced benefits. STP account will grant you unrestricted access to the financial market, and you will be able to select currency pairs from a wide range of collections.
It's the ideal account to start with a minimum deposit and protect your account from a negative balance. The minimum deposit for opening an STP account is only $10, with the spread starting from 0.7 pips. 
Moving on to the 2nd account type:
ECN Account is famous for its zero spread. The primary characteristic of this account is the absence of spread, which enables traders to improve their profit and anticipate their projected revenues more precisely.
The initial deposit of the ECN account is only $100, which traders can easily afford when they are getting started.
 Additionally, traders can quickly change positions as spreads on the currency exchange market change without worrying about further losses.
Up next, we have another account type, which is:
ECN Plus is loaded with an ultra-premium set of features. Hankotrade ENC PLUS Account is the perfect solution for traders who need a fast, easy, and secure way to trade stocks, options, futures, and commodities.
They also allow users to trade with leverage up to 1:500. This means that traders can place larger trades with less risk than if they were to trade without leverage.
The commission of ECN plus is $1 per side per $100k traded with a spread of 0.0 pip.
The 4th account type offered by the broker is:
Hankotrade offers a swap-free Islamic account to its Muslim traders and investors. Traders can avail of the benefits of the above accounts' benefits without worrying about the swap. 
What Types of Tools Does Hankotrade Broker Offer?
VPS ensures a smooth, seamless, and efficient running of the Forex trading system without a hitch. You can view trade signals and rest assured that your system is up and operating without constantly being glued to your laptop or PC.
VPS significantly reduces the probability of slippage by increasing execution speed. This ensures traders that their positions are opened or closed immediately without any slackness. 
The foreign market's highly volatile and unpredictable fluctuation can affect your trading performance. The Hankotrade E-calendars facilitate the customers with the latest events and trends.
The economic calendar is designed to update clients about planned events that would impact the state of the market.
FX Calculator is the perfect tool to help you calculate your Forex risk. With this calculator, you can quickly and easily determine your Forex risk exposure by inputting your current account balance, currency pair, and margin requirement.
FX Calculator offers a variety of other features, such as a currency converter, stock market data, and financial calculators.
Does Hankotrade Broker Offer Any Bonuses?
Hankotrade's 100% bonus is a great opportunity to credit your trading account. You can get up to a 100% bonus on your first deposit. You can claim your bonus by following these simple steps:
Deposit your funds in Bitcoin, Ethereum, Litecoin, or Dash into your account. You must deposit at least $100 to get a 100% bonus.




Verify your account and claim your 100% deposit bonus.
What Do Actual Traders Say About Hankotrade?
Since entering the market in 2018, Hankotrade has aided several traders in beginning their careers. Here are some endorsements from reputable and genuine review posting forums. 
The Bottom Line 
Stepping into the foreign market and finding a genuine broker can be challenging. We recommend our readers research the broker they choose in depth.
The right broker can keep your investment protected. However, if you make a wrong choice and trust an unreliable broker, it will negatively impact your trading account.
Hankotrade broker is a popular and reliable asset trading platform that offers competitive benefits to its users. This guide will help you investigate and learn about the Hankotrade broker. To test this broker, opt for the free demo account; and trade for a few days. Doing so will give you a fair idea about the broker's performance and customer service.