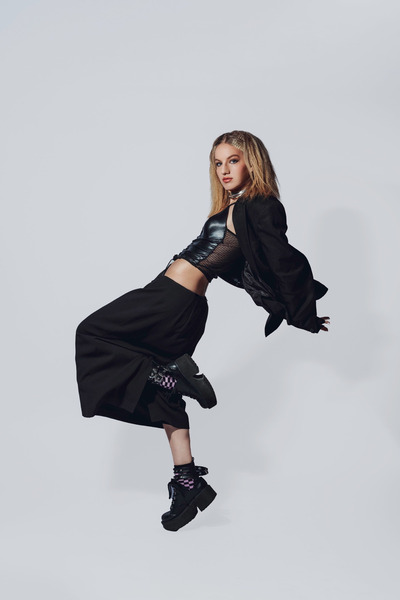 @skopemag news – friday – february 24, 2023 @ 10 am est
@skopemag HQ – http://smarturl.it/skope
Buy & Sell @skopemag Marketplace
https://skopemag.com/category/services
Ehsan Imani Takes A Stand With Iranian Protesters Through New EP "The Flames Within"
Ehsan Imani is a London-based music producer and guitar player. He started his music career in Iran and studied at Berklee College of Music and Goldsmiths University of London. He previously released an album "Rager Blaze" back in 2014 and is now following it with the powerful "The Flames Within" EP, which is available now. This EP is supporting the Iranian protesters against the Islamic regime of Iran and Imani expects a positive reception from rock and metal fans in both Iran and the rest of the world.
Maggie – Rainbows & Monsters
With her music playlist'ed on Norway's most influential national radio, sync'ed to the country's hit TV show and a performance at the internationally recognised, tastemaker festival by:Larm, Maggie's local successes are more than enviable for her first ever set of releases leading into her debut EP.
Amsterdam Producer/DJ Drops Avant-Garde EP
GANZ, A.K.A Jordy Saämena is an Amsterdam-based producer/DJ extraordinaire who developed his masterful blend of hip-hop and electronica from a young age. Over time, GANZ's sound has evolved, seeing him explore new territories and experiment with indie, pop and avant-garde music.
Japanese production duo AmPm and UK singer Belle Humble collaborate on new single 'West Side', out today!
AmPm crashed into the global dance music scene with their debut release, the 2017 smash hit single 'Best Part of Us'.
Today, February 24, AmPm have released 'West Side', the fifth advance single from their upcoming concept album themed on traveling the world – this time inspired by New York City. The track is a collaboration with the UK-based singer and songwriter Belle Humble. A dance track with piano-infused house elements, 'West Side' has a stylish, melodic yet danceable sound that is typical of AmPm.
Country Music Artist, Rob Wolf, Gets the Final Word With Unfaithful Ex in New Single, "What's Yours"
Country music artist and Montana native Rob Wolf has released his new single, "What's Yours," which puts a new spin on "cheating" songs. Instead of the often-heard melancholy ballad or vengeful anthem, "What's Yours" takes a confident new route to getting over being cheated on. As if that isn't enough good news, the tune has a remarkably catchy melody, with an edgy, old "spaghetti western" groove. The new song was co-written by Gabrielle Bos, Jackie Wolf and Rob Wolf and produced by Tyler Cain.
Alternative Songwriter Portair Shares New EP Feat. VÈRITÉ & WYNNE; Announces Tour
He explains, "I went to Joshua Tree National Park, and it's open land for as far as you can see with reds, greens, and browns. I built a studio in the Airbnb. I tried to incorporate some exploration into indie folk and create textures that worked for the indie world and the epic cinematic world." Adding, "On the EP, there are philosophical themes of existentialism. Many of the songs are about the acceptance of death, what life is, and why we're here. I was trying to lyrically explore what it means to be alive. People believe such polarizing theories it makes me think none of us are right."
GRAMMY NOMINATED SONGWRITER JOZZY RELEASES DEBUT EP VIA SEAN "DIDDY" COMBS' NEW R&B LABEL LOVE RECORDS
"Jozzy is a very special and dynamic talent that only comes around once in a generation, so I'm excited to see how her music sets a new standard for R&B," said Sean "Diddy" Combs. "Her skills as a writer and performer, matched with her style and energy has the potential to make her one of the greats and I'm proud to play a part in shaping the next chapter of her career."
[PRESS] Crossed Keys (ex-Kid Dynamite) "Victim Complex" Out Now
Philadelphia melodic-punk outfit, Crossed Keys, have released a new single titled "Victim Complex" that is now available on all of your preferred digital platforms. The single is the first from their upcoming full length, titled Believes In You, which will be available on Friday, May 5th via Dead Satellite Records, Creep Records, and Sell the Heart Records.
Mount Westmore Releases New Video for "Motto"
Today, MOUNT WESTMORE, the legends of West Coast rap, Snoop Dogg, Ice Cube, E-40, and Too $hort, are pleased to announce the release of their newest single, "MOTTO," off of their December 9. 2022 studio album release, Snoop Cube 40 $hort. The single is available across all DSPs via the group's label Mount Westmore, LLC. with MNRK Music Group.
HANGARVAIN Unleash New Album "Soul Desire", Out Now!
Italian rockers HANGARVAIN have released today, February 24th, their fifth record, "Soul Desire". The album is out through Volcano Records/The Orchard/Sony, and is available both in digital and physical.
"Soul Desire" was produced between Italy and Los Angeles by Fabrizio "Fab" Grossi (Billy Gibbons, Supersonic Blues Machine, Steve Vai), and mixes the original alternative and southern rock influences of the band, with bluesy and melancholic moods.
Dutch Experts explores ego death, trauma, and self love on Bound By This EP
"Navigating ego death, facing internalized trauma and inherited behaviors, and learning the act of self-love are the central themes of [my] debut EP, Bound by This," says Dutch Experts' Hannah Hoffman.
WhiteLight-WhiteHeat says Bound By This is, "a nostalgic bittersweet exploration blends organic chunky bassline throbs, Numan-esque warped icy bright synth melodies, minimal guitar effects, and heavy pounding drum beats into a vibrant immersive reverie around a beautifully dreamy, emotional vocal atmosphere, drawing angst and longing from a shadowy realm of misunderstood bondage and dread."
KIWI POP DUO FOLEY RELEASE PART 1 OF DEBUT ALBUM 'CROWD PLEASER, PT. 1'
Foley describes "Coffee," "This song is a frenzy of thoughts and total chaos. We really wanted to capture the way it feels to be questioning your actions and relationships and pushing yourself as much as you can to be a better person – to no avail. In those moments where something as ridiculous as your coffee order being wrong can push you over the edge, it might be a sign to chill out and not take life so seriously…!"
BABYTRON RELEASES NEW EP 'OUT ON BOND'
Experimental visionary FERDOUS unveils hypnotic alt-R&B anthem "Euphoria (At Night)" – debut mixtape Cool Party out today (24 Feb) via Faintly Red
UK rock trio Tigercub share new song; announce new album on Stone Gossard's label
Tigercub shares their fever-pitched new single, "Play My Favorite Song," available now via Loosegroove Records at all DSPs and streaming services. Marked by both hushed urgency and intense, booming dynamics, "Play My Favorite Song" heralds the impending arrival of Tigercub's hugely anticipated third studio album, The Perfume of Decay, arriving everywhere on Friday, June 2. Pre-orders are available now.
Skopemag: Dutch indie folk progeny Roofman releases debut album 'Still The Mess I Was'
Roofman's release tour starts today, the main shows being in Utrecht (NL), Hamburg (DE) and London (UK). He's accompanied by his incredible studio band consisting of American friends Rhett Shull (guitar) and Philip Conrad (bass) & his brother Pim van der Meulen (drums).
Pop newcomer PENELOPE ROBIN offers tribal reggaeton-rock in "ANIMAL" (600K on socials)
A gritty, bass-heavy blend of reggaeton-rock inspired by Penelope's Latin roots, Penelope's mellifluous vocals in "Animal" explore the ferocious journey of escaping toxicity, be it a person, situation or relationship.
NEW SINGLE: Sumaroo speaks to the power of commitment with "Piggyback" // New EP out March 17th
David Adam Byrnes Brings Traditional Texas Country Sound to New Ballad, "She Don't"
National Country music artist David Adam Byrnes has announced the release of his new single, "She Don't," a ballad that delivers a traditional Texas country sound along with modern elements, including a searing guitar solo. Rather than focus on heartache and wrongdoing, "She Don't" takes a different approach than many love songs, by highlighting all the negative actions a woman in a relationship actually avoids, making for an especially harmonious partnership. Download and stream "She Don't" on all music platforms.
Stream the intoxicatingly psychedelic, Rundgren-informed new LP from Waldo Witt
Long Daze, Dark Nights is the upcoming album from Waldo Witt. The artist embraces 60s and 70s psychedelia inspirations like Todd Rundgren, King Crimson, and Brian Wilson, alongside a continued adoration of 80s soft rock and disco, resulting in a vibrant sounding record, full of hooks and charismatic structural twists.
BEGONIA'S NEW ALBUM POWDER BLUE IS OUT NOW AND UNVEILS "THE ONLY ONE" VIDEO
The album was written and produced by Begonia, Matt Peters and Matthew Schellenberg (Royal Canoe) with contributions from Jason Agel (Björk, Kelly Clarkson, Prince) and Joe LaPorta (FKA twigs, beabadoobee, Solange). The new collection of songs wrestles with life's thornier moments in more evocative ways.
CURSE OF CAIN Releases "Embrace Your Darkness" Video; Self-Titled Debut To See Release May 12th On Atomic Fire Records + Preorders Available
Swedish modern sci-fi metal visionaries CURSE OF CAIN — founded in 2000 by bassist Jonas Asplind (ex-Follow The Cipher, ex-Ad Infinitum) a.k.a The Pirate — have unveiled another digital single, "Embrace Your Darkness." The theatrical and dramatic song serves as the manifesto of the band's self-titled debut album, set for release on May 12th via Atomic Fire Records.