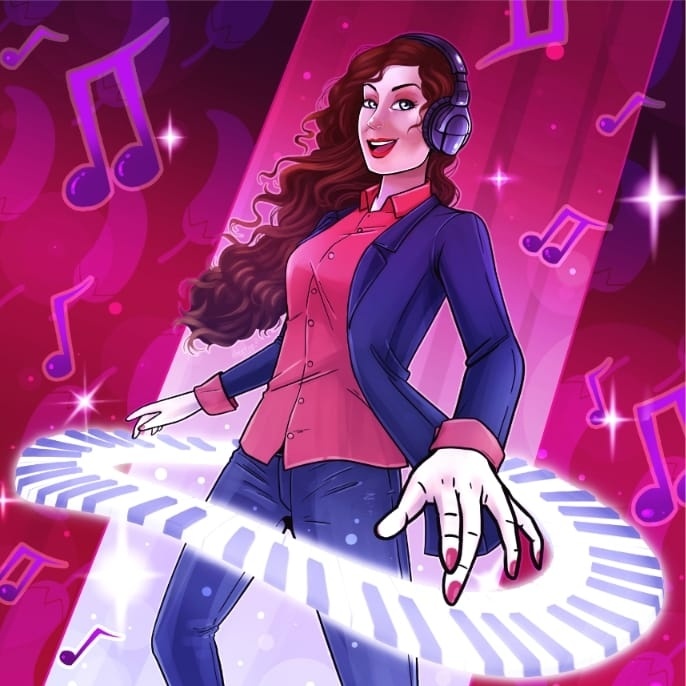 When did you first know you wanted to play the piano? Or was it not a choice at all?
I began taking lessons when I was 6. Both of my parents were dabbling musicians and we had a gorgeous Yamaha Grand piano in our home, so it felt like a natural course. It became more of a choice to continue as I got older, but I always enjoyed playing and practicing.
Who are some of your top musical influences?
My dad listened to a lot of classic rock, so I was really into that growing up, and later discovered bands like The Who, Queen, Zeppelin etc. Billy Joel was a major influence and all I listened to for a good stretch of time, but classical music for sure made the most impact.
Are there any contemporary artists that you're into right now?
Honestly I don't listen to much modern music. I greatly enjoy the musical stylings of my fellow ragtime-playing contempoaries, and usually whatever classical pieces I'm currently working on. I will say I'm a big fan of Viktoriya Yermolyeva (vkgoeswild on YouTube) who writes the most incredible piano arrangements of rock and metal songs. She's amazing!
How did you choose which songs to record for Dawn of the Century?
It was a joint effort with a patron (who prefers to stay anonymous) that has supported my musical endeavors and commissioned me to record several pieces from this era. Over the course of a year we selected various pieces from different composers that spanned from 1900 to 1927 that were a good representation of both the style and time period.
Do you ever perform live? If so, what do you like most about it?
I do, and I love it especially when it's in a collaborative capacity. I do a lot of accompaniment work playing with vocalists, choirs, music theatre productions and opera, and it's usually up to the accompanist to create a strong foundation for the other musicians so that they feel supported. When I feel and play confidently, they feel more confident, which results in a better performance from everyone.
Is there a song on Dawn of the Century that stands out as your personal favorite? Absolutely the eponymous title piece, "Dawn of the Century" by E.T. Paull. It has all of the elements I enjoy about these marches, it's super catchy and just fun to play. "The Four Horsemen of the Apocalypse" is up there as well; it really brings the drama!
We found the Russian Dance from The Nutcracker on your YouTube page. How do you sync the two performances so well together?
I start by practicing each part separately (with a metronome so that I'm learning them both at the tempo I want to record it). Typically I will then record the lower secondo part first because it creates a steady beat and is usually more of an "accompaniment". I'll practice the higher primo part along with the recording for a while until it feels pretty together, and then record that one too. The finished product still requires a bit of tweaking, but I've gotten pretty good at recording duets with myself now!
Do you write original compositions, as well? If not, is that something you'd like to try? I've written a couple short ragtime pieces that I thought turned out all right, though I enjoy arranging things for piano more than composition, at least for now.
What's next for Christina Pepper?
There are many more videos in the works for my YouTube channel (which I am always looking to expand on or try new things with) and at least 3 planned albums after this one. Lots of practicing, and lots of recording!