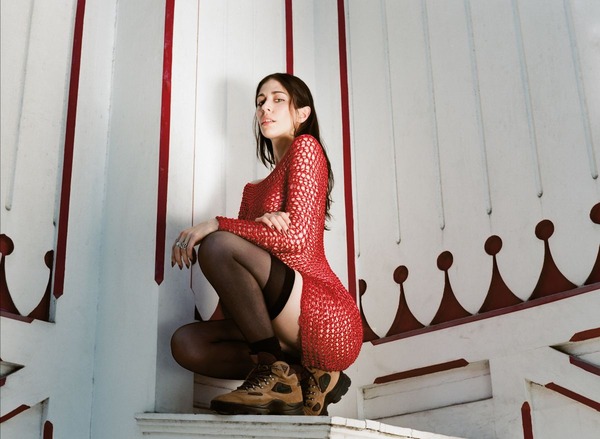 @skopemag news – tuesday – january 31, 2023 @ 2 pm est
@skopemag HQ – http://smarturl.it/skope
@skopemag Menu – https://skopemag.com/2022/07/11/skopemag-editorial-services-the-menu
Meron T teams up with Sey G on romantic amapiano sizzler 'State of Mind'
South London vocalist/DJ Meron T and producer Sey G are back to kick start the new year with a brand new flavour. From their 2018 debut track 'Hunny', to their more recent A/B side project 'Everything' and 'Don't Let', the powerful duo flex their creative prowess and sonic evolution on 'State of Mind', diving into a new sound entirely. Taking roots in Amapiano and Deep House, the lust-filled single sees the pair pushing their boundaries, and delivering a scorcher for the dance floor. Influenced by the intensity of love, 'State of Mind' is a declaration of devotion, and an attempt to sonically replicate the trance-like nature of falling in love.
Introducing Hunter Ellis – The Next Big Thing in Indie Rock
Holly Henderson returns with uniquely fresh, retro infused new single 'Wendy'
The single further teases Holly's second album, "The Walls", due for release on 10th Feb and follows last year's acclaimed single "The Planes", which Clash Magazine described thus: "bejewelled psych-pop with folk qualities, her work has a haunting after-effect that can't be shrugged off."
The Hip Priests release single and music video "Chasing Death"
Since their inception in 2006, The Hip Priests have released a mighty thirty 7″ singles, four albums, two compilations and three EPs by various independent labels from all over Europe & the USA. Fiercely independent and tirelessly driven, the 'Priests have preached their high energy sermon of misanthropy, hate and contempt across numerous tours of the UK, Europe and USA and made countless rapturously received festival appearances.
snake eyes reveal video for new insomniac anthem single '40 winks'
brighton-based grit pop trio snake eyes are delighted to reveal the video for their new single '40 winks', which is released on 31st january 2023 via alcopop! records on digital platforms and also via a limited edition run of branded camomile tea bags.
Brighton punk duo, REGAL CHEER gear up to their no-nonsense debut album, 'CANS', on February 3rd
Launching 2023 in the right way, Brighton Indie-Punk duo, Regal Cheer, are set to release their debut album, Cans, through Beth Shalom Records on 3rd February. Through channeling their daily gripes into relatable, short attention span, shout-along tunes for the person who hates the monotony of the 9-5, Cans clocks in at just over 17 minutes.
EMERGING POP STAR NERIAH SHARES NEW BREAKUP ANTHEM "FALLING 4 SOMEBODY"
Emerging pop star NERIAH has released her newest single, melodic breakup anthem "FALLING 4 SOMEBODY." Debuting with a New Music Daily cover and Zane Lowe interview on Apple Music One, the track is creating plenty of excitement leading up to NERIAH's third EP, No One Cries Forever, out March 17 via Create Music Group.
Matt Holubowski – new single 'My Burrow' released today!
On January 31st, Canadian singer-songwriter Matt Holubowski shares 'My Burrow' via Audiogram Records. Co-produced by the artist and Pietro Amato (Bell Orchestre), 'A music video, perfectly expressing an extended period of introspection is released the same day, directed by Véronique Audet-Gagnon and shot by videographer Lucas Harrison Rupnik. 'My Burrow' follows previous release 'End Scene' and is the second single taken from Matt Holubowski's fourth album, 'Like Flowers on a Molten Lawn', set for release March 24th, 2023.
House of EL – Tonight
The release is the first instalment to his forthcoming project 'When It Rains It Pours', out in Feb. Lands as the first House of EL single since his 'BOOK OF EL' project which saw contributions from Laura Mvula, Jay Prince, Reuben James and Karma Kid. Undeniably an artist characterising his music career with true musicianship with him being the sole architect of his sonic output (multi-instrumentalist, writer, producer, performer) and his dedication to his jazz core.
Pozi grapple with a Failing government
Pozi are the sort of band to tackle the creative cycle of deconstruction and rebuilding with relish. Second album Smiling Pools is testament to that. An LP that sees them at their most expansive yet, it follows a gradual swelling of their sound across two EPs preceding the urgent, self-enforced minimalism of their debut album PZ1 in 2019.
FE SALOMON — Releases Cinematic Video For: "Interstate 10" || + Debut Solo Album Out Now
Syncing the sweeping, string-laden single to a filmic official video starring Salomon, the new visuals immerse the viewer in the narrative of a protagonist juxtaposing longings for past adventures, with optimistic thoughts of beginning new ones.
mui zyu shares new single "Dusty" // Sold Out London release show 1 March
Today, Hong Kong British stirring dream-pop artist mui zyu (Eva Liu of indie-rock band Dama Scout) shares dreamy new single, "Dusty," which premiered at 12pm GMT on Matt Wilkinson's Apple Music 1 show. The track follows the captivating "Sore Bear", sprawling single "Rotten Bun", heartwarming lead-single "Ghost with a Peach Skin". The songs form part of her debut LP, Rotten Bun for an Eggless Century which will be released February 24th, 2023 via Father/Daughter Records.
Leeds musician Michael B Thomas announces debut EP 'The Moment' and releases new single "Team Leader"
There's a melancholy of innocence within Michael B Thomas' music, portrayed through self reflectivity, but also through experiences told by the people around and close to him.
PALACE OF WORMS: Bay-area avantgarde metal entity premieres new album "Cabal" at Decibel magazine
Operating since 2007, California-based Avant Metal project PALACE OF WORMS has a diverse and accomplished oeuvre that reflects its creator's eccentric and often bizarre tastes and sensibilities. From the project's early origins as a raging and misanthropic Black Metal band to its more recent releases which incorporate influences such as Doom, Death, Progressive, Ambient, and Electronica, each POW release is a completely. Sole member Nicholas "Balan" Katich sees no point in marinating in the stagnant pools of orthodoxy and believes evolution to be the true path.
The Reed Effect – New Video "MEGALOMANIA"
Rusty Gear Releases Stunning New Video "Something In The Water"
OUT NOW: Reflective Electronic Producer Kisnou Releases 'The Last Memory of Me'
Oliver Marson gets fired in his new "Blue Dreams" music video
"Blue Dreams" is the latest art pop single off Oliver Marson's forthcoming debut album Why Did I Choose This?. Mixed by Jorge Elbrecht (Japanese Breakfast, Hatchie), the song offers an escape from the mundanity of modern life. With the cost of living being so high, a lot of us feel jaded and are left wondering "how did we get here?"
Rod212 Shares New Single "Really Not Okay"
Blurring the lines of hip-hop and R&B, Rod212 is a rising artist/producer born and raised in Chicago. In college, he stumbled upon a YouTube video of Soulja Boy making beats and spent that summer immersed in endless FruityLoops tutorial sessions. Motivated by the undeniable magnetism of Drake and the vivacious energy of Skrillex, he perused his late mother's records for inspiration and coveted samples. As a producer, Rod212 crafted beats for other artists until he decided to compete as a lyricist and artist in his own right.
ASHBA announces immersive 360 degree experience at Area15
ASHBA has announced a one of a kind live show, and fully immersive experience at famed Las Vegas event space AREA15 – "a multiverse of attractions and events designed to entice and enthrall."
The world-renowned producer and songwriter will bring his iconic blend of genres, along with "Earth-shattering walls of guitar" to the 360-degree projection-mapped "Portal" within AREA15 on Friday, February 17.
CAROLINE POLACHEK RELEASES NEW SINGLE "BLOOD AND BUTTER" & SHARES ALBUM TRACKLIST
Caroline Polachek has shared another taste of her highly anticipated upcoming album with today's offering, "Blood And Butter." Co-produced by Polachek and Danny L. Harle, "Blood And Butter" features Scottish bagpipes by BBC Award winner Brìghde Chaimbeul, a flex rarely seen in pop music that makes perfect sense in Polachek's pastoral landscape. This stand out track showcases Polachek's lyrical brilliance set on top of a hymnal melody that crescendos into sonic bliss, illustrating further Polachek's ability to disrupt the usual pop tropes. The single arrives today ahead of her new album Desire, I Want To Turn Into You out February 14.
BALMING TIGER DROP NEW SONG + VIDEO FROM UPCOMING ALBUM
Alternative K-pop group Balming Tiger has dropped a new group single, "Trust Yourself," a song off the crew's first full compilation album, which is scheduled for release in the first half of this year. It sends out the literal message to trust in yourself with the aim of sending inspiration to those in need of motivation and comfort. The song features Omega Sapien, Mudd the student, and bj wnjn and was produced by Balming Tiger members bj wnjn and Unsinkable. The song arrives with a video from Korean Hip-hop Awards winning director Pennacky who directed the video for the group's previous RM of BTS featuring single "SEXY NUKIM."
Going for Adds "Battle Cry – Civil Disobedience" and Music Video by Bishop The Overseer
GEESE — Return With New Single: "Cowboy Nudes" || Listen Now
Frankie Rose shares new single / video "Sixteen Ways" ahead of new LP 'Love As Projection'
Valley Queen Announce New LP 'Chord of Sympathy' Out 4/21, Share New Single/Video "Cassavetes"
New Video! Melodic Death Metal Warriors IDOLATROUS Release Prophecy [Official Lyric Video]
NAUT Reveals New Song + Music Video for "Damocles"
AUSTERE announce new album and release video single 'Sullen'
AUSTERE have unveiled a sinister video for the epic opening track 'Sullen' as the first and only single taken from the black metal duo's forthcoming new full-length "Corrosion of Hearts". The band from Wollongong in Australia's east coast state New South Wales will release their third album on April 28, 2023.
Rockshots Records – The "Bandits" Are Coming! BAD BONES New Album "Hasta El Final!" Out March 2023
Influenced by NWOBHM to the LA street rock scene, Bad Bones was formed in 2007. The band has made a name for themselves with tours across Europe along with making the move from Italy to LA in 2009 to make a foothold in the USA until returning to their home country in 2010. Over the years, the band has consistently toured the USA and Europe with appearances at events such as the Hollywood Rock Convention, Italian Gods of Metal, and Metalitalia Festival along with supporting bands like Steel Panther, Hardcore Superstar, Crucified Barbara, Entombed, Gotthard, Crazy Lixx, Strana Officina and more.