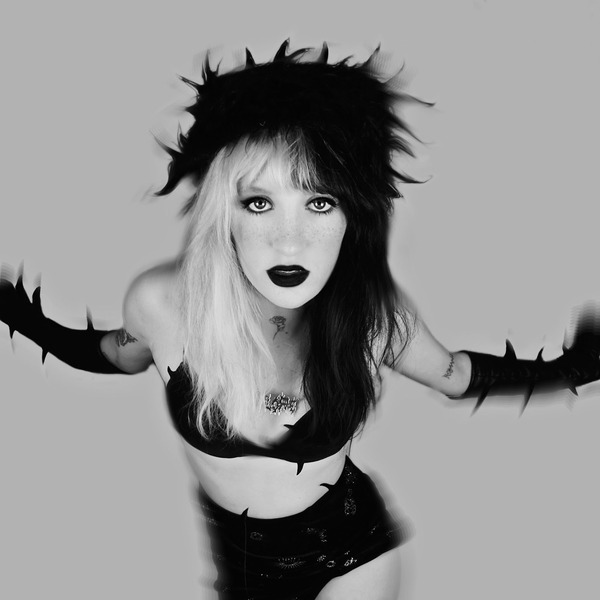 @skopemag news – friday – january 27, 2023 @ 8 am est
@skopemag HQ – http://smarturl.it/skope
@skopemag Menu – https://skopemag.com/2022/07/11/skopemag-editorial-services-the-menu
Fox Apts.(from the film 'Bones and All'), Announce Debut LP for April
Fox Apts. is a new alternative rock band from California comprised of lead singer Dave Kajganich, guitarist and bassist Jerry Popiel, and drummer Tom Stickley. Christened "Fox Apts." in 2019, the band is named for a hypothetical apartment building whose stories and tenants will change from album to album, but whose odd craftsmanship, uncanny spaces, and hidden passageways are built in.
LOVE GANG: new album streaming in full!
Denver-based 70s heavy rockers LOVE GANG team up with Glide Magazine to premiere their sophomore album "Meanstreak", as it releases this Friday 27th January on Heavy Psych Sounds.
LOVE GANG is a throwback to the golden days of rock 'n roll when the amps were loud, the hair was long and the drugs were cheap. Propelled by wailing guitars and overdriven organs, the foursome holds nothing back, each song going full-speed ahead full of blues boogie and hard-hitting rock'n'roll. "As if the raucous spirits of Motörhead, Jethro Tull and Deep Purple had got together for a big old knees-up," praises Classic Rock Magazine, and you'd better believe it!
FULL ALBUM PREMIERE: Love Gang Rivals 70s Rock Heavyweights On Mighty 'Meanstreak' Album
From Acclaimed producer (Sheryl Crow, The Dandy Warhols, Blitzen Trapper, Emmylou Harris)
Andrew of the band confides, "I was never afraid of dying until I had a child. Fading Moon, on the surface, seems like a love letter to my two baby boys. But, in reality, it's a means to comfort myself from my overwhelming fear of leaving them behind when I die. When pure and intense love is experienced, there is a level of pain associated with it. I've never been more happy, but I've never been more scared. So this seemingly sweet, folky ditty is really a pretty dark, anxious proclamation." Musically, the hypnotic guitar riff of "Fading Moon" was written when Dirk was in hospice care, visiting his sick mother. Performing for her brought her joy and "Fading Moon" also represents the magic and healing nature of music. Thanks for your consideration,
Watch: Biig Piig Shares the Official Video for "In The Dark"
Fun & New Today // FLØRE – "Zombie" (For Fans of Acts like Paramore / Pop Rock)
Combining classic pop punk and modern chart sensibilities, FLØRE is sure to provide all the energy you need this Friday with this new cut 'ZOMBIE' out via Valeria Music. In a story many can relate to, it was written about those old flames that long died that keep resurfacing, bring back all the wrong energy that saw it all go wrong in the first place.
KEXP-approved Western Haunts release new single, announce LP
Today Seattle band Western Haunts have released "The Bottle", their first new music since 2017's full length album Problem Pop and the lead single off the forthcoming album of the same name. Partnering on this album with LA based producer Erik Blood (Shabazz Palaces, Tacocat, The Moondoggies),"The Bottle" "The Bottle" draws its sound from the same fusion of 70s folk, 80s post punk and 90s shoegaze heard in the band's previous catalog, newly injected with lead vocalist Jake Witt's fluttering falsetto and epic drumming akin to more modern experimental pop artists like Perfume Genius…
JORDY SHARES "STORY OF A BOY"
ARRIVER Premiere New Single "Only On" at Decibel Magazine
ARRIVER's new video for "Only On" is premiering now at Decibel Magazine. Taken from their upcoming album Azimuth, releasing on March 4th, 2023, the Chicago based outfit deliver a diverse metal sound born from manifestations of heavy prog and post-doom.
KROOKED KINGS REVEAL STELLAR NEW SINGLE ' SICK OF BEING YOUNG'// LISTEN HERE
In celebration of their sold out show at Babys All Right in New York and with their recent collaboration with Day Wave Carbon Monoxide gaining acclaim, Krooked Kings today reveal relatable new single, Sick Of Being Young. Taken from their upcoming project, the track showcases the driving guitars and soaring vocals that have seen the Salt Lake quintet build up a fervent grassroots following.
MOVEMENT FESTIVAL REVEALS 2023 LINEUP TEASER, INCLUDING HEADLINERS UNDERWORLD, CHARLOTTE DE WITTE
Paxahau, the producers of the Movement Music Festival, have shared a sneak peek of the 2023 lineup, including the highly anticipated festival debut and headline slot from electronic music legends Underworld. Since its inception, Movement has been deeply dedicated to bringing a completely original experience to Detroit, with a focus on showcasing authentic and diverse lineups that provide an experience that is purely about the music and culture.
THE BACKSEAT LOVERS UNVEIL OFFICIAL VIDEO FOR "SLOWING DOWN"
ZARA LARSSON DROPS NEW SINGLE "CAN'T TAME HER" AND PREMIERS VIDEO ON MTV LIVE
Kenny Muney Pulls Up "In A Rush" in New Video
WATERPARKS UNVEIL "REAL SUPER DARK" + CONFIRM "INTELLECTUAL PROPERTY" ALBUM RELEASE DATE
COCHISE KICKS OFF THE NEW YEAR WITH "LONG WAY," HIS NEW VIDEO SINGLE
N5XS single/video ft. Jeshi out now
Arriving alongside the single is an 80's arcade inspired visualizer by Julien Marmar (Red Hot Chili Peppers, Supreme) that brings to life the nostalgic feel of the track. "Grub" solidifies NxxxxxS' shapeshifting ability and pushes his boundless music into new territory.
DUST PROPHET Stream Entirety of One Last Look Upon The Sky At Metal Insider
DUST PROPHET have teamed up with Metal Insider to stream the entirety of their album One Last Look Upon The Sky ahead of its release on January 27th, 2023.
Exclusive Album Stream: Dust Prophet – 'One Last Look Upon The Sky'
Jessica Cotten Debuts Her Poignant New Psychedelic Rock and Electronic Dream Pop EP 'Edge of the Wilderness"
So much of Edge of the Wilderness encapsulates breaking away from any sort of harmful environment or culture. It can feel like you're alone in the wilderness. But, perhaps being in the wilderness is the best place to find your truest self. It calls out failed leaders, corrupt systems, and hypocritical faith.
NEW single "Morningstar Above" for WALHALLA!
Vibrant Garage-Rock from Miesha and The Spank
MEGAN BRICKWOOD shares "Trinity River Blues" from upcoming EP 'Fifth Mile' – Listen
The rising musician, singer, and songstress Megan Brickwood is excited to announce that her upcoming EP Fifth Mile will be released on February 24, 2023. To mark the occasion, the artist has shared the first single from the EP "Trinity River Blues."
News Item: Brooklyn Funk Essentials – New Song "How Happy" Out Now
Single Submission KINDMIKE – "BABYBABY"
BREAKOUT NIGERIAN STAR PHEELZ UNVEILS NEW TRACK "STAND BY YOU"
Grounded by a mellow rhythm, the laidback single casts a light, luxuriating spell. And Pheelz seals the deal with his dreamy, whispered lyrics: "I put nothing above you," he croons. "I'm so proud to call you my boo." Ultimately, he promises fidelity: "I will stand by you." The confident, understated number has all the trappings of a night spent between lovers, whispering sweet nothings until dawn.
4L JAVI UNVEILS "MODELS" MUSIC VIDEO
Writing The Future releases 'Sk1nD3ad'
THE KID LAROI RELEASES "LOVE AGAIN," THE FIRST SINGLE FROM UPCOMING PROJECT "THE FIRST TIME"
GRAMMY® Award-nominated multiplatinum recording artist The Kid LAROI is back with "Love Again" the highly anticipated first single from his upcoming project The First Time. Fans have been waiting for "Love Again" since LAROI performed the track on his sold out headlining END OF THE WORLD TOUR last year.
ROSALÍA RELEASES "LLYLM" (LIE LIKE YOU LOVE ME)
Cade Hoppe Shares New Single "Labels"
New York-based indie-pop singer and songwriter Cade Hoppe is kicking off the new year with his new single, "Labels," out on all streaming platforms today. With two EPs and a fistful of highly praised releases under his belt, the 23-year-old singer, songwriter, producer and multi-instrumentalist continues to prove himself as an exciting and determined young talent with each new release.