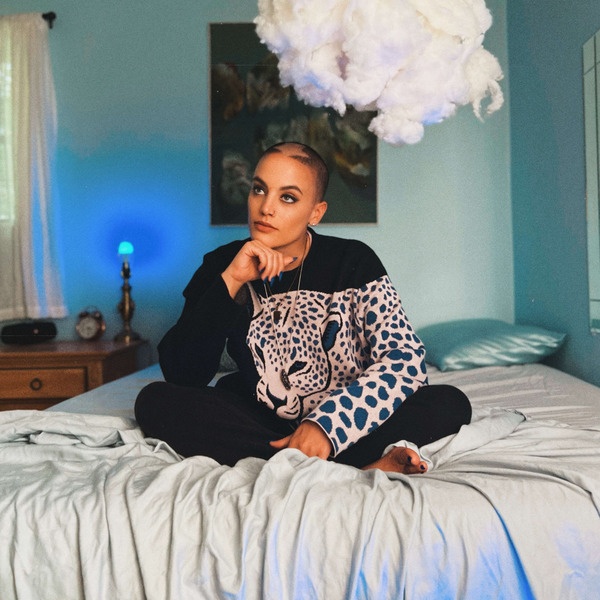 @skopemag news – friday – january 27, 2023 @ 12 pm est
@skopemag HQ – http://smarturl.it/skope
@skopemag Menu – https://skopemag.com/2022/07/11/skopemag-editorial-services-the-menu
Indie Trio Wild Rivers Return With New Single "Don't"
Today, trio Wild Rivers share their driving new indie pop single, "Don't," an upbeat earworm tackling the breaking point of a relationship. The band explains, "I've heard the adage my whole life: when you know, you know. People describe love at first sight as an irrevocable moment when you know you want to be with someone forever. I'm not sure it always shakes out like that. In my experience, as you get to know someone, you slowly come closer to knowing. It boils down to making an active decision to choose someone or not. If not, you try to make a really painful, adult decision to move on, and you try to trust that it's the right decision even when it's hard. This song is about making that call." The track is their first new single since their 2022 album, Sidelines.
Alexa Dark taps into her inner femme fatale in Bond-like single + video 'Villain'
Fresh off of the back of her latest single 'Cool For You', Spanish/American multi-instrumentalist singer songwriter Alexa Dark has returned with brand-new track 'Villain', out 27th January 2023, via AWAL. Dark's debut EP will follow, expected for release on 3rd March 2023.
RAY VAUGHN DROPS NEW TRACK FT. AB-SOUL
TDE label mates Ray Vaughn and Ab-Soul connect for the first time on "Sandcastles," a pummeling track produced by Wallis Lane (Mac Miller, Drake, PARTYNEXTDOOR, etc.). Vaughn, who is currently working on his next project, released "Tradeline" late last year, while Ab-Soul is coming off a massive 2022 with the release of his critically acclaimed album Herbert, available now on Top Dawg Entertainment.
TOOSII KICKS OFF 2023 WITH NEW SINGLE, "MAGIC POTION"
Chicago's Korporate Releases Debut Project 'The Proposal' Today
Chicago entertainer Korporate released his debut project, The Proposal today. Executive produced by legendary Chicago producer D.Brooks (NBA Youngboy, Dreezy, Lil Durk, and Zona Man), The Proposal is a 16-track body of work showcasing Korporate's versatility and lyricism in his own signature satirical style. He slows it down for the ladies with tracks like "Zelle" and "Whoop Yo Shit," while staying true to his Chicago roots with tracks like "Motion" featuring King Louie. The project features guest appearances from King Louie, Fat Money, D.Lylez, and more. The Proposal is available everywhere now – listen here.
'Never Let You Go' by Sam Himself Out Now; RIYL The War on Drugs, The National
Fast-rising London emcee JAY BIZZY displays a rare lyrical finesse across his latest heater "Noidd"
Continuing to showcase an impulse for combining sharp lyricism with intoxicating soundscapes, I'd love to hear your thoughts – any support for the audio or video (dropping tomorrow) would be greatly appreciated. Please see the music video/ press release below and let me know if you need any further detail.
Austria's HOG MEETS FROG Shares Amusing Single "Peeping-Bear's Exegesis of Not Peeping" Off Upcoming EP "humANIMALization"
Hog Meets Frog is nothing short of humorous and entertaining with its diverse, wacky music. They have a new EP "humANIMALization" coming out in February and are enticing listeners with the debut single "Peeping-Bear's Exegesis of Not Peeping". A non-conceptual concept record, it explores offbeat stories about several intriguing animals including a bigot monkey, an insecure piggy, a peeping control bear, and a greedy stock market bull. Their high jinks are detailed through storytelling and interesting music that is cheerful, funky, fuzzy, and progressive. The band explains further:
Glass Animals Reminiscent Party Anthem – RAGS AND RICHES
Queer alt-pop artist a kid named rufus signs with Nettwerk + shares new single "eighteen ft. Cole Bauer"   
Transitioning into adulthood is already a hideous process, even under the best of circumstances. For Malaysian-born, queer bedroom-pop performer Rufus Sivaroshan (they/them), who performs as a kid named rufus, leaving home was exponentially more challenging. The now 20-year-old Rufus is thriving at Syracuse University, where they major in music business while simultaneously fostering a burgeoning music career.
Australian Instrumentalist pastels Signs with Nettwerk, Shares New Single "Dreamfield"
Nettwerk Music Group is thrilled to announce the signing of ethereal producer pastels. The Melbourne-based artist (given name Annie Bui) chose the name pastels as a reference to the soft yet eternally growing nature of her sound.
Today. pastels shares the single "Dreamfield," her first release with Nettwerk. The track is a slow burner, with shimmering synths, a gentle tapping of bongos and a medley of FKJ-like piano chords and saxophone blrrps. As the song concludes, the natural sound of chirping crickets enter the composition.
VENBEE releases "messy in heaven" (acoustic version)
"Chill the fck out" – Alt Pop artist Cat Janice fights cancer
Driving with a fine fusion of emotional integrity and energizing musicianship, songwriter and artist Cat Janice delivers a fresh thread of artistry to the modern music scene. The indie gem presents a skilful balance of soaring vocals, snappy guitar lines and euphoric synths, for a uniquely immersive take on alt pop. Proving both exciting and deeply human, Cat's versatility knows no limits. From the dance-pop rhythms to finely-honed vocals, Cat is equal parts skill and character. Inspired by the likes of Remi Wolf, Benee, and Willow, Cat's love for music transcends the limits of style. Her songs connect with their strong grooves and confident melodies that feel genuinely fresh.
LUKE COMBS IS BACK WITH 18 NEW SONGS—COMPANION ALBUM GETTIN' OLD OUT MARCH 24
The new album adds to yet another triumphant year for Combs, who is nominated for three awards at the 65th Annual Grammy Awards: Best Country Album (Growin' Up), Best Country Song ("Doin' This") and Best Country Duo/Group Performance ("Outrunnin' Your Memory" with Miranda Lambert). Combs will also perform during the live awards ceremony, which airs next Sunday, February 5 on CBS.
ANDREW JANNAKOS SHARES GRIPPING NEW TRACK, "GETTIN' THERE"
"'Gettin' There' is a song about vulnerability and working towards something better," Jannakos said. "It's about realizing that you may not be in the best spot, and that's ok, but you can always keep working towards something greater. It's also about those friends and family that are there with you no matter what, which we all need."
Indie Pop Band The Collection New EP 'How To Survive An Ending Out Now
"I can't stop thinking about endings – the end of a relationship, the end of my fearful identity, the end of my patience, the end of the world," states The Collection frontman David Wimbish. "All my songs started to be about these endings and how to handle them with strength and confidence, instead of being bulldozed by them. I think the music reflects this, too. It's a bolder and more confident version of The Collection and built off of the last year of the ups and downs of road life as a band." says Wimbish. "We've become more confident in who we are over the last 18 months, and now know how to pull each other through an ending."
Uncured Releases New Single "Let's Break Out" and Announces 'My Design' EP
New Jersey rock band Uncured releases its new single "Let's Break Out." The song comes from the band's upcoming EP My Design, which is slated for release in the summer on June 2, 2023, via Pavement Entertainment.
New Single by Mishell Ivon & Drop Out Orchestra OUT NOW!
Mishell Ivon & Drop Out Orchestra bring you "Skate," an uptempo dance floor filler that may remind you of the sophisticated disco funk of seminal groups like Chic, only the sound has been transformed and streamlined into something that's ready for the dance floors of 2023. Mishell Ivon's commanding vocal presence leaves you with little choice but to enjoy yourself, and to find the location of the nearest roller rink.
Out Now // Bristolian noise-pop band Superlove share new single & music video "GO!" via Rude Records
On the new single the band shares, "GO! is all about how being in a band coming up and being online can feel like a massive race sometimes. We wrote the song a few months ago when we were feeling well washed out with the band and the social media dilemma. We're not used to filming everything when we're hanging out together so we always felt a bit left behind when it came to making content. Since writing this song and a load of new tunes we've had a huge burst of energy with the parts of being in our band we used to struggle with. Moving forward our focus is to really hone in on all the elements people like about our band and throw everything at them."
RHODES Releases Emotional New Album 'Friends Like These' Today 
Speaking on the album, RHODES says, "'Friends Like These' was born from night thoughts and dreams or conversations with very close friends about personal trauma and trying to move beyond the feelings we cannot face alone. The record is musically diverse and quite chaotic, and I feel this is truly representative of my experience over the past few years of writing and finally now stumbling upon the right path with good friends and good people. I want this album to transcend all the things I thought it had to be and I want it to be heard and be a celebration of realisation, of friendship and of hope. My close friends are all over this record and if it wasn't for them it wouldn't exist. It took me a moment to get here but in such a noisy world, I've always found that true beauty and clarity comes in the pauses."
NEW SINGLE: Sumaroo takes his audience on an emotional journey with "No One Likes The Kid"
Today, Mauritian-Canadian indie singer-songwriter Sumaroo is thrilled to share "No One Likes The Kid", the first single from his upcoming Piggyback EP, due for release on March 17th.
Vancouver Musician Colleen Rennison Releases New Single + Video MEANS TO AN END
'Means To An End' is the first single from Colleen's new album Persephone set for release later this year. The track sets the scene for what we can expect on the LP with Colleen laying it all out for us to see.
OUT NOW – Jonas Rathsman & Franz Novotny Launch New Project Modern Tales With Single 'Monster' on RÜFÜS DU SOL's Rose Avenue Records
Today, Swedish brothers Jonas Rathsman and Franz Novotny released their first single, 'Monster,' under the name of Modern Tales. The duo captivated crowds with stunning live shows while supporting RÜFÜS DU SOL on tour, eventually leading to Modern Tales signing to the legendary Australian group's label Rose Avenue.
Green Day Releases 'Nimrod 25' – Out Now
Today, five-time GRAMMY® Award-winning band Green Day release Nimrod 25 the 25th Anniversary Edition box set. Nimrod 25 includes the original album, one disc of previously unreleased demos, and a live set from Philadelphia's Electric Factory recorded on November 14, 1997 one month after Nimrod's release. The 14 track demos disc includes two unreleased Green Day songs ("You Irritate Me" and "Tre Polka") plus a cover of the classic Elvis Costello song "Alison" (previously unreleased). Nimrod has now sold over 3 million copies.
ADAM LAMBERT RELEASES "GETTING OLDER"FROM HIS BRAND-NEW ALBUM "HIGH DRAMA" OUT FEBRUARY 24
Today, Grammy-nominated international superstar Adam Lambert has released his latest single, "Getting Older" (listen HERE). Produced by Tommy English, Adam's "Getting Older" is a glam rendition of the Billie Eilish track, lyrically exploring the complexities of getting older, harnessed by Adam's unmatched vocal talent.
GORILLAZ: 'SILENT RUNNING' Featuring Adeleye Omotayo NEW TRACK OUT NOW
Alt-pop duo Bestfriend announces "places I've left" EP + share single/music video "Anxious People" via Nettwerk
SG Lewis Releases New Album 'AudioLust & HigherLove' Today!
Speaking about the album's focus track, 'Oh Laura,' SG Lewis reveals, "Oh Laura is the song on that album that is most different to any of my previous work. I wrote it with TEED, who also co-produced it at Sleeper Sounds in London, and later rewrote the verses with Ed Drewett, and it has been stuck in my head since the day we made it. It's a fictitious tale of betrayal, and is heavily inspired by 80's pop music."
P!NK RELEASES "TRUSTFALL" MUSIC VIDEO — NEW ALBUM OUT FEB 17!
Texas Singer/Songwriter Amber Nicholson Announces Emotionally Empowering Solo Release
Alt-Pop Sensation dee holt Kicks Off 2023 With a Banger "Better" 
Darren Nicholson's "Arkansas Without You" showcases an acclaimed artist in a new light
Written by Nicholson and favorite collaborator Charles Humphrey III (Songs From The Road Band), "Arkansas Without You" hits hard right out of the gate with a fresh new sound, signified by the driving banjo of progressive maestro, Wes Corbett (Sam Bush Band). Over propulsive backing from Corbett, bassist Zack Smith (Town Mountain), Colby Laney on guitar, fiddler Billy Contreras and his own signature mandolin, Nicholson lays out a classic tale of spurned love, jealousy, murder and regret revealed through oblique sketches rather than direct narrative, as he and harmony singers Jennifer Nicholson and Derek Vaden (Larry Stephenson Band), serve up a memorable chorus.
SURF MESA'S NEW SINGLE, "CITY OF LOVE" (FEAT. SELAH SOL), IS OUT TODAY
MAISIE PETERS LAUNCHES NEW ERA WITH "BODY BETTER"
Written by Maisie, alongside Ines Dunn (Griff, Mimi Webb) and producer Matias Téllez (girl in red, AURORA), 'Body Better' brims with more candor and vulnerability than ever before, showcasing the evolution of Maisie's acclaimed diary-style songwriting to serve as a fitting entry point to the new record.
Tom Odell Releases 'Butterflies' Ft Aurora
British award-winning songwriter, Tom Odell returns today with 'Butterflies', a tender, endearing track featuring Norwegian singer-songwriter AURORA. The track is a sonic continuation of Best Day Of My Life, Tom's latest album which is out now. 'Butterflies' is a dedication to pure love and the tender lyrical declaration is complimented by the elegant blend of their voices, highlighting their natural synergy.