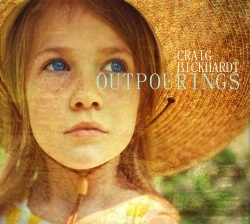 If you're a fan of pristine storytelling, then you will love 'Outpourings' by Craig Bickhardt. Craig brings each song to life through a creative thought process that includes rich lyrics and well-versed compositions. 'Outpourings' is a musical delight as Craig Bickhardt proves to be a stellar singer/songwriter with valuable material.
The new record also features other talented artists that helped in the making of 'Outpourings'. Craig Bickhardt handles vocals & acoustic guitar on the album and the rest of the musicians added their professional touches to help make 'Outpourings' a true success! It's worth noting that the record was produced by Craig Bickhardt and John Mock and recorded and mixed by John Mock in Nashville, TN. Craig Bickhardt & company have created a work of art that will move you and inspire you, so prepare yourself for 'Outpourings'.
There are 13, well-written songs on this new release and each one has its own identity and message. The album starts up with an enriching number titled "Breaking the Bread" that offers top-shelf songwriting and an appealing sound that will satisfy your hunger for quality tunes. Next, we hear "Ancient Lullabies" that provides striking melodies, solid instrumentation, soothing feel and a strong presence overall. Track three, "England Or Me" has the perfect arrangement and the listener will witness a wonderful performance by Craig Bickhardt pouring everything he has into the song. "Emerald Eyes" grabs you lyrically & musically with its comforting words and positive aura, so gaze upon this healthy composition. Track five, "She Won't Be Yours Alone", captures your attention with heartfelt singing by Craig Bickhardt, so sit back, relax and enjoy the show. It's smooth sailing next on "China Blue" where this calming tune rushes over your ears and has you feeling complete & content. Moving along, the listener will pick up on a rustic vibe on "Ha'penny Standup" where Craig adds an organic touch 'n' texture to the mix. Track eight, "Fire Of The Spirit", incorporates a powerful message that truly speaks to the soul with its inspirational content. There is much to ponder on "Fire Of The Spirit" as the listener will stop, think and contemplate. Next, we get "Steal Home (Letter To Curt Flood)" that supplies a wonderful story with plenty of heart and emotional chords. We roll into "Hills Of Geronimo" next where a Native American environment meets a universal language. Craig Bickhardt is standing tall like a musical warrior on "Hills Of Geronimo". Track 11, "I Don't Know About Love At All", will have you questioning everything you thought you knew about love. There are life-long lessons being played upon here on "I Don't Know About Love At All", so listen closely and enjoy the outcome. Craig displays nice guitar strumming a clever play on words on "If Holes Were Coins". Craig Bickhardt emphasizes the point that "I'd be a rich man" "If Holes Were Coins", so savor the wealth of music. Get ready to lift your spirits and embrace the sound on "I Live For This" as Craig ends on a mighty, high note.
I am highly impressed with 'Outpourings' because it is a top-of-the-line recording with major substance to chew on. Craig Bickhardt and his team should be very proud of their efforts on this project as everything came together nicely. 'Outpourings' is simply music done right, in my humble opinion, and deserves the utmost respect and recognition. There is also a limited edition, double-CD of 'Outpourings' available now, so be sure to pick up a copy today! You will not regret your choice when you purchase 'Outpourings' by Craig Bickhardt because the songs speak to people from ALL walks of life.