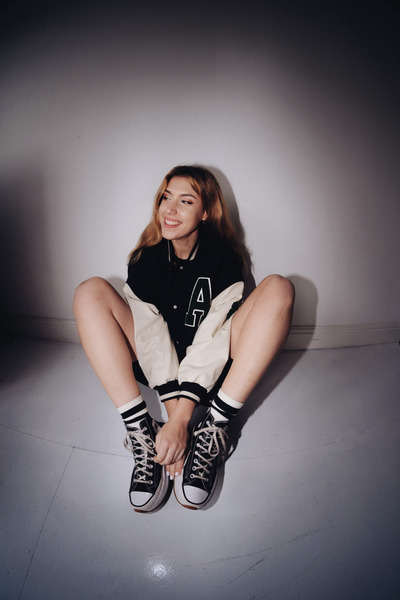 @skopemag news – friday – january 20, 2023 @ 11 pm est
@skopemag HQ – http://smarturl.it/skope
@skopemag Menu – https://skopemag.com/2022/07/11/skopemag-editorial-services-the-menu
Experimental-Pop Duo LUNIKK To Release New Single "VIOLET HOUR!"
Los Angeles, CA – Lunikk is an Eastern-European experimental-pop duo created by Kristina Yordanova and Denny Popov. When the two met, just a couple of years ago, Denny was in a rock band and Kristina was deeply deluded that music wasn't something she wanted to pursue. But after many shared moments and conversations, they realized that their brains were chattering at the same frequency. As fate would have it, while Kristina kept a notebook with written poetry (entitled "Let's Live on Mars") Denny's band broke up, and slowly but surely the two discovered they wanted to hate and love the world together through the same melodies.
Flashlight Tag Shine Bright on New Album "Don't Blink"
Flashlight Tag is a quirky, pop-rock band from Richmond, Virginia. The group features Brian Phelps on guitar, Justin Laughter on vocals, Sam Bennett on keys, Brian Durrett on bass, and Lee Brooks on drums. A combination of The Muppets Take Manhattan and Big Trouble in Little China, Laughter's kermitesque persona masterfully balances Phelps' effortless embrace of Kurt Russellian swagger and irreverent charisma. Attendance of Todd Snider, The Jesus Lizard, Pavement, and Toad the Wet Sprocket fans is a must.
Pi'erre Bourne Makes the Uber Jump in "DJ In The Car" Video
IN SΦNDER Release Lyric Video For New Cyber Single "Quintessence"
Cyber edged metal outfit IN SΦNDER has unleashed the single "Quintessence" with a high-impact lyric video. Exploding into an onslaught of high-speed electronics, soaring vocals and roaring guitars, "Quintessence" sees the band begin their new incarnation with a striking debut.
"In Sϕnder are delighted to share our lyric video which accompanies our debut track, 'Quintessence' . We wanted this to be high energy and very colourful to help suit the new electronic/synthpunk style that we're going for. We're delighted with the result and super grateful to Lee Waters Lyrics for making it happen!"
Pop Songsmith Isabel Dumaa Releases Latest Single "Freshman Year"
Vividly tapping into universal experiences of young love and heartbreak, 19 year old pop singer/songwriter Isabel Dumaa returns with 'Freshman Year', an irresistibly evocative slice of confessional pop that recalls the breakthrough singles of artists like Olivia Rodrigo, Billie Eilish and Mallrat. With its poignant storytelling and earworm melody, 'Freshman Year' is at once intimate and instantly relatable, bringing Dumaa to the forefront of today's up and coming singers.
Rising Artist Beth Crowley Releases New Single "The Ghost Who Is Still Alive"
With her cinematic pop songs and emotional piano ballads, the singer-songwriter is an avid book lover which inspires her writing and emotion into her releases. Inspired by the book, The Invisible Life of Addie LaRue by V.E. Schwab, Crowley's upcoming releases are inspired by her love for reading and specific books.
Grant Summerland Announces New EP, Shares Single "Real Boy" via Ones to Watch | 'Unnatural History' EP Out Feb. 10th
A return after three years of silence, Grant Summerland's Unnatural History EP, the second release from the California musician, marks a reintroduction to the Grant Summerland project. Written and performed entirely by Grant and recorded in Portland with newcomer producer Joel Lane, the 5-track project pays homage to the past 30 years of indie rock and punk music. Influences range from artists such as Mitski, Phoebe Bridgers, and IDLES to artists such as Cymbals Eat Guitars, Weezer, and Prince Daddy & The Hyena. A combination of anthems and introspective ballads, the EP seeks to build and expand on key themes seen in Grant's debut 2020 release Bigfoot Museum – namely growing up in the contemporary world and facing the passage of time head on. This EP comes as Grant, along with his Portland, OR based live band Grant & The Summerlands, aims to take the next step on their musical journey by expanding their live show repertoire with a DIY west coast scheduled for Spring 2023.
Caitlyn Smith's New Album, HIGH & LOW, Due April 14
MACKLEMORE RELEASES LATEST TRACK FROM FORTHCOMING ALBUM BEN 'HEROES' FT. DJ PREMIER IS OUT NOW
Kristina Dervaitis Releases Stirring & Moody New Track Confronting Denial, "Everything & Nothing"
Canadian OBGYN turned singer-songwriter, Kristina Dervaitis, is sharing the first single from her second solo album due this April. The powerful, piano-led track "Everything & Nothing" focuses on the concept of denial. "Some signs just can't be ignored without grave consequences," explains Dervaitis.
The song's moody vocals and ominous production underscore Dervaitis' exploration of how we can over analyze situations and twist any information in order to justify our wants, which often aren't in line with our true needs.
J.Stalin Remains a Bay Area Legend on "S.580"
Produced by Mike Made The 808's, the track is Stalin at his best –maneuvering a snapping cadence and proving he's the man in his city, even if he's always looking over his shoulder: "Go wherever when I want, I ain't making no plans/Do the money dance with a chopper in my f*ckin hand."
ALT-ROCK QUARTET THE HEAVY HOURS RELEASE LONG-AWAITED ALBUM
Today, Cincinnati-based alternative rock quartet The Heavy Hours celebrate the release of their new self-titled album via BMG.
The album packs an emotional punch from the very first chord, fusing larger-than-life melodies and epic choruses with soulful, sophisticated songcraft and remarkably universal lyrical spirit.
STREET TOMBS: Santa Fe Death Metallers To Release Reclusive Decay Debut LP February 17th Via Carbonized Records; New Track Streaming + Preorders Available
Formed in 2017, STREET TOMBS was forged in the flames of the legendary underground venue, The Cave, where the band hosted numerous shows for the DIY punk/metal community of Santa Fe and surrounding cities. The collective has released three demos since 2018. Combining the death metal grit of early Sepultura and Bolt Thrower with the rabid D-Beat/street punk of Discharge and G.B.H., Reclusive Decay presents a unified vision for all that is dark, heavy, and fast. As death and disease rage through our modern world, STREET TOMBS rip the abyss of suffering.
TEN-TIME GRAMMY® NOMINEE TAUREN WELLS RELEASES MULTI-TRACK SINGLE "J.I.T.M."
The multi-track single also includes the original album version of the song – which has amassed over 14 million combined global streams to date – and the radio edit. The Apple Music edition includes the video of Wells and Elevation Worship performing "Joy In The Morning" plus a lyric video and a video of Wells performing the song live with his band. "Joy In The Morning" is No. 16 on the Billboard Christian Airplay chart, reaching over 2.7 million weekly listeners with 46 stations spinning the song, including SiriusXM, KLOVE and KLTY. Elevation Worship is currently No. 1 on the Christian Airplay chart with "Same God."
Lil Durk and Future Narrate a Gripping Crime Story in "Mad Max"
Vancouver's HUNTING GIANTS Shares New Video For A Solder's Love Song "Vanguard" Off New Album "Mythos" Out Now
Singer-Songwriter Harry Hannah Captures the Bitter-Sweetness of a Breakup in "Baby Don't Look Back"
MILEY CYRUS'S NEW SINGLE "FLOWERS" IS THE MOST STREAMED SONG IN A SINGLE WEEK IN SPOTIFY HISTORY AS CONFIRMED BY SPOTIFY ON FRIDAY MORNING
Belgian alternative-rock/stoner duo Bar II release new digital single "Wake Up!!"
6 months (or a bit more) after releasing the single "Fake It", Belgian egnimatic alternative-rock/stoner two-piece Bar II just shared a brand new song as digital single with "Wake Up!!" available right now on YouTube and all streaming platforms.
Rockshots Records – Out Now! Finnish Rockers LEAFLET's New Album "Something Beyond"
Formed in 2013, LEAFLET is a four-piece hard rock band from Turku, Finland. Their music can be described as metal-infused American-style hard rock and while you might hear echoes of bands like Alter Bridge or Shinedown they have their own unique Nordic flavour. In 2019, LEAFLET released "Johnny Two-Face" as a single through VR Label Finland followed by an ambitious music video shot in both Turku, Finland, and Tokyo, Japan. After a couple of years of silence due to the pandemic, the band is now back with their second album "Something Beyond", sounding stronger than ever.
German project Bones:Dreaming releases new album "Acid Meditations"
Acid Meditations is the second instalment of the Bones:Dreaming project. Assembling a range of machines, buttons and sliders around himself, Mike lets the machines talk once more.
Very experimental and sometimes hard to listen to, Acid Meditations awaits with alien-sounding drones, hard industrial noises, chanting demons, an angry devil and meadows filled with strange morning sounds.
Fat Westbrook and Cedric St. Louis Announce New EP
Hip-Hop acts Fat Westbrook and Cedric St. Louis have joined forces to collaborate on an upcoming joint EP called Castor + Pollux, due out in March 2023. The duo's latest single "Mike Tyson" (out January 20th) is a Hip-Hop/Rap song that's been in the works since early 2020, and has been a fan favorite at the group's live performances. Farrell (Fat Westbrook) and Cedric both are confident and cocky all while keeping it fun and lightweight. "Floating like a butterfly and stinging like a bee – once you're done with the song you won't know what hit you." -Farrell and Cedric
Fat Westbrook & Cedric St. Louis come together on confident track "Mike Tyson"
LA Duo, SKYCABIN, Release Electro-Pop Gem "Insidia"
Natalie Shay Shares "The Edge" Single + Lyric Video via BBC Radio 1 | New Track + B-Side Out Now via All DSPs, More New Music Coming Soon
North London indie-pop singer-songwriter Natalie Shay returns with a new single entitled "The Edge," out today via all DSPs. The track is about the painful breakdown and complete blow up of Shay's friendship with her best friend. The songwriter confides, "This is one of my favourite songs I've ever released, and as the feelings are still very raw, I'm hoping to find closure in this."
IDMAN UNVEILS NEW SINGLE AND VIDEO "HATE"
Somali-Canadian singer-songwriter and artist IDMAN returns today with their first musical offering of 2023; a meaningful new single, "Hate," out now via Arista Records. The highly anticipated release is a powerful track that touches on the heartbreak and emotional turmoil endured throughout a relationship. The poignant song arrives alongside an intimate and captivating visual directed by Khufu Najee (Kehlani, Audrey Nuna, Smino, ROLE MODEL, Tempest). The video beautifully showcases IDMAN's heartfelt and graceful vocals as she contemplates her emotions and accepts her vulnerability, finally letting go of the relationship and love she embraced with all its flaws.
BRE Unveils Music Video for Bold Single "IDNTBR"
Los Angeles alt-pop artist BRE has released a music video for her single, "IDNTBR." The song is a powerful pop-rock track that exudes boldness and the willingness to take a step back and examine the problem. The video, directed by BRE and edited by Chalisa Singh, shows contrasting images of BRE in black and white and in full color. "This song is about picking your battles and remembering what's most important when in a disagreement – fighting the problem and not each other," BRE states. "IDNTBR" is available to watch on VEVO.
POSH SWAT (John Dwyer, Ryan Sawyer, Andres Renteria) Share "MORE WILL BE REVEALED" Single via Raven Sings the Blues | 'POSH SWAT' LP Out 2/17
Today POSH SWAT, a new project helmed by John Dwyer (OSEES), Ryan Sawyer, and Andres Renteria, shared their new single "MORE WILL BE REVEALED." Ahead of the release of their forthcoming debut LP, POSH SWAT (due February 17 via Rock Is Hell Records), the trio also released a double A-Side track titled "DUNGEON CRAWLER / BUG CITY" via Stereogum earlier this month.