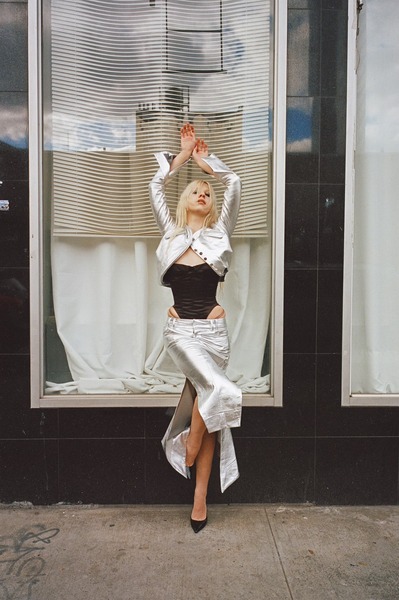 @skopemag news – tuesday – december 6, 2022 @ 8 pm est
@skopemag HQ – http://smarturl.it/skope
The Greeting Committee simplifies the complications of writing a love song on "Anything But You"
Starting with a simple guitar before a rush of vocals comes flooding in, The Greeting Committee today releases their next single "Anything But You." Produced by Jake Luppen of Hippo Campus and accompanied by a supercut of tour footage as the official video, the track is heavy hearted yet still carefree. It's not hard to imagine how "Anything But You" will translate into a perfect echoing singalong for a live show –
Mike Dillon & Punkadelick Release "Pandas"
Mike Dillon & Punkadelick have released "Pandas," the second single from their forthcoming album, Inflorescence, due January 27 on Royal Potato Family.
"'Pandas' was composed in my apartment above Checkpoint Charlie's off Frenchman Street in New Orleans," explains Mike Dillon. "I had been mediating on the destruction of natural habitats for human convenience all the while painfully aware of the homeless situation in our own cities. So you might say the song is a meditation on the helpless nature of the panda bear's imminent demise, but alsol a metaphor for our own social fabric hanging by a thread."
GEORGE BARNETT unveils visual for infectious earworm 'Black Tank Top'
Mixing organic sounds with samples, the track is an infectious earworm that follows George's recent lockdown EPs "Bad For You" and "Make It Rain" which garnered 25 million streams with the track Stone Cold Classic winning a global car advertising campaign.
Metal Icons XANDRIA Release Title Track "The Wonders Still Awaiting" + Official Video
Hardcore band Run Into The Sun take a stand on dual single Cry / Blood
Hailing from Salt Lake City, Utah, Run Into The Sun take as much pride in their roots as they do in creating politically and socially charged hardcore. Today the band shares Cry / Blood, a dual single focused on judgment, exploitation, and taking action. Recorded with Nic Kartchner at Grotto Audio, it marks the second in a planned series of singles, following Love / Pain released this past July.
Magnolia Park Frontman Joshua Roberts Shares Sweet Solo Debut, "Stay, Stay, Stay!"
Widely known as the exuberant front man of Florida band Magnolia Park, his solo debut depicts a softer side to Roberts. He trades in high-energy pop-punk hooks and spirited anthems for a more mellow sound, featuring saccharine synths woven throughout dreamy guitars and a rock steady rhythm section.
Richmond's Beat Awfuls announces new LP, shares "Interstate Skeletons"
Today Beat Awfuls announces a new LP, PAWS, due Feb. 10, 2023. The first single on PAWS is "Interstate Skeletons," a saturated mid-tempo track that delivers hard-won insights into abuse, all while testing and teasing its own pop sensibility. Playful synths and Casio drum fills contrast the cutting angles of the guitar riffs, giving the track a heightened energy. With lyrics like, "why do people even promise to be vulnerable and honest," we hear Vicini process his trauma while he searches for something shiny through the dark.
THE MOSS Announces 'Insomnia' EP + Video
SHINee's MINHO RELEASES DEBUT SOLO EP, 'CHASE'
"CHASE" is a hip-hop and R&B-based mid-tempo pop song with a piano loop and arpeggio synth melody. On top of a heavy bassline, the lyrics express the empty feeling of chasing towards something without ever reaching it. In addition to the title track, the EP features five other tracks – "Runaway" which features Korean rapper and producer GEMINI, "Waterfall" which is a duet with singer songwriter Lim Kim, the refreshing track "Prove It," the autobiographical "Choice," and finally the mature yet charming "Heartbreak."
Stella Rose (Dave Gahan Daughter) Shares "Angel" Single + Video via PAPER
REGENT — Return With New Single: "The Thunder" || + New EP: 'Believe' Out 3 February 2023
Modern Rock Band Wicked Love Releases Their Powerul Ballad "Stay" to all major platforms
Modern rock band Wicked Love released their follow up single "Stay" to all major platforms. The single, which is a powerful ballad about heartbreak, is from their EP Wild Ride.
Delivering an mix of Rock and Post-Punk, The Haptics, Drops New Album "Second Best"
With head-banging fervor, The Haptics' new music surrounds audiences with harmonious rhythms, infectious beats, and passionate songwriting. Delivering an invigorating and spirited mix of Rock and Post-Punk, The Haptics is a brilliant and skilled group of individuals.
The promising artists got together in 2022 with a common goal and passion for creating noise and making their mark in the industry. A talented collective, The Haptics hope to create a space where each person feels heard and seen, and through the everlasting appeal of Post-Punk and Rock, they are doing just that.
Starling Arrow New Single "Into The Jordan" Out Now
Starling Arrow is an all-star cast of spirit-folk songstresses featuring Leah Song and Chloe Smith of Rising Appalachia, Tina Malia, Ayla Nereo, and Marya Stark. Powerhouse songwriters in their own right, and innovative leaders within the industry, the joining of the 5 songwriters and singers have created a potent gift of synergy. All share a common devotion for the love of songwriting which they have elegantly captured in their debut album, Cradle, due out January 2023.
vaultboy gets sentimental on "christmas as a kid"
On the heels of his latest EP release, viral pop singer-songwriter vaultboy is back spreading some seasonal nostalgia and cheer. The Jacksonville, Florida-based artist penned an original holiday tune, "christmas as a kid," which releases today via label Fast Friends / ADA Worldwide. Listen to the song on all streaming platforms, here:
DEAD LEAF ECHO — Release Official Video For Madchester-Inspired Single: "Boo"
Part-inspired by the seminal Madchester movement of the late 80s and 90s, the track is now accompanied by suitably vintage-styled visuals. Directed by New Visions' Dylan Brannigan, the "Boo" music video arrives like a lost cut from the Granada music show, So It Goes… but with a supernatural twist.
New single and video – "The Planetoid"
Frozen Factory: An eclectic mix of alt-rock, prog and metal from Finland release new album 'Of Pearls & Perils'
Weaved with Frozen Factory's signature mixed sound of alt-rock, metal and proggy elements, 'Of Pearls & Perils' marks their second full-length album and third LP/EP release. Its 12 songs, including their traditional short intro & outro tracks, explore topics of equality, life, the afterlife, and the climate crisis. The sound twists and turns through a range of heavy and light soundscapes that draw careful influence from classic acts such as Pink Floyd, Alice in Chains, Iron Maiden & Depeche Mode, while nodding at many others.
FLIDAIS Release Visualizer For New Single "Calamity"
German death metal band, Susurro, stream new single "Bloodbath"
German death metal band Susurro have released their new single "Bloodbath". The release was recorded at AKS Studios and mixed and mastered by Andy Lux.
Band founder Jack Skaner describes the song as follows: "We are all born equal, why are wars fought for money, why are the masses so easily manipulated, everyone eats shit and breathes, we are all the same. it is not possible for anyone. to spend his fortune after his death".
Sawyer Fredericks Releases Personal Video for His Single "The Golden Tree" Featuring Home Footage From His Childhood
Sawyer Fredericks released his video for "The Golden Tree" on Friday. View it here. The personal video features home footage of Sawyer playing guitar and singing as a child alongside scenes captured in NYC this Fall. It was directed by Jenny He who Sawyer previously collaborated with on his "Born" video off his 2020 Flowers For You album.
Skope: THE MOSS new 'Insomnia' EP, video
Today, we announced the Insomnia EP from The Moss who has quickly earned a rapturous fanbase with their unique blend of indie surf-pop, grunge-rock and '60s-blues. Originating on the shores of Oahu, the now Salt Lake City-based group has also announced a North American tour and released the official video for fan favorite hit single "Insomnia" which has quickly become a breakout track.
VALCATA Release Visualizer For "Paralyzed"
The ethereal symphonic metal project VALCATA return with their powerful new single "Paralyzed". Bringing together an array of talented musicians from across the globe, VALCATA manifest an immense and enthralling sound.
"This song is about how being a musician can sometimes be torturous and depressing, because there's a climb to success that seems so insurmountable," says composer Oha Cade.
"I'm sure not only musicians can relate to this, but anyone who has a dream or a goal and sometimes feels lost. "Paralyzed" is about a moment in time that many of us feel, where the future seems bleak. There is hope of course, and my hope is expressed in the creation of the song itself. I'm extremely grateful to have worked with the insanely talented musicians who have brought this song to life."
Hangout Music Festival Announces SZA, Lil Nas X, The Kid LAROI, FERG, Kevin Gates, Russ, GloRilla, Thundercat, GASHI + More For 2023 Lineup
Hangout Music Festival has announced the soundtrack to your quintessential beach vacation on the majestic white sand beaches of Gulf Shores, Alabama, May 19-21. Hangout is the ultimate kickoff to summer, a weekend defined by dancing in the sand with your best friends while listening to your favorite pop, dance, and rock artists at one of North America's most beautiful beaches.
The legendary Red Hot Chili Peppers will set the tone for those looking to get after it on the beach. Pop-punk is alive and well at Hangout with Paramore leading the way supported by Mayday Parade and The Maine, and the various sub-genres of pop-rock, indie-rock and americana are well-represented with The Backseat Lovers, Rainbow Kitten Surprise, Noah Kahan, COIN and Alabama's own The Vegabonds.
DannyLux – DannyLux – Juto a Ti [Official Video]
DannyLux, the 18 year old Palm Springs native, has become one of the most exciting new artists who is reintroducing corridos and sierreño to a new generation. The Mexican-American artist recently signed to Warner Latina after being quickly embraced by a Gen-Z audience on TikTok with his viral song "Jugaste y Sufri," a collaboration with Eslabon Armado. With the success of the song DannyLux charted for 8 consecutive weeks with his first charting entry as an artist or songwriter with a No. 1 on Billboard's Latin Songwriters chart. DannyLux's signature sound has garnered him a strong fanbase with a following of over 1M on TikTok, 793K on Instagram, and over 2.3M monthly listeners.
INTERNATIONAL PHENOMENON SHO MADJOZI RELEASES CINEMATIC DIRECTOR'S CUT OF "TORO" MUSIC VIDEO
The extended version of "Toro" now includes over two minutes of prologue, setting the stage for the action to follow and contextualizing her journey. In the new footage, she and a friend stroll through their neighborhood at night until Sho notices a glowing pendant. In her head, a voice declares, "This is your gift. Look after it." Her companion notes the power of this artifact as the girls return to Peshy with newfound confidence and charisma to slay in ultimate underground dance-off.
Brisbane's Fresco Kyoto release captivating new video 'You Save Me'
Perfectly matching the vibe of the track, Brisbane indie five-piece Fresco Kyoto reveal the visuals to their soaring electronic pop track "You Save Me'. Keeping the energy from start to finish, the captivating new video was directed by Brendan Schoenmaker (Greta Stanley, Sahara Beck).