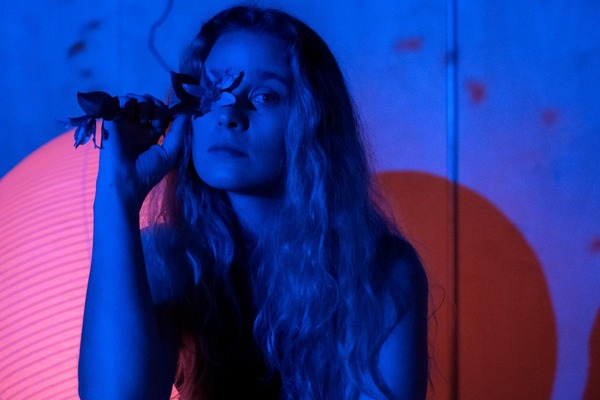 @skopemag news – friday – december 2, 2022 @ 11 am est
@skopemag HQ – http://smarturl.it/skope
LISIEUX "Abide!" full album stream
"Abide!", the second full-length from french ethereal dark folk band LISIEUX is now available for full streaming on Bandcamp and all digital platforms. Mastered by Michael Lawrence (Current 93, Ulver, Nature And Organisation…), the record will be out physically on February 10th via Throatruiner Records on vinyl and CD.
Swedish Death'n'Roll Discovery ALL WASTED Are Back With Their New Single & Video "Six Feet Under"
Innovative London rapper ANTSLIVE drops brand new track and visuals to "Skeet"
DIVORCE release debut EP 'Get Mean' | out today (Dec 2nd) via HAND IN HIVE
Nottingham indie newbies Divorce release acclaimed debut EP 'Get Mean', out today (December 2nd) via tastemaker London label Hand In Hive (TV Priest, Wyldest, Blackaby) – with vinyl release to follow early 2023.
Jonasu links up with KOOLKID for new single 'Why Don't We'
Jonasu and KOOLKID have joined forces for their euphoric dance-pop track 'Why Don't We', out 2nd December. The track will feature on Jonasu's highly anticipated album 'Cutting Through Noise', dropping 9th December.
OUT TODAY: DØSSI – love, let go and love again (FFO Sufjan Stevens, Billie Eilish, Lucy Rose)
Ingrid Døssland, the incredible Norwegian singer and songwriter better known as DØSSI, released her debut bluebirds EP in 2021, a collection of songs about loss, grief and memory. She followed this up in 2022 with a series of singles mixing songs of hope and songs of love and relationships. These tracks were collected as the first half of her debut album lovebirds, pt.1: love. With 2022 drawing to a close, DØSSI released the second half of the album; lovebirds, pt.2: let go on 11 November, and the two parts are now collected as a deluxe version called love, let go and love again. It's out today on GEMS/Warner Music Norway.
TODAY IS THE DAY Live In Japan From Beast Feast 2002 Audio Out Today On SuperNova Records' Bandcamp
Just days after Fourth.Media dropped the TODAY IS THE DAY Live In Japan concert mini-documentary which has been unearthed from the archives where it has sat for two decades, today, band leader Steve Austin's SuperNova Records has issued the remastered audio via Bandcamp.
14-Year-Old Atlanta Rising Pop Star, Zeigh-V, Releases New Anthem For Those Lost Young "Gone Too Soon"
Rising Atlanta pop artist Zeigh-V releases new single commemorating the death of young people, "Gone Too Soon."
[Trigger Warning: Self harm, drugs, death]
"Gone Too Soon" is only the start of an extraordinary career. Seeking to provide a strong emotional impact towards its listeners, the vocals and instrumental within the track provide a perfect setup for the song that is to come. With lyrics made of gold, the song is sure to leave an impression on any listener.
MEDIA ALERT: Anti-Flag Share "VICTORY OR DEATH (WE GAVE 'EM HELL)" Video Feat. Campino
Incendiary Pittsburgh punk rockers ANTI-FLAG are inching closer to the release of their 13th album 'Lies They Tell Our Children' on January 6 via Spinefarm.
Smada drops dreamy alté single 'Ye Anthem' on NATIVE records
Digging deep into the emotional psyche, 'Picanto' sees the Nigerian musical talent team up with street rap legend Zlatan and rising star Ecko Miles to deliver a brooding, haunting single detailing the real-life struggles of a modern day young hustler. It follows on from the success of his #1 single 'Dog Eat Dog', and marks his first release and artist signed to NATIVE Records, the music division of NATIVE Networks, having signed an exclusive worldwide joint venture partnership with Def Jam Recordings in a groundbreaking deal for the multi-platform media company, based between Nigeria and the UK.
TOMMY CASH AND KAPPA RELEASE SPECIAL EDITION CAPSULE COLLECTION
Kappa, the leading Italian sportswear brand, and pop artist Tommy Cash join forces for an edgy and limited-edition collaboration. The duo pull inspirations from Tommy's personal style and aesthetic for the capsule.
An in-demand artist, Tommy can regularly be found on festival lineups and performing to audiences in the tens of thousands. He has quickly become a household name in Europe with his reach continuing to expand throughout the United States. Not only a rapper, Tommy is an accomplished visual artist, bringing together global trends through a mix of raw tenderness and humor; his videos have continuously seen international success.
BLVCK VIØLET continue their musical soul-search with the brand-new emotive record "hate me"
Following up from their melodious record "Mi Amor", Blvck Viølet – comprised of Harrison Walker and Sam Hurst – continue to exhibit their vulnerability across this new soundscape. With slow melodies and smooth guitar solos at its core, "Hate Me" showcases the dynamic duo's soothing vocals capabilities, with velvety touches that juxtapose the heartfelt messages hidden between every spoken word – tailing personal battles of heartbreak, love, and loss that reveal the pair's most vulnerable side yet.
BABYFACE RAY DROPS NEW ALBUM + MAKES LATE NIGHT TV DEBUT
Detroit rapper Babyface Ray has released a new album, MOB via Wavy Gang / EMPIRE, his second album of 2022. MOB, which features Lil Durk, Blxst, Doe Boy, and more, is about keeping the blinders on to avoid all distractions while staying focused. To celebrate the release he made his Late Night TV debut last night on The Tonight Show Starring Jimmy Falon. On it he performed "Masterpiece," a song from his album. The project also features previously released songs/videos, "Nice Guy" and "Spend it" ft. Blxst & Nija, and today you can watch the video for "Crazy World."
SASH Releases Debut Project "Bittersweet" + Video for 'biscayne' Out Now
Emerging artist SASH has released his debut project, Bittersweet, via new label Apex Sound. The 6-song project, produced with Apex Martin (Travis Scott, Ty Dolla $ign, G-Eazy) and Mike Dean (Beyoncé, Frank Ocean,The Weeknd, Travis Scott), comes on the heels of SASH's debut single "lemon sorbet." Released in November to widespread acclaim, Variety describes the track as "darkly luxurious with a sweet vocal melody contrasting a gloomy undertone" and Complex calls it "hypnotic." SASH will also be doing an interview with Zane Lowe on Apple Music 1 Radio on 12/6.
UPDATED – Smada drops dreamy alté single 'Ye Anthem' on NATIVE records
Produced by longtime Smada collaborator DJ Kade, 'Ye Anthem' fuses a number of distinct genres and influences. Featuring distinct Alté melodic elements with Afrobeats and R&B, as well as a distinct groove reminiscent of UK Garage and Baltimore/Jersey Club music, it displays Smada's flair for experimentation and willingness to evolve his sound. It is accompanied by a vibrant official video showcasing Smada living the boujee party lifestyle.
JOHN DIVA & THE ROCKETS OF LOVE Announce New Album 'The Big Easy' Out March 17th, 2023
"Remember 80-something — we never seemed to miss a thing" – these first lines of John Diva's latest song "Back In The Days" are a perfect summary of what this band stands for: Spandex pants, juvenile folly, a love for partying, and a Walkman with a fresh set of batteries. John Diva & The Rockets Of Love are bringing back carefree 80s vibes, yet manage to make them sound brand new.
Indie-Pop Artist & Producer, Wingtip, Returns With Introspective Single & Video "Mr. 29″ 
Nick Perloff-Giles, often known by his artist moniker, Wingtip, has lived numerous musical lives. His evolving personality, which shows off the pop craftsmanship required to master the system, is beautifully executed in his single "Mr. 29," out today on all platforms.
"Mr. 29" represents Wingtip's struggle with getting older juxtaposed with a lighter and slightly uplifting tempo.
Therése Neaimé releases the music video "Fools Gold"
Swedish artist Therése Neaimé breaks the boundaries between genres, and her latest studio work, "Fools Gold" is no exception and will be released on Friday, December 2 as a music video on Youtube.
Psychedelic Prog Rockers Pearl Earl Share New Video For 'Evil Does It'
Neo-psychedelic prog rockers Pearl Earl return with the hypnotic new single 'Evil Does It' taken from their upcoming sophomore album. With heavy nods to spacey prog and golden era glam rock, these cosmic women invoke the nostalgia of psychedelia's lysergic past while carving new territory of its own. Once described as 'Pink Floyd in the sunlight' the band are renowned for their captivating live performances delivered with a euphoric and ominous grin.
BERRIES — Release Dizzying New Single: "Spiral" || + Debut Album Out Now
AWavez releases Tribute to David B
December 2nd, AWavez released his latest song, Tribute to David B, in honor of the late David Bowie.
David Bowie had a large influence on AWavez, personally and musically. Bowie made him feel anything was possible.
THE HYBRIS Release Single And Music Video "Keep The Wolves Away"
Formed in 2020, THE HYBRIS spent the next years writing and producing their debut album 'Music, Vol. 1', which was released in June 2022. It is a truly international project, the trio lives in Germany, France and the US and writes and produces their music remotely.
"Keep The Wolves Away" is the next output of the group, released on Nov 18th, 2022. The song is about the effects of war on its victims in general, one of the most serious political crises of recent decades in particular, and the dangers it poses to the entire planet. It is accompanied by a dark and grotesque comic-style video where a person we all know is having a happy dance party.
KATATONIA Releases Second Single "Austerity" & Official Video!
VÉRITÉ RELEASES HOLIDAY SONG"I DON'T WANT YOU TO COME HOME FOR CHRISTMAS" (VENICE MUSIC)
Today, New York artist VÉRITÉ released a holiday song – with a twist – called "i don't want you to come home for christmas". The artist states: "i don't want you to come home for christmas is the anti-christmas song for anyone who wishes they could spend their holidays alone. a sister to my holiday hit, blackout christmas, the song features the warmth and comfort of the holiday season with a dose of dark realism. you can enjoy the holiday cheer at the surface or dive in deep."
$uicideboy$ and Germ share "My Swisher Sweet, but My Sig Sauer" from DIRTIESTNASTIEST$UICIDE EP available December 16
Songwriter & Label Founder Jacob Lee Releases 'Sick & Tired' (FFO: Daniel Caesar, Frank Ocean and Russ)
CRUZA RELEASES NEW SINGLE "FANTASY" VIA DEF JAM RECORDINGS
Releasing music since 2018, it was the 2020 single 'Illusion of Forever' that first propelled them into public consciousness with the group continuing to grow at a steady rate in the months since. The Orlando-via-San Diego outfit unveiled their defining EP Dog Daze December '21 on Terrible Records, the independent record label that previously released music from Solange, Blood Orange and Twin Shadow. the seven-track EP features CRUZA's three most recent singles, starting with the romance-tinged 'Indeed', a charmingly lo-fi jam that has been supported by the late Virgil Abloh and Jamz Supernova on their respective Worldwide FM and BBC Radio 1Xtra shows.
THE HYBRIS lanza sencillo y video musical "Keep The Wolves Away"
Formado en 2020, THE HYBRIS pasó los siguientes años escribiendo y produciendo su álbum debut 'Music, Vol. 1', que se lanzó en junio de 2022. Es un proyecto verdaderamente internacional, el trío vive en Alemania, Francia y EE. UU. y escribe y produce su música de forma remota.
"Keep The Wolves Away" es el próximo trabajo del grupo, lanzado el 18 de noviembre de 2022. La canción trata sobre los efectos de la guerra en sus víctimas en general, una de las crisis políticas más graves de las últimas décadas en particular, y la peligros que representa para todo el planeta. Está acompañado de un video oscuro y grotesco al estilo cómic donde una persona que todos conocemos está bailando feliz.
Duncan Daniels ends year with banging International Collab
Slow Fiction Announce Debut EP, Share "Top 10 Movie Scenes" Single via Under the Radar
Brooklyn's Slow Fiction have gradually gained acclaim and local notoriety after releasing a slew of stellar singles this year (such as double A-side, "The Cut" / "Niagara," and most recently, standalone track, "Nameless Harm"). In turn, the band has been found on bills all over the city, performing alongside acts such as Sports Team, Girl Skin (with whom they toured this spring), Native Sun, The Wants (mem. Bodega), Thus Love, Dead Tooth, and more, in addition to making an appearance at this year's New Colossus Festival (view the Paste live session).
Australian Pop Artist KESMAR Takes Listeners on a Roadtrip With New Song + Video "Change My Name" 
Caye Releases Brand New Single "Lose Sleep"
"This song is about addiction. Casino's, drugs, alcohol, sugar, everything that tastes, looks and feels so good, yet is so bad for you," says Caye. "It's about being in an unhealthy relationship, whether that's with another person, with yourself, with drugs or alcohol, with your habits, or with social media. It can feel like you're drowning and although it's getting worse, you can't seem to get out."
Introducing LUCIUS ARTHUR with 'A Violent Dichotomy'
LUCIUS ARTHUR is an Inglewood, CA, based musician, producer, and songwriter. He has written and produced for some of the most influential underground artists in Los Angeles, and frequently collaborates with visual artist Liam Walsh. At the core of LUCIUS ARTHUR's music, identity, free will, and truth stand as pillars. He works to uncover the importance of self-awareness and individuality in the overwhelming digital presence of this era.
BELARO Releases New Single "Dirty" December 2, 22
Having just been discovered by Perez Hilton on his "Listen To This" column as the "the next best thing since Ariana with power vocals to match" could not be timelier for BELARO as the 21 year old pop/r&b vocal powerhouse is currently releasing "Dirty" as part of an continuous flow of new singles.
R&B SENSATION RINI DELIVERS ANTICIPATED SOPHOMORE EP ULTRAVIOLET
Festival Darlings Neil Frances Get "High" With Pawpaw Rod; Listen Now 
Los Angeles duo Neil Frances' (Jordan Feller and Marc Gilfry) slide into December with their laid-back new indie-disco anthem, "High," which features hip-hop soul singer PawPaw Rod.
PLAINRIDE: new video "Hello, Operator" available!
Cologne and Berlin-based heavy blues rockers PLAINRIDE release their brand new video for "Hello, Operator" today. This is the third single off the band's upcoming third LP to be released in 2023 on Ripple Music.
Larry Campbell & Teresa Williams Share "Darling Be Home Soon" & Announce 2023 Tour Dates
Today, Larry Campbell & Teresa Williams share "Darling Be Home Soon," the second song to be released from their forthcoming album, Live At Levon's!, due February 3, 2023 on Royal Potato Family. This latest single coincides with the announcement of a 13-date co-bill tour with singer/songwriter Shawn Mullins that makes stops in the Midwest, Southeast and Northeast, including Old Town School of Folk Music in Chicago, IL on March 18, Stoughton Opera House in Madison, WI on March 21 and The Miracle Theatre in Washington, DC on March 31. Tickets are on-sale today at 10am local.
NEW MUSIC: producer munro latest single 'About You' Video (FFO: FLUME, ODESZA, Ross From Friends)
NERO & RL Grime Release Highly-Anticipated Collaboration "Renegade"
Today, two dance music icons, Nero and RL Grime come together to release their collaborative single "Renegade" out now via Sable Valley.
wifisfuneral Picks Up The Pace with 'Until We Meet Again' EP
"Can't believe time has been flying as fast as it has," said wifisfuneral on Instagram. "Ever since i was 16…you guys have been with me on my journey…of finding peace within. What a journey it has been so far. I'm 25 now. Life has not been easy but it is worth it. Things changed since you first met me. All the ups and downs. The good and bad… I lived my childhood dreams but now, being a father to my soon-to-come child and becoming a better me is my top priority so… I need a little time away…but before i do i thought i'd leave something behind for u guys."
David Starr New Single "Any Chance Of Going Home" ft. Irene Kelley
Colorado resident and Americana singer/songwriter, David Starr, releases the fifth single from his upcoming EP Better Me. "Any Chance Of Going Home" features Starr's signature storytelling lyrics, classic acoustic fingerpicking, warm fiddle, and stellar vocals from Starr and Irene Kelley. Out today, it is available on all streaming platforms.