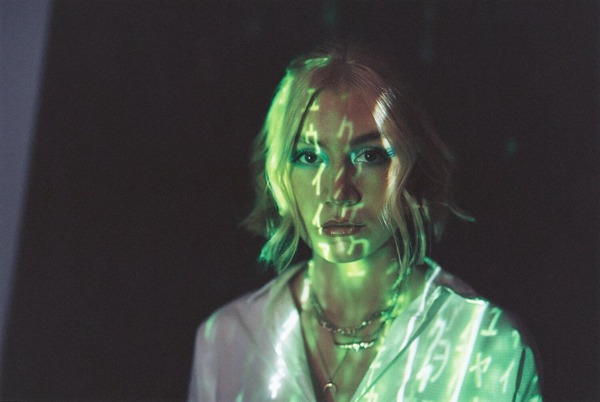 @skopemag news – friday – november 25, 2022 @ 2 pm est
@skopemag HQ – http://smarturl.it/skope
Rising Norwegian pop singer Lotte is focusing on mental health in her new song 'Wake Up So Confused'
'Wake up so Confused' is a very personal song from Lotte that takes a deep dive into psychology. Daring to be yourself and showing your own weaknesses can be really difficult, and you keep on pretending and handle all your issues on your own even though it will cost all of you. The song is a reminder to ask your closest 'How are you really feeling?' now that it closes in on Christmas season. Lotte has made a name for herself on the Norwegian music scene with a series of breathtaking acoustic songs with strong lyrics inspired by own experiences and thoughts which sounds quite unlike any other at the moment.
Norwegian one to watch Bo Milli shrewdly observes her digital-obsessed generation on "FOMO"
Bo Milli writes brutally honest indie pop songs that perfectly articulate the struggles of an entire generation. Making complicated subjects sound like the soundtrack of your next favourite coming-of-age movie, the 21-year-old Norwegian musician is quickly proving herself to be an essential new voice in music, having already been highlighted as one of the standout performers at this year's edition of by:Larm Festival in Oslo.
ADA MORGHE NEW ALBUM 'LOST' TO BE RELEASED ON FEBRUARY 24TH INCLUDES THE NEW SINGLE 'THE STORY'
'Lost' is a concept album shaped around the four elements that make the world: fire, air, earth and water. One melody leads to another until the album completes a circle to mirror that of life itself. It has a purpose: to make sense of life. The idea first emerged when Ada was ice bathing in Munich in February 2021. The time you spend ice bathing is fleeting, but it forces your consciousness into the present. It also provides a balance, by uniting the elements to make us at one with nature, as well as escape as those shock-frozen moments transport your mind elsewhere, an experience replicated in long form by 'Lost'.
AR/CO SHARE THE NEW SINGLE 'SUPERSONIC L.U.V.'
Noir pop artist Emily Breeze returns with late 70's CBGB'S inspired new wave anthem 'The Bell'
Bristol-based noir pop artist Emily Breeze returns with her late 70's CBGB'S inspired new wave anthem 'The Bell' released today, taken from her upcoming album 'Rapture' due early next year.
Paige Bea melds spiralling pop hooks, boundary pushing instrumentals and timeless songwriting on new EP 'Goodbye, Then!' – out now
The new EP firmly re-establishes Paige Bea within the alternative pop landscape after a 2 year hiatus from releasing music. To date, the EP has received wide acclaim and support from BBC R1 (Jack Saunders), Spotify (Fresh Finds UK & IE), COLORS, The Line Of Best Fit, CLASH Magazine, Wonderland, The Rodeo, New Wave Magazine, enfnts terribles, The Pit LDN, Wordplay Mag and more.
DDENT: new video "Neceffe eft vivere" available
French instrumental post-metal project DDENT present an enigmatic new video entitled "Neceffer eft vivere" exclusively on Invisible Oranges. The song is taken from "Ex Auditu – Part 1", the first chapter of the upcoming "Ex Auditu" 2xEP to be released early 2023 on Chien Noir.
Rising artist Kay Greyson drops laid back rap gem 'Slow Song'…
Stripped back and allowing Kay's irresistible spoken word to step to the fore, 'Slow Song' arrives off the back of a huge support show with Sam Fender at London's Finsbury Park earlier this year, and as the first track to feature on a forthcoming mixtape.
Kay said of the track; "When the lights come up and the DJ starts playing slow songs on your life, what are you going to do? Slow song is about the loss of youth, acknowledging how far you've come and how far you have to go to get to where you want to be."
GONDHAWA: sparkling new video out including the 2 tracks of their new EP
Amazing ethnic and futuristic psych-prog trio GONDHAWA open the doors to their boundless imagination by sharing their wacky and endearing new video. The footage reveals the two tracks of their new EP "Mäanthagorī" – out today through Stolen Body Records. Embark now on a journey to the planet Gondhawa, heading to "Go ! Go! Sinay" and "Toko Mieko"!
Sound Pollution Update! New Music Out Today from Finnegan's Hell & Black Paisley
Finnegan's Hell used the shutdown during the pandemic to write new songs and produced an impressive collection. The strongest ones ended up on the record 'One Finger Salute'.
The title track was released as a single a couple of weeks ago and was very well-received. The Irish Times wrote: "A magnificent attitude marker with an infectious chorus sure to evoke a sea of middle fingers in the audience".
Japanese singer/dancer INTO1 SANTA follows massive success in China by co-writing ambitious new single, 'I'm from…'!
Following his soaring popularity on the mega-hit Chinese show 'CHUANG2021', where he formed the boyband INTO1, Japanese artist INTO1 SANTA has released new single 'I'm from…' on November 25.
INTO1 SANTA personally selected the concept for the song, which features autobiographical lyrics that tell his story. Set to a beautiful flowing melody and based on INTO1 SANTA's own life experiences so far, the lyrics express the importance he places on chasing his dream, while showing gratitude to the family, friends and fans who have supported him along the way.
Norwegian alt/pop EP from Hanne Mjøen
Hanne Mjøen is not your average pop queen. The Norwegian alt/pop artist creates music that makes you want to dance, with lyrics that make you want to cry. Her intoxicating sound is coated in a dark, raw edge, providing a comforting reminder that it's ok to be flawed, while her lyrics pull the trigger for an outlet of pent-up emotions.
GRAVA: Danish sludge unit premieres new album "Weight of a God"
Danish sludge metallers GRAVA are gearing up for the release of their new album "Weight of a God", which will be coming out on November 28th 2022 via Aesthetic Death.
GRAVA Bulk Up to Throw the "Weight of a God" At You With Sludgy Fervor
Fast rising pop starlet Virgin Miri releases 'Basic Ordinary' the first single from debut album
Distorted synthesizers lay the foundation for Virgin Miri's saccharin vocals and tongue-in-cheek lyrics as she sings "Candy crush, sugar high, you're so hot, I could die." Co-produced by renowned producer T-Minus (J.Cole, Kendrick Lamar, Drake,Young Thug and Travis Scott.) "Basic Ordinary" is the perfect blend of infectious pop melodies and futuristic beats. Accompanying the track is the high-art meets renaissance women music video, which sees Virgin Miri playing with the idea of negative self-image through fun, cinematic visuals.
Video Interview: ONE LAST DAY Talk about Story Behind 'Out of the Black' Single, Touring, New Album + More!
Just recently UK's Modern hard rockers ONE LAST DAY were interviewed by Keith Clement from Metalheads Forever, talking about band's latest single 'Out of the Black' and its story, among other topics were the band's debut EP, touring, future plans and revealing also that their new album is already in the works.
The Gleeman shares festive anthem "I Love Christmastime"
Rising UK singer songwriter The Gleeman gets ready for the festive season with wistful new single 'I Love Christmastime', releasing it one month before the big day.
Having hit the scene with his debut EP 'The Gunslinger' earlier this year, The Gleeman is set to round off his 2022 with 'I Love Christmastime', a song sure to stir up memories of childhood glee every 25th December. In the spirit of singers such as Don McLean, Robin Gibb and Billy Joel, The Gleeman's voice takes you back to an era gone by, and with mentions of reindeer, Santa and the North Pole all name-checked to ring in the season, the festive excitement is almost palpable.
[Video] Wolfman Jeckyll – Cuckoo's Clock prod. by Studs Ramrod
A message from the future. A warning of past events that lead to planetary catastrophe. When the "Cuckoo's Clock" rang all hell broke loose. Providence artist Wolfman Jeckyll brings you the brutally honest details over a raw and eerie soundscape provided by veteran producer Studs Ramrod.
Die Oberherren Release Single & Video for "The Blood or the Wine"
What on earth has happened to gothic rock? This was the thought burning in Joakim Knutsson's mind, and he felt that something needed to be done to save the much-loved genre from going down the drain. He embarked on this mission with the aim to create something special but also something faithful to the original ideals of the 80's gothic genre.
Ruth Lyon releases new single "Flood" / 'Direct Debit To Vogue' EP out now
Newcastle folk/chamber-pop artist and songwriter Ruth Lyon has released her new single "Flood", the final track to be revealed from new EP 'Direct Debit To Vogue' out now, released today 25th November via Pink Lane Records. The new EP was produced by John Parish (Aldous Harding, PJ Harvey, Parquet Courts) at his Bristol studio, and will also feature the previously released tracks "Trouble", "Clown" and "Stone".
New Music This Week – The Cure, The Flaming Lips, The International Submarine Band, David Bowie and More
New Releases for November 25, 2022 – Here are the AllMusic editors' picks for the most noteworthy releases this week. Looking for more? Visit our New Releases page.
s t a r g a z e Release New Album via Transgressive Records
Released today, Transgressive Records present ONE – a remotely recorded orchestral suite which combines classical and current production methods. The album was especially composed for the s t a r g a z e ensemble by Tyondai Braxton (Battles), Nik Colk Void (Factory Floor / Carter Tutti Void), Greg Saunier (Deerhoof), Arone Dyer (Buke+Gase) and Aart Strootman (s t a r g a z e).
Rising Nashville Country Music Artist Emily Miller Releases Christmas Cover of "Mary, Did You Know?
Rising country music artist Emily Miller has released her first-ever Christmas song, a cover of the classic, "Mary, Did You Know?" The song's lyrics were written by Mark Lowry in 1984 and the music was written by Buddy Greene in 1991. Originally recorded by Christian music artist Michael English in 1991, the song has since become a holiday favorite and recorded by hundreds of other artists. Stream and download the Emily Miller version of "Mary, Did You Know?"
ALI GATIE IS BACK WITH NEW SINGLE "SCARED OF LOVE"
On "Scared of Love", Ali Gatie bobs and weaves passed genre lines and layers a universally catchy melody above an alternative soundscape. Delicate guitar creaks through soft production as he makes a promise, "When the night turns dark, I'll shine on you," before finally assuring once more, "I'll make sure that I do." The airy instrumentation entwines with the Toronto superstar's dynamic vocals in a powerful push-and-pull.
Chris James Releases New Track "I Wanna Feel Good" 
"Gnash and I wrote this song during my four month stay in Los Angeles. I think both of us really connected on the feeling of just wanting to be okay with what's going on in our heads and both of us started exchanging stories about it. Two hours later we had 'I Wanna Feel Good'", states Chris James about "I Wanna Feel Good".
TOM JENKINS — Releases New Album Today: 'It Comes In The Morning, It Hangs In The Evening Sky' |
Hitting the shelves today (25 November), 'It Comes In The Morning, It Hangs In The Evening Sky' is the singer-songwriter's follow-up to 2019 solo debut 'Misery In Comfort'.
An expansive and exploratory new studio effort, it also features contributions from notable special guests including Phil Campbell (Motorhead), Marc Ford (The Black Crowes), Elijah Ford (Gary Clark Jr) and Paul Mullen (YOURCODENAMEIS:MILO, The Automatic).
Amai Kuda et Les Bois share anticipated new album EmUrgency! (RIYL: Erykah Badu, Janelle Monáe, Sara Tavares)
Amai Kuda et Les Bois – Toronto's favorite musical movement – are proud to release their latest album EmUrgency!, which is available across all music platforms. The release of EmUrgency! was preceded by "Eshu", "Oshun" and the latest single, "Which Way".
"EmUrgency! is both an act of healing and an act of resistance," says Amai Kuda. It is a collection of prayer songs, war chants, lullabies and love ballads for our times. Primarily composed from 2018 to 2020, with co-write and production contributions by her then 16-year old son (Imoja), EmUrgency! addresses issues of colonization, police brutality, parenting Black youth in a racist world, the protection of the environment, reclaiming African spirituality and decolonization.
Christine Fellows releases new LP, Stuff We All Get
A multidisciplinary artist (although she identifies primarily as a songwriter and performer, her practice includes paper collage, stop-motion video, sound design, and poetry), Fellows also created 13 stop-motion videos as detailed and carefully wrought as the songs themselves to accompany each track on Stuff We All Get.
Pop Gem "I Think I'm Missing" from Fox Revett about Sacrificed Dreams
"I Think I'm Missing" is a true pop gem, blending textural and experimental instrumentation. Oftentimes we sacrifice our hopes and dreams in the pursuit of something easier, and with that comes a loss of self. So many of us felt displaced, isolated, and experienced loss in these last few years. This song speaks to that feeling of not knowing who or where you are now.
West Coast Supergroup Mount Westmore Releases "Free Game" Today
The West Coast's very own supergroup, Mount Westmore, drops a second single, "Free Game," today via the label Mount Westmore with MNRK Music Group. The uber rap group made up of Hip Hop's West Coast royalty, Snoop Dogg, Ice Cube, E-40, and Too $hort, will release their new, 16-track album titled, Snoop, Cube, 40, $hort, on December 9, 2022. Fans can preorder the album beginning today at their preferred DSP and receive three instant grat tracks: "Free Game"; the first single, "Too Big"; and "Subwoofer."
Akron, Ohio's Curtail shares video for "Hiya," from 2022's When The Sway Sets album
Curtail aren't a band set in their ways. After forming in 2015, the group continue to evolve, exploring new sonic territory with each release.
Curtail are veterans of the DIY-indie/emo community and feature Jesse Sloan (Cherry Cola Champions), Ben Hendricks (Annabel, Parting), Eric Sandt (The Ground is Lava), and Dan Corby (Bethesda). It's the unique combination of experiences that help inform their work.
GEARS "Lost Again"
'"Lost Again" is just one of those songs that I think everyone can relate to. We have all been in that situation or those situations where it seems like we're reliving it over and over trying to find out where we've gone wrong and how we ended up, yet again, lost. We neurotically replay the whole scenario in our heads and for the life of us, we can not see exactly where it went bad and led us further into our current state. It's not all bad though. Having the ability to objectively search for a point or points where it began to go in the wrong direction should give us the knowledge and wisdom to have the ability to apply what each situation has taught us to be better in the future."' – Jimmy, GEARS
London duo COMANAVAGO indulge in their 'queer rave' sound on debut album Heart Failure Deluxe (via Ultra Records)
With striking CGI sci-fi artwork by Luke Nugent and David Oldenburg, Heart Failure Deluxe offsets energetic dance anthems like "Annihilation" and "Playboy" with slinky pop numbers in "Rains", "Angel" and "All I Want" for an impressively cohesive body of work – or "a monumental slay" to use the duo's own words. Shining further across queer rave entries like "Body Talk 2.0" and "Giving Me Love", the dance-pop of "On and On" is helmed with Spotify Pride cover artist Tsatsamis for a genre-bending experience.
Kendra Erika shares electrifying synth-pop single "Thriller Killer"
This new track is hot on the heels of her collaboration with superstar production duo Disco Fries (The Chainsmokers) for the remix of her hit song "Come and Get It".The Boca Raton, FL native's been a prolific charting powerhouse for years, scoring a total of five Billboard Top Ten dance hits and hitting #1 on the Billboard Dance Club Songs chart in 2019 with "Self-Control", which put a fresh futuristic new-age twist to the 1984 pop/dance hit by Laura Branigan.
Meet Mimi Bay, the YouTube luminary putting an internet-age spin on age-old love quandries
This year saw Mimi Bay feed off of the lo-fi mastery of her 2021 coming-of-age EP 'far from home', refining her brand of bedroom pop on her most recent song 'helium cowgirl' while maintaining the same vulnerability that launched the former project to critical acclaim. The spotlight remains on the Gothenburg virtuoso as the release of her new single 'Sad Part' through Ten Music Group approaches, and listeners can expect a trademark self-reflection that ruminates on ending a decaying relationship that was on its last legs.
[Video Submission] Artifacts x Buckwild "The Way I Feel"
The Artifacts return with their 3rd studio album produced entirely by D.I.T.C. producer Buckwild, Artifacts X Buckwild: No Expiration Date on Smoke On Records!
The New Single & Video "The Way I Feel" shot by Buzz Evans brings the Artifacts back from a time we all miss when it comes to underground vibes. Knocking drums, ill piano stabs and sharp ass cuts by DJ Hush brings this song full circle in a time when its much needed!!
Hurry Up Slowly label head Malóne releases single 'Late at Night'
Today, Cuban-born, Miami-based producer, DJ, and label head Malóne releases 'Late at Night' via his Hurry Up Slowly imprint. Malóne has had a watershed year, with two tracks, 'Muy Bien' and 'Besame', reaching #1 on Beatport's Afro House chart. Woman of the hour Hannah Boleyn contributes vocals for the record, as the two join forces to shut down 2022 in style.
OCEANHOARSE Unleash Video for New Single "Pryopen"
LUMER share new single "English Dream" (FFO: Shame, The Murder Capital)
Written as a social commentary from the perspective of lead singer Alex Evans, "English Dream" uses sleazy and harsh guitar sounds from guitarist Ben Jackson blended with the pumping bassline of Ben Morrod as a call to arms. The hard hitting, almost tribal drumming of William Evans flows throughout the song, only pausing for a second to entwine the aggressive vocals and to crescendo into a confrontational and bitter ode to their country.
for Skope: RayRay's debut album – parallel world of mature female producer, and singer (out now on Barong Family)
BENEATH MY FEET Release New Music Video for "Caught In A Hurricane"!
Beneath My Feet have revealed another ferocious track from their forthcoming sophomore studio album, entitled In Parts, Together, which is set to arrive via Noble Demon on January 13.
OUT OF NOWHERE: Djent/metalcore group shares "Wrong Generation" video demonstrating unity with Iranian women/protesters; premiered via Knotfest
Formed in Mashad in 2010, Out of Nowhere has been one of the most active metal bands from Iran. Despite being from a country where metal is illegal and bands often get arrested for playing live or making music, Out of Nowhere never stopped releasing music or playing live in Iran regardless of the risk of being arrested by the oppressive regime.
Metallic disruptors Out of Nowhere show their solidarity with the women of Iran on "Wrong Generation"