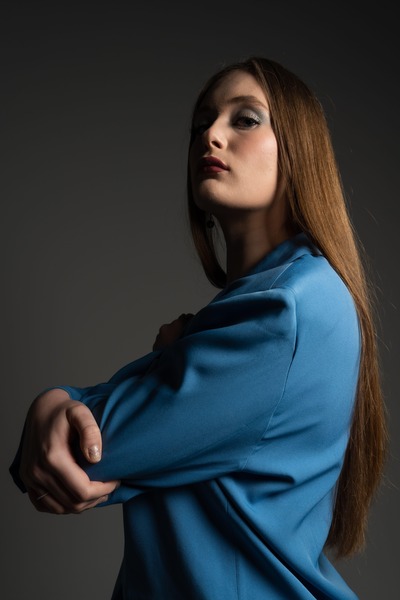 @skopemag news – thursday – november 17, 2022 @ 8 pm est
@skopemag HQ – http://smarturl.it/skope
Out Now: Indie singer-songwriter Izzy Mahoubi shares music video for "Hang Around"
Speaking on the new video Izzy shares, "My main hope with the Hang Around music video was that it would capture the heart behind the song. And I think we did just that. The video contains authentic scenes of my friends and I in the woods in an almost natural state. From finding a pumpkin near a tree stump, that my friend naturally put on her head, to discovering the video camera we were using as a prop actually worked and had film loaded, it was easy for us to sing a song about the summer and dance around in the leaves as if we belonged there."
SMALL MART HOLIDAY MARKET AT CRYSTAL BALLROOM IN SOMERVILLE
Attention SMALL MART shoppers…you have two opportunities to support local businesses this holiday season with a new curated vendor market. The SMALL MART shopping experience will feature over 50 local vendors of vintage, handmade, fine art goods. It will take place on December 3rd and December 17th at the Crystal Ballroom in Davis Square in Somerville.
The SMALL MART marketplace promotes a sense of humor and aims to turn the idea of the big box store on its head by empowering local businesses to come together to create a space of accessibility for a thoughtful shopper. The vendors have been carefully chosen, and their wares are hand-selected, homemade, handcrafted, and in small batches.
The market will take place on two dates this winter, on December 3rd and December 17th from 11AM – 4PM at the Crystal Ballroom at the Somerville Theatre steps away from the Davis Square T-stop.
Biig Piig Drops Video for Atmospheric New Single "This Is What They Meant"
LAUREN RUTH WARD OFFERS A PEEK INTO HER 'MINDSEYE' WITH NEW SINGLE
LAUREN RUTH WARD is single-handedly revitalizing the image of powerful women in rock'n'roll by unleashing a spree of viral hit singles and headlining a sold-out U.S. concert tour. With the release of "Mindseye" – the seductive, guitar-laced title track of her wildly anticipated EP of the same name – Ward is poised for brilliant new heights.
RICH BRIAN UNVEILS NEW SINGLE & MUSIC VIDEO "VIVID" FEATURING $NOT
Produced by Rich Brian himself, "VIVID" layers a flute-laden loop above a throwback nineties-style R&B guitar lick, skittering 808s, and swooning strings. Brian and $NOT trade verses back and forth in a hypnotic volley, dissecting relationship ups and downs. It builds towards a biting send-off with the advice to, "Turn your frown around, nobody gives a fuck." The accompanying visual brings "VIVID" to life as Rich Brian thwarts off his feelings at a golf course, swinging at frowning golf balls, hoping to absolve his worries with a hole-in-one shot.
Israeli Rock Duo Cadence release new EP "The Big Wheel" and music video for "Headphones"
The Israeli Rock Duo's first international album features four songs of diverse styles and musical direction, inspired by the history of the Duo's origins. Meeting at Kindergarten at age five, and starting their first band together at age ten, Ran Zilca and Amir Shwartz proceeded to form the rock band "Inch", that toured the Tel Aviv clubs and continued to record and perform locally in the late 1980s. Fast forward 30 years of career and family, they reunited as Cadence, working with iconic Israeli producer Gil Smetana, releasing a debut album in 2019.
BABYMETAL RELEASE NEW SINGLE FROM FORTHCOMING CONCEPT ALBUM
Bronze Avery Releases Debut Album 'SOFTMETAL'
"When I think of this song, I think of Summer 2021 and how things were starting to really ramp up in my world," shares Bronze. "My situationship was going too well and I was going out and seeing as many people as it felt safe. I truly felt like I was on top of the world, but I knew I was going way too fast and would crash. 'CRASH DESIRE' goes into how the idea of going too fast is horrifying, but somehow still alluring and desirable. The song is my ode to UK garage and the dance scene that I always dreamt to be a part of."
Skins' Alex Arnold Teams up with Izzy So in new Vid
Following the hype generated by her debut single 'Flirting with Strangers', indie pop-rock artist Izzy S.O recently put out an intensely fervent and heartfelt music video for her song 'Can You Hear Me' on 14th October 2022, the closer to her debut EP of the same name released through Silent Kid Records.
UNDRASK Unleash New Video For "The Thing In The Pit"
HUNTERS OF THE ALPS SHARES NEW MUSIC VIDEO FOR "TATUADA"
There are a lot of firsts in this go around with Hunters of the Alps as Mario Giancarlo Garibaldi's solo vehicle. One of them was trusting others to feel and compliment his sentiments. "Being used to songwriting on my own or through jam sessions with bands, it was also a first to compose and write with someone as skilled and critically acclaimed as Paula Arenas. I was also curious to hear what the blending of our influences would give fruit to."
Jared James Nichols Announces Self-Titled New Album Due Out January 13
"I made a record to serve as the menu for the live show," Nichols shares. "There's an element of excitement and danger. It's my version of rock 'n' roll with a little more humanity. The album is a day in the life with the ups and downs, but it musically rings true to who I am as an artist. I'm not trying to be anybody but myself and play the music I love for today. I'm giving you loud ass guitars and no fucks given rock 'n' roll, and I'm loving it."
FIELDS OF REGRET Stream Entirety of New EP
In anticipation of tomorrow's release,FIELDS OF REGRET are now streaming the entirety of their new EP. The brainchild of a Belgian based musician Filip Van Lysebeth, the project unleashes monstrous and disturbing compositions.
Folk-Pop Quartet The National Parks Trace The Connection Of The Universal Language And The Great Outdoors On Upcoming Album 8th Wonder
With their ever-apropos name, Utah-based indie-pop outfit The National Parks want their music to spark memories of listeners' own outdoor adventures. "I'm spiritually connected when I'm in nature and when I'm listening to music," says the band's violinist Megan Parks. "We hope you hear the connection between nature and music, too." And on March 3rd, The National Parks will expand their vision yet again on their fifth full-length album, 8th Wonder.
KROOKED KINGS CONNECT WITH DAY WAVE ON 'CARBON MONOXIDE'// LISTEN HERE
Today, Utah based quintet Krooked Kings reveal razor sharp new single Carbon Monoxide, a collaboration with critically acclaimed indie artist, Day Wave. Combining the surfy wooze of Day Wave with the garage-band roots of Krooked Kings, the track is an exciting offering from a band set for a big 2023.
Arkells release surprise new single "Floating Like"
"'Floating Like' is about trying to free yourself of the allure and pull of material things and finding happiness in the simple wonders of life," says frontman Max Kerman. It was written around a sample we cut up from The Impressions and their song 'Seven Years.' We added as many Motown soul tricks to the production with the goal of finding the joy and lightness of those classic tunes. It's a special song for us, so we wanted to give it its own release and runway. Blink Twice is now complete."
GRAMMY® NOMINATED ARTIST SAWEETIE RELEASES NEW SINGLE "DON'T SAY NOTHIN'"
The track's bass line thumps as Saweetie leans into the production by 1500 Or Nothin with bold, blunt, and bossed-up bars. Unafraid to get raw, she blasts big mouth exes, but also accepts, "That's what I get for kissin' on these frogs. He got mad and told my business to the blogs."
Aussie Artist Jack River Shares Breezy New Single "Nothing Has Changed" Today!
Today, Australian artist and activist Jack River (aka Holly Rankin) shares her breezy new single "Nothing Has Changed." Co-written and produced with Joel Quartermain (G Flip, Client Liaison, Merci, Mercy) and Edwin White (Vance Joy, Amy Shark), the new single is packed with sunny production and one of River's most singable hooks to date.
"I wrote 'Nothing Has Changed' after playing my first show back after the pandemic at Bass in the Grass, in Australia," explains Jack River. "I was scared that everything might have changed, but when I returned, everything was in its place, we were all there – screaming and yelling and singing together, just like we used to, and just like we will for years to come."
Tanukichan (feat. Toro y Moi) announce GIZMO LP / Premiere "Don't Give Up" w/ FADER
Tanukichan is the project of Bay Area native Hannah van Loon. Throughout her self-described "sheltered" adolescence, van Loon taught herself guitar by spending hours in front of the radio, replicating riffs and chords from omnipresent bands like The Beatles and Incubus.
VeeAlwaysHere releases "other side" ft. Nava Rose
Producer, Songwriter and Recording Artist, VeeAlwaysHere, is exploring a new side to his creative process with the release of the "other side" music video. As a self-taught and self-sufficient musician, VeeAlwaysHere elaborates; "This was my first time producing and writing a record like this. Many people in the industry told me to just pick one type of sound and stick with it; but as a music consumer myself, I generally do not gravitate towards those types of artists. I want to challenge the industry standards and have fun with every record I create."
Nia Archives Shares Timeless Jungle Roller "So Tell Me…"
Hot off the back of her record breaking debut Boiler Room (over 2000+ sign ups), being named the BBC Introducing "Artist of the Year" as the first electronic artist to ever be awarded the prize and a recent MOBO Awards nomination for the newly introduced "Best Electronic/Dance Act" category and "Beset Newcomer", today new gen junglist and inimitable rising star Nia Archives shares her latest single "So Tell Me…". A warm and utterly timeless jungle roller lush with soaring strings, melodic piano harmonies and brooding bass guitar licks, this track speaks volumes on Nia's incredible talent not only as a producer but as a vocalist and songwriter. Lyrically reflecting on a personal memory of a time where she struggled with a decision to leave or stay, her knack for ardent story-telling and effervescent relatability strikes again – "So Tell Me" will be sure to capture the hearts of millions of listeners.
Saliva Releases New Single "High On Me"
Multi-Platinum, Grammy nominated band Saliva released a brand new single "High On Me" to all major platforms! The band will be on tour in December with Awake At Last and Seventh Day Slumber.
Chart Topping R&B Pop Artist K-Victoria Drops New Single "VIBE"
R&B Pop Star K-Victoria (originally from the US Virgin Islands, now based in LA) has been making waves, dropping her single "Visions When I Think of You," followed by debuting her latest chart topping single "DJ My Body" in Toronto, Canada during the Toronto International Film Festival and hasn't stopped since. The talented Artist has just released the performance video for "DJ My Body" now on YouTube as well as her next single VIBE. The new single is available now on all platforms is an electric big band sound that embraces party club energy while staying in the moment and feeling the VIBE.
Singer-Songwriter Mary Clements Releases Debut Album 'Come With Me' feat. "Possibilities"
The album's indie pop and folk influenced arrangements compliment songs focused on connection, with Clements reflecting on stages of her life when she was trying to figure out who she was alone, experiences with anxiety, as well as her decision to go all in on her relationship and marry her husband.
The vocally powerful, piano and guitar driven "Possibilities" is what Clements refers to as a "funeral for all those opportunities that could have been pursued but died once a path was chosen."
ENNY RELEASES "CHAMPAGNE PROBLEMS" REMIX FEAT. UNKNOWN T
Bronze Avery – debut album and new single today
Appearing on the cover of Billboard after winning Billboard NXT under the mentorship of Charli XCX, Bronze has received critical acclaim from Rolling Stone, PAPER, Buzzfeed, MTV, and more for carving out his own lane as a queer, Black pop artist. Instinctually creating emotional pop classics that connect with listeners through unfiltered honesty to help them feel seen, weaving the appeal of R&B and dance music into a singular sound, Bronze brandishes authenticity that reflects his identity alongside undeniable sensuality to leave his mark on culture, inspiring individuality in others with music that soundtracks the queer experience.
Toronto's NUMB TONGUES Releases New Single "Whaddaya Say" Featuring Prince/Toto's DominiqueXavier
Sufferin Mall shares "Latency" off Crushed EP
Crushed features "Latency," co-produced with Casey Moon, a song which explores the feeling of one's nervous system being overloaded with infatuation. It's a pop track of tension and release, exploring feeling out of sync and delayed gratification. Stop-start energy mirrors the feeling of desire.
Empty Trail Releases New Single & Lyric Video for "I Don't Want The Truth"
Songwriter Rick Lambert states, "This song embodies something I've thought of an awful lot. I've always been an individual that has prioritized the truth or reality above all else. What I've found is, a lot of times the truth stings. Sometimes knowing it, allows us to make better decisions. Although sometimes it can just cripple us. I don't know, in my opinion, knowing and focusing on the truth isn't always productive and maybe sometimes it's better to just not know."
NEAV releases her cinematic pop debut EP 'ELEGY'
Central Coast artist NEAV (aka Niamh Watson) releases her 6-track debut EP 'Elegy' today.
NEAV collaborated with a talented group of musicians and producers to bring her musical vision to life. She worked with Mario Späte (Washington, Montaigne); Jess Dess (King Princess, Brockhampton); Rod McCormack (Paul Kelly, Gina Jeffreys); David Turley (Millie Turner); and Tristan Barton (Greta Stanley). Two songs from her debut EP won the contemporary/pop category of the national Australian Songwriters Association Awards. The songs were 'Silence Song' in 2020 and 'Tragic Drama' in 2021.
Steakhouse // music video (feat. members of Into Another + Innaway)