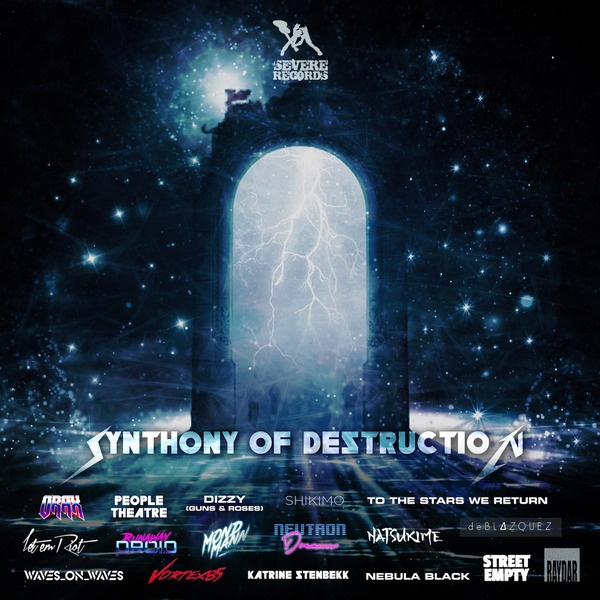 This new release is literally a global production with Waves_On_Waves collaborating with musicians, songwriters, producers and music industry professionals from all over the globe. Waves_On_Waves worked with: People Theatre (France), Mondmann (Germany), Vortex85 (Italy), STREETEMPTY (Portugal), SHIKIMO (US), Neutron Dreams (US), Katrine Stenbekk (Norway), Let Em Riot (US), Natsukime (France), Crimewave (UK), Pastel Arcade (US), Runaway Droid (Finland), Death By Algorithm (UK), To the Stars We Return (US), Castles Made Of Sky (US), Raydar (Canada), Nebula Black (US), and others on this new project. The meaning behind 'Synthony of Destruction' is inspired by Megadeth's "Symphony of Destruction" and with the heavy use of synthesizers and dark elements in play, I think it's the perfect title!
Don't even think about pegging this album to a specific genre because it's humanly impossible! With styles that range from: Darkwave, Postpunk, Goth Rock, Synthwave, Synthrock to Retrowave, Electro, Industrial, HorrorSynth and even Pop, 'Synthony of Destruction' is in a field of its own. Musical influences include: Depeche Mode, The Cure, Wingtip, Pastel Ghost, The Faint, Gunship, Dance With The Dead, Poppy, New Order, Duran Duran and Nine Inch Nails. Waves_On_Waves and Collaborators are able to mesh together so many different types of sounds and the unconventional means creates a 'Synthony of Destruction'.
The record starts up with "My Favorite Complication" that comes across as an Industrial dance that will put you in a trance-like state with its enticing beat & melody. Next, "Stab Me In The Back (Feat. Orax)" is piercing your eardrums with a distinct tone and intriguing aura. Track three, "More Than Human (Feat. DeBLAZQUES)", is one futuristic mix that comes complete with a sincere vocal delivery. There is no escaping this adrenaline rush of "Serial Killer (Feat. Orax)" that exhilarates the senses with Waves_On_Waves and Orax attacking this track with force. Deep "Wounds (Feat. Natsukime)" penetrates your ears on the following song where emotions are spilling out from every direction. Track six, "She's Jack The Ripper (Feat. Raydar)", offers up a mysterious atmosphere that is even a bit creepy in nature. Listen with both ears open and enjoy the freaky vibe and element of horror on "She's Jack The Ripper". Next, enter a "Warped" sense of reality where you will explore a new galaxy of sound where curious textures will peak your imagination. One will get lost in time and lost within "Conformity" where "every day is exactly the same". Fight against the norm and strive for ingenuity on "Conformity (Feat. Orax)". On track nine, "Unwritten Story", a spellbinding narrative is being told here that has the perfect, intro, body and ending. "Selfish Lover" is decadent and provides an intoxicating sound that will spark your interests. Rejuvenate yourself with the lively mix "Malevolent (Feat. Orax)" and then prepare for appealing chords and vocals that pull you in on "Innuendo (Feat. Orax)". A strong presence and powerful performance can be heard next as you head "Into Oblivion" and then go "Back To The Jungle" where you journey through plenty of twists & turns with surprises around every corner. Track 15, "One In A Million (Feat. Dizzy)", is a winning combination where Waves_On_Waves and Dizzy are hitting on all the right notes and proving that "You're a shooting star". Close your eyes and listen closely to the "Weight of the World" next as this tune weighs heavy on your ears, heart & soul. Track 17, "You Are Everything I'm Not", is infused with heavy doses of sincerity and fine harmonies. The piano playing and strings also have a tremendous impact on the listener and it's proof that "You Are Everything I'm Not" is actually everything you need. "The World's Turning Dark (Feat. Orax)" hits you like a ton of bricks with its sad but true sentiment. Track 19, "Where The Reason Why", is one catchy composition that grabs you with its personal touch. Get ready to rise up out of your seat with this monstrous "Zombie" that will devour you and add loads of life to the party. Hop on the "Roller Coaster" where this exciting ride is equipped with a lot of thrills & suspense, so buckle up and enjoy the experience! Track 22, "Midnight Breakdown", supplies an exotic vibe that will keep you guessing and have the crowd spinning to the break of dawn. Waves_On_Waves invites you to dive into this "Cold Black Heart" to unleash all of the love & hate and then take it all in stride.