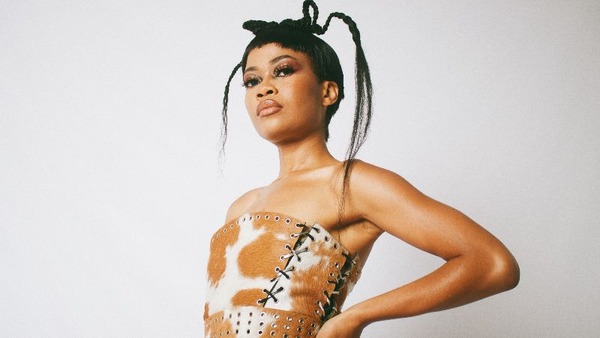 @skopemag news – wednesday – january 16, 2022 @ 8 pm est
@skopemag HQ – http://smarturl.it/skope
JESSIE MURPH SHARES NEW VIDEO FOR "IF I DIED LAST NIGHT"
Due to popular demand, the rising star recently added additional dates to her Spring 2023 headline tour as well as upgraded venues for a slew of previously announced shows. The 29-date run kicks off on February 23 in Columbus, OH and includes two shows in both New York and Los Angeles as well as stops in Nashville, Toronto, Chicago and more before concluding in Jessie's hometown of Huntsville, AL on April 7.
STARCRAZY Stream New Single "Hysterical" At Ghost Cult Magazine
STARCRAZY's glam fueled new single "Hysterical" is streaming now at Ghost Cult Magazine. As the first offering from the band's upcoming 2023 EP Another Day, Another Squalor…, the quartet unveil a high-impact initial glimpse. "Hysterical" will be released on all major platforms on November 18th.
Intricate Emotive Lush Indie Pop: New EP
Los Angeles indie-pop vocalist KiKi Holli creates stunning and soulful music woven with intricate emotive storytelling for a truly captivating and cathartic listening experience with an eclectic musical aesthetic. Holli draws on inspiration from her rich theatrical background, as well as from iconic artists such as PRINCE, Dusty Springfield, The Cure, Stevie Nicks and Siouxsie and the Banshees.
Out today: Badlands' Carnal "I Want Blood"
Like the rest of Call to Love, "a tribute to love in all its wonderful, brutal, mean, horny and embarrassing forms," as Jaunviksna says, it threads new wave, warehouse dub, trip-hop, and disco influences into Badlands' distinctly unconventional electronic pop inspired by artists like Portishead, Little Dragon, and Forest Swords.
TICKETS FOR 'NEIL YOUNG: HARVEST TIME' ON SALE NOW – NEVER-BEFORE-SEEN DOCUFILM IN CINEMAS WORLDWIDE ON DECEMBER 1
Tickets are on sale and the official trailer debuted today for "Neil Young: Harvest Time," the never-before-seen docufilm celebrating the 50th anniversary of Neil Young's bestselling album Harvest. Presented by Shakey Pictures, Trafalgar Releasing, and Warner Records in movie theaters worldwide on Thursday, December 1 with select encores on Sunday, December 4, the feature includes footage from Northern California, London, and Nashville, during the signature album's creation. The exclusive cinema event begins with a personal introduction from Young about the film and album.
Laura Ainsworth unreleased video for Goldfinger
"As much as I love spy movies and thrillers, I had never even thought of doing this song until a fan in a stroke of brilliance suggested it to me. I went for a different, more shaded interpretation that turned out to be much closer to the way the song was originally conceived. Now I think of it as my signature song from the new album."
SNUPE BANDZ and Paper Route Woo Travel to Cali in "When I'm Bored"
STELIOS VENTAS – new album "BADASS"
Eva Schubert Shares 'The Feel of Your Love' LP feat. "Salome"
Songs get bound up with our memories, emotions and experiences. They can take us back to moments we have lived, and serve as carriers of emotions we have forgotten. It's a kind of magic, and I am always trying to cast that kind of spell. – Eva Schubert
Kaisha shares gorgeous new single 'Hard To Please'
Brighton based artist Kaisha (pronounced ka-yee-sha) drops the alternative R&B infused second single 'Hard To Please' delving into the draining experience of being in a relationship and the feeling of going around in circles with no resolution.
Lowly share new single "You Are Good And I Love You" via Bella Union / New album out Feb 17
The internationally acclaimed quintet from Denmark continue to develop their creative process, embracing other peoples' affection and letting it blend into their songwriting. The result of this journey: Keep Up The Good Work, the band's most heartfelt work to date.
THE INFERNO DOLL Premieres Gothic Video For "Renfield" At No Clean Singing.
THE INFERNO DOLL's Gothic horror creation "Renfield" is premiering now at No Clean Singing. Exploring a deadly tale of a vampire and a hunter, who is played by EMBER BELLADONNA, THE INFERNO DOLL's theatrics deliver a bloodthirsty offering. The New single will be released on November 18th, 2023.
Apollonio releases "We Had A Time" a synth pop emotional kaleidoscope of the feelings a relationship brings
Swallowed by OCD for the better part of a decade, it was in the solitude of the pandemic that Marc Apollonio discovered himself again. Years had disappeared into the mental disorder and his marriage broke up. It's an existential experience that, for many, is akin to grief. Something major in one's life is gone and will never be the same.
Jacklen Ro Share "Made of Sugar" Single + Video via Under the Radar
This Space is Ours release punchy single 'My Name'
Saturated with honesty and raw emotion, the 5-piece Melbourne easycore band This Space is Ours return with sophomore single 'My Name'. Marked by singalong power-packed hooks, sharp drums and electrifying guitars, the result is nothing short of dynamic.
Maggie Slater channels frustration and passion on new single 'Pulp'
Returning with her first new music for the year, Queensland indie artist Maggie Slater nails passion, frustration and catharsis on 'Pulp'. The title itself is visceral, as is Slater's presence on the track.
Juliana Hale Inspires Listeners to Rise Above Toxic Friendships In New Alt-pop Single "Fake"
OUT NOW: Mark Mackay 'Christmas' EP
Mark Mackay kicks off the holiday season with his brand new Christmas EP, Mark Mackay: Christmas. Bringing the Christmas cheer, with some classic rock and roll infused with a country flair, the 3 tracks on the EP consists of one original, written by Mackay and multi-hit songwriter Jeffrey Steele, as well as two Christmas classics.
Your Grandparents Drop Rousing "Livin' in Hell" Single
On the inspiration behind their new single, Your Grandparents share, "'Livin' in Hell' is a medley of blues, soul, and hip-hop that encapsulates the feeling of existing in a world designed to work against you. The song is not only a cry of contempt but also a declaration of resilience in the face of such dastardly institutions."
Sydney afro-soul artist OPUTJO hypnotises with debut single 'Masterpiece'
Blending gorgeous R&B influences with a personal edge that never wavers in its strength, Sydney-based performer OPUTJO releases her debut track, 'Masterpiece'. With the release of this single, OPUTJO introduces herself to listeners and puts her artistry out there with confidence.