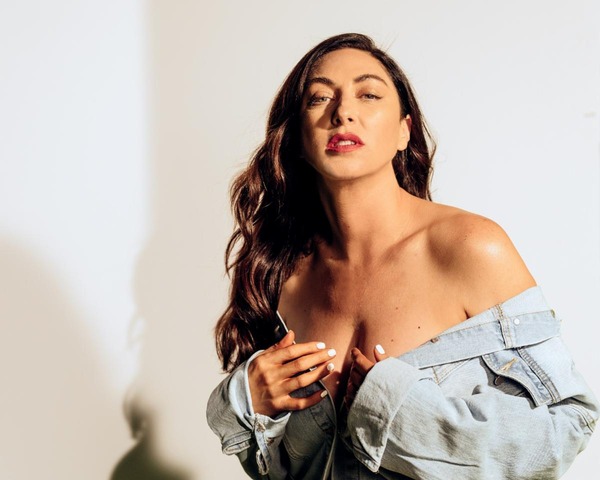 @skopemag news – wednesday – november 9, 2022 @ 5 pm est
@skopemag HQ – http://smarturl.it/skope
LOU RIDLEY SHARES THE VULNERABLE VISUAL FOR "NAM"
Rising singer/songwriter Lou Ridley returns with a new music video for "nam." Directed by longtime friend Bethany Reed, the vulnerable and intimate visual shows a somber Ridley in the tub highlighted by candlelight. Openly labeled by some as the "witch of country music," Lou has some single-colored spell candles on a table beside her as she sings longingly to a past lover named Nam.
Mali Jo$e Teams Up With Mick Jenkins And Len On New EP SUNSEEKER
Circles Around The Sun Announce New Album & Tour Dates | Single "Outer Boroughs" Out Today
As guitarist John Lee Shannon explains: "'Outer Boroughs' was initially composed when the track emerged from an impromptu jam in the studio around a four-chord sequence Adam was playing around with. Dan's bassline is one of my favorites, and is unusual in that he initially heard the '1' in a different place than intended, giving extra emphasis to the downbeat of the second measure." He continues, "It's a breezy groove that paints several landscapes in vivid color before departing into deep space for an extended middle jam. Originally titled 'Ouroboros' for its cyclical nature, it was later changed to "Outer Boroughs" for a bit of mondegreen and a nod to the greatest city in the world."
Chile's Alex Anwandter Releases First New Single in Three Years
Chilean artist/producer Alex Anwandter today returns with his first new single in three years, "Maricoteca." A sultry party anthem ready for New Year's Eve playlists, "Maricoteca" was produced by the now Brooklyn, NY-based artist and arrives alongside a vibrant, cinematic video co-directed by himself and Josefina Alen and filmed in Buenos Aires, Argentina. "I wrote 'Maricoteca' as an ode to losing yourself on the dancefloor: a place where you might find love, heartbreak, and the 'perversion' of society," he explains with a laugh. "'Maricoteca' ('Faggotheque') is also the first song of a new album coming next year, which will explore dance culture and discothèques as the ultimate world where you can become who you really want to be."
Rich Homie Quan Drops "Dark Shades" Video
Sam Himself's new single & music video 'Mr. Rocknroll'
WARKINGS Release New Single + Music Video "Hellfire"!
French Black Metal Band DEPRESSIVE WITCHES Drops "Distant Kingdoms" Music Video
BIZARREKULT Reveals Music Video for New Song, "Du Lovet Meg"
BIZARREKULT mastermind Roman V. comments: "I am happy to reveal the opening track from the new album. 'Du lovet meg' (You promised me) is a song about the mismatch of our expectations and actions, promises that never get implemented, forgiveness and eternal love. A soundtrack for anyone who has ever been in relationship with another person. Embrace the emotions, don't hide your feelings from yourself."
Emilia Tarrant – Slow Motion
With stand-out vocals championed across the board, Emilia Tarrant delivers another heads turning vocal performance with her single 'Slow Motion'. The track follows her debut performance at the iconic Glastonbury Festival, meanwhile, ahead of her exclusive intimate show at 180 The Strand this November 21st.
[NEW MUSIC] Chad Tepper Shares New Single "1-800IDONTKNOWYOUANYMORE"
"This is a love song about being obsessed with someone because you think you know them, but then find out you really don't," Chad explains. "It's the kind of love that makes you do crazy things, and then when you're not with them anymore you miss them so much that even a split second of not being with them physically hurts."
Anonymous Project Anoluxx Self-Releases Brand New Single 'REALM333'
Finnish Extreme Metallers ANZILLU Release "Discordia" Music Video and Digital Single
New Music – Heir: One Way Out – OUT TODAY
Still abuzz from an unforgettable session at the legendary Abbey Road studios, Leeds band Heir dropped new single 'One Way Out' on 9 November. With initial recording under the auspices of Ken Scott (David Bowie, The Beatles, Elton John), the yacht-pop quintet returned home to Yorkshire to hone the song into what became a slick-sounding, retro pop track – and one which proudly wears its influences on its sleeve. The harmony-laden single retains a contemporary freshness throughout, but with knowing nods to Fleetwood Mac and Hall & Oates in the all-too-cool restraint of its 70s style production.
MATT TAYLOR ignites his dance floor era with new banger 'STAY'
Originally from Dublin, Ireland, MATT TAYLOR has been honing his craft over the last few years, pulling inspiration from the energy and courage in music such as SOPHIE's, and looking to the storytelling and songwriting of Taylor Swift and Lorde, all with his unique and unmistakable twist.
RISING ARTIST BER TO RELEASE NEW EP HALFWAY FEBRUARY 17TH 2023 & NEW SONG 'HALFWAY' IS OUT NOW
Halfway, the new EP from rising singer/songwriter Ber, is set for release on February 17th 2023. The EP showcases her lofty range as a songwriter, artist and creator while growing her already fiercely passionate fanbase. Pre-order/Pre-save HERE.
Of the EP, Ber states, "I wrote this 6-song EP about not being over a boy that ghosted me (but really trying to be). They all come from that funny and uncomfortable place in between heartbreak/happy and paint a picture of how I felt when I finally felt like I was Halfway through my breakup."
CHIIILD ANNOUNCES NEW ALBUM 'BETTER LUCK IN THE NEXT LIFE' & RELEASES NEW SINGLE "BON VOYAGE"
Zolita Releases "Ruin My Life" Single with Video & Announces 'Falling Out / Falling In' EP
"'Ruin My Life' is about that period of time when you fall in love with someone and it genuinely feels like nothing else matters," shares Zolita on the new single. "You start cancelling plans, blowing off your friends, losing focus at work, and it may be unhealthy, but it feels so good. It's about needing someone so badly that you wouldn't mind if they ruined your life."
Tara Macri Releases "Waking Up in California" Music Video
Produced by Garen Gueyikian and mixed by multiple Grammy Award winner Chris Lorde-Alge, "Waking Up in California" mirrors Tara's journey and real-life successes on the Broadway stage as well as her music and film powered roles in LA. With a quick tempo and brisk verses, the escapist track speeds through life's highs and lows in a quintessential California top-down convertible reminding us that each day brings a new chance of opportunity. In Tara's own words, "This song fuels me in the fact that win or lose, we need to roll the top down on our doubts, put a little caution to the wind and go for our dreams." On December 12th in Los Angeles, Tara will be performing at The Hotel Cafe at 8PM as part of their Canadian artist series. Tickets will be on sale soon.
Indie artist pens SPIN op-ed on antisemitism in the music industry
Today, in a moving op-ed for SPIN Magazine, the indie-pop artist HAPPIE, who doubles as the cantorial soloist for one of the largest congregations of Reform Judaism in the U.S., reflected on her Jewish heritage, her experience performing at Auschwitz-Birkenau in the past, and the recent wave of antisemitism that has riddled the country and music industry. "While I might not be on a physical platform like I was at Auschwitz, I have the responsibility to say that this is not ok. It's not normal," she writes. "I am grateful for the support of my non-Jewish friends and leaders who have spoken out and have stood up for a loving humanity. It's on each of us to continue to call it out and continue to build a community where hate is not only not accepted, but is rooted out."
Rapper Token Releases New Track & Video "Toy Story"
Rapper Token releases a new track and video, "Toy Story," today via Never Too Different. The video was directed by Ben Proulx & Token, and features Token looking very much like the character Sid from the film Toy Story. The video recreates scenes from the movie in highly specific detail, including Token's character's hair and braces, the toy figures, props and interiors. Token says, "Fans always used to say I looked like the Sid character from Toy Story so we thought it'd be funny to do a music video based on him and actually recreate scenes from the movie."
PLOHO Now Streaming New Album "Когда душа спит (When The Soul Sleeps)"
The Siberian post-punk outfit Ploho (Russian for "bad") trades in bleakness and melancholy. Inspired by the frigid and inhospitable environment encountered in their native Novosibirsk, Siberia, the band weaves the stark atmosphere of the 1980s Soviet era with the emotionally detached post-punk and rock genres.
THOMAS HEADON SHARES NEW SINGLE "GEORGIA"
"We've actually been sitting on this song for over a year now. I wrote it by myself with my little acoustic guitar in London, then finally produced it up into 100 different versions with my friend Stephen months later, finally landing on this one. It's actually not even about someone called Georgia, it's more pointed towards the US state… also which I have nothing to do with, but it's a metaphor. Anyway it's my favorite song of mine to date, I hope people like it." – Thomas Headon
Taranoya – New Album 'Flying' out November 18th on sound as language / Second Single "Too Scared" Out Now
Taranoya's ambitious sophomore album, Flying (SAL026), is out November 18th on sound as language. The second single "Too Scared" is out now. The first single "Human Desire" premiered in October. The album follows up Taranoya's beautiful debut, Becoming, which released on sound as language in the Fall of 2021.
Nell & The Flaming Lips share "Into My Arms" video / Announce physical release of Where The Viaduct Looms
Where the Viaduct Looms comprises nine Nick Cave cover versions with vocals and instrumentation by Nell Smith and instrumentation and production by The Flaming Lips. The album was mastered by Dave Fridmann at Tarbox Road Studios. Nell & The Flaming Lips have previously shared videos for "Girl In Amber", "The Ship Song", "No More Shall We Part" and "Red Right Hand".
Soul drenched Indie Rock Meets Americana New Single
Louis Culture Shares Brand New Single "Grime" Via Different Recordings
"Grime" sees the 24 year old adapt his unique sound with elements of electronic funk and house. The bounce of the Karma Kid-produced beat is paired with a suave flow and for the first time, sung vocals from Louis. "On one hand when I hear the beat I hear Dilla and Kanye, then on the other hand it's Kaytranada meets Jungle," he comments. "Karma Kid and I made this around 2 years ago but for a long time it was just the chorus. I feel like I only just found the right words to say this year. Feel like it took some more living." The beat switch halfway through the song does not overshadow Louis' talent, as he continues his romance-tinted bars on this mellow portion of the song.