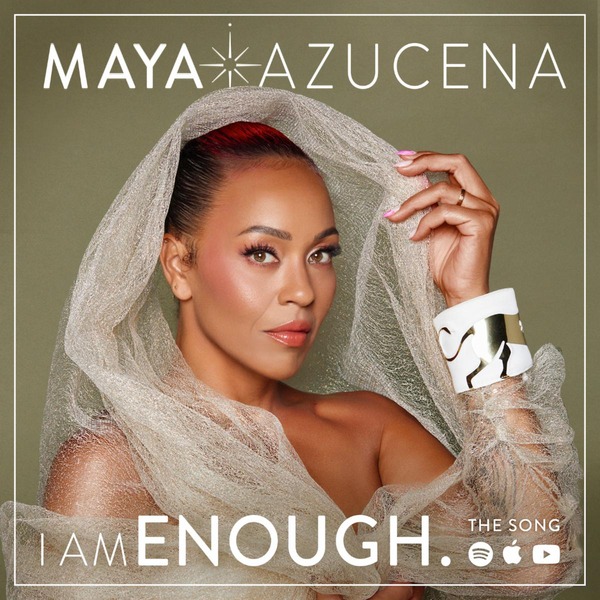 While Maya Azucena's new I AM ENOUGH song resonates literally from an American history perspective, and aims to celebrate the undermined, under-recognized contributions of her American ancestors and unsung heroes of Today, the message also reflects a universal story of overcoming self-doubt and burden of doubt from others, to step into a fully-accepted, empowered version of ourselves.
"Simply put, I AM ENOUGH is a dedication to my ancestors, their legacy, and all those that tried to stop us." – Maya Azucena
I AM ENOUGH is the advance single of Azucena's 6-song EP by the same name, produced by Timo Ellis, a 4th full-length offering by longstanding indie artist Maya Azucena.
I AM ENOUGH is a tune which incorporates the rock background of producer, multi-instrumentalist Timo Ellis (Mark Ronson, Yoko Ono, Sean Lennon, Cibo Matto and Joan As Policewoman) with Azucena's love and knowledge of black spiritual and funk music. This is an artist who grew up listening to Mahalia Jackson, Prince, Stevie Wonder, Earth, Wind and Fire, and whose diverse influences come through powerfully here.
With a big drum backbeat, laced with Timo's Blues-Rock guitar, Maya's soaring vocal announces, "I cut my self, it was not enough/blood flows, it is not enough/with my back I break ground, build the nation around/it is not enough not enough not enough not enough…" The tension of the song intro progresses to a warm release with lyrics, "I won't ask you, I'm already enough/You don't have to approve, I'm already enough/I'm here to live my life, try living it without strife/ yes I am enough I am enough I am enough I am enough…."
"I think many people, from many life experiences, will find themselves in the message of this song." – Maya Azucena
I AM ENOUGH, The Song, is slated for release simultaneously with The Video, directed by Award-winning Photographer-Director Robert Adam Mayer aka "Photo Rob." It compliments the spirit of Maya's words by featuring living portraits of "Real Americans" who represent icons of America's often unsung heroes. Using a style inspired by Photographer-legends like Irving Penn and Annie Liebowitz, Photo Rob captures the elegance, beauty, wisdom and pride of the subjects.