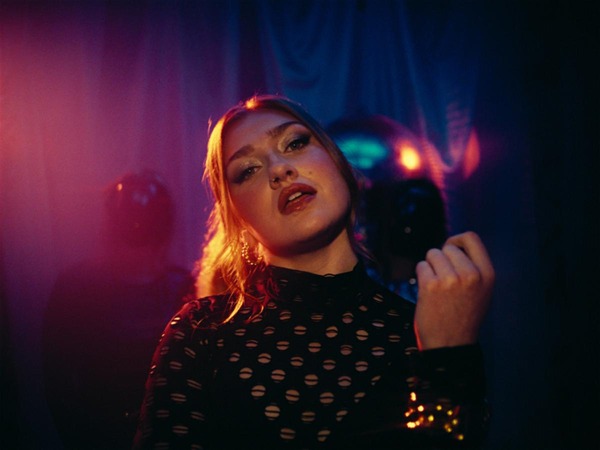 @skopemag news – friday – october 28, 2022 @ 8 am est
@skopemag HQ – http://smarturl.it/skope
[NEW MUSIC] plxntkid Shares New Track "all my friends" Ft. Lil Lotus
"In this song I say, "All my friends wanna die, why?" – asking if it's due to mental illness OR the antidepressants exacerbating the pain," plxntkid states. "Working with Lil Lotus was an amazing opportunity for me, I've listened to his music for years and when I realized that we were on the same label, I knew we had to do something together. This is the product of that!"
Barns Courtney releases cinematic visual for "Supernatural"
Little Fuss Discuss Mental Spirals With "She's a Liar"
Indie art pop duo Little Fuss has released "She's a Liar," the third segment from their cinematic, nine-chapter concept album, Girls At Parties. Inspired by the short story Yellow Wallpaper by Charlotte Perkins Gilman, which follows a woman who is berated and gaslit by her husband to the point where she begins a downward spiral of stress, anxiety, and the feeling of insanity after interacting with a version of herself within the walls, the new single zooms in to examine negative mental spiral and encapsulates how one's own mental health can leave them feeling stagnant. "She's a Liar" is available for streaming on all digital platforms.
Fever Queen enlists Bridey Elliott, Madeleine Zima, Teresa Lee and more for new "Afterglow" video
Fever Queen and her record label, First To Knock, teamed up with Smudge Films (We're All Going to the World's Fair, Strawberry Mansions, I Saw The TV Glow) and director Bridey Elliott (Clara's Ghost) to host a bizarro fairy picnic in the hills in the new "Afterglow" video off her new album In the Ether. Definite Picnic at Hanging Rock vibes by way of lysergic dissociation feature Fever Queen's Eleanor Rose Lee seemingly indoctrinated into a iridescent world populated by Madeleine Zima (Twin Peaks The Return, Californication) and her minions played by comedian Teresa Lee (Curb Your Enthusiasm, Good Mythical Morning) and choreographer Carly Johnson.
Nordic folk band Vévaki Shares Video Stream for New Album, 'Fórnspeki'
Originally a solo project by singer and multi-instrumentalist Will Hunter, VÉVAKI is a folk band which draws from Nordic heathenism and animistic traditions. Myth, ritual and a connection with the natural world inform VÉVAKI's music, which is both contemporary in sound and wide-ranging in instrumentation.
Maisy Kay Releases Halloween-Themed EP 'Psycho'
Trading Maisy's dance-pop sound for bloodthirsty beats and dark melodies that are as euphoric as they are malicious, the EP also welcomes new songs "Not My Business," a snarky commentary on women getting mad at other women for their partner's bad behavior, and the foreboding anthem "Widowmaker," which takes revenge on the men who have wronged you and starts with a wedding – the beginning of the end.
BREAKOUT ARTIST ZZZ. SIGNS TO WARNER RECORDS, SHARES "ALL I NEVER WANTED"
Nina Nesbitt Recruits Zion Foster for "Need You"
Feels Releases EDM Collaboration "Wake Me Up"
Feelz is Nashville's most up and coming DJ and EDM artist. Feelz, born John Lawson, paved his way into the Nashville EDM scene full-force, and has been making his way to the top ever since. Feelz's main influences come from various electronic pop artists, lending him the high-energy vibes of his live shows.
Olivia Lunny Shares Euphoric Music Video for "Wonderland"
Proving herself to be a pop powerhouse, Olivia shines as brightly as ever on "Wonderland." The shimmering new single is another meticulously crafted, breezy alt-pop track which sees Olivia wrap her emotions and optimism into a song about the dreamy splendor of young love. "Wonderland" packs an emotional punch, and honors the moment and allure of a youthful relationship, living in the moment and shutting out the rest of the world.
THE ACADEMIC ANNOUNCE NEW ALBUM, SITTING PRETTY, RELEASING FEBRUARY 10, 2023, VIA CAPITOL RECORDS
"Pushing Up Daisies" highlights both the immovable weight and frail fractures of the young masculine ego. The Academic explains, "'Pushing Up Daisies' is our ode to insecurity and ego in equal measure. It tackles the hectic nature of our current circumstances. The ecstatic highs and the unbearable lows of life in your twenties."
NEW animation video for INFECTED MINDS ("Foreign Passenger" out from "Reanimated" album)
Anthem For Non-Stop Dreamers: Brooklyn indie pop
"Factoury Girl" is the first single off of Rebounder's upcoming EP Sundress Songs. Having previously toured with The Neighbourhood, Dayglow, Cautious Clay, How Long Gone and MUNA to name a few, the band is about to embark on their sold out tour with Sun Room. Rebounder has more than 25 million streams and have received acclaim from the likes of NME, FADER, Pigeons & Planes, Ones to Watch, and more. Thanks for your consideration,
Today folk artist Noah Derksen shares cathartic and charming video single "Fuck You and Fuck Your Friends Too"
"I was dumped twice during the 18 months of the pandemic, and by the same person, no less," explains Noah. "With all the dust swirling round, my world caving in on itself yet again, all I could really do was laugh at the situation. And in a comedic and desperate attempt at vindication, the only insult I could find to ease my heart was the title of this song, 'Fuck You and Fuck Your Friends too.'"
BONES: No Clean Singing Hosts Exclusive Stream Of Vomit Full-Length By Chicago Death Crew With Current/Ex-Members Of Usurper, High Spirits, Contrition; Record Out Friday On Disorder Recordings
Uniting drummer/vocalist Joe Warlord (Usurper), guitarist Carcass Chris (ex-Usurper), and bassist/lead vocalist Jon Necromancer (Contrition, High Spirits, ex-Usurper), BONES delivers their most in-your-face release to date. Vomit sees The Windy City's filthiest trio continue their signature blend of death, thrash, and black metal on cuts like "Beware Of Ghouls" and "Noose," while also venturing into sludgier elements on the title track and "Tower Of Skulls," while Warlord even treads in early Neurosis territory on the tribal drum heavy instrumental, "Retch." While these elements are truly new territory for BONES, overall, the band relentlessly sticks to the roots of their tainted peers in Autopsy, Coffins, Nunslaughter, and the like.
AITCH UNVEILS OFFICIAL MUSIC VIDEO FOR "LOUIS VUITTON"
Queer Pop Rock Band senses Release Single & Music Video – "Sleepwalking"
BUZZHERD And PALE HORSEMAN Stream Entirety of Split Album At Doomed & Stoned
BUZZHERD and PALE HORSEMAN are streaming the entirety of their upcoming split album over at Doomed & Stoned. The album is set to be released tomorrow on vinyl and digital formats.
Tejon Street Corner Thieves return with cover of Screamin' Jay Hawkins' "I Put A Spell On You"
After stealing the show on a month-long tour with The Dead South and Lucero followed by performances at this year's AmericanaFest and Rebels & Renegades Festival, Colorado Springs-based outlaw alt-folk group Tejon Street Corner Thieves (TSCT) have returned with a brand new cover of Screamin' Jay Hawkins "I Put A Spell On You".
DEVILPRIEST – Release New Single "Walpurgis"
VITTRA: Ghost Cult Premieres "Lykantropi" Video From Swedish Melodic Death/Thrash Unit As Blasphemy Blues Full-Length Nears Release
Swedish melodic blackened death/thrash unit VITTRA today reveals their latest single, "Lykantropi."
Now playing in video form courtesy of Ghost Cult, the track comes by way of the band's debut full-length, Blasphemy Blues, set for release on November 11th.
Toronto's Neon Bloom Perfectly Captures The Breakup In New Single 'Novocaine'
Listen to Madison band Interlay's new single, "Androgynous"
Today Madison, WI band Interlay shares a new single, "Androgynous," produced and engineered by Isaac deBroux-Stone and Logan Severson of DISQ. Stream the new single HERE via new label N.I.T.A. Records.
TOBi DROPS NEW SINGLE AND VISUALIZER "SHE LOVES ME " OUT NOW — FROM FORTHCOMING ALBUM COMING SOON
TOBi on his single "She Loves Me": "I wanted to make a song that was warm and celebrated sensuality. I feel like nowadays people think being toxic is cool, and they should lean into it, as if vulnerability is not in style. Truth will never go out of style. I'm just a real lover, I can't help it, I gotta put that on record, for better or for worse. This song unlocks another dimension to my mind and artistry."
MEDIA RELEASE:: COOLIO RELEASES POSTHUMOUS SINGLE 'DO YOU WANT IT' FEATURING AUSSIE ARTIST, KATIJA – OUT NOW
Unexpectedly marking a posthumous release for one of the most successful rappers of his time, the new single Do You Want It by the legendary Coolio and featuring Australian rap and pop artist Katija is a cheeky yet dominant jam loaded with lashings of vivid sensuality. Having been in motion prior to Coolio's untimely passing, Do You Want It releases today as previously planned by both Coolio and Katija on October 28; and, by sheer coincidence, the track's unveiling falls exactly one month since the world lost the pioneering rapper, producer and actor.
Scattered Storm Embark On A Journey With Title Track Off Upcoming "In this Dying Sun"
Scattered Storm takes a good blend of the sludge from Meshuggah, the ambiance of Tesseract, and the epicness of Devin Townsend, but is also influenced by bands like Fear Factory and Mnemic.
JOSHUA BASSETT ROLLS OUT YET ANOTHER SURPRISE SINGLE WITH "DIFFERENT" LISTEN HERE
"My biggest regret was walking away, I'm not gonna make the same mistake," the 21-year-old sings in his delicate, disarming falsetto over strummed guitar. Bassett then suggests they take a leap of faith. "I know you're afraid we'll end up the same, and the truth is we might," he belts on the chorus. "But if we do this thing right, maybe this time it will be different." It's another disarmingly honest and heartfelt addition to his burgeoning discography.
KHARTOUM's 3-piece look is sleazy, gritty and heavier than ever
Continuing their exploration of a darker, heavier aesthetic and sound, the London three-piece KHARTOUM's most recent work is heavily inspired by the likes of Joshua Homme, Death From Above 1979 and Jack White, in which you see KHARTOUM revelling in the use of distorted drum sounds, octave-layered guitars and fuzzy vocals.
Skope Mag x Chase Zera – DISCO RUNWAY / Out now
Chase outlines the premise of the EP, stating "'DISCO RUNWAY' is about embracing your true self, not wanting perfect moments to end, having great nights out with great people, making memories and removing negative energy from your life to pave the way for more positivity and love. In my experience, being unapologetically yourself isn't something that happens overnight – it comes from self-awareness, standing up for yourself when it's not always easy, walking away from what no longer serves you and finding and holding on to the people who actually deserve all of the love you have to offer."
KAASH PAIGE RELEASES NEW SINGLE + VIDEO "DOUBTED ME"
POLO G DROPS NEW SINGLE AND VIDEO FOR "BAG TALK"
RIHANNA RELEASES "LIFT ME UP," NEW LEAD SINGLE FROM THE BLACK PANTHER: WAKANDA FOREVER SOUNDTRACK
Rihanna – the global icon, designer, entrepreneur, philanthropist, and the top-selling digital singles artist of all time – makes her highly-anticipated return to the airwaves today with "Lift Me Up," the lead single from the upcoming Black Panther: Wakanda Forever original soundtrack.
TRIPPIE REDD TEAMS UP WITH DON TOLIVER ON NEW SINGLE "AIN'T SAFE"
The smooth, hard-hitting track comes after Trippie was just included in "Top 100 Most Streamed Artists of 2022" according to HITS, landing right behind Megan Thee Stallion, and follows previous double-pack singles "Save Me, Please" and "1st Degree Murder," which quickly zoomed to over 12 million streams and were hailed by the likes of Complex, XXL, HotNewHipHop, UPROXX, Hypebeast and more.
Jonah Kagen Announces EP & Shares New Single "graveyard shift"
ELLA LANGLEY RELEASES VULNERABLE NEW SINGLE "COUNTRY BOY'S DREAM GIRL" VIA COLUMBIA RECORDS
The Alabama native wrote the tune paying homage to her southern ways and keen ideal for the simplicity of what a country boy undeniably adores too. "This song describes who I am and where I come from," Ella speaks about the track. "It's how it feels to love the honest, simple things in life and being with someone who loves those things too."
Jackson Mico Milas hits a new sweet spot with 'Don't You Think Of Me Once In A While'
Warming piano melodies and deft keys glide over dusty rhythms as the former High High's frontman's buttery vocal hits a real sweet spot on this album highlight. It's his best yet!
The Hunna enlist Justin Bobby in 'Fugazi' video
NANCY releases debut LP 'English Leather' | out today (Oct 28th) via BLAME RECORDINGS
Bizarro-pop provocateur NANCY releases debut LP 'English Leather', out today (October 28th) via Blame Recordings.
Raised in north east England, NANCY acted in ways that seemed out-of-the-ordinary – combined with abnormal physical features, "Nancy" was both a punchline & label throughout the songwriter's formative years.
GRYFFIN TEAMS UP WITH ELLEY DUHÉ ON NEW SINGLE 'FOREVER'
Today, acclaimed producer Gryffin continues his string of euphoric club anthems with "Forever" with pop star Elley Duhé via Darkroom/Interscope Records. Today's release marks the second time the powerhouse duo has collaborated, the first being 2019's "Tie Me Down", one of Gryffin's biggest songs to date. "Forever" is the latest single from Gryffin's forthcoming sophomore album, Alive, after recent bangers "Scandalous" featuring Tinashe and "Colors" — a collaboration with Eyelar and Blanke.