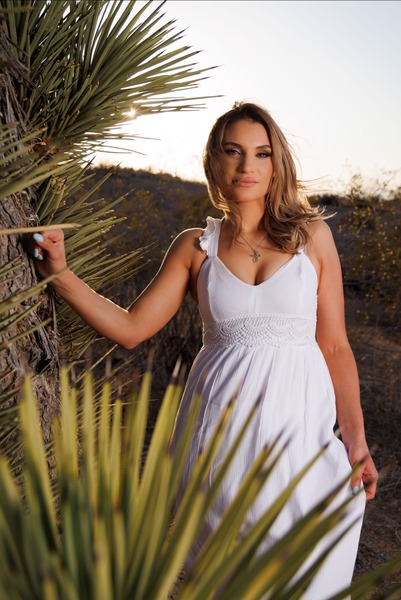 @skopemag news – friday – october 28, 2022 @ 7 pm est
@skopemag HQ – http://smarturl.it/skope
Symphonic rock act Paraside takes you through a epic journey on new EP
'Chapter I: Dreams, Hopes And Other Obvious Lies' is the newest album from Paraside, the Hungarian / American melodic symphonic rock band.
"I wrote the backing track and Matt came up with the lyrics and the vocal melodies. We all recorded our own tracks in our own home studios and sent them over the Sweden to Stefan Helleblad of Within Temptation to mix and produce them. Once it was done it was sent to Netherland to Masterenzo Mastering for the final master". – says Victor Racz.
CHRISTIAN FRENCH SHARES "KARMA" AHEAD OF SOLD-OUT GOLDEN YEARS TOUR
On the inspiration behind the track, Christian says, "'karma' is about being with someone and it feels like they're always keeping score. If you do something 'right,' they'll treat you right, but if you accidentally do something 'wrong' they'll make sure you don't live it down until they feel like you're even. They put too much faith in karma making things right, when really it just comes down to whether both sides care enough to put in the extra effort or not."
LYRICS BORN Takes Listeners On A Cosmic Fantasy Ride with "Alligator Boots"
Written and recorded in New Orleans with producer Rob Mercurio (INSERT CREDITS), the track was written with his own wardrobe in mind. "Say Sway recorded the chorus previously and I thought that it was so fantastic, I knew I had to write some thing equally outlandish," he laughs. "Being that I actually have at least 100 pair of alligator boots, this song was destined to be."
New single/video by Chuuwee "MoonShine"
After the singles "Immortal" and "No Worries", Sacramento rapper Chuuwee dropped his last single "MoonShine" today before his album comes out. "MoonShine" includes a guest feature by Unkle Pill and it's produced by Rich ICY.
Lil Gnar Drops Chief Keef Produced Track, "Triple S," Out Today!
For Skope: Nicky Romero and Third Party release long-awaited collab "For The People" from UMF aftermovie (out now)
Are We Not Phones? Rocker Grant Boyer Takes On Tech-Fueled Brain Drain With "De-Evolution"
THROAT LOCUST Announce New EP Dragged Through Glass
Influenced by classic Florida death metal, but seasoned with BOLT THROWER and PANTERA's Texas groove, THROAT LOCUST seeks to create extreme music with a broad appeal. The new EP Dragged Through Glass will be unleashed on January 6th, 2023.
Indie-Pop Single "Kids Back Then" from Cindy Sterling (JUST RELEASED)
The indie-pop track reflects on a "situationship" Cindy Sterling had in her youth. "Kids Back Then" is inspired by the memory of meeting her summer romance turned long-term fling. In her single, she explores the feelings of longing, guilt, anxiety, and depression in wanting more from a relationship that started off magnetic but later fizzled out.
SALLY BOY CELEBRATES "BEAUTIFUL GIRLS" IN NEW SINGLE
Initially gaining traction when Sally Boy teased the release to fans on TikTok, resulting in over 250K views, the soulful alt-pop single has resonated with hopeless romantics across the globe. Written as a response to the insecurities that can manifest in a new relationship, "beautiful girls" serves as a wake-up call to recognize a good thing when it's in front of you.
UK artist Oliver Marson shares new single / video, "Andalusian Girl"
Today dynamic pop rockers The Lad Classic share driving single "New Emotion"
Latest offering, "New Emotion," is a funky song about finding that person that makes you feel things you haven't felt before. That internal conflict of wanting to go all in before knowing what you are getting into, but at the same time the logical side of you says "hold back, don't come on too strong. This could be something good."
Ice Spice Shares Video for "Bikini Bottom"
ETERNAL FREQUENCY RELEASE THIRD AND FINAL SINGLE OF EPIC, MATRIX-ESQUE TRILOGY, "WAR"
As the intro to "War" slowly begins to pulse beneath the surface, find yourself imagining a hazy, futuristic metropolitan warzone crafted in the vein of Blade Runner or The Matrix. But the battle lead vocalist Emelle is fighting in "War" takes place on the inside. As she sings,"Won't be a Jekyll to your Hyde/My eyes have been opened wide," Emelle is on the attack and her ferocious delivery embodies exactly that.
TRAVIS JAPAN RELEASES DEBUT SINGLE "JUST DANCE!" AND THE OFFICIAL MUSIC VIDEO
Travis Japan is a formidable 7-member dance and performance pop group from Tokyo, named in honor of award-winning American choreographer Travis Payne (known for his works in Michael Jackson "This is It", Lady Gaga "The Monster Ball Tour", etc.), who helped audition them as children in 2012. The group is managed by the legendary Japanese talent agency Johnny & Associates, and their style is a captivating mix of modern, jazz, and hip hop.
ACRAZE UNVEILS OFFICIAL VIDEO FOR NEW SINGLE, "BELIEVE" FEAT. GOODBOYS
LIL ZAY OSAMA SHARES MUSIC VIDEO FOR "41 PRESIDENTIAL" FT. ICEWEAR VEZZO
The track's thudding bass provides an ominous soundtrack punctuated by tense 808s and airy synths. Over this thick production, Lil Zay Osama leans into his signature flow with hushed and hypnotic soul. In one breath, he reminds, "We been hustling in these streets," before he confesses, "I paid 40 for these teeth." Icewear Vezzo counters with a promise to "Motivate the trenches" as they lock into an unbreakable back-and-forth. The accompanying visual highlights both powerhouses as they rap directly to the camera surrounded by friends in a warehouse, flexing ice, and shining in the spotlight.
Lil Gnar Gets Buck in Balenciagas in "Triple S"
Faint on Call unveil new single "Harpoon"
Faint On Call, a new supergroup featuring former members of notable groups including Counting Crows and Onesidezero, have released their 2nd single "Harpoon" on Spotify and Apple Music. What began as a collaboration between friends in early 2021 has now manifested into a nearly complete full length album, which was recorded and co-produced in Mexico with acclaimed producer Sylvia Massy.
Carousel Kings Release New Single "Memory Kitty Chord" featuring AJ Perdomo to all digital outlets!
"The song was inspired by and includes lyrics written by my late father who wrote a breakup poem in about 1978. The poetry book Is one of the only things left I have of my father so it was cool to kinda collab with him and build out a song and write off of that first stanza that is his. The rest of the song fell into place organically in the studio with the rest of the guys and was fun to piece together. This was the first track we had AJ sing and write on over the bridge," says the band's vocalist, David Alexander.
R&B ARTIST RINI RELEASES NEW SINGLE "HAUNT ME" ON WARNER RECORDS
The first single and video off the forthcoming project "Selfish" featuring GRAMMY award-winning artist BEAM has garnered over 350,000 views on Youtube. The highly anticipated EP UltraViolet is due for release this fall. The "Past the Naked Eye Tour" is a six-date tour that sold out in minutes and begins on November 30 at Purgatory at The Masquerade in Atlanta, Georgia. Concluding on Dec. 16 at The Echoplex in Los Angeles, California RINI will also hit major cities, including Washington, D.C., New York, and Santa Cruz, California.
CINNAMON BABE Premieres "Loose" Music Video via Dread Central (Exclusive)
One of the most outspoken and controversial newcomers in heavy music, CINNAMON BABE isn't backing down from detractors with their latest single, "Loose". The LA-based nu-metal band helmed by model/actress Stormi Maya has partnered with Dread Central to premiere the horror-inspired music video for the track. The "Loose" video was directed by Alison-Eve Hammersley; a 2019 Lena Waithe AT&T Hello Lab mentee, with directing credits for short films like Fragile.com and You'll Only Have Each Other.
RAY VAUGHN (TDE) DROPS NEW TRACK + VIDEO
Loyal Lobos Debuts New "You're Nobody" Video via PAPER Mag, NYC & LA November Shows Announced
Loyal Lobos–a.k.a. Bogotá, Colombia-born, Los Angeles, California-based singer/songwriter Andrea Silva– today debuted the self-directed music video for her latest single "You're Nobody." With a sound that blends rock and electronic flourishes, and fit for a late '90s movie soundtrack, "You're Nobody" is one of her most biting–and memorable–songs to date. Its cinematic video, premiering via PAPER Magazine, finds Loyal Lobos reborn in The Salton Sea as a powerful force. Loyal Lobos explains: "I've always had a defiant personality. 'You're Nobody' is a song about telling someone off. Letting them know you don't care who they think they are and you don't care what they have to say. It's taking somebody down a notch real quick."
Cloudchord returns with Emancipator on "Junior High Dance" a celestial sock-hop
Andrea von Kampen Stars in Folk-Filled Romance A CHANCE ENCOUNTER – In Select Theaters & On Demand NOW
LYRICS BORN Takes Listeners On A Cosmic Fantasy Ride with "Alligator Boots"
""Alligator Boots' is a cosmic fantasy ride. I love being the Asian Willy Wonka with them golden Bars," states Japanese American rapper/actor LYRICS BORN about his trippy new single that premieres today. The latest cut from his upcoming new studio album Vision Board (release date: November 11, 2022 via Mobile Home Recording), "Alligator Boots" is a psychedelic trip that fuses alt-rock instrumentals, hazy synths, the silky smooth voices of featured duo Say Sway, and Lyrics Born casually rapping about his life and the luxuries that come with it.
Jay Fizzle Bosses Up With DonaFizzo (Deluxe) ft. Key Glock & More
Dropping gems of street wisdom with a drawly flow, Jay Fizzle is Memphis to the core. Expanding upon his recent project DonaFizzo, the Paper Route Empire artist shares DonaFizzo (Deluxe), adding 9 songs to the trap-happy album. Fizzle excels at finding unique pockets in each instrumental, stacking outlandish flexes in a torrent of tumbling syllables. Among the new songs on DonaFizzo (Deluxe) are "Major," which combines a sample from his late mentor Young Dolph with the classic instrumental from Gucci Mane's "Bricks," and "Tello N Bart," a collaboration with fellow PRE lifer Key Glock that plays upon each of their cartoon altar egos (the Ninja Turtle for Fizzle and the Simpson for Glock). Featuring towering instrumentals from the likes of Memphis mainstays like Ayoza, plus a standout guest spot from PaperRoute Woo, DonaFizzo (Deluxe) is available everywhere via Paper Route Empire.
Sam Short Shares "Taste It" Single + Lyric Video via Ones To Watch | New Track Out Now on All DSPs via Boom Records
Mexican Death Metal Band GRAVE OF SACRIFICE Signs With Wormholedeath
Mexican Death Metal Band GRAVE OF SACRIFICE signed with Wormholedeath for their EP Land Of Decay, due for release on November 18th, 2022.
DVILA presenta su primera colaboración con Rapetón Approved "Si Supieras"
Luego de temas como "La hora" y "Quiero fingir", siendo esta última una fusión pop-rock con la que pudo demostrar su gran versatilidad interpretativa, DVILA regreso a los "flancos" del género urbano de la mano de uno de los sellos disqueros más importantes del género: Rapetón Approved.
Weyes Blood Hits The Road With A Red-Eyed Humanoid In The Official Video For "Grapevine"
Weyes Blood's Natalie Mering stars in a horrific love story in the official video for "Grapevine," her epic new road ballad from And In The Darkness, Hearts Aglow. Beauty meets the beast in this visual tale which features a car crash, a humanoid with glowing red eyes, and a haunted grapevine graveyard. Who is this ominous figure, and what does it want with Natalie? Watch and find out in the "Grapevine" video, directed by Actual Objects.
MAE MULLER SHARES NEW SINGLE + VIDEO "I JUST CAME TO DANCE"
RISING POP ARTIST ZACH HOOD RELEASES "long distance christmas"
JENNY GRACE RELEASES HAUNTING NEW SINGLE "GHOST"
"I like country music that has a lot of storytelling," Jenny explains. "That's what is really meaningful to me. I enjoy embracing feelings and it's really healing to be a songwriter and to sing. Ghost was inspired by everything that has been going on in the world from 2019 up until now. I also went through some relationship stuff and some heartaches and I just really wanted to write about it.
Bored Ape Yacht Club #9797 Releases New Single/Video for "Plastic"
Chapel Hill artist Waldo Witt shares "Love Like A Fire" music video
OUT NOW: MBNel Laments on "Toxic feat. Haben"
The visual directed by Mike Wild$, paints a vivid portrait of the relationship described in the song–Nel acts as the omniscient narrator as a troubled couple work through their union's dissolution. Floating in on a sea breeze, Haben sings from the woman's perspective as she attempts to escape.
Saint Christopher (ex Arms Akimbo) Shares "Colina" Single via CHORUS.FM | 'Pop Shit' LP Out Today via All DSPs
Today, Saint Christopher — the project of Los Angeles musician Christopher Kalil (formerly of Arms Akimbo) — shares his debut LP, Pop Shit (out now via all DSPs). Described as an honest portrayal of the ups and downs of functioning within the music industry and creating while popular culture is constantly changing, Pop Shit aims to be a genuinely great un-ironic pop record, and that aim is fully achieved.
Cultus Black Releases New Single "Burn" + Official Music Video
Mysterious masked metal band, Cultus Black, is set to release their brand new offering "Burn" to all platforms on October 28th! Cultus Black is a hybrid nu-metal/Deathcore project featuring members of other well known acts in the national metal scene. This particular outing was co-produced by multiple gold record producer James Paul Wisner who is most well known for his work with Underoath. This track was written in the middle of a global lock down, when riots were starting to become a norm and it shows in the song's content.
Remy Reilly Drops Heartfelt New Single "Avalanche"
Rising indie-pop singer-songwriter Remy Reilly just released her new single "Avalanche," an eclectic and refreshing ballad about the vicious cycle of unpredictable relationships. The rhythms of "Avalanche" blend seamlessly, alternating between guitar, drums, and synth sections accompanied by Remy Reilly's register – a youthful delicateness paired with the maturity of a gentle soul rasp. "You are caught in a cycle of always failing with them, and every time you feel it coming on again, you feel the "avalanche," and like falling dominos, it all goes downhill again," comments Reilly. "You always know the outcome, but you still try."
For Skope: Aussies Sunset Bros & 15grams join forces on remake of Dirty Vegas's classic "Days Go By" (out on Timmy Trumpet's SINPHONY)
SHAPE OF WATER (electro-rock) reveal "Starchild" music video, new album 'Amor Fati' out today!
MAMMOTHOR Drops Perfectly Timed Haunting Single PARASOMNIA
The video was filmed (in a befittingly torturous setting) and edited by Jim Foster of Red 13 Studios (Godsmack, Daughtry, Queensryche, Whitechapel). Travis Lowell shares "I have worked with Red 13 a few times between Mammothor and my mainstream rock project, Ashes to Embers. One thing they are always good at: location scouting! In this case, we were originally looking for a setting in a large home or mansion…when that didn't pan out, Red 13 pulled a 'plan b'…an old, abandoned milk factory! Filming at the factory was a bit of a challenge, mainly because safety has to be a priority while natural lighting is almost non-existent and everything for filming has to be powered by batteries or generators. It was a challenge for the team, for sure, but the results were phenomenal. I'm not sure if the milk factory was haunted or not, but I may or may not have heard some ghostly 'moos' from the shadows…"
R&B STAR COL3TRANE RELEASES NEW SINGLE "ASTROLOGY JOINT"
Following the release of a new visual to focus track "Light Out" R&B star Col3trane drops his latest single "Astrology Joint" today on all streaming platforms. Col3trane's vocals on the entrancing beat and uplifting keys for the new single showcase his ability to tap into his soulful side.
About the new track, London-bred Col3trane states "Astrology joint is a conversational song about women who are into astrology captivating men that don't understand it. Astrology in essence is quite mysterious and intriguing, and most men are baffled by it until pushed in the right direction."
The A.M.s Tell a Tale of Family and Longing in Debut Album Ignite The Sky
Today, indie-folk duo The A.M.s share their debut album, Ignite the Sky. The 13-track album takes the listener on a journey through the true stories of Mariko Langan, one half of the duo, and her experience meeting her birth parents for the first time. The album is now available to stream on all digital platforms.
New Music Video: "BLACK JACOBINS" by FULLY, J.Stalin and Koran Streets
PSYCHONAUT: Violate Consensus Reality Full-Length From Belgian Progressive Post-Metal Trio Out Now And Streaming Via Pelagic Records!
The immense success of PSYCHONAUT's Pelagic debut album Unfold The God Man, which has been repressed three times throughout the pandemic, has proven that PSYCHONAUT is a force with which to reckoned. The three gentlemen from Mechelen, Belgium now return with a ferocious and muchly anticipated concept album that proclaims the formation of a new world through the acceptance of a new human identity. With Violate Consensus Reality, the trio take you on a visceral trip into our collective human consciousness. A journey marked by ex-plosive riffs, soaring vocals and intricate yet catchy compositions. An impressive album which cements PSYCHONAUT's standing as aspirants to the throne of the contemporary European progressive/post metal community.
DYSTOPIA A.D. Release "Fields of Carrion" Lyric Video
The band comments "When writing "Fields of Carrion," we wanted to make a "blackened power metal" song – two subgenres we love, but don't always mesh.The track opens with dissonant riffage and a haunting solo evocative before giving way to blackened blast beat assaults and foaming-at-the-mouth snarls. There's this big, epic chorus in the vein of Blind Guardian, as well as a chunky breakdown, folk interlude, and more lead guitar wizardry. So, we think there's something here for everyone in the Metal Brother/Sisterhood!"
Hypnotic Heavy Metal Band, SPELL, Releases New LP 'Tragic Magic'
Asylums Share New LP + Single via Chorus.fm | 'Signs Of Life' LP Out Now via Cool Thing Records
The world has changed, Asylums have changed…but one thing remains valid, making music is still an essential craft and serves as creative medicine for many musicians and listeners alike.
watch: Lil Baby's high-energy set for Amazon Music Live
For Skope: After collabing with Steve Aoki Chemical Surf returns to Dim Mak with Latin-house "Dale Loca" (out now)
RIHANNA RELEASES OFFICIAL MUSIC VIDEO FOR "LIFT ME UP," NEW SINGLE FROM THE BLACK PANTHER: WAKANDA FOREVER SOUNDTRACK
Bret Koontz & Truancy Club Share "Lonesome Rambler" Single + Video | 'A Sparkle Road Cult' LP Out 11/18 via Earth Libraries
Bret Koontz & Truancy Club (ft. members of Fran, Famous Laughs) recently announced a brand new LP, A Sparkle Road Cult, out November 18 via Earth Libraries.