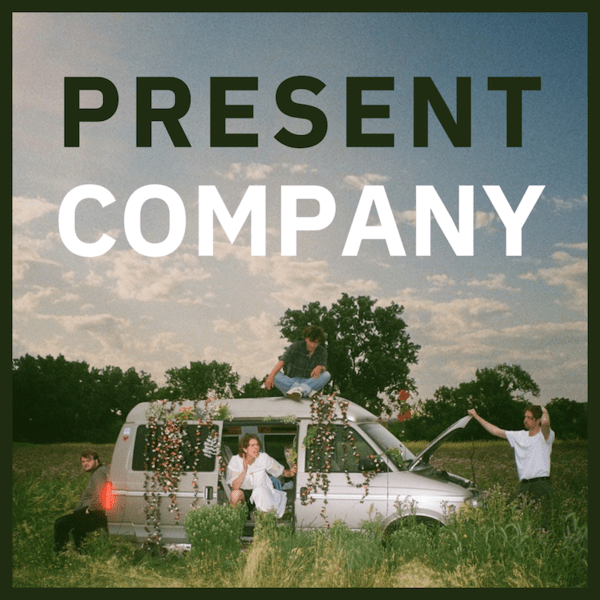 I don't know how good your current company is, but this Present Company has an inviting sound and is very approachable. Come on in because Present Company welcomes everyone to this fun 'n' friendly show. Present Company is a Minneapolis-based group with a lot to say and you have a one-way ticket to the new release!
Present Company has released their latest, self-titled album for ALL to enjoy! Present Company is an indie rock band that incorporates a lot of cool elements like: 80s, post-punk sounds, new wave and new age. Present Company is wildly original adding a splash of retro mixed with its own, organic style. Fun, zany and real are the perfect adjectives to describe Present Company and the new record.
A short "Intro" kicks things off as you prepare to enter a dream-like state with Present Company. Next is "I Can't Turn It Off" that is raw-sounding with an alternative vibe and this song is original to the max. Track three, "It's Not Looking Good", has a catchy hook, driving rhythm and honestly just music that gets your attention. Get ready for an outside-the-box style on "Normal" where Present Company is redefining "Normal". "Hold Me" is the following number and showcases the band as quirky with a twist, but it all works wonderfully for Present Company. Hold on tight and don't let go as you fully embrace "Hold Me" and all of its fantastic surprises. Track six is an unconventional love song that is action-packed and hits you like a ton of "Prickly" bricks. Moving along, Present Company can be heard giving a rock-solid performance with piercing vocals as this band plays on "Forever". Enter a villainous mode and get your ears ready for "Something's Not Right" as it reverberates all around your space. Track nine, "This Time", offers up an enchanting melody that Pops and also displays an invigorating flavor overall. "2.29" shows up next with its spacious sound that surrounds you from all angles. It's time to "Drive" now as Present Company is steering this song in the right direction with the perfect tempo in place. Track 12, "Millennial Muave", is well-written and well-played and supplies a song structure that stands out nicely. It's "What You Wanted" next as Present Company delivers the musical goods that contain a direct purpose & message that speaks volumes. Present Company is performing with much force and dedication on "What You Wanted" while proving that these band members can rock out with the best of them. The final song is called "Dead Plants" and Present Company couldn't sound more alive than now! "Dead Plants" is bursting with vibrance as Present Company showers listeners with enriching notes that will grow on you. Present Company has planted the seeds and now it's up to you to soak in & soak up "Dead Plants".
I am thoroughly impressed with this latest effort by Present Company because it shows that this Midwest band is highly inventive by bringing authentic material to the table. With a unique style in tact, Present Company is delivering a refreshing sound that can be appreciated by many. Come on in and join the party; 'Present Company' is waiting!
https://linktr.ee/PresentCompany
https://www.instagram.com/presentcompanyband/
https://presentco.bandcamp.com/
https://www.youtube.com/channel/UC0-OMr6Zu2LirOqokhfG9Mw
https://open.spotify.com/artist/1ViChW9louMBia6wqxAvdo?si=F0S-OFRjR0G9elNylXkQjA