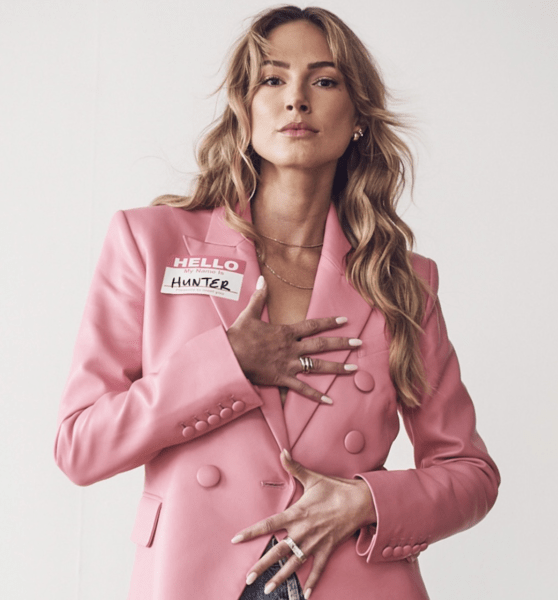 @skopemag news – thursday – october 27, 2022 @ 12 pm est
@skopemag HQ – http://smarturl.it/skope
Dream Pop Duo Portland Announce Sophomore Album 'Departures' & Share New Single "Sensational"
Today, Belgian dream pop duo Portland announce their sophomore album Departures (out March 17, 2023 through [PIAS] Recordings) and share the first single "Sensational". Recorded in London with producer Oliver Bayston (Boxed In), the lead single is an emphatic starting point. Confident and mature, it hones Jente Pironet's and Sarah Pepels' pop instincts with precision, while retaining the evocative nature of their songwriting. It dips into the pure essence of Portland; crafted at night, Jente sent across the demo after midnight, Sarah quickly downloading it and adding her parts. "On the surface, it sounds melancholic, but if you listen to the lyrics, they're quite hopeful. It's the ideal combination of a modern song," she insists. "It's about not giving up."
TVOD Shares "Mantis" Single + Video via Under the Radar
BUZZHERD Release New Single "Menstrualcity"
Pennsylvanian death/sludge metal band BUZZHERD have unleased their new single "Menstrualcity" on all streaming platforms. The song will be released on their upcoming split with fellow sludge band PALE HORSEMAN on October 28, 2022.
The band comments "This is a song about fear of the unknown, and creating monsters from that fear. Menstrual city? Menstrual atrocity? A menstrual themed ode to our favorite police album? Some of our songs have a little deeper meaning than it would seem on the surface. Most of the time it's dumb stuff that makes us laugh. We will leave it up to you to decide where this song lies."
Smeyeul & Galvanic Share "Numb" (ft. Marc E. Bassy) Single + Lyric Video via EARMILK | New Track Out Now via Ultra Records
Modern Rock Band Wicked Love Releases Self-Titled Debut Single "Wicked Love" to all major platforms!
Modern rock band Wicked Love released their self-titled debut single "Wicked Love" to all major platforms. The single is from their EP Wild Ride.
"Wicked Love is a powerfully energetic song loaded with old school sunset strip vibes that you'll be singing along to for days!" says the band.
New Single Submission from Doc Rhombus
Doc Rhombus is a solo artist and multi-instrumentalist who writes, records, and produces music that finds its footing on groove-centric rhythms and bass lines, textured and versatile guitar and synth work, and dusky layered vocal arrangements.
Mike Barret and Phil Swan announce new project Awkward Branches with debut single 'A Frame (Not a Window)' out now via Tip Top Recordings
Awkward Branches is the new project of singer, keyboardist and former Fiction frontman Mike Barrett and close collaborator and guitarist Phil Swan. Today they share their debut single 'A Frame (Not a Window)' via Tip Top Recordings.
NINA NESBITT SHARES THE NEW SINGLE 'NEED YOU' FEATURING ZION FOSTER
Nina wrote 'Need You' during sessions for 'Älskar'. Stepping smoothly into the UK R&B scene, the song's dreamy, beat-heavy atmospherics break new ground for Nina, while the soulful vocal interplay between the two artists shows that they share a natural chemistry. It was written by Nina, Jordan Riley (Ella Henderson), Steve Robson (Maisie Peters, Louis Tomlinson) and Zion Foster, and was produced by Jordan Riley and Hoskins (Khalid, PartyNextDoor).
Fierce new lo-fi rock n roll single from The Adam ft. Lasse Storm!
The Adam (from acclaimed Danish band The Good The Bad) returns after his acclaimed debut single 'Geronimo' with a statement of clear intent on follow up 'Cathy', on Stray Cat Records.
KENIA OS RELEASES NEW ALBUM K23
Kenia Os is an artist who crosses borders. From businesswoman to singer, from video editor to composer, she has an arsenal of talents, and has brought them all together to create an alter ego that blew our minds with her newest album: K23.
South African Extreme Metal Band VULVODYNIA Release Pummeling New Single "Artificial Divinity"
One of the most groundbreaking metal bands to emerge from the region, South Africa's VULVODYNIA is back with their first new track since the release of 2021's 'Praenuntius Infiniti' LP. The self-proclaimed Kings of African Metal have unleashed their most earth-shaking salvo yet with "Artificial Divinity" – the introductory offering from their yet-to-be-announced sixth studio album!
Indie-maverick Trunky Juno returns with new single, following dates with The Mysterines
Soul Drenched Pop: Grammy Nominated Producers
There's a wise and eloquent spirit bouncing between moments of soulful expression, R&B energy, pop bliss, and alternative boundary-breaking, at the heart of HUNTER's music. A storyteller packed with soul whose honesty rings out just as powerfully as her vocals do. After generating millions of views with showstopping turns on YouTube live performance series, Scary Pockets, and attracting a growing audience, she properly introduces herself on her 2022 independent debut EP, Hello: My Name is HUNTER.
Rapper Austin Fox 狐 Returns With New Album SCORIAN VALLEY
Virginia rapper Austin Fox 狐 has returned with his brand-new album, SCORIAN VALLEY. The 15-track project follows his Ranger396v album, which was released last year to a great reception. Featuring a rugged boom-bap sound with some funky neo-jazz elements intertwined with lo-fi beats and Austin's smooth rap flow, the album is a must-hear and delves into issues surrounding betrayal that can occur with those closest to you when striving for success. As seen in several of the track titles, fire is the theme of SCORIAN VALLEY (derived from the word "scoria", which is a volcanic rock).
Layfullstop gets her priorities together on new single 'Family Affair'
Frozen Factory: An eclectic mix of alt-rock, prog and metal from Finland release new album 'Of Pearls & Perils'
Weaved with Frozen Factory's signature mixed sound of alt-rock, metal and proggy elements, 'Of Pearls & Perils' marks their second full-length album and third LP/EP release. Its 12 songs, including their traditional short intro & outro tracks, explore topics of equality, life, the afterlife, and the climate crisis. The sound twists and turns through a range of heavy and light soundscapes that draw careful influence from classic acts such as Pink Floyd, Alice in Chains, Iron Maiden & Depeche Mode, while nodding at many others.
PVA share new video for "Kim" | Debut album "BLUSH" out now via Ninja Tune | Biggest UK / EU headline tour to date currently underway
VISUALS OUT NOW // Sister Duo El'Vee Share Visuals For Afrobeat's Single 'Jealousy'
Interlaced with a percussive and hip-moving production that's reminiscent of Southwestern Nigeria courtesy of Sparkzy, El'Vee welcome the track with infectious melodies and a wheel-up worthy chorus. Navigating the hurdles, they have overcome throughout the course of their journey so far in the music industry 'Jealousy' is a tale of admiration. Speaking on the release the twins commented, "Jealousy is a blend of eclectic sounds, that reflects not just our culture and heritage but our artistic individuality".
Altin Gün return with dazzling new track "Leylim Ley"
GRAMMY® Award-nominated Turkish psych-folk innovators Altin Gün have shared their stunning new single, "Leylim Ley," available now at all DSPs and streaming services.
A classic song of lost love and exile, "Leylim Ley" features music composed by renowned Turkish musician, author, poet, and politician Zülfü Livaneli and lyrics written by the late Turkish novelist, short-story writer, poet, and journalist Sabahattin Ali (1907–1948). While his life was cut brutally short, Ali occupies a very important spot in Turkey's modern literature, his limited body of work frequently reimagined through music, theater, and more. Taken from Ali's 1937 short story, "Ses," "Leylim Ley" was joined by music composed by Livaneli in 1975 and has since been embraced as one of the most well-known and beloved songs among Turkish people everywhere. This dazzling new reinvention of "Leylim Ley" – energized by all the power and urgency of Altin Gün's famously propulsive live performances – heralds the arrival of the band's eagerly awaited new album, due via ATO Records in 2023.
NCT'S TEN RELEASES NEW SINGLE, "BIRTHDAY"
Sneaks readies The Eva EP for November 18, shares "Boxed In" music video
"The Eva EP is an audio tape of songs I made in January of 2021. Some songs stem from Asteroid Eva, the thesis film I made for my film and video studies at MICA. "Boxed In" is about the idea of staying in from COVID-19 pandemic quarantine but knowing that you want to travel at some point. I guess that was the idea of the whole EP. There are some songs about dancing, having fun, boundaries with relationships, and ultimately creating a better future for myself."
Donzii wrap their industrial punk tendrils around Halloween with new single "Grave"
Melodic Death Metal Unit WOLFHEART Unleashes New Official Video for "Knell"
Following the sonic legacy of their previous albums, 'King of the North' resonates with their trademark blend of colossal melodies, earth shaking vocals, gripping lyricism and driving rhythms. After the release of the album and their subsequent, recently wrapped European tour, WOLFHEART strengthen their howls for another round.
Julia Wolf Sinks In Her Teeth With Her New Track "Dracula" and Announces Debut Album 'Good Thing We Stayed'
"As someone who is a diehard horror fan I wanted to use our beloved Dracula, the vampire who can't see his own reflection, as a way to call out people who throw the most shade while hiding behind closed doors or phones" Julia continues. "People get so two-faced and think they've fooled everyone around them when really the spotlight couldn't be shining down any brighter."
Yumi Nu sheds the skin of her former self on new single "25"
Speaking on today's release, Yumi Nu said, "'25' is an ode to my growth up to this moment. I just turned 26, but in my 25th year I had a lot of realizations and proud moments of how far I've come." She continues, "This past year I had a big detachment of who I used to be from who I am now. And this song talks about shedding that old layer of skin that you used to call home but doesn't feel right anymore."
Isaac Hoskins' upcoming album "Bender" Is An Ode To Unhealthy Coping Strategies And Life On The Other Side
This week, Hoskins shared the first single from Bender, "Panhandle Wind." All at once Country-tinged and Rock-driven, the baritone and steel guitar-led tune embodies Hoskins' uncanny ability to match up a good story with a catchy refrain, leading to a windows-down, Sunday cruise sing-along. "The idea for this song came to me while driving to Lubbock to play a show," remembers Hoskins. "That was just one of many very windy, dusty drives to and from the Panhandle of Texas and Northwest Oklahoma." Last week, Outsider premiered "Panhandle Wind" along with an in-depth interview with Hoskins, noting, "his sound straddles the fence between folky heartland Americana and Texas country."
New Music from Ruel "Someone Else's Problem"
Written and produced alongside longtime collaborator, M-Phazes (Khalid, Sam Fischer & Noah Cyrus) with songwriters John Levine (Bebe Rehxa, Alessia Cara) and Casey Smith (Olivia Rodrigo), the track oscillates between regretful nostalgia and self-empowerment, displaying another side to the songwriter. Driven by gritty, pop-infused production, the hypnotic track sees Ruel effortlessly floating between confessional-style lyricism and soulful croons, as he perfectly captures the all too relatable feeling of letting go.
THE BLEAK PICTURE: Finnish Duo Formed By Fall Of The Leafe And Autumnfall Members To Release Songs Of Longing EP Through Alone Records + Preorders Posted
A place where Finish death/doom meets with England gothic rock formed following the no wave movement is the point of departure of the jaw dropping debut EP from THE BLEAK PICTURE, Songs Of Longing. Jussi Hänninen of missed cult act Fall Of The Leafe joins with Tero Ruohonen of Autumnfall in this absolutely must-hear act for fans of the genre that looks for something distinct without losing the essence.